Read 5256538 times

Connect me to:

Feasting At This 'Home'
Restaurant Reviews
Spring Volume: 2008 Issue: 15(1) page(s): 15
---
Where can you feast to your heart's content and still come home with plenty of change from a $20 bill? At HOME SELECT BUFFET at 4302 Ditmars Boulevard, Astoria, Queens, (in the Laguardia Center); phone: (718) 626-0880. There it is always all-you-can-eat, and what a selection! Just opened in the Summer of 2007, Home Select's main focus is on a wide range of Chinese food, from fried dumplings to sautéed green vegetables. More than one hundred fifty international dishes are served daily. Their top sellers are spicy Asian chicken and an ever changing rotation of Chinese fried rice with either assorted vegetables, crab meat, beef, or shrimp.
On weekends, chefs never stop carving Peking Duck and you can also order New York steaks and other beef cuts cooked to order. It is fun and easy to make your own cross-cultural fusion dishes at Home Select. For example, the fresh sliced prime rib dipped in soy and scallion is an excellent marriage of East and West. Sometimes the Hot-and-sour Soup is soy-based, but when it is the white variety, I always manage to fit in a second or third bowl of this luscious soup, made with an authentic family recipe from Dean's hometown in the Sichuan province of China.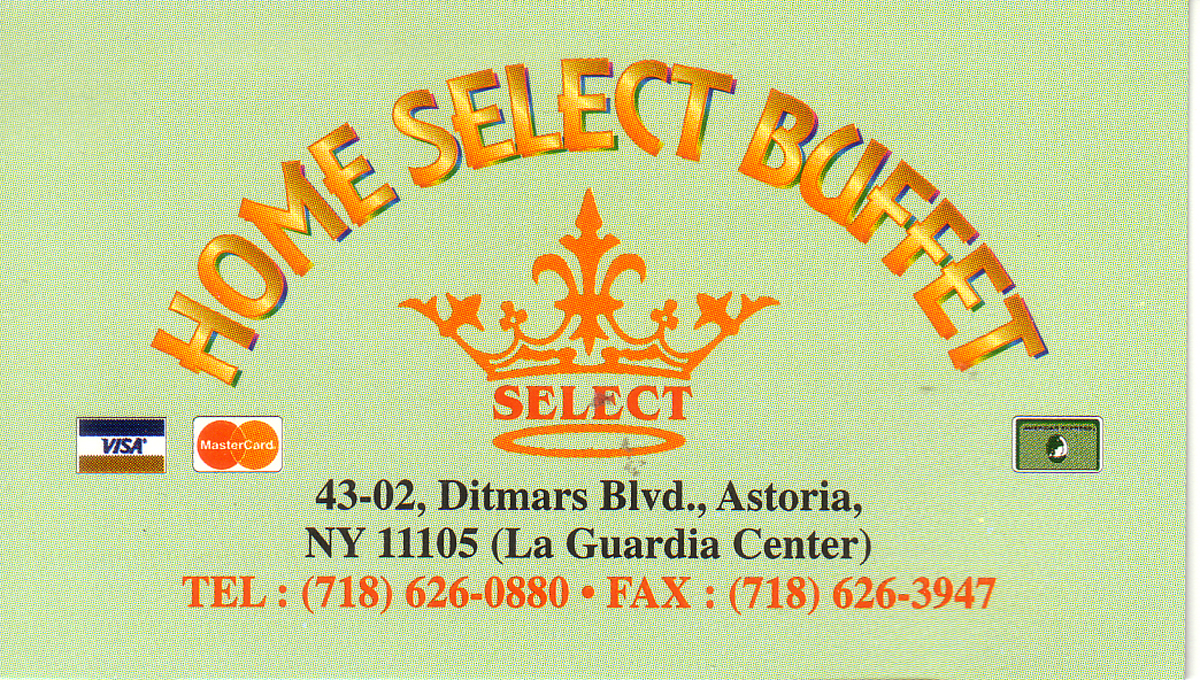 Beyond Chinese food, Home Select chefs create pretty sushi rolls of rice, fish and vegetable before your eyes--it is really good with a dollop of 'Wasabi-Q,' Home Select's refreshing dip of mayonnaise and Japanese horseradish. The dessert bar features fresh roasted peanuts, honey coated cashews, almond cookies, and a surefire crowd pleaser, make-your-own ice cream cones.
Owners Ding 'Dean' Chen and Kevin Chen, who are not related, have decades of professional experience in the restaurant business. They want their customers to consider their restaurant a home away from home, a place with fine food, friendly service and extremely reasonable prices. Kevin hails from Fuzhou and is always on site, ready with a helping hand, and an ever-ready smile. Dean comes by seven evenings a week, after his work as a salesman for Sysco Food Distributors, a nationwide food service corporation that enjoys more than thirty billion dollars in annual sales. His know-how is remarkable. Together these guys really know how to shop and cook and serve up great food at amazingly reasonable prices.
Just mention a dish and chances are Home Select chefs can whip it up for you on your next visit. I suggested they prepare Indian-Chinese chicken lollipops with spicy dip and can not wait to go back and give 'em a whirl.
Home Select prepares succulent shrimp a dozen different ways, slow-braises prime leg of lamb to perfection, and always offers a variety of healthful salads and vegetables. A cut above New York's standard buffet fare, Home Select is well worth a stop if you are in or near the Ditmar area of Astoria, Queens. It is even worth going out of your way to eat there. Take advantage of three hours of free parking, private party rooms, and group discounts. And let it be known that you will go home stuffed to the gills, and return for another refill. This magazine's editor read this item when I sent it in and took three friends to check it out the next Saturday evening. She adds the following paragraph: "Yes, Harley, I did pig out on sushi; what a large selection. Had lots of grilled short ribs and other meats, polished off a healthy amount of Peking Duck; downed more than my share of raw oysters–many topped with black bean sauce; overdid enjoying green-tipped cooked New Zealand mussels, and so much more. All four of us, that Saturday evening, can attest to going home stuffed. We did feast at this 'Home' and ended ignoring the couple of dozen cakes, but did have a few pieces of cut up raw fruit, and then hit the soft ice cream machine before leaving.
_____
Harley Spiller, the Associate Editor, finds new places in a flash, long before others ever do. Many are economic winners, as is this 'home' away from home.