Read 6282695 times

Connect me to:

Turkey: Where Asia Meets Europe
Chinese Food in Asia (but not China, Hong Kong, or Taiwan)
Spring Volume: 2008 Issue: 15(1) page(s): 5, 6, and 7
---
To many, going to Turkey means seeing Ephesus, Pergamon, and Troy. To others it is visiting great cities including Istanbul, once known as Constantinople, Byzantium, or New Rome. To still others, it is the place to visit phenomenal buildings such as the Hagai Sophia Palace in Istanbul built in 537 CE, and the Blue Mosque in the same city; it minarets contribute to Istanbul's signature skyline. Still others go to Turkey to check out a shoppers paradise known as the Grand Bazaar. There, are four thousand shops to wander in and see great things to purchase. Istanbul was home to rulers of a large empire; we went there to do all of the above, that is to tour, shop, haggle, visit carpet factories and learn about the raising of silkworms, and to check out this country's Chinese restaurants. We wanted to get a feel for the city that separates Europe and Asia. We did so first riding a boat down the Bosporus, the waterway that separates Asia from the west.
Even though this city straddles Europe and Asia, we were amazed to learn it does not have a Chinese presence. Nor does it have lots of Chinese restaurants. We kept asking ourselves, is this really the part of Asia where silk road caravans ended their arduous journeys? Was this the country where many large stone caravanserai could be found every forty miles?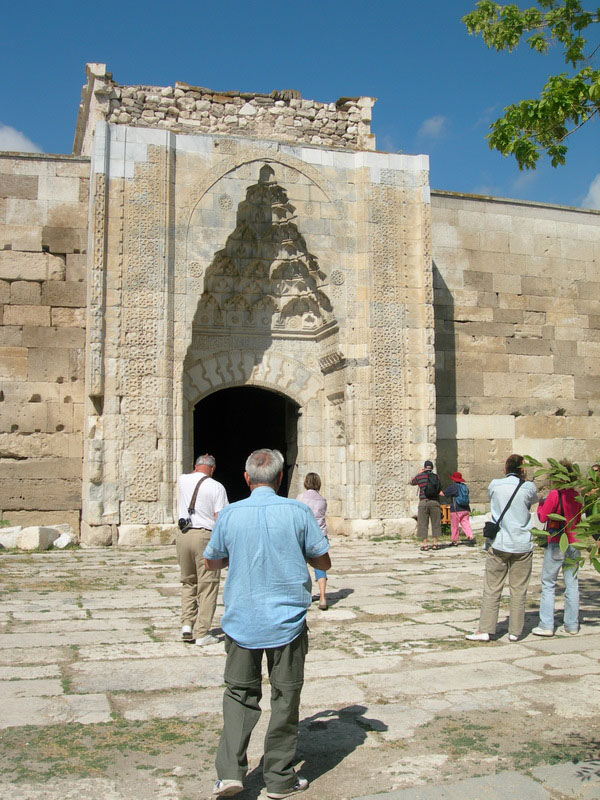 In our weeks in the Ottoman empire, we learned there were only a few more than two dozen Chinese restaurants in the entire country. More than half of them were in the city of Istanbul at the upper end of the in-ground funicular on a huge hill overlooking downtown. Manning them were some of the five hundred or so Chinese living in Istanbul. Not a large number considering they live among more than three million Turks and many folk from other countries.
One question we sought an answer to was: Why so few Chinese people and so few Chinese restaurants? Answers were hidden away as were most of the places one can enjoy Chinese food. Actually we did find them hiding in plain sight once we knew where to look. The people we asked, one even on the street of one pictured on this page, did not have a clue; they were truly unknown commodities.
The Bosporus is the continental divide of a major way-station on the Silk Road. Near it is one of the best remaining Caravanserai, the gray building shown above. It was a safe-houses for silk road travelers where people and animals stayed safely overnight when traveling east or west. We learned there were many of these safe places, each about a day's journey from another one. Each is an enclosed uncovered area where caravan tenders and their animals came to rest, eat, and be safe from robbers who plied their trade along the same way.
Before traveling to Turkey, we learned about the Chinese and Chinese food in this East-West city and country. That investigation turned up lots of Chinese restaurants in Istanbul and in other large Turkish cities. A computer print-out the day we left, in the daily paper called Hurriyet, listed Turkey's ten best Chinese restaurants. Quite a few of them it said were in Istanbul. We also spoke with food afficionados then and before who are or were in Turkey. They did profess adoring Chinese chow and saying they know its scene.
After arriving, almost all this information, like the once famous Silk Road, was history. Tourist and restaurant officials in Istanbul told us there are five, ten, or twenty Chinese restaurants, tops. Two of them said the best one on our print-out had folded two years earlier. A third said another one on that same list bit the dust ten years before that. Most had never tried a single one on our Chinese restaurant list.
When asked why do they not know more than one or two Chinese restaurants, these travel/touristic experts said Turkish folk do not cotton to Chinese food. Furthermore, many added, "Chinese food is more expensive than local food and I never eat it." Our reply to that comment about cost was: "How did you know that and not know where a single Chinese restaurant is?" Their response, "I just know." So during our weeks here, we tried many Chinese eateries and can provide the following: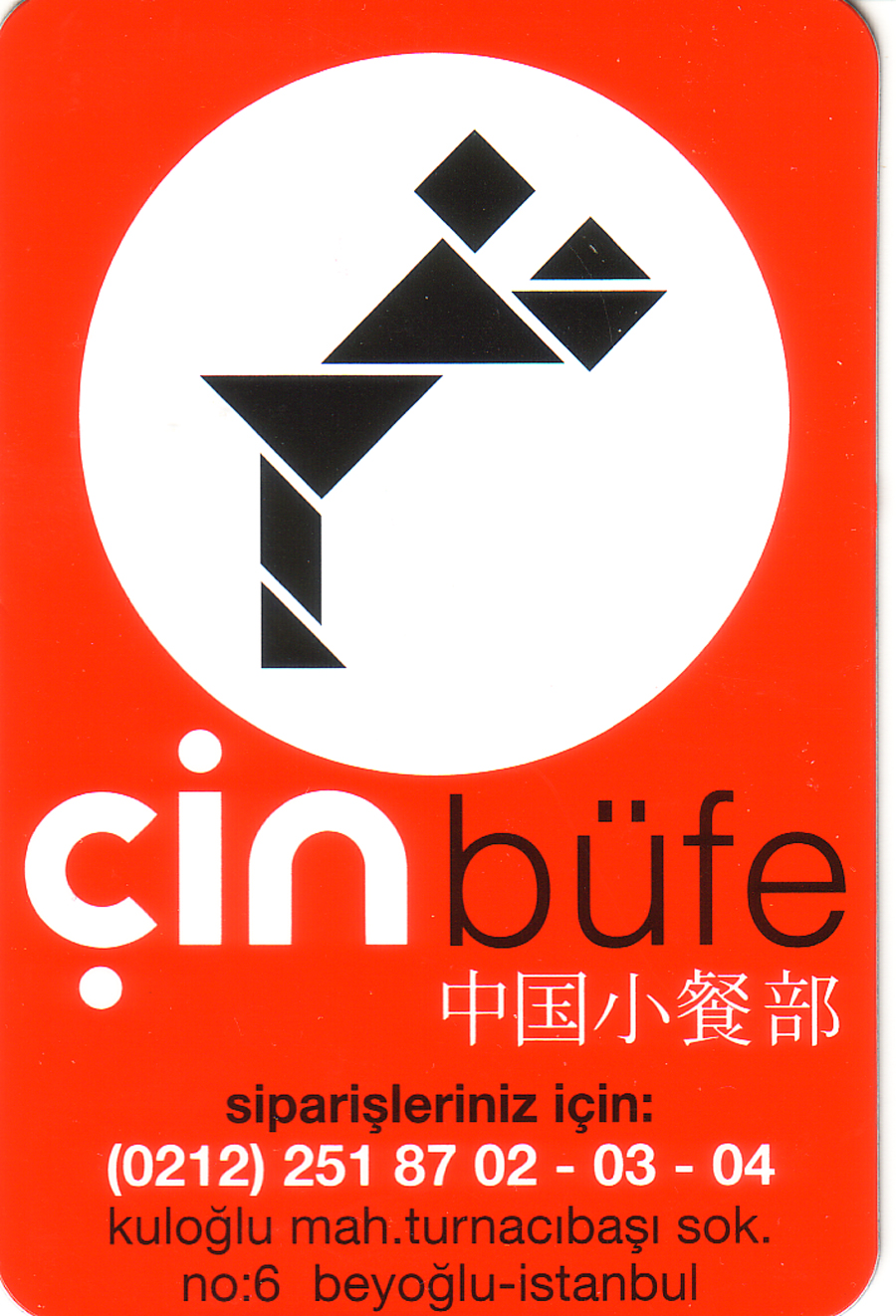 ÇINBUFE whose address is KuloĞlu mah.turnaciba; Şi sok No:6; Lu Istanbul; phone: (0212) 251 87 02 is only quarter of a block from where more than one hundred thousand folk promenade day and evening. It is off a pedestrian-only street called Istiklai Caddesi, and is in the Taksim area at the end of a speedy all-underground funicular atop the biggest hill in this city. On that block, a Chinese chef from the Jilin area tends a fine-looking buffet and restaurant with an affordable menu. It costs less than most nearby Turkish restaurants. This fine chef serves food from many parts of China including Xian, Wuhan, and Beijing. His menu says that Sian Tavuk comes with spicy chicken, red and green peppers, carrots, soybeans, and bean shoots. His Wuhan Dana is made with beef, soy sauce, red and green peppers, carrots, and cucumber. He lists Peking Duck and a more popular Duck with Vegetables on his menu, and it includes broccoli, peppers, mushrooms, baby corn, and more. Most dishes on his menu cost less than ten Turkish lira, which is, incidentally, less than we paid for any meal in any cafeteria or fast food faclity.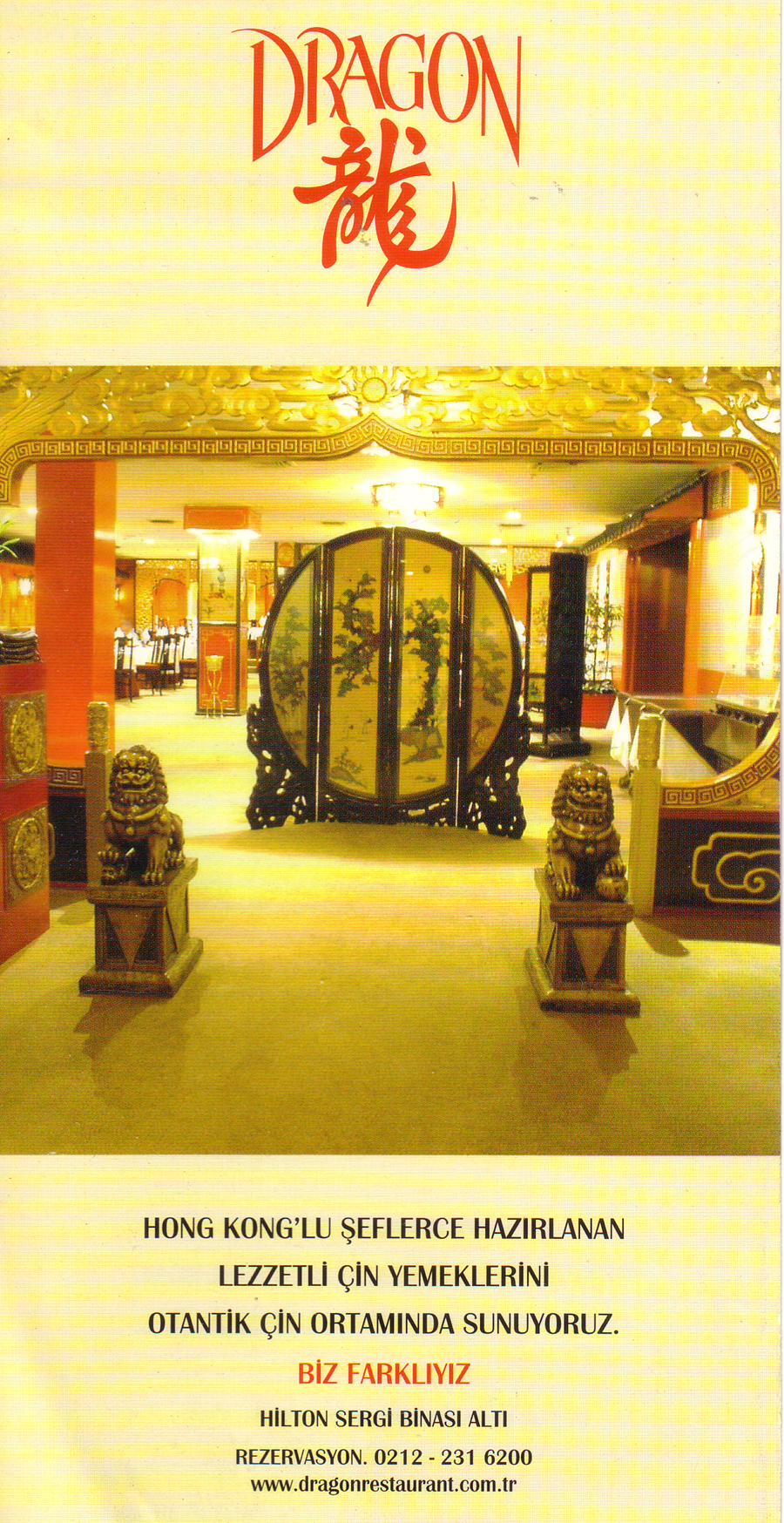 DRAGON CHINESE whose address is Dünya SaĞlik Sok; GümüŞsuyu in Taksim; Istanbul; phone: (0212) 244 40 88 is at the other end of Istanbul's Chinese economic restaurant spectrum. Finding this fine Chinese restaurant was a challenge even with its e-mail address at the Istanbul Hilton Hotel. It is outside and underneath the hotel's Conference Center, down a long flight of steps not easy to find. Contrary to our computer print-out of its hours, it is open only for dinner.
This gorgeous place is for those with deep pockets. Turkish lira are close to an American dollar, and the Peking Duck here costs one hundred and twenty of them or five times the price of Peking Duck at the above-mentioned buffet. If you have the loot, do enjoy their gorgeous ambiance, and do gaze at the phenomenal wall fixtures and entrance screen. We are told it was made in Taiwan twenty-two years ago.
The Turkish owner, his Chinese wife, and a local partner are restaurant pro's. Each year they return to Taiwan and neighboring Asian countries to assess changing Chinese food scenes there. They return to Turkey with some of the latest and greatest ideas and recipes, and with a ship's container full of staples. This brings their clientele original ingredients from boutique Chinese factories that they visit. Foods at this upscale Chinese eatery, the owner told us, bends slightly to the Turkish, but management feels their customers prefer Chinese foods made that way.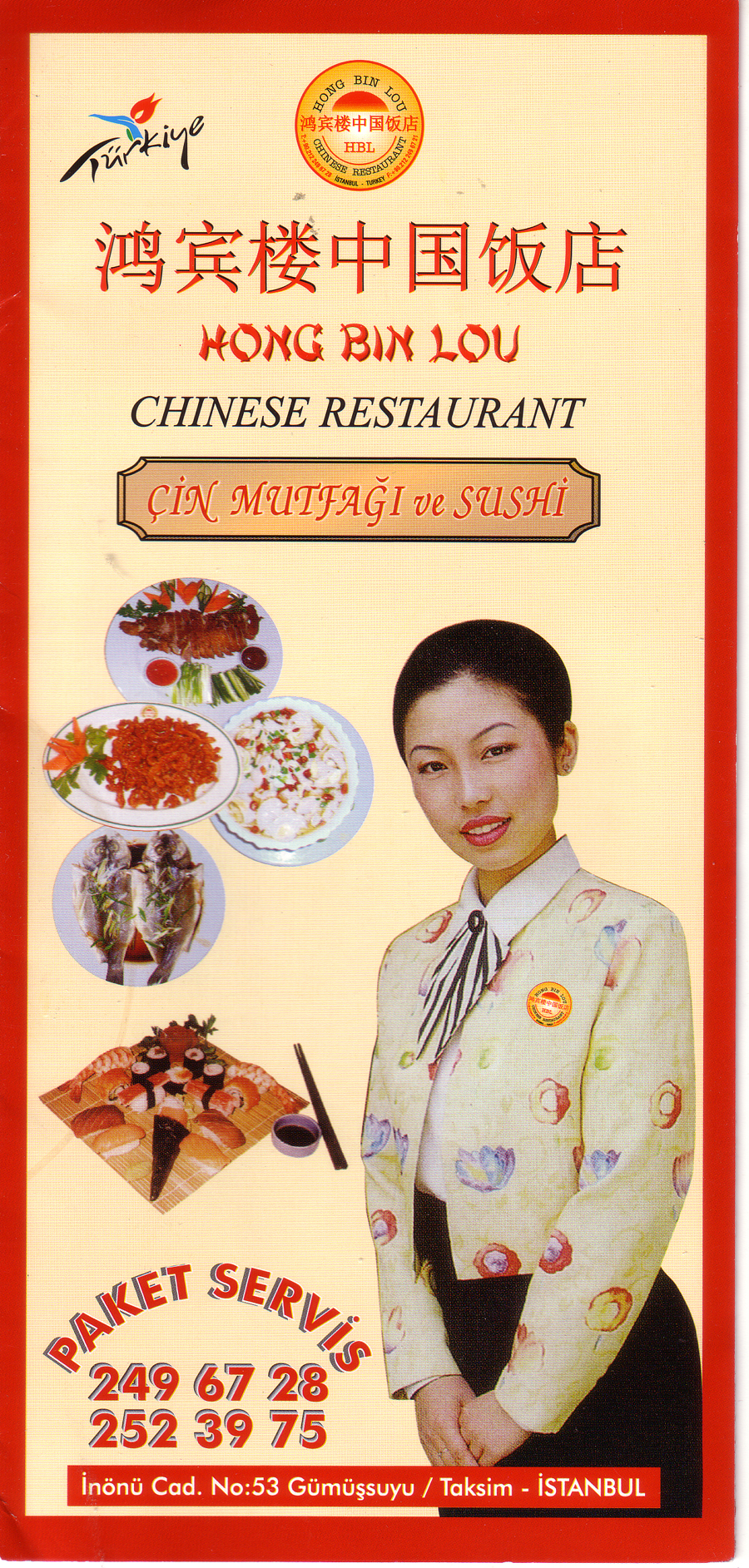 HONG BIN LOU, their address is Inönü Cad. No: 53; GümüŞsuyu in Taksim in Istanbul; phone (0212) 249 67 28 is one of four Chinese places owned by another Turkish chap and his Chinese wife. Their Chinese food does not bend to local tastes, other than their also serving sushi and sashimi. The Turkish waiter we spoke to worked there for sixteen years, and says "tour buses with many Japanese frequent here, and our two-story restaurant has a chef from Guangzhou who cooks mainly Cantonese." One dish we had was okra, plain and unusual; another was of chicken, boring but OK. Some sauces were thick, others non-existent, as you can see from two dishes shown on this page.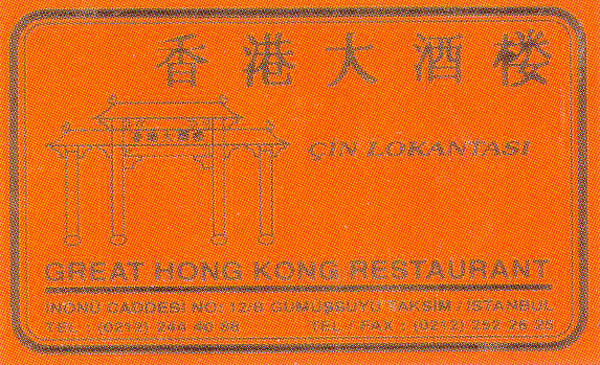 GREAT HONG KONG RESTAURANT can be found at Inönü Cad. No: 12 B' GümüŞsuyu in Taksim; Istanbul; phone (0212) 244 40 88 was uphill and a block away from the Hong Bin Lou restaurant. It is down a flight of steps from the classic Chinese arch its owners built and around the corner from the Marma Hotel, a good landmark used to locate it because the hotel is across the street from the funicular station. Foods served on the ground floor here at lunch are from the buffet, sort of Turkish-Chinese. Upstairs is the regular Chinese menu. Chinese patrons are ushered up, we were after we asked about their 'real' Chinese food. Most of the dishes were Hong Kong Cantonese, as their name suggests.
What was unexpected, was to sit next to a couple visiting this city for two days. They were from China's Zhejiang province. Even more unexpected was that after these silk vendors ordered, they took out sealed packets of their own local foods (see pictures of both of their pickled items) andbegan eating them. They brought and ate pickles, stewed pickled beef, stewed radishes, and iron eggs.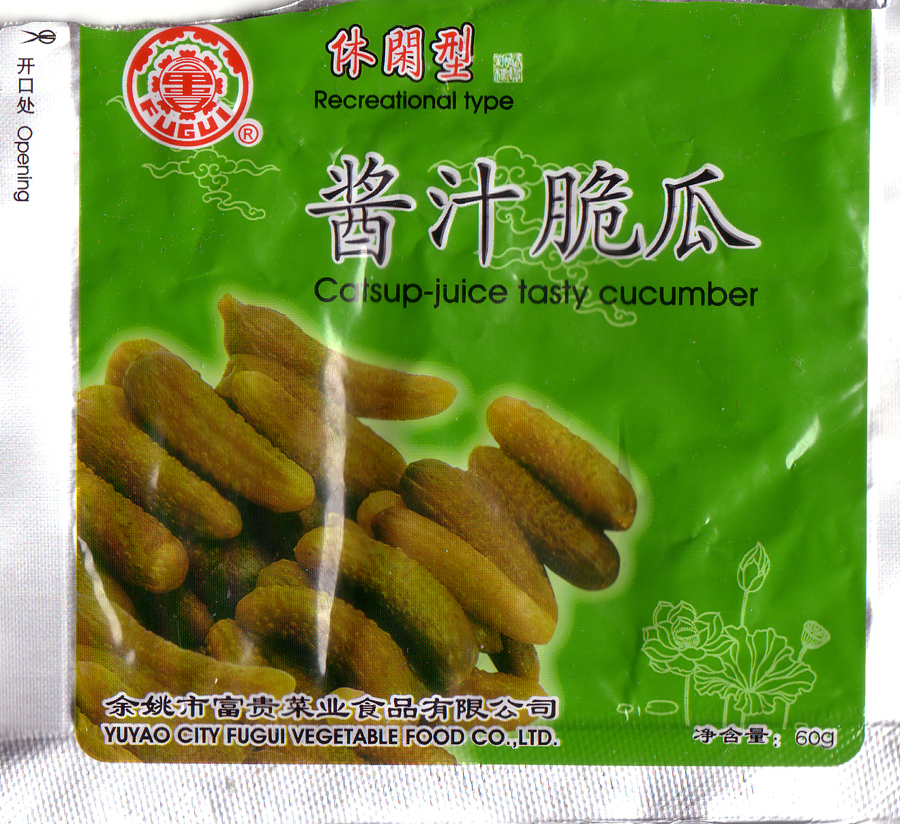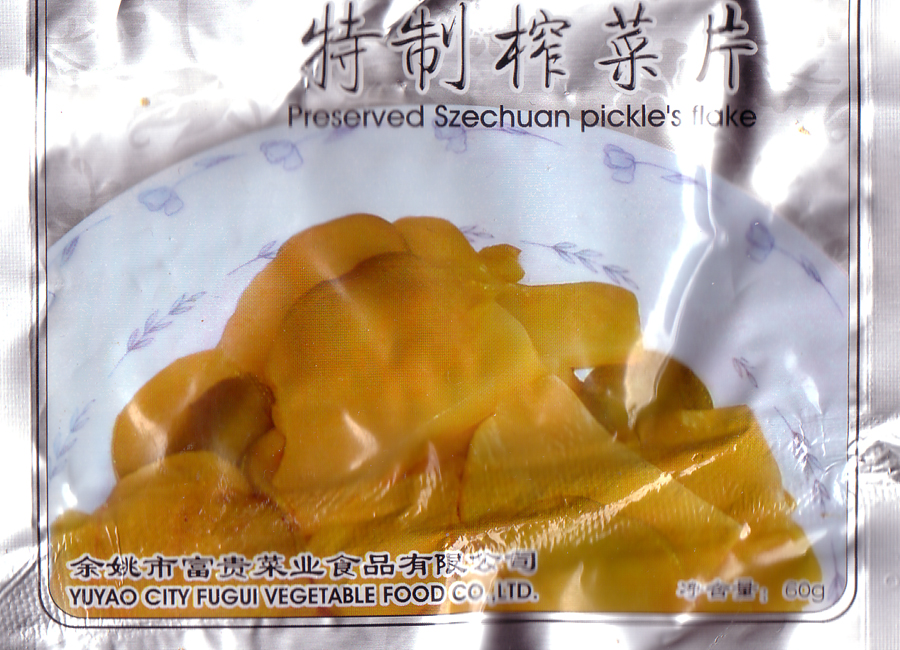 As they had difficulty opening them, we asked management to help and they did, so these folk dined on foods ordered from the menu and foods brought from China. Noticing our stares, they offered to share and afterwards, gave us their leftovers. These young sales people told us they always travel with foods from home and still order lots from local Chinese restaurants. They have eaten at this restaurant on previous trips, and said they liked it. However, they were genuinely pleased when we told them about other Chinese restaurants.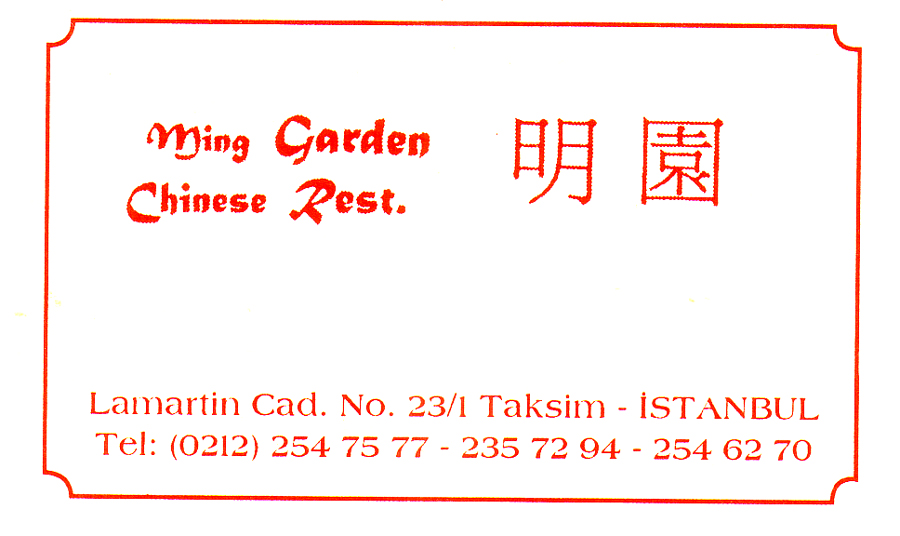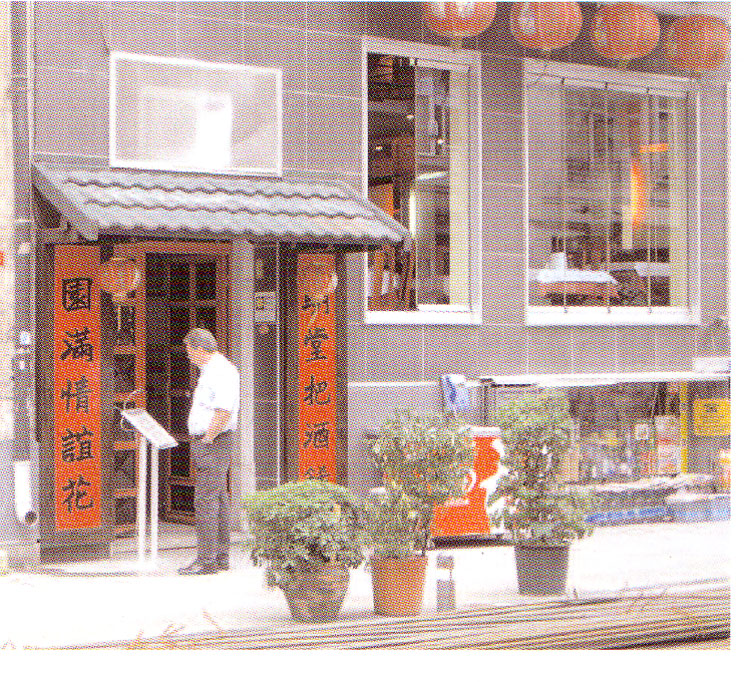 MING GARDEN CHINEASE RESTAURANT can be found at Lamartin Cad. No. 23/1 in the Takshim Istanbul area; phone: (0212) 254-75 77 has been located in the Hotel Lamartine for eleven years. This Chinese restaurant is Cantonese, and its chef also comes from Guangzhou. We order a chicken dish, among others, and when it comes, its greens are green bell peppers, how disappointing.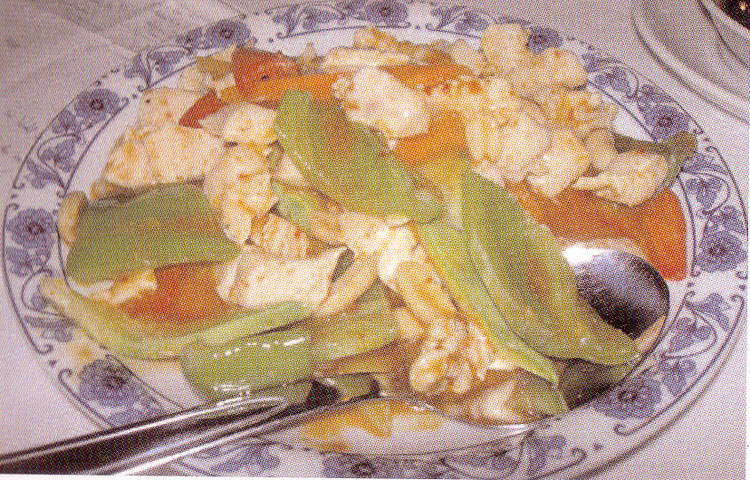 We are also disappointed to learn they have no Eggplant in Hot Pot that day. The Mushrooms in Oyster Sauce are simple and served with red and green peppers. One or both of these items accompany every Chinese dish we order, though they were not listed on the menu. This restaurant looks the most Chinese of any, inside and out, and both times we ate there, no one else did. Our waiter says we need to return on a week-end as they are busy then; but we have no time to do that.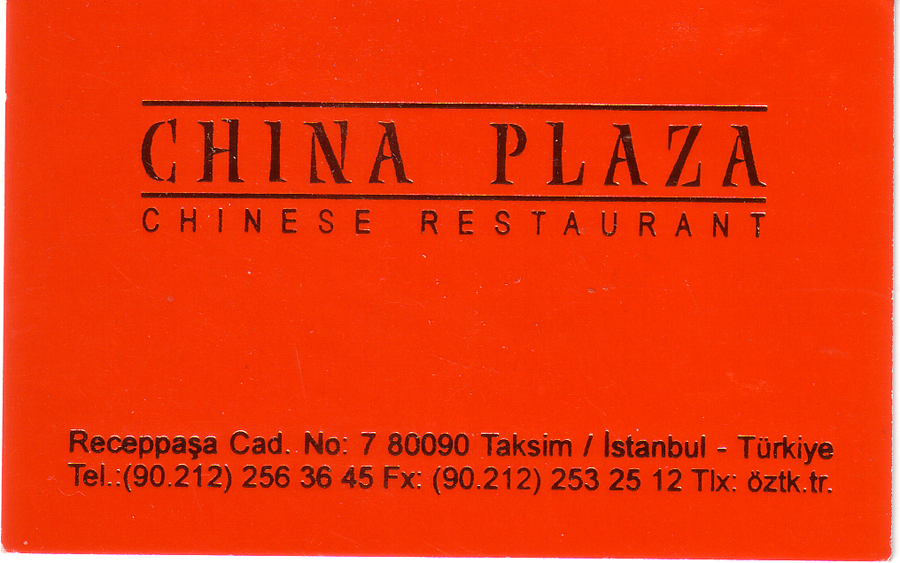 CHINA PLAZA RESTAURANT is at ReceppaŞa Cad. No. 7 in the Taksim Istanbul area; phone: (0212) 253-25 12 and it is one block away. We simply stumble upon this one-year-old eatery. It offers different Chinese food in Istanbul. Its chef is from Hunan and his Cumin Lamb, Fried Rice with Beef, Hot and Sour Sweet Chicken, and Fried Duck in Mixed Sauce all taste northern and nifty. A Chinese tour group is eating here when we do, and their Turkish guide stands outside but meanders in every five minutes or so to chat with them. We query her and learn her country sent her to China for a year of language training. Even though she ate Chinese food there, she never eats Chinese food now that she is back home. When asked why, she says: "I like Turkish food better."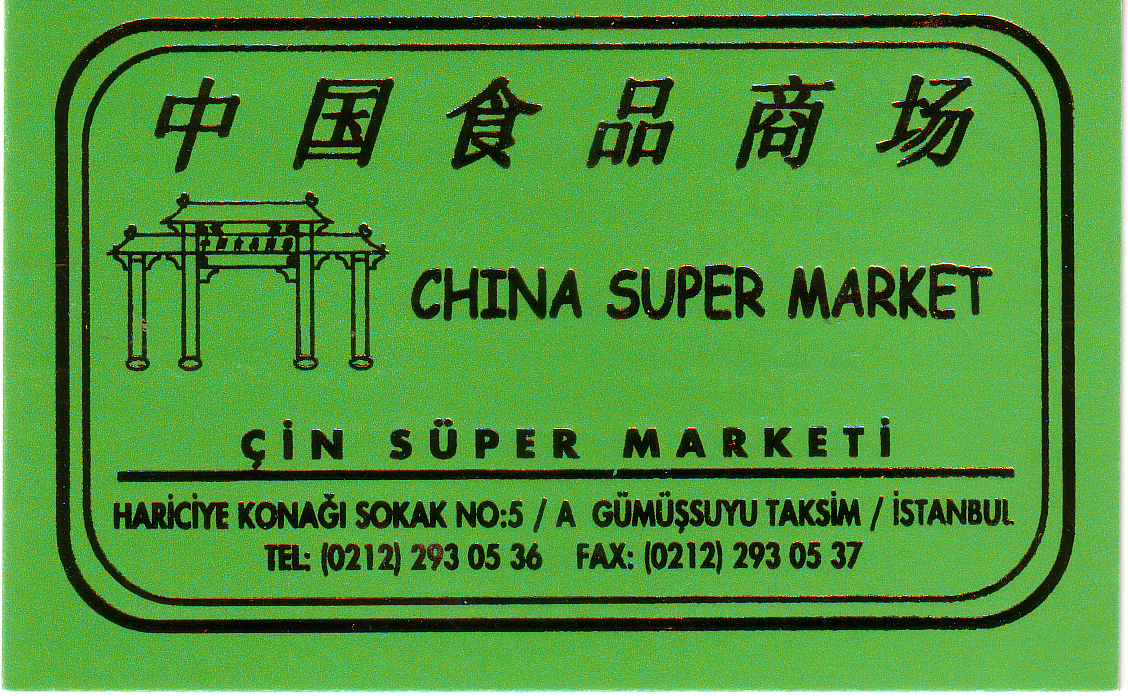 CHINA SUPER MARKET can be found at Hariciye Konagi Sokak No: 5; phone: (0212) 293 05 36 and it is owned by the folk who own and operate the Great Hong Kong restaurant. It is half block away and down the street, and is a small store with a young Chinese salesperson selling cooking tools, touristic items, and dried and canned foods. It does not have a single fresh fruit or vegetable, maybe because it opened but a few weeks earlier. Things could change as they build a customer base, get more things to sell, and so forth.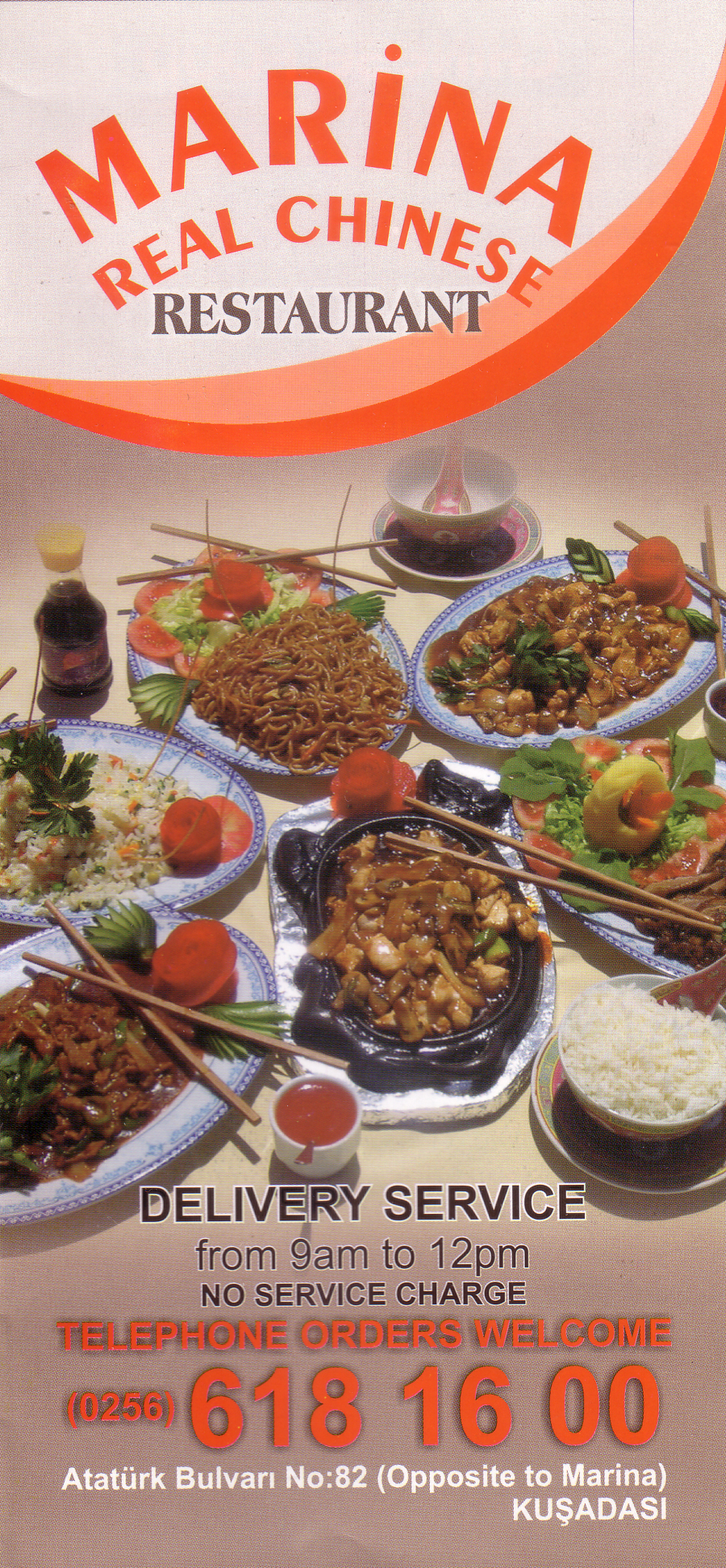 MARINA REAL CHINESE is at Atatűrk Bulvari No: 82; KŰŞadasi; phone: (0256) 618 16 00. It is the only Chinese restaurant we come across traveling to eight smaller cities in ten days; and that was not from lack of looking. We did not eat there, for cause. Owned by a Turkish chef, this touristic restaurant serves Chinese, Italian, and Turkish foods, and calls itself a 'steak and wine house.' They advertise 'no commission on credit cards' and have no service charge. They also serve a full English breakfast. The four times we walk past it on two different days, a chap at the entrance is enticing customers to come in. We only see one couple inside, and they are enjoying alcoholic beverages, nothing else. Even though there are few Chinese restaurants in Istanbul, we did not try them all. We did not go to nor stay in Ankara, where friends say there are a handful of Chinese restaurants. These same friends, several of whom adore Chinese food, admit they never did cross the portals of a single one of them. When asked why, the same response we heard in Istanbul, "I prefer Turkish food."