Read 5929464 times

Connect me to:

Tijuana's Culinary Impact
Chinese Food in Central and South America
Summer Volume: 2008 Issue: 15(2) page(s): 28
---
As indicated in an earlier Flavor and Fortune article in Volume 13(3) on pages 5 and 33 - 34, the Chinese were an important population in the development of Tijuana. At the beginning of the 20th century they came as immigrants and impacted the foods of this Mexican city. Called "the most visited city in the world," Tijuana is an important 'gateway to Mexico' that has been shaped by many different immigrant groups. Though small in numbers, the Chinese were a very important immigrant population.
Tijuana, in the Mexican state called 'Baja California,' is in the country's northwest region. General Esteban Cantu was its governor from 1915 to 1920 and a key to the immigration of a large number of Chinese. The reasons are many but an important one is that the United States Colorado Land Company owned the Mexicali valley where the capital of this state is Baja California, does need a cheap labor force. One company pressured the Governor to allow immigrants into the state, and the Chinese, more than other ethnic group, was permitted to enter and work as farmers in the cotton fields, as miners in their mines, and as laborers in their railway construction.
When this governor stepped down, Chinese immigration slowed; and, when the Colorado Land Company ceased operations in the Mexicali valley, some Chinese immigrants stayed and opened businesses. Their migration to Tijuana, accelerated by climate, was where they became shopkeepers. They also participated in other service sector activities including working in hotels, casinos, and restaurants.
No one recalls the exact date the first Chinese restaurant opened in Tijuana. What they do remember is that it was called Flor de Loto and was situated on 1st Street. This very small eatery did not offer table service. Mrs. Leon recalls going to Chinese school above this restaurant. Palacio Imperial was the first fine dining Chinese eatery. For quite a while, it was the only full-service Chinese restaurant in Tijuana.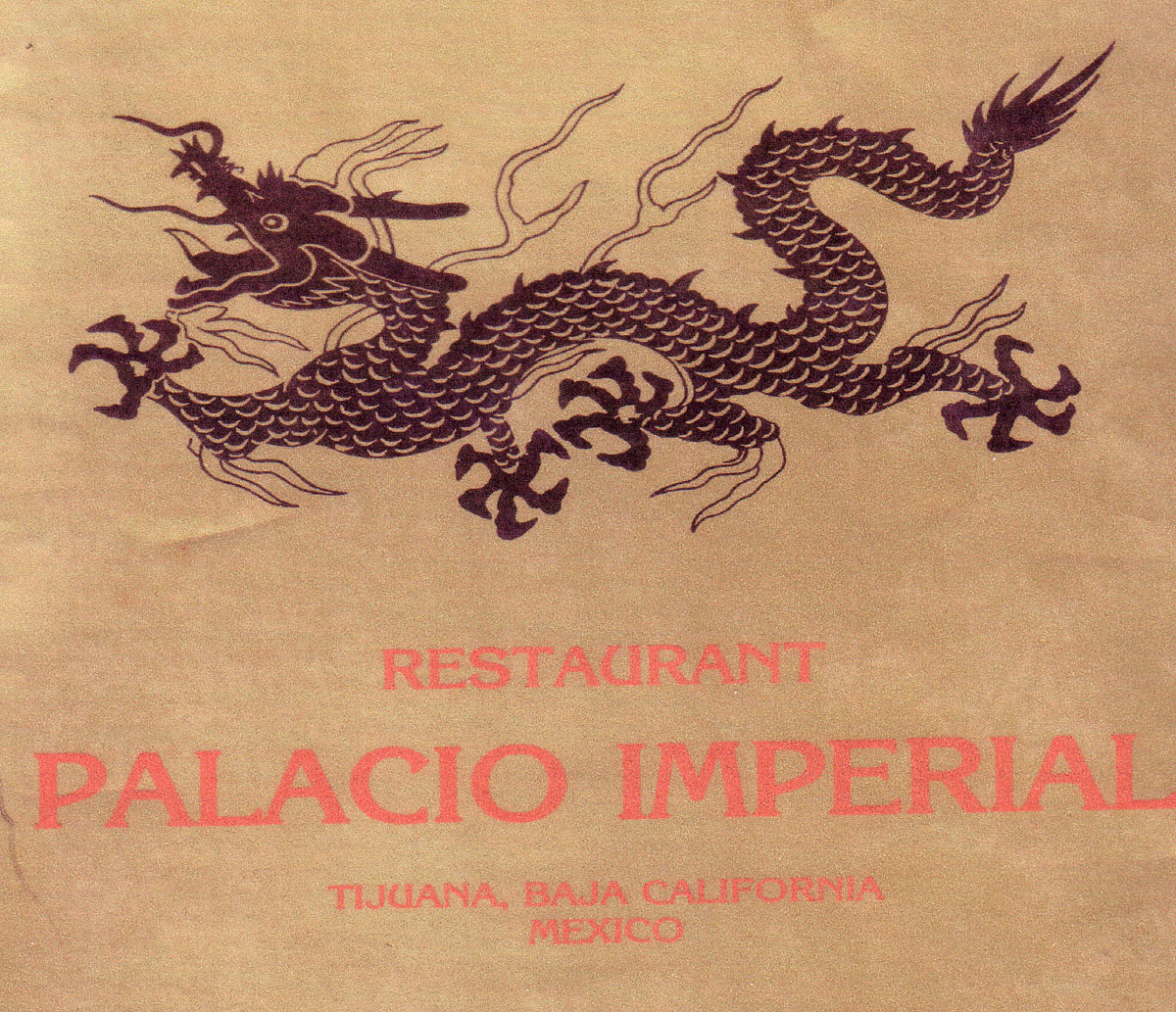 The above mentioned article titled: Liang Ah Fai and His Imperial Palacio did discuss some things about it, and the fact that it is no longer in business. Things are very different today from the eight to ten Chinese restaurants that existed when the Palacio began some fifty years ago. Now, there are more than eighty thousand Chinese in all of Mexico, and more than half of them live in the state of Baja California, with half of them living in Tijuana.
The number of Chinese restaurants in this city has exploded, as well. In 2006, there were some three hundred twenty-five Chinese restaurants, about two hundred eighty-five affiliated with the Tijuana Chinese Association. Now there are three types of Chinese restaurants including take-out places, fine dining restaurants, and some that are somewhere in between these two types. Prices at the take-out and middle group of eateries are somewhat similar. Those considered fine dining report foods costing customers about twice as much per dish among the appetizers and main dishes, others dishes are somewhat more expensive.
What fascinates, is what their owners or managers report about their foods. They say that Cantonese-style Chicken, Chicken Chop Suey, and several rice dishes with meat are most popular in the take-out eateries, but not in the fine dining places. In them, the most popular dishes include Kung Pao Shrimp, House-special Chicken, and Cantonese-style Chicken. The most popular dishes ordered in the middle category of restaurants are Cantonese-style Chicken, Roast Game Hen, and Chop Suey. Condiments used when eating these popular dishes include soy sauce and an indigenous chopped Mexican pepper sauce called chili guerito. Pepper, vinegar, and ginger are not used frequently while lemons or limes are. Very little Mexican hot sauce is used but lots of Siracha, a Thai hot sauce, is popular.
The customer base at these Chinese restaurants are primarily Mexicans and Americans. Almost none are Asian nor are they of Chinese-Mexican descent. Their customers visit a Chinese restaurant at least once a week and most order soda as their beverage of choice. The next popular beverage is iced tea. Rare is the customer who orders hot tea or an alcoholic beverage. More than half of the customers do not eat rice at home but when they do eat it in one of the Chinese restaurants, they order it steamed or fried. When asked why, they say they like its flavor.
Why do these non-Chinese patrons go to these Chinese restaurants? They think the food healthy and they like its taste. Chinese food is popular around the globe, and these patrons in Tijuana say it is in their city, as well.
_____
Lorena Pacheco has a degree in Nutrition from San Diego State University California. She co-authored the above mentioned article with her younger sister Miriam. It was their grandfather who opened Palacio Imperial and their mother who attended the Chinese school above Tijuana's first Chinese restaurant.