Read 5930561 times

Connect me to:

Shanghai: The City and its Food
Chinese Food in China, Hong Kong, and/or Taiwan
Summer Volume: 2008 Issue: 15(2) page(s): 34, 35, 36, and 37
---

This huge city attracts folk from all over China, and from all over the world. Many return many times to a city where the mayor has said its population is more than twenty million. Many say it the largest city in the world, but are they counting the seven million-plus who live nearby outside the city limits? Have they every wondered how many eateries and markets are needed to feed them no matter their proximity to downtown?
The city of Shanghai is both old and new. Old includes traces of human remains found at some twenty-five city-sites dating six thousand years ago, most in the Songjiang, Qingpu, and Jinshan areas. Data on Shanghai as a town ranges in the neighborhood of some seven hundred years; and as an important port city it is only two hundred years old. Old, perhaps, but not in the realm of China's antiquity.
The city of Shanghai began as a small walled area near anchorage provided for fishing and trading vessels. It was a port and place of safety for sailors and merchants from the many sailing vessels that came to call. That said, its role as an important major port is really new in China's scheme of things. New, too, is and was the foreign presence in this city. That only dates from 1842 and the Treaty of Nanjing. This particular treaty was an agreement that followed China's defeat after what westerners call the 'Opium War.' It dictated that China had to open five ports to international trade, and Shanghai was one of them.
Many Americans and British citizens flocked to Shanghai as soon as they were allowed to even though they could not wander or live where they wanted to. They were relegated to specific areas within the city; some became specific places for foreigners from one particular country or another to live and do business. The two largest were the American Concession and the British Concession. After 1863, these two places amalgamated and became known as The International Settlement. The French Concession, established seven years after the treaty, never became part of this amalgamation.
Though Shanghai began as a sleepy port, it quickly emerged as China's financial center, thanks to and with the help of many foreign influences. By 1920, the city census indicated more than a million inhabitants, about twenty-seven thousand of them foreigners; a large mix of nationalities.
A recent visit showed us that the city is newer, bigger, and trendier than any other place in China. As an 'in' place in the 1920's, Shanghai was nicknamed 'The Paris of the Orient.' Virtually every foreign visitor then and since manages to take at least one walk along The Bund, the embankment on one side of the Huangpo River; we did, too. People walk and witness many original international buildings across it's wide traffic-choked street with continuing construction. There are some three hundred or so huge buildings, many now office, hotel, embassy, club, bank, and others still showing some foreign flavor. Most were built by British, American, and French citizens, a few thanks to a mix of folk from other nations. Most are now occupied by Chinese businesses seeking a fine international address.
Looking at these buildings, folk see wrought iron entrances, clock-towers, turrets, and colonnades, among other things. They note each building's distinctive appearance with its own special charm. One main attraction is the Customs House. Another, the People's Municipal Government Center which used to be home to the Hong Kong and Shanghai Bank. The Shanghai Foreign Trade Bureau now, once was the British Consulate. Another building folks gaze at is where Mao lived; it is now an office building. There is much more to see, any single day on the Bund brings memories to returnees, wonderment to first-time visitors.
Beside viewing buildings on The Bund, people check out the Waibaidu, Yangpu, and Nanpu bridges. They span the Yellow River, the English name of the Huangpo. Residents delight in telling new folk that the Yangpu is the world's largest suspension bridge and the Nanpu, the world's third largest double-tower cable-braced bridge. They smile with pride when advising visitors that their city has the tallest building in Asia; it is the third tallest in the world. Appropriately, it is named: The Pearl of the Orient.
Visitors coming back and those in Shanghai of the first time admire these sites, and they shop and admire lots more in this river-divided two-part city. Gourmets and gluttons among them dine with delight at all kinds of restaurants on either side of the Huangpo. The Western part, called Puixi, is the older side with many museums and historic places. It was once the only prosperous side of the river. The Eastern side, called Pudong, was a sleepy farming area feeding Shanghai residents and its many visitors. Now Pudong is prosperous, loaded with residential and commercial high-rise buildings.
The river-front in Pudong, is called Lujiazui. It looks across to The Bund. On the river itself, years ago folk saw sampans, steamers, and ferries. These helped folk go from one side to the other. Now, Pudong is an economic powerhouse, a place many want or need to get to. The Dupuquai is the best way to get to its 'other side;' this tunnel, is a new and great connector to the Puixi or Bund side.
When one visits old Shanghai, folk flock to the Songjiang Xi Lin Tower, the Ming-dynasty Brisk Screen Wall, the Qing and Yuyuan Gardens, and the Longhua, Jade Buddha, and Jinan Temples. They visit the Shanghai Folk Museum and the Dong Tai Road antique market. They walk Nanjing Road, the main and partly pedestrian street and marvel that it is always seems crowded with people. They check out places to shop, others do lots of shopping there. It has many seeking out fine restaurants and smaller eateries on Nanjing Road and on side streets that come off of it. Seems there are always people spending cash or using credit cards to indulge and taste wonderful foods at its many restaurant and snack venues.
People use Nanking Road to get to People's Square and visit the Shanghai Museum; we did, too. They marvel at its round elevated part sitting on a square base. Most do not know that this dual shape symbolizes an old Chinese saying: Heaven is round, the earth is square. Know it or not, they should take time to see the wonderful exhibits here, all labeled bilingually in Chinese and English.
On our very first trip to Shanghai we went to Pudong not to purchase vegetables nor see its sleepy nature. We went to visit siblings of a New York acupuncturist and herbal doctor, a friend born and raised in Shanghai. We crossed the Huangpo in a small sampan, and returned to bed down at the Peace Hotel at the intersection of Zhongshan Road East and Nanjing Road.
We wondered about that building then—it was 1980--and we still do. However, now we now why this hotel originally was two-buildings, each in totally different architectural style. It once was two separate hotels, the Palace and the Cathay. Long before our first visit, the Cathay was nicknamed the Sassoon Building because it had been built by E.V. Sassoon, a Jewish merchant who came to Shanghai via Bombay from Baghdad. You may recognize that name. His family had a son, or was it a grandson, who became a well-known clothing designer in the west whose name was Vidal Sassoon. Do you own something whose original design was his? My elegant granddaughter probably does or at least hopes to add it to the many items in her closet.
Besides buildings, and thoughts of those who live in or work in them, Shanghai reminds of then and now. One item of both eras are the rickshaws. They are back and fashionable, too, and add to its nostalgic component. One item strictly today and modern are the stretch limousines; they ply city streets and carry the rich and perhaps famous; and they point to the future.
Eating in Shanghai is also a mix of old and new. There are old restaurants looking just as they did dozens if not hundreds of years ago. There are old restaurants refurbished for today's young and old. There are new eateries serving the traditional foods of years ago and others serving the new and fusion foods of today. There are some places serving foreign foods, and there are all too many Starbucks, Burger Kings, McDonalds, and the like. There are western food choices and Chinese food selections from every culinary region. There are historic restaurants and newer Chinese ones and American and Chinese fast food chain outlets; the latter include Shanghai Ronghua Chicken, Zhengding Chicken, Taiwan's Mei You Mei, and Hong Kong's Dong Dong, among others.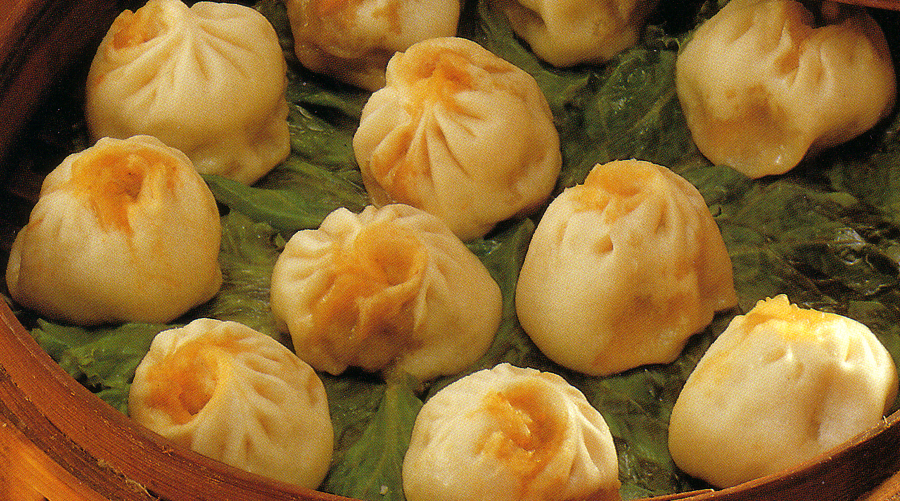 Snacking is still popular in Shanghai, and dumplings top the list of things to indulge in. The best-known ones are their soup dumplings filled with pork and crabmeat. Westerners and Chinese folk both eat lots of them. And, they opt for other dumplings such as those filled with fermented snail meat and sweet bean paste. When in Shanghai, try both and the dozens of others with different fillings. Try stuffed buns and many sweet items stuffed with a plethora of fillings. The people of Shanghai have always had a sweet tooth. Lines outside dumpling emporia, upscale eateries, and sweet shops attest to the many places and the many foods served at them.
Beside dumplings, sweets, and other foods, the Shanghainese like foods with many different herbs, lots of vegetables, a good smattering of sausages, soybeans, and soups, and many, many sweets. They like their meats long cooked, their pork shoulder with meat falling of the bone, so many dumpling delights, and they like lots of tea. There is something for every taste. When we were there years ago we have our fill of river eels, sweet water shrimp, and all manner of fish. When there more recently, we ate lots of them again, and also indulged in quite a lot of unusual regional food.
Where to eat, what to see, and where to shop could fill volumes. The Pearl of the Orient, a TV tower with eleven large and small 'pearls' or balls decorating it is an exceptionally tall unusual building on the Pudong side of the river. It is pictured with this article; and is a place where many local foods can be tried in the largest of its 'balls.' It turns around and is a revolving restaurant. Rare is the visitor who does not stop by to eat and drink there as they enjoy a panoramic view of the city from one of its many tables. A drink or meal or just a visit to this restaurant includes a trip on the building's ultra-fast elevator. The 'view-from-the-top' experience is beautiful looking at this continually growing city. Many like it best at dusk when the lights turn on making night turn to day. Others prefer the view across the river and when walking on The Bund in the evening. When lit and viewed from there, it is equally majestic.
Before going up to its top, do check out Yaohan, Asia's biggest supermarket. You will need a couple of hours to do that. While on the subject of 'biggest' folks like to go to the Temujin Barbecue Shop at Xujiahui to see the largest Mongolian grill ever in a very large glass-enclosed area. There, folk peer in to see their meals and those of others prepared by a few BBQ grill chefs who cut and toss ever so speedily. There are so many sights to see on both sides of the river, we would be remiss not to mention the open-air restaurant on The Bund. Visiting there day or night one sees, eats, drinks, and watches others doing likewise.
Where to eat in this largest of three cities directly under China's central government; Beijing and Guangzhou are the other two. Replying really can fill several issues of this one magazine. We did not collect business cards to show, on our most recent visit, we forgot to ask for them. Sorry about that; but here are some past and present places we suggest you consider.
Beginning with local food, try LAO FAN DIAN at 242 Fuyou Road; phone 6328-9850. Also known as the 'Old Town Restaurant,' this eatery specializes in Shanghai cuisine. Eight Delicacies is delicious, and we loved their strong bean paste sauce. Soft-shelled Turtle is a winner, too, as are ever so many other dishes at this well-known Old Town. It is also a good place to try hairy crab, when that delicacy is in season. Another great place for these crabs is at THE BANQUET HALL on the fifth floor of the Central Hotel Shanghai at 555 Jiujiang Road; phone 5396-5000. A reservation is a must to try their simply steamed hairy crabs. They are large and worth enjoying, but do keep in mind that the shells are very hard, their contents easily 'spill'on you, and are very juicy. Plan ahead to go to Shanghai from early fall through February, sometimes March, and do make travel and dinner reservations early. Folks enjoy these crabs with shark fins, as crab meat balls, as dumplings, and just as plain steamed hairy crabs.
A great bastion of Shanghai buns is the NANXIANG STEAMED BUN RESTAURANT at 85 Yu Yuan Road; phone: 6355-4206. Shanghai buns are also great at FENGYU DUMPLING SHOP at 216 Fengyang Road; phone 6327 7005. Also try them fried at YANG'S FRY DUMPLING at 60 Gourmet Street; phone 6267 6025. Check that street out as there are lots of other food facilities there.
Check out YANGZHOU RESTAURANT at Nanjing Road East; phone 6358-7988. They prepare a super jelly-like pork, great steamed crab balls, and a mashed fish with pine nuts not be missed. Want steamed fresh-water eel, a local favorite? You might want to go to XIJIAOTING SEAFOOD RESTAURANT on Nanjing Road West; phone: 6279-0279. This classic super Cantonese restaurant makes a great rendition of this eel dish. For vegetarians and those who adore vegetables, visit GONG DELIN RESTAURANT at 445 Nanjing Road West; phone: 6237-0218, and yes, while there do try their crab, eel, and fish. They are mock-style taste treats looking and tasting like the real thing. Should you want fine Muslim foods, get to HUIFENG on Hunan Road South; phone 6328-1795.
Steamed dumplings can be enjoyed at many places, and we have devoured them at LU BOLANG on Yuyuan Road; 6328-0602. For Chinese upscale food on The Bund, get thee to TAN WAI LOU CHINESE RESTAURANT at Bund 18, but not without a reservation. One needs to keep in mind this is a Michelin 3-star restaurant. Last, but not least, for those who want contemporary Chinese food, you might want to visit the WHAMPAO CLUB at Three on the Bund, phone 6321-3737 or enjoy an historic view and food at the DRAGON AND PHOENIX RESTAURANT at 20 The Bund; phone 6321-6888.
There are so many other places worth knowing about. For Cantonese dim sum, there is CRYSTAL JADE at 123 Xingye Road; phone 6385-8752. For Taiwanese food, try FLOWER PALACE RESTAURANT at 4 Hengshan Road; phone: 6467-7266. Want to meal in a fine hotel that does not break the bank, visit and enjoy one as we did at OLD SHANGAI JINJIANG HOTEL on Maoming Road; phone 6258-2582.
If you are not able to make it to Shanghai soon, you do not need to miss out on great Shanghainese food. Try the recipes below, one for each day of a week to taste this city's cuisine. Also, try any one of the many Shanghai restaurants all around the world.

Shanghai Pork and Crabmeat Dumplings
Ingredients:
1/2 pound minced or ground pork
1/4 pound fresh crab meat, minced
1/4 pound pork fat, minced
1/2 teaspoon salt
1 teaspoon oyster sauce
2 Tablespoons thin soy sauce
1 teaspoon sesame oil
2 scallions, minced
4 cups all-purpose flour
2 Tablespoons thin sliced young ginger, shredded
1 Tablespoon Chinese black rice vinegar
2 lettuce leaves
Preparation:
1. Mix pork, crab meat, pork fat, salt, oyster and soy sauces, and sesame oil. Add the scallion pieces and knead this mixture for three minutes, then let it rest for an hour.
2. Make the dough by putting flour in a bowl or on a board, make a well, and knead in one cup of cold water. Let dough rest half an hour, knead again, and let rest another half an hour before dividing dough into two parts. Roll each separately into a long one-inch cigar-shaped piece, and cut into ten separate pieces. Pat each piece down, then roll each into a three-inch circle. Stack them to prevent their drying.
3. Put just shy of two teaspoons of filling on a piece of dough, wet the edges, fold in half and pleat the outside edge pinching this edge together. Repeat until all are filled; then put the dough packets onto a bamboo steamer basket, and steam them covered with a bamboo basket cover over boiling water, for six minutes.
4. Line a pre-heated plate with the lettuce leaves and put the dumplings of these leaves.
5. Serve with a small dish of the shredded ginger and another with the rice vinegar, for dipping.

Crunchy Baby Eel
Ingredients:
2 cups vegetable oil
6 ounces sweet-water baby eels, skinned, boned, and cut into thin strips
1 lettuce leaf
2 cloves garlic, peeled and cut into thin strips
1 slice fresh ginger, peeled and slivered
1 Tablespoon sugar
1 Tablespoon soy sauce
1/4 teaspoon chili paste with garlic
1/2 teaspoon Chinese black vinegar (or balsamic vinegar)
1 scallion, slivered
Preparation:
1. Heat oil and dry eel pieces with paper towels, then carefully drop them into the oil. Deep fry the eel until crisp, then remove, drain on paper towels, and put them into a pre-heated bowl lined with the lettuce leaf.
2. Discard all of the oil but two teaspoons, then fry the garlic and ginger for half minute. Mix in the sugar, soy sauce, chili paste, and black vinegar and stir for one minute until it bubbles. Pour this over the eel, sprinkle with scallions, and serve.

Quail, Shanghai-style
Ingredients:
2 Tablespoons honey
1 Tablespoon maltose
1/2 cup mushroom soy sauce
6 cloves garlic, peeled and minced
2 teaspoons coarsely ground black pepper
1 Tablespoon sesame oil
5 quail, each cut in half
Preparation:
1. Heat honey, maltose, soy sauce, and garlic just until the sugars are melted and the ingredients well mixed. Remove this marinade from the heat, add the pepper and the sesame oil.
2. Baste this marinade on all sides of the quail, and put them into a glass or ceramic dish. Pour any extra marinade over them, cover, and refrigerate for six hours or overnight, turning them several times and each time, brushing the marinade over them.
3. Heat oven to 450 degrees F. Put quail on rack over a broiling pan, breast side down. Roast them for ten minutes. Then turn them over, re-baste with marinating liquid, and put them back into the oven for fifteen minutes. Remove, chop each half into four pieces, put on a pre-warmed platter and serve.

Braised Belly Pork
Ingredients:
2 pounds belly pork, cut into four or five-inch pieces
2 cups chicken stock
1/4 cup dark soy sauce
2 Tablespoons peeled and coarsely minced fresh ginger
3 cloves garlic, peeled and coarsely minced
1 teaspoon chili paste with garlic
2 Tablespoons maltose
3 sticks cinnamon
6 cloves
3 star anise
1 pound baby bok cai
1 Tablespoon cornstarch mixed with one tablespoon cold water
Preparation:
1. Bring three quarts of water to the boil, add belly pork pieces, reduce heat, and simmer for forty minutes, then remove from the liquid and allow the pork time to cool. Reserve and strain the liquid.
2. Tie each piece of pork both ways with butcher's string or the equivalent, so it does not fall apart in the cooking.
3. Reheat the liquid, put tied pork pieces in along with the soy sauce, ginger, garlic, chili paste, maltose, cinnamon, cloves, and star anise. Simmer covered for two and a half hours. Again remove the meat and strain the liquid, discarding all solids. Then boil and reduce the liquid until only half a cup remains.
4. Steam bok cai and put on a pre-heated serving platter. Remove the strings from the pork and put them on the greens. When liquid is reduced, add cornstarch mixture and stir until thickened. Pour this over the pork and greens and serve.

Eggs, Old Shanghai-style
Ingredients:
1 Tablespoon vegetable oil
4 eggs, beaten for two minutes
2 teaspoons chives, minced
1 small boneless pork chop, minced
3 Tablespoons slivered bamboo shoots
2 dried Chinese black mushrooms, soaked until soft, stems removed, caps slivered
1 Tablespoon thin soy sauce
1/2 teaspoon sugar
3 Tablespoons chicken broth
1 teaspoon sesame oil
Preparation:
1. Heat wok or fry pan, add vegetable oil, then the eggs, chives, pork, bamboo shoots, mushrooms, soy sauce, and the sugar. Stir for one minute, no more, they should just be starting to set.
2. Remove egg mixture to a heat-proof serving bowl and stir in the chicken broth. Cover and steam over boiling water for two minutes. Remove cover, add sesame oil, stir once, and serve.

Sweetened Lotus Slices
Ingredients:
1 large lotus root, a pound or more
1 Tablespoon lemon juice or rice vinegar
1/2 cup glutinous rice
2 Tablespoons ground pork
1 cup Chinese brown rock sugar or use plain brown sugar
1 teaspoon cornstarch
1 Tablespoon maltose
Preparation:
1. Peel lotus root and brush with the juice or the vinegar to prevent its turning brown. Cut a half-inch end off both ends of the lotus root, and reserve them.
2. Mix rice and pork and using a chop stick and going from both ends, stuff rice mixture into the holes of the lotus root. Secure the cut off ends with toothpicks.
3.Put the lotus root into a pot, cover with water, and simmer for one hour. Then add the sugar and the cornstarch mixed with one tablespoon of cold water, and the maltose. Steam for one more hour.
4. Remove lotus root from the liquid, remove the tooth picks and discard the cut ends before cutting them into six slices each. Put these on a small platter.
5. Reduce the liquid, boiling it, until thick, and pour over the cut slices, then serve.

Shanghai Sweet Wontons
Ingredients:
spray can of vegetable oil
10 round wonton wrappers
2 fresh apricots or nectarines
2 cups high quality fruit flavored ice cream
Preparation:
1. Spray non-stick muffin pan with vegetable oil.
2. Insert one wonton wrapper into each of the cups in the muffin pan pleating each of them neatly. Then spray each of the wrappers, and bake in a 400 degree oven for two minutes. Allow them to cool in the muffin pan.
3. Put fruit into boiling water for half minute, remove them, and remove their skins. Dice them into half-inch pieces.
4. Put two or three pieces of fruit into each wonton wrapper cup, then top with a small scoop of ice cream or some of the mango pudding. Top this with more cubes of fruit, and serve.