Old Pro Opens New Restaurant
Chinese Food in the USA
Fall Volume: 2008 Issue: 15(3) page(s): 18 and 19
---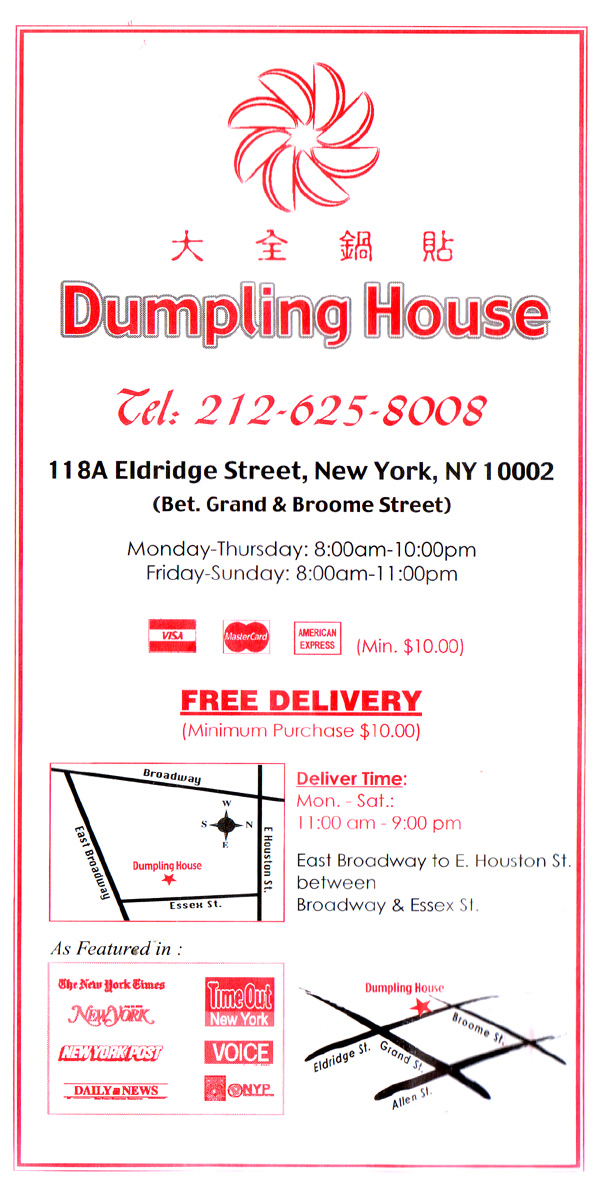 Would you set your alarm clock for 6:45 am to ensure being first on a line for Chinese breakfast? I do not think so. Would you be more tempted to get up with roosters if you had been invited to be the first customer at a new restaurant? Still no, eh? What if the restaurant's dumpling recipe was hands down the best you had ever sampled AND the winsome proprietress extended the invitation in person? What if she told you she would throw open her new doors at the propitious time of 8 am on January 8, 2008, triple 888 being among the luckiest of numbers for superstitious Chinese? My wife and I could not resist such a start to the New Year, so on a cold winter morning we found ourselves on Allen Street waiting for a florist to open. Always on the hunt for good luck, we figured we had better procure the traditional Chinese grand opening gift--a plant--the color green a Chinese symbol for money.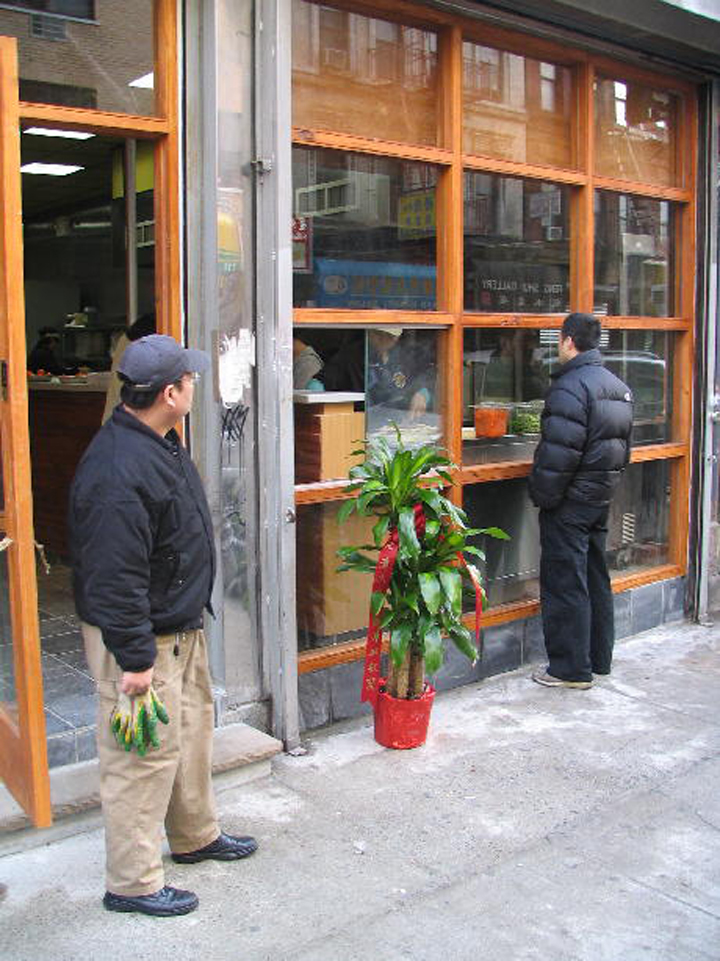 Since the mid-1990's, Vanessa Weng has been slinging dumplings and such at her New York City Dumpling House (between Grand and Broome Streets) at 118A Eldridge Street. This hole-in-the-wall and her other dumpling emporia received many glowing reviews, not only in the pages of this magazine (in volumes 13(4) on page 31 and in 14(3) on pages 28 and 31), but in just about every major media outlet that covers Manhattan eateries. Vanessa spends a lot of time tinkering with classic and family recipes, always seeking to upgrade their wholesomeness and popular appeal. Vanessa is a Beijing native best at serving the kind of snacks popular in her hometown.
Dumpling House has neither rice nor tea, and the omission of these archetypal Chinese staples surprises many first-time customers. Such dismay wears off quickly though because Vanessa's '5 for a buck' dumplings creat legions of diehard fans, from Chinatown's aging Toisanese on fixed incomes to Williamsburg hipsters in the know.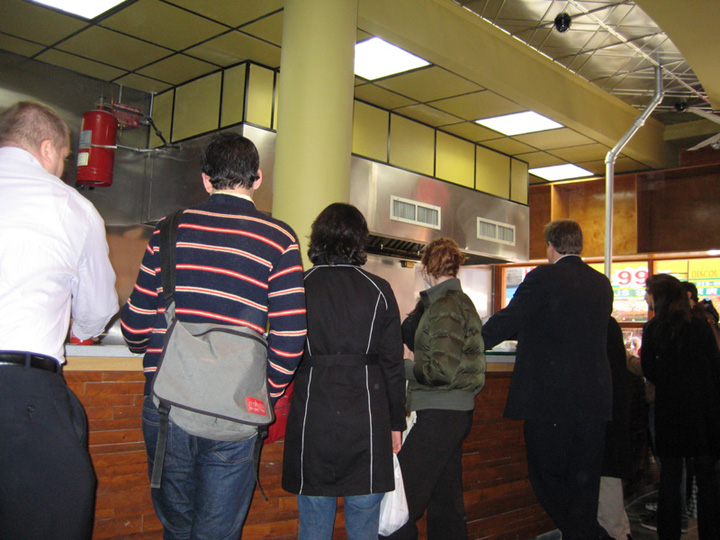 Her new Dumpling House is at the same address as was an old one, but it doubled its size by acquiring the space next door (and paying handsomely for the neighboring Chinese hair salon to move one store north). It is a spiffy and immaculate restaurant with a glass picture window allowing customers to see the all-female dumpling makers at work. They are portioning, rolling, snapping, twisting, and pinching the dozen or so different styles in a spotless back room. Designed by Jason Jin of B.J. Design, the restaurant features two stand-up bars so diners can snack on foot, a handful of tables for more leisurely eaters, and a busy takeout window opening onto the sidewalk for those on the run. A pastiche of shiny wood lathe (rescued from a 200-year-old building), tall ceilings with undisguised ductwork, and highly-glossed antique beams, makes for a snazzy mixed rustic/modern look. All in all, it is a very appetizing space, a big improvement over the original set-up.
All that glitz comes at a price. When we first saw Vanessa at '8 on the 8th' she was gingerly carrying new utensils up from a sparkling lower-level prep kitchen, arm in a sling. "I popped out my shoulder" she whispered nonchalantly and bravely carried on. Restaurant work is physically and mentally taxing, even for this seasoned pro.
Lucky for her customers, the ever-professional Vanessa does good market research. Legions of regulars were chomping at the bit for the grand re-opening. They were eager to once again fork over a dollar for her 'Number One Best Seller,' her chive and pork fried dumplings. Happily, the dumplings are precisely as before, a complex symphony of flavors and textures inside super-fresh handmade dough that sells so quickly it rarely sees the inside of a refrigerator.
Properly chewy yet light, a team of chefs steam the top two-thirds, while simultaneously crisping each bottom third a golden-brown as pretty as Belgian lace. Inside is a loosely packed center of perfectly proportioned coarse-ground pork and chopped green chives. The dumplings are thoroughly tasty on their own yet it is hard to resist a squirt of vinegary soy sauce, and/or liquidy chile sauce. Suggest you ask for la yow--her roasted hot pepper oil kept for insiders looking to ring even spicier notes.
Many Chinese people who grew up rolling and wrapping dumplings with their families disdain chopsticks for gwor tip, preferring to snag the little crescents between thumb and forefinger. Forks, fingers, or chopsticks, no matter how you take your first bite, do watch out because hot liquid tends to squirt out of these immaculate conceptions. Had she raised the price to $1.25 or $1.50, old-timers might have balked--instead, Vanessa quietly reduced the portion from five to four dumplings; a slick move any M.B.A. would approve.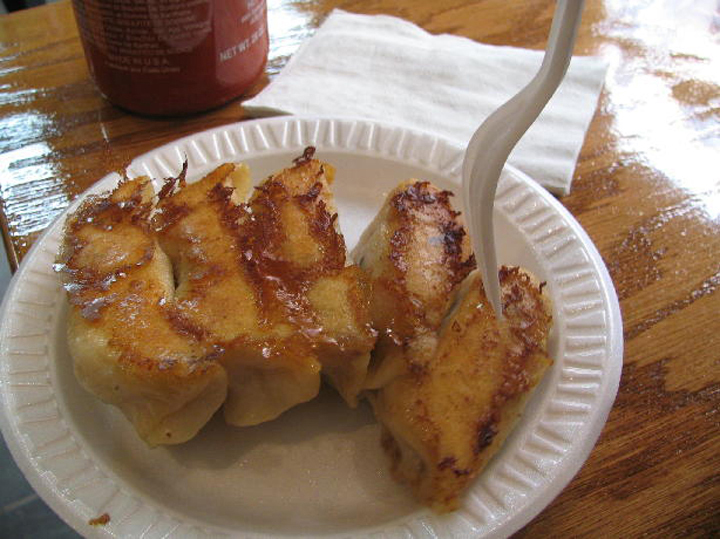 All the classic Beijing snacks are still here, warming and delicious. Be sure to try time-tested delights such as wonton soup with seaweed, and brine shrimp (instead of the more common sliced roast pork and bok cai leaves) and/or sheng jeng bao, bready fried pork buns that Vanessa modernized for healthier eating. For these, she added crispy water chestnuts and hunks of shiitake mushroom. Her boiled chive and pork dumplings are the definition of supple; another true special is su la tang, hot-and-sour soup with a tangle of assorted Chinese wonders like none other.
Pizza-slice-sized wedges of steaming-hot sesame pancake have gone up from 50¢ to 60¢--brother can you spare a dime? They may well be NYCity's most filling snack for well under a buck. These doughy triangles can be stuffed with aromatic beef and mild Chinese kimchi, or you can lighten up in hot weather by swapping the beef for Vanessa's own ten-ingredient tuna salad, a deliciously un-fishy spread that puts the American version to shame.
Variety is the spice of life. Ever-experimental, Vanessa has created delicately-seasoned basil and chicken dumplings with pretty pink wrappers. She also added fatty and flavorsome Peking Duck to the carefully-selected repertoire, available stuffed in the aforementioned sesame pancakes for $1.75, or in a meal-sized noodle soup for $3.25--better duck at a better price is nigh on impossible to find. This savvy restaurateur knows omnivores can not resist a spot that serves dishes unavailable outside China.
I am eager to return for other new Dumpling House offerings, like creamy-looking rice congee studded with eight ingredients, bean curd with scallion; and her chive and egg or the onion and beef pancakes. There is also a small line-up of fresh fruit and vegetable juices squeezed to order, bubble teas, and several smoothies. I am planning to stop by at least a dozen times a year because of Dumpling House's fetching promise: "Monthly New Tasty Dumplings." I won't be lucky enough to get the first batch by 8 am every time, but I will be there.
FYI: Vanessa's Dumpling House is open seven days a week from 8:00 in the morning until ten at night. Their phone is: (212) 625-8118 or (212) 625-8008; and for catering and wholesale orders, the phone is: 917-362-9398.
_____
The author thanks Duke Amberjack and Micki Spiller and hopes you will tune in to the internet version of a NPR radio story that ran in late January, 2008 at www.npr.org/templates/story.php?storyId=183999