Melbourne's Top Chinese Eatery and Other 'Down Under' Finds
Chinese Food in Australia and New Zealand
Spring Volume: 2009 Issue: 16(1) page(s): 25, 26, 27, and 28
---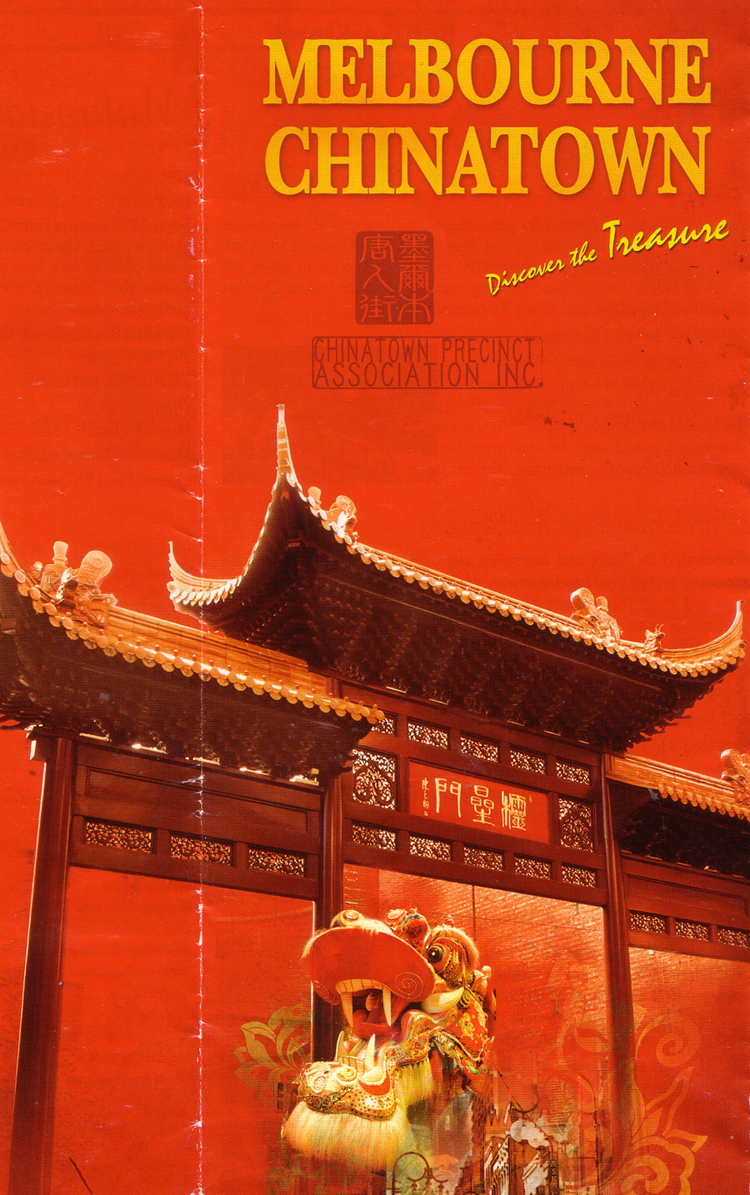 Before going 'down under' as going to Australia is called, simply reading Time Magazines October 6, 2008 pages about food there titled: Pursuits, and other magazines gets the salivary juices going. Many tout their tastes saying how great and how seriously folks on this continent take their food. We hear from friends that Australia has some of the world's finest Chinese restaurants. Some wax poetic and call them the best in the world. One friend said so, while another goes so far as to say: "Melbourne has the best Chinese restaurant ever, better than any in China or elsewhere." Still another pipes up that he probably means the Flower Drum in Melbourne. "Top of the line" he says. Both advise that making a reservation weeks in advance is an important consideration because on several trips they could not garner one. So when our Melbourne hotel reservations are set, we contact that touted eatery, but hear nothing in return. We do wonder why not. Then, after arriving in this city we contact them, with help from our tour guide. She reports that our reservations are confirmed.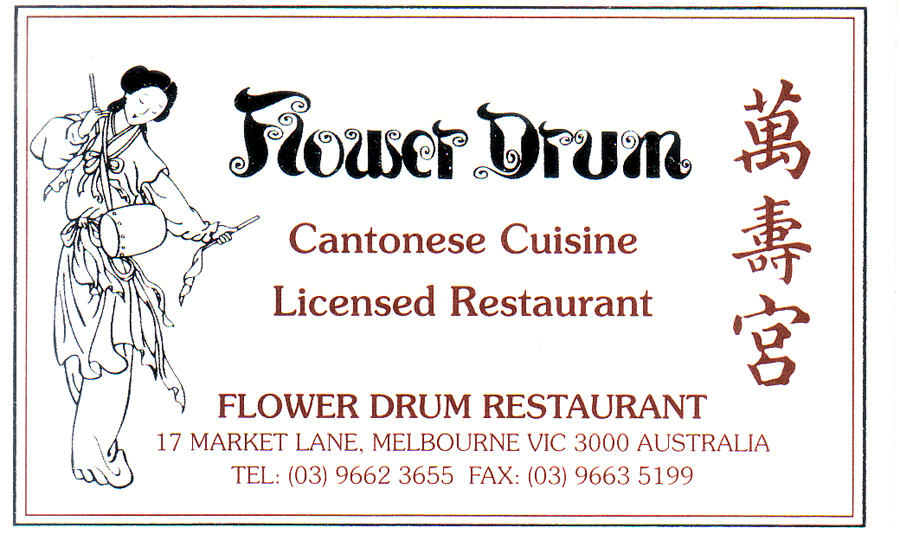 FLOWER DRUM RESTAURANT at 17 MARKET LANE in MELBOURNE; phone: (03) 9662-3655 moved to its current upscale surroundings in 1984. Prior to that, it was on Little Bourke Street and originally opened there in 1975. Listed and ranked highly in every Australian tourist book we explore, it is also touted by Chinese cookbook and culinary authority Elizabeth Chong. We later see it listed in her A Taste of Melbourne's Chinatown booklet we purchase at Melbourne's Chinese Museum. Chong says Gilbert Lau, its initial owner is known to be in pursuit of excellence...and...but wait, we are getting ahead of ourselves.
Due to advancing years and what one source called 'ill health,' Lau is gone. His trio of successors are the original executive chef, the original bar manager, and his very own original business manager. They own the place now and thankfully, maintain his standards. We were fortunate to be able to meet Min Tsao Gong--better known as Chef Anthony and his son Jason Lui, Jason oversees the front of the house. Pauline Fong--whose business efforts then and now still oversee Mr. Lau's stringent standards and attention to detail.
Ascending the elevator to dine on its second floor, we are excited. Getting off from it, we enter the super-elegant dining room and disembark looking at their very widely-spaced tables. We walk past frame after frame, plate after plate, and medal after medal honoring this eatery. They line the entry walls. They also cover the walls on the way to the lavatories, we note later. Matter of fact, they are on every available surface before entering the dining area. Reading some, we learn this restaurant is believed top drawer by lots of reviewers. After eating there, we know it, and agree that it is not to be missed.
The menu is lovely. The first page says: Welcome! We read on learning: "Good food like the appreciation of good music, is an unmistakable sign of culture." It also says, "China, with the earth's most enduring culture, gives the art of dining first place, in the importance of living." Then it says: "The dignity and art of five thousand years of culinary excellence is prepared and offered to you by the Master chef and staff of the Flower Drum Restaurant." With all that additional hype, we are anxious and ready to look at the rest of the menu and then at the foods served here.
There is an old saying that one of the pleasures in life is to eat in Canton. The menu tells us their Cantonese master chef will transport our palate there with his authentic and traditional cooking. We are ready to begin and when we do, we learn that Chef Min Tsao Gong and his team really do prepare terrific Chinese food. The wait staff serves it better than at any other Chinese restaurant, too. Here, the kitchen pays attention to texture, flavor, taste, and colors, and the servers tend to every need before one realizes there is one.
Dinner begins with a pair of appetizers. One is shards of fresh crab mixed with a Chinese white sauce. It is broiled and exhibits hidden piquancy. Its partner is Quail Choi Bao with mushrooms, Chinese pork sausage, chestnuts, and bamboo shoots finely minced together then stir-fried with a touch of dark soy, and finally wrapped in crisp leaves of lettuce. They recommend and we enjoy a 2005 Chardonnay from Yabbe Lake, a vineyard on Australia's Mornington Peninsula.
We switch to Sally's Paddock 2005 Cabernet to accompany a Cantonese classic that comes next. It is their Roast Duck served Peking Duck style, skin and top layer of meat folded in a Northern-style bun. Slivers of cucumber and some hoisin sauce keep it company. The masterful knife skills and its presentation promote its terrific tastes. These and all dishes here are top notch, the cut of every food item enhances its very taste.
Between courses, a clean hot towel is presented on each diner's right, there to cleanse fingers and refresh. A clean plate replaces each from a preceding course. The teapot, filled with very aromatic jasmine, is replaced with another, empty or not after each course. Service here really is exceptional.
Before the next course, chopsticks are removed and replaced by knife and fork. These are to consume a pair of venison tendons served with a large succulent super black Chinese mushroom and coral trout atop Chinese greens, bright, crisp, and as tender as can be,
Before the soup course arrives, clean chopsticks are set resting on silver chopstick rests, a matching soup spoon arrives in tandem. Crayfish pieces on a bowl of e-fu noodles and a casserole of rice soup follow. They fill the air with fresh coriander and their seafood aromas. These are tossed with Black Angus Beef and Pigeon Eggs. The twin dishes are visual delights; and they are delicious, too. Our meal ends with a bowl of steamed fresh milk with a hint of ginger and a plate of almond cookies. Like all previous dishes, each could not be better, nor served better, either.
Flower Drum does march to a higher drummer. The place is gorgeous. It is set with a huge bowl of fresh flowers gracing a huge rosewood-centered table. Outstanding Chinese pictures enhance and decor the walls. Roses and other fresh flowers are everywhere as are large and lovely live plants. Each and every staff member keeps eyes peeled on every diner; they meet their needs before the diner knows one even exists. Every ingredient in every dish is cut to maximize texture and taste, is cooked to a turn, and is plated perfectly. Before tasting, just looking at each dish gets the salivary juices going. That gets diners to delight then devour; and we did!
We came with friends, members of the Chain de Rotisserie who go to a multitude of black tie dinners, other upscale events, and lots less formal meals around the world. They agree that the meal shared at Flower Drum Restaurant provided the most harmonious blend of textures and tastes, the finest combination of flavors ever experienced in any Chinese restaurant.
Flower Drum does not disappoint. It serves terrific foods in top notch style, never loses sight of its Chinese roots, and prepares every dish better than anyone or everywhere else. Their drum beats loud and we plan to march to it every time in Melbourne.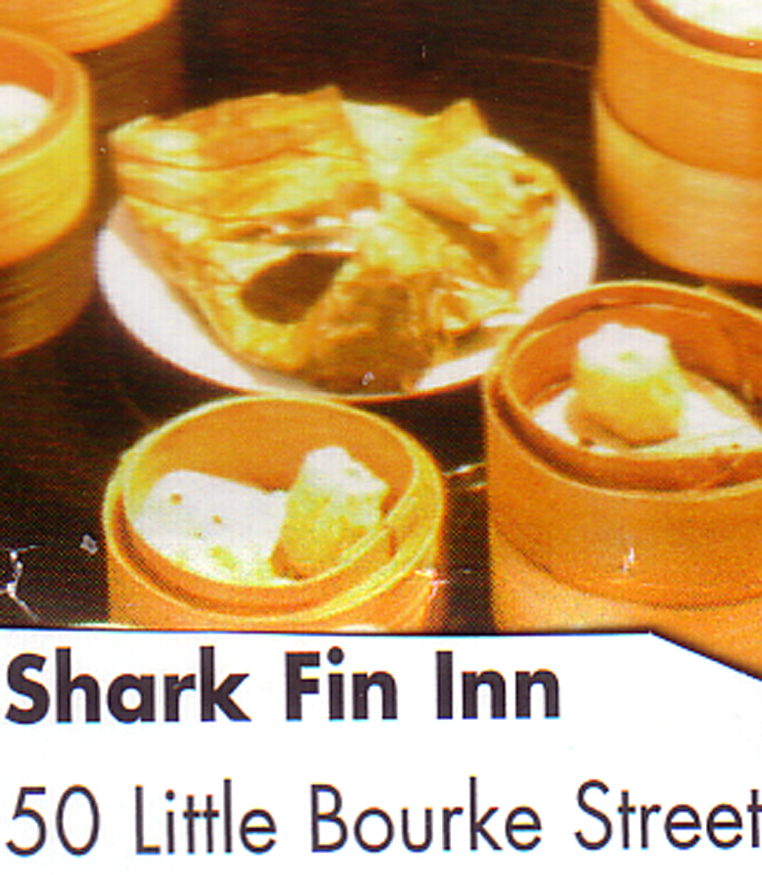 SHARK'S FIN RESTAURANT; 131 LITTLE BOURKE STREET; MELBOURNE; phone: (03)9662 2681 also has a fine reputation in this city. They sport their share of plaques and plates, but even with stiff white tablecloth service, it is typical of Chinese eateries worldwide. One of several restaurants they own including Shark Fin House, Shark Fin Inn, Shark Fin Take-out, and Shark Fin Inn City, we think their many awards are more for the daily Yum Cha, more commonly called Dim Sum in the United States. We did not have time to go for dinner; but will on our next trip.
Tables here are in demand, too. Our next door mates advise they do not always honor reservations so they come early, especially on week-ends. They do not mind the noise, a sign to Chinese that people are enjoying, and they even made plenty themselves.
Opened in 1989, this and its sister restaurants specialize in live seafood, Cantonese food, and affordable prices. On the way in, the large supply of King Island lobsters, king crabs, Darwin mud crabs, Tasmanian scallops and oysters, and coral trout from Queensland, among other sea creatures are enjoying a swim.
This Hong Kong style eatery seats several hundred on its three floors. Known for its lines of folk waiting for tables, the chap at the entry is polite but brusk. Those waiting are enjoying friends, family, and finally their food. We like it and do enjoy excellent pigs foot pieces swimming in a top notch sauce. It is one of few non-fried dishes riding on the ever-present wagons that barely make it down the narrow aisles. Steamed and stir-fry dishes can be ordered, and we do. The Roast Duck platter is excellent but needs a waitress to warm it up from an earlier rest in the refrigerator; it really is quite cold.
Shark's Fin Soup is hot but with few strands of its namesake. Scallion pancakes are super though super greasy. Managers pay more attention to their headsets than to the heads and bodies feasting at their tables. Overall, the food is good, but the service is disconcerting. Egg-white Dumpling is stir-fried whites with cloud ear slivers in a steamed dough; it is edged with crab roe, looks great but it takes three requests to get one.
We find most of the dishes very good, a few excellent, and many different from ones familiar to Chinese food afficionados from the States. Many are oilier than we appreciate. Our next-door-table-mates advise, when we tell them we will eat at Flower Drum the next night, to try Pacific House, also Mask of China, a Chiu Chow cuisine eatery. Both, they say, are less expensive. Next time in Australia, need to check them out, as well.

MELBOURNE'S CHINESE MUSEUM is at 22 Cohen Place; phone: 13 9662 2888 and the IMMIGRATION MUSEUM at 400 Flinders Street; phone: 03 9927 2700 are two Mrlbourne places these young folk ask if we have heard about; and are we planning to go to them? Actually, we had been to both that very day and do agree with them that when anyone visits this city, they should visit them both.
CAIRNS, once a service town for Australia's gold fields, was founded in 1876 and is on the way to North Queensland. This small city of less than a hundred fifty thousand offers many Chinese restaurants, some quite good. Folks come here to catch a boat to the Great Barrier Reef or a bus to the World Heritage Rain Forest. At the latter, they can take a five-mile cable car atop the forest canopy. Clearly this city attracts tourists; and we find, as we stop in to quite a few restaurants, that it feeds them well.
CAFE CHINA SEAFOOD RESTAURANT at the corner of Spnce and Grafton Streets; in Cairns; phone: (07) 4041-2828 is near the city's Esplanade. A good number of the Chinese eateries feature yum cha, as the Brits and their brethren call dim sum. We have some delicious examples at this white tablecloth eatery under the watchful eye and ownership of Harry Sou. This place is a mite more than ten years old with its own collection of 'Best Chinese Restaurant' awards.
The chef there, from Guangzhou, serves lots of Chinese and Japanese tour groups. Some thirty of the latter are having a banquet at noon. Their main meal begins with beverages and a huge bowl of rice. One lady tells us it is their first meal with rice since coming to Queensland. She says she is starving for this grain. Their Mapo Dofu and their thin soup, and marinated barramunda fish and seven other delicious-looking dishes fill the table. We get to taste as we eat our Spinach Dumplings in a very yellow dough; they are mixed with lots of chopped sweet shrimp. The Shrimp Balls we order are rolled in something white, we never did learn what it was. Never mind, they are also loaded with coriander and are very good. We try the Fried Squid; it is tender and terrific, but quit there as all else comes fried. We pay up and head elsewhere.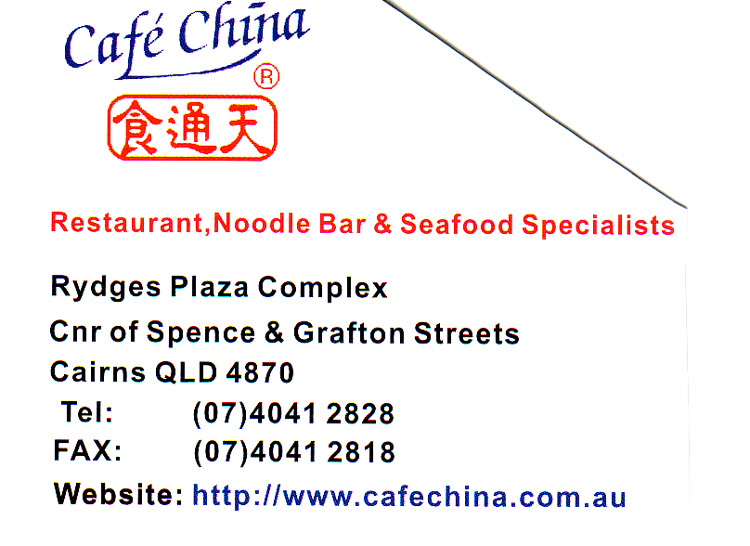 CAFE CHINA NOODLE BAR at 32-40 Spence Street in CAIRNS is around the corner, and we go there. This place shares the same telephone number and is a help yourself eatery; so we do. The noodles are terrific, and the toppings we put on them are savory yet spicy. Seems noodle bars are popular in this town, and we do enjoy them immensely.
TASTE OF CHINA at 38 Abbott Street in CAIRNS; phone (07) 4031-3668 provides more serious dining. It is the oldest Chinese restaurant in town, one block from the main drag. They tell us they are eighteen years old and across the street from the newest Chinese dining spot.
PEKING PALACE RESTAURANT at 37 Abbott Palce, also in Cairns is that newest eatery. It is one month young, and yummy. It draws a good-size crowd, half are Chinese. They seem to enjoy their efforts and their offerings.
GOLDEN BOAT CHINESE RESTAURANT at 34 Lake Street in Cairns; phone: 4031 8833 is, they tell us, an authentic Chinese dining experience. Live seafood is popular here, two tables dining on Dungeness and local crabs. At lunch, their roaming carts are parked because they now use a photo card of offerings for ordering. The Shark's Fin Dumplings deserve an award even though they come with scant strands of fins and lots of finely chopped pork. Bamboo Shrimp and Scallop dumplings, made in the shape of shu mai are large and lovely. They taste terrific. Like many other Chinese restaurants in town, its chefs came from Hong Kong and its menu reflects that.
CHINA PALACE RESTAURANT at 69 Abbott Street in Cairns; phone: (07) 4051 9188 serves very good snack food. Their Chicken Curry is and their Spare Ribs with Peking Sauce tell us their chef is from or cooked in Beijing. His Corn Soup is too sweet for our taste; maybe he did a stint in Shanghai, too. We return for dinner and have a great Casserole with Silken Dofu and lots of scallions. We also enjoy a great Boiled Spring Chicken, Sichuan Style, served in a peanut sauce. It sits on lettuce leaves and looks picture perfect. The Belly Pork Casserole with Preserved Vegetable and the Eggplant Hong Kong Style have lots of large red and green pepper squares.
QUEENSTOWN and CHRISTCHURCH are two other cities visited with Chinese restaurants that deserve mention. Both towns have lovely buildings, great plazas, and so much more. If you visit them, be sure to enjoy meals at them as we did.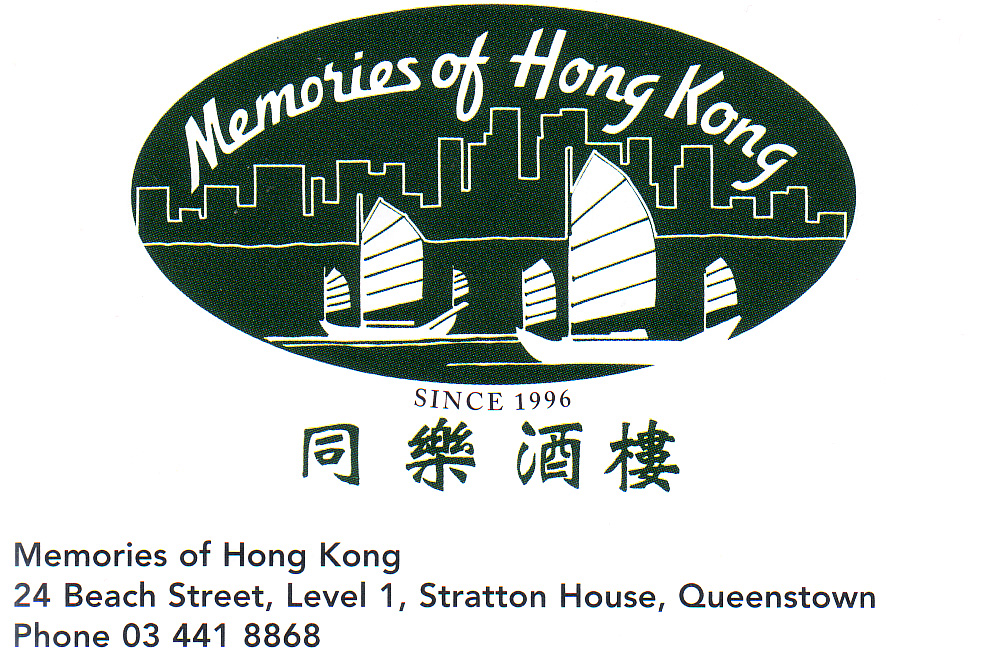 MEMORIES OF HONG KONG at 24 Beach street in Queenstown; phone: 03 441-8868 is a very upscale eatery that was not open at lunch the day we were there. Everyone in town, including a Chinese restaurant owner we spoke to, said it is a 'must eat at' Chinese restaurant.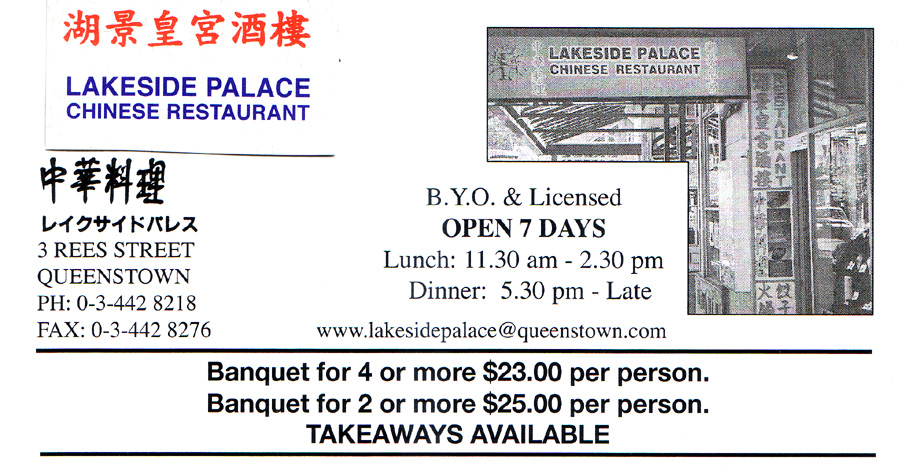 LAKESIDE CHINESE RESTAURANT at 3 rees Street in Queenstown; phone 03 442-8276 needs special mention, too. The food here is quite good, but here banquets can be arranged on the spot for two or more persons for twenty-five dollars Australian. Would that other restaurants took this lead. It is a great way to introduce folk to some of the great Chinese banquet foods available. Though we did not have one, we did enjoy several dishes from their very extensive menu.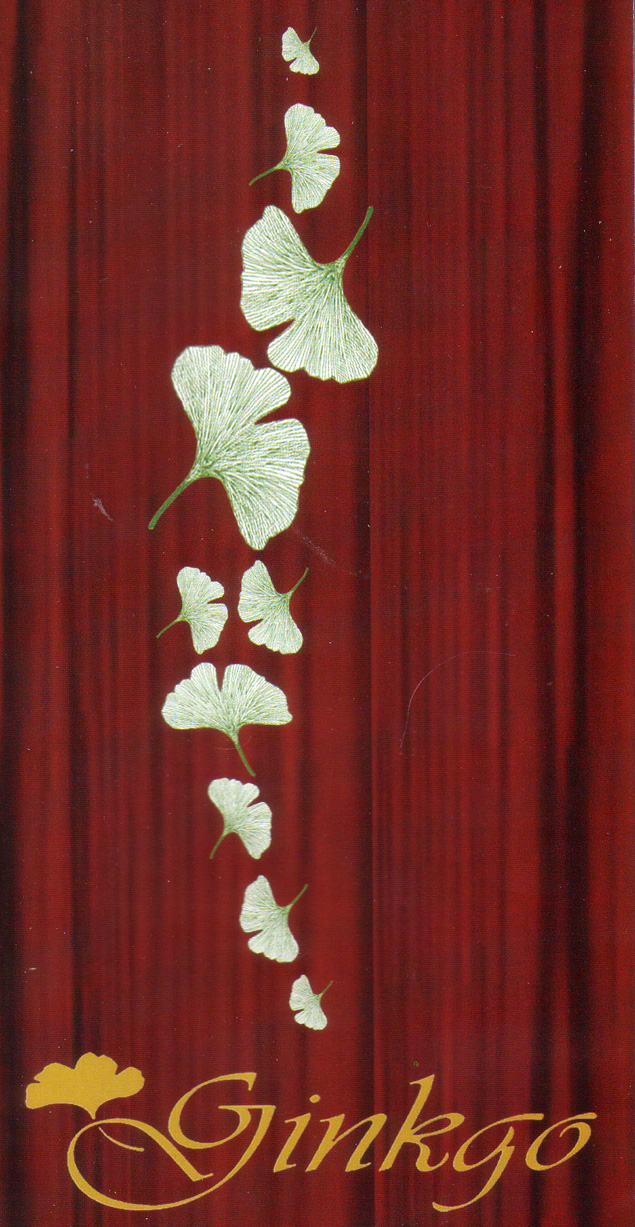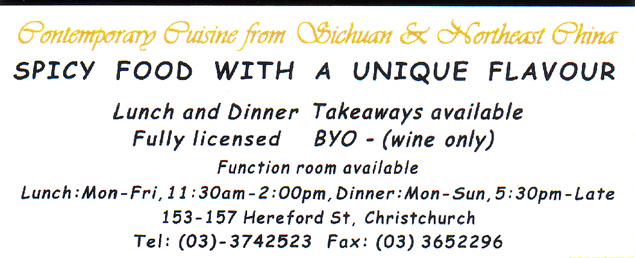 GINGKO at 153-157 Herefored Street in Christchurch; phone: 03 347 2523 is a rarity down under. Why, because it serves Chinese food from the Sichuan Province and places in Northeast China. Their Roast Duck is succulent and savory; their Braised Dongbei Fish fantastic. Even simple dishes such as Sauteed Green Beans, Sichuan Aubergine (eggplant), and their Arhat Vegetables deserve praise. Cumin Lamb here is spicy and special. So is their Sauteed Squid, and their Dry Fried Spicy Prawn with Shell. In this elegant place we find an American chap from California with phenomenal-looking Chinese food at his table. We meander over and learn he is ready to head to the south pole for a six-month stint. He says this is his last Chinese fix for a while. Furthermore, he tells us it is the best Chinese restaurant in town or in any Australian town. We certainly find the food fantastic, the ambiance lovely, and the staff solicitous.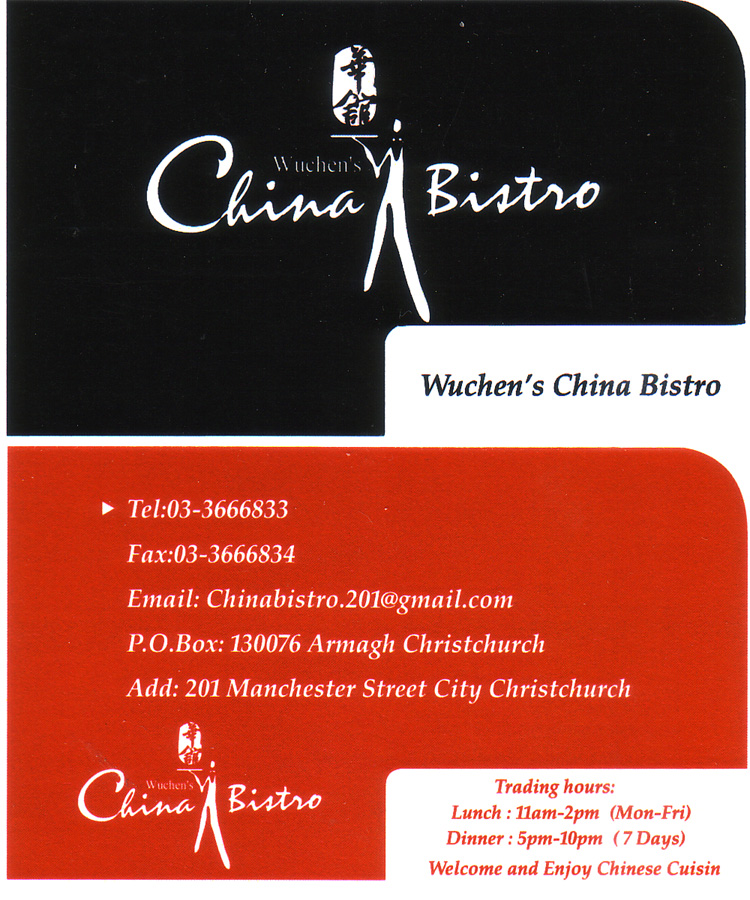 WUCHEN'S CHINA BISTRO; 201 Manchester Street in Christ Church; phone: 03 366 6833 is another place we did enjoy a good Chinese meal. Like most Chinese restaurants throughout Australia, it is not open between lunch and dinner, more exactly that means no Chinese food from two or three until five in the evening, at the earliest.