Read 5929172 times

Connect me to:

Xian, Northern China's Gourmet Food
Chinese Food in China, Hong Kong, and/or Taiwan
Summer Volume: 2009 Issue: 16(2) page(s): 5, 6, and 7
---
On our second day in Xian, the city that gave birth to China, we decided to try the epitome of the city's renowned cuisine. Seated in the Great Opera Theatre, we anxiously waited for our meal to begin. Soon our waiter was bringing in dish after dish of all shapes and forms of steamed jiao zi served from bamboo trays. It was a gourmet parade and a fine introduction to the Xian kitchen.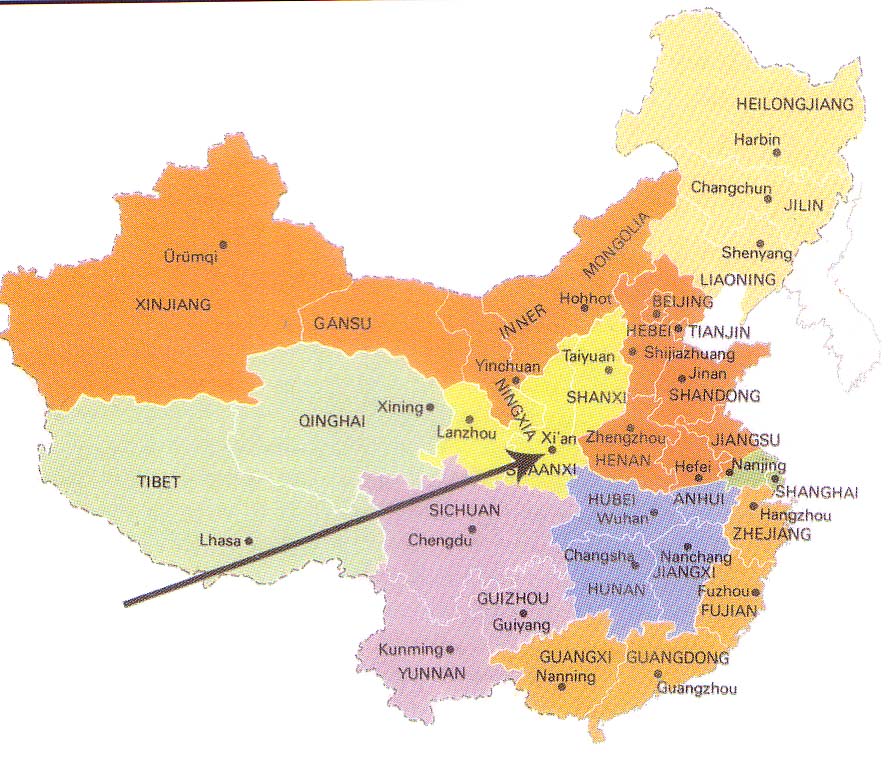 Situated strategically at the crossroads of routes crossing China and Central Asia, the city of Xian, during the Classical Period and the Middle Ages, grew into one of the most sophisticated and wealthiest urban centres in the world. In those centuries, it was also the first Chinese city to open its doors to the outside world. It established itself as a world leader in culture and trade and became the first stop on the famous Silk Road, playing a vital role in bridging the gap between East and West.
From here, caravans began their journeys westward, then returned bringing back products and new ideas from India, Persia, the Arab world, and beyond. This city became the home of traders from all over the civilized world who brought with them the Buddhist, Christian, and Muslim religions, and the foods of their homelands. Through the years, much of the culinary delights of Asia and the Middle East were incorporated into the Xian kitchen, creating a unique and tasty cuisine.
Xian reached the peak of its culture and power during the Tang Dynasty (618 - 907 CE) when the city became the centre of the known world. The Silk Road activities and the creation of what was to become a renowned cuisine, along with the famous Terra Cotta clay army created by one of China's most renowned emperors, Qin Shi Huang, believing that it would protect him for eternity, made the city a tourist destination par excellence.
The caravan trade gave birth to the city's Muslim Quarter. It is located in the heart of the city. Adding an element of architectural diversity to the town's structures, it is the core of Xian's outstanding food. Some thirty thousand mostly Muslim inhabitants of the Quarter, said to be descendants of 8th century Arab soldiers, create an exotic combination of China and the Middle East.
At the heart of this ancient section of the city, surrounded by well-preserved medieval walls, is the Daqinzhan Si or Great Mosque, the largest and oldest of the ten mosques in the city. First built in 742 CE, it is a superb example of Sino-Arab architecture. Its minaret, in the shape of an octagonal pagoda, overlooks the old houses of the Quarter. The only mosque open to foreigners, it edges narrow Middle Eastern type streets and is surrounded by a combination of Arab and old Chinese type buildings.
Around the mosque and beyond, wonderful local Muslim food is offered in hundreds of eating places from street food stalls to fine restaurants. There are few other spots in the city that can match the food street as it stretches from the Drum Tower, edged by pastry and nut shops and overwhelmed by countless eating places. At night, temporary small food stands line both sides of the street defusing the delicious aroma of barbecuing kaoyangrou, local lamb or mutton on skewers, and the many steaming dumpling dishes available. It is exciting for travellers to sample the culinary delights offered by these stalls in this romantic and historic part of Xian.
This city has a long history of specializing in dishes of northwest China, foods that have been influenced by the Hui, a Chinese Muslim group. At the top of the city specialities, is yang rou pao mo. These are steamed buns soaking in mutton soup. There are also wonderful and innumerable types of jiao zi. Here, wheat noodles and steamed bread are more popular than rice, lamb and mutton the preferred meats. Most eating places serve hefty portions and prices for all foods are reasonable.
There are numerous restaurants in the Quarter usually patronized by visitors, such as the high class Xian Restaurant, noted for its royal court-style recipes. The person waiting on the custumer usually offers a story or anecdote related to each dish served. The other two restaurants frequented by tourists are the Tongshengxiang, noted for its mutton soup, and Defachiang, known for its Shark's Fin jiao zi where food is even better and more reasonably priced
As we relish our seemingly never-ending jiao zi, I could not believe the variety served, sixteen types usually offered as appetizers with a meal, and at times, eight hundred are served at a feast. All are delicious, delicate, and inviting, and can be in countless shapes such as avocados, chicken, cauliflowers, crabs, ducks and endless other versions, each reflecting its filling. I am partial to those shaped like walnuts; they are tastier than the real nut.
The preparation of jiao zi is labor intensive and for festive occasions a whole family takes part in their preparation. After they are made and cooked, they sit down to enjoy their creations, some stuffed with all types of meats and vegetables. Some of them might be served boiled in soups, others fried and placed on a platter, still others steamed in and served on their bamboo trays.
Our jiao zi are still coming when the show begins. They are heavenly. A real competition accompanies them with stunning costumes, music, songs and dances. The performers reflect the Tang Dynasty and are said to be the best in China. To me, they seem the most delightful in the world, and I am overwhelmed by their beauty, delicacy and splendour of performance. I can honestly say that the show is the icing that topped our superb dinner.
To share the excellence of Xian foods, a number of dishes enjoyed are below. Before them, a few words of information. The first one is Arab influenced from foods eaten along the Silk Road. It is said to have contributed to what made Xian a jewel in the Chinese culinary world. The unleavened Arabic bread in it s called tur mi. The soup is the most popular food in this city, its name mo derived from the name of the bread. Another popular dish, especially for the poor in Xian, are the black noodles. That dish and similar ones are usually eaten daily. They can be cooked and served cold with all types of sauces or stir-fried with vegetables as in this recipe.
_____
Mr. Salloum is a member of Travel Media Association of Canada (TMAC) and has travelled extensively to most parts of the world. He writes about the places he visits and their cuisines, and for this article has provided the delicious recipes. His special interests are Canadian, Asian, and the Latin-American world.
Yangrou Paomo Bread and Mutton Soup
Ingredients:
4 to 6 pounds mutton, lamb or beef bones, broken into smaller pieces
2 medium onions, chopped
6 cloves garlic, peeled and smashed
1 small hot pepper, minced
1 Tablespoon grated fresh ginger
1/2 pound wheat noodles
2 and 1/2 teaspoons salt
1 teaspoon ground pepper
1 teaspoon cumin
1/2 pound lamb, sliced thinly
1 cup green onions, finely minced
1 cup coriander leaves, minced
4 cups hard bread or Chinese crullers, cubed
jaio zi, two to four per person
Preparation:
1. Place bones, onions, garlic, hot pepper and ginger in a large saucepan, then cover with water two inches above the bones, and bring to boil. Cook covered on medium to low heat for four hours, adding more water as necessary.
2. Cook the noodles according to directions on their package, rinse in cold water, then set them aside.
3. Strain and discard bones and vegetables, and then return the broth to the saucepan, adding water if necessary to make eight cups of liquid. Stir in salt, pepper and cumin and bring this back to the boil, reduce heat and cook over medium heat for five minutes. Let rest for five minutes.
4. Divide remaining ingredients and the drained noodles, except the bread, evenly into eight large soup bowls and then pour the broth over the ingredients, stir in and equal amount of bread into each bowl and serve piping hot with ginger sauce and jiao zi on the side.

Ginger Sauce
Ingredients:
3 Tablespoons grated fresh ginger
8 cloves garlic, smashed
2 Tablespoons sesame oil
3 Tablespoons soy sauce
3 Tablespoons vinegar
1 teaspoon pepper
1 teaspoon sugar
1/4 teaspoon cayenne
1/2 cup finely chopped scallions
Preparation:
1. Combine all the above ingredients with two tablespoons of cool water, then serve for people to take an amount they wish, or add one teaspoon of sauce to each bowl of mutton soup.

Jiao Zi II
For the dough:
2 cups flour
1/4 teaspoon salt
For the filling:
1 cup cabbage finely chopped
1 cup ground meat, any kind
1/2 cup finely chopped green onions
1/2 cup finely chopped mushrooms
2 Tablespoons soy sauce
1 Tablespoon grated ginger
2 teaspoons sugar
2 Tablespoons sesame oil
2 teaspoons cornstarch
1/2 teaspoon salt
1/2 teaspoon pepper
Preparation:
1. Prepare dough by kneading together the flour, two-thirds of a cup of warm water and the salt. Add more water or flour if necessary, then cover and allow to stand covered for one hour.
2. In the meantime, make filling by combining remaining ingredients, then set aside.
3. Form dough into about 40 balls then roll balls into rounds, then cover with a tea-cloth. Place one heaping teaspoon of filling on the centre of each round then fold dough and pinch shut in half moon or any other shape desired.
4. Immediately, deep fry Jiaozi or steam them on bamboo trays, or bring water in a saucepan to boil and add them cooking for ten minutes over medium/high heat.
5. Remove the dumplings with a slotted spoon, and immediately serve them with Ginger Sauce.

Barbecued Lamb Kebobs
Ingredients:
3 pounds lamb, cut into one-inch cubes
4 Tablespoons soy sauce
4 Tablespoons vegetable oil
2 Tablespoons lemon juice
4 cloves garlic, crushed
1 teaspoon pepper
1 teaspoon sugar
1/2 teaspoon ground fennel
1/2 teaspoon ground nutmeg
1/8 teaspoon cayenne
Preparation:
1. Thoroughly combine all ingredients in a bowl, then cover and allow to stand for about two hours.
2. Place on skewers, then barbecue until meat lightly browns, basting with the juice of the marinade as the cubes are barbecuing. Serve hot.

Spicy Roast Chicken
Ingredients
1 four pound chicken
4 Tablespoons soy sauce
4 cloves garlic, crushed
2 Tablespoons honey
2 Tablespoons vinegar
1/2 teaspoon salt
1 teaspoon finely chopped fresh ginger
1/4 teaspoon ground aniseed
1/4 teaspoon cinnamon
1/4 teaspoon ground fennel
1/4 teaspoon pepper
1/4 teaspoon ground nutmeg
1/4 teaspoon ground cloves
Preparation:
1. Place chicken in roasting pan, then set aside.
2. Mix the remaining ingredients, add one-quarter cup boiling water, and use this mixture to rub the chicken inside and out. Cover and roast for thirty minutes in a 400 degree F preheated oven. Reduce the heat to 350 degrees F and continue roasting it for an hour or until the chicken is well cooked. Baste with the remaining pan juices a number of times. Uncover the bird for the last fifteen minutes of roasting time.

Heihelou--Black Noodles
Ingredients:
1/4 pound black noodles or any type of wheat noodles
2 Tablespoons vegetable oil
1 large onion, finely chopped
1 large sweet pepper, finely chopped
1 small hot pepper, finely chopped
1/2 teaspoon pepper
3 Tablespoons soy sauce
Preparation:
1. Cook noodles according to instructions on package then set aside.
2. Heat oil in a heavy frying pan or wok, then stir-fry vegetables over medium/high heat until they turn limp. Stir in noodles, pepper and soy sauce, then stir-fry for a few moments and serve.