Beijing and Hong Kong Food Adventures
Chinese Food in China, Hong Kong, and/or Taiwan
Summer Volume: 2009 Issue: 16(2) page(s): 8, 9, and 11
---
My last time in Beijing was in June, 1989, not a very joyous moment in Chinese history. But that was seventeen years ago. Reports of momentous changes from Chinese friends there intrigued. My past food experiences in Beijing had been disappointing. In fact, I always thought the capital was rather provincial and behind other regions in China for quality cooking. Recently, I returned to Beijing for a few days and was amazed not only by the changes in almost every aspect of life there, but also by the restaurants and food which impressed me most. Here are some of my favorite experiences.
Chinese friends in Hong Kong had long raved about Tianjin Bai Jiao Yuan. A well known, local inexpensive place that specializes in jiao zi. These northern dumplings are usually made of minced pork and cabbage, salt, ginger, spring onions, and are inside a thin wrapper of wheat dough. After plunging them in boiling water, they are eaten with great relish with an array of dipping sauces.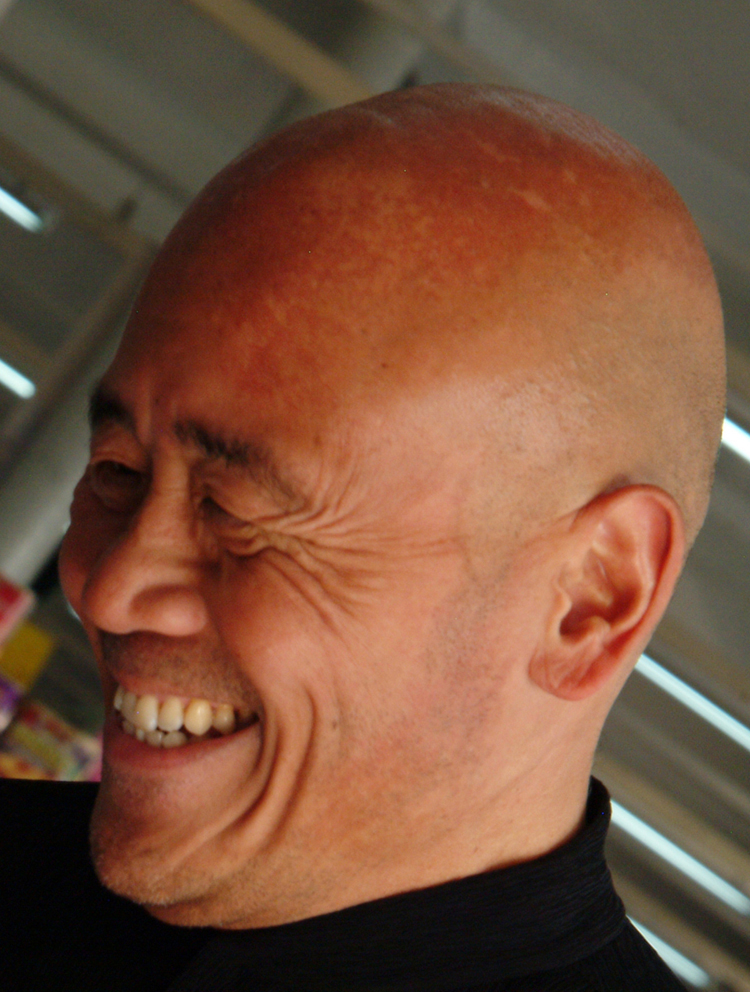 I knew I was in for a special treat when I walked into the restaurant and was immediately confronted by an open glassed-in kitchen where chefs were making fresh dumplings. Ignore the kitschy red and gold decored dining room and ask for the English menu (full of misspellings) from the sleepy, half-stoned staff in their pink pajamas. We chose the classic Pork and Chinese Cabbage which was savory and delicious. The Shrimp Meat with Bean Curd was delicate and light. And the Curry Beef and the Hot and Spicy Beef lived up to their description with a real jolt of spices. However, the best were the Crab Roe Jiaozi where rich roe was combined with pork to create a sensational dish. This alone was worth the journey. I also liked the way you could make your own dipping sauce from plastic containers with red rice vinegar with pickled garlic, freshly chopped garlic, chopped fresh coriander, and hot chilli oil.
The trend in Beijing seems to be towards Sichuan food and everyone there was raving about a chain of restaurants called South Beauty. I went to the nearest one to see what the fuss was about. Unlike restaurants seventeen years ago, this one had beautiful decor; it could easily be in Hong Kong. It was modern yet with Chinese traditional touches. Ask for a booth which I found more convivial for dining. From the illustrated menu to the Peking opera mask that seems to be their logo, it was certainly a departure from any restaurant I had ever seem in China.
Here the main attraction is the food. Try their classic Sichuan tofu dish which is named Fried Bean Curd with Beef and Chili Sauce. Bits of soft tofu cubes float in a fiery sauce redolent of Sichuan peppercorns and chili. It was as good as any I had in Chengdu. The Smoked Duck was smokey, tender and flavorful. We found the Steamed Green's Shoots with Soup rather bland but were told it was to cool the palate. A strangely titled dish called Updated Sliced Tender Beef in Hot Oil and Stone was delicious. Here sliced marinated beef was first cooked in boiling oil with onions and coriander, then drained off on a hot stone. Surprisingly it was not greasy and very tasty. We finished off with Spicy Noodles with Hot Sauce; its slender noodles are tossed in an aromatic sauce of chili oil and minced pork. We were transported to Sichuan that evening.
Nostalgia seems to be part of the dining scene in the Chinese capital these days as restauranteurs try to sell comfort dishes in a setting that recalls old Beijing. Fu Jia Lou's menu has Xiang Su He Ye Ya, a crispy lotus duck stuffed with meats and dou zhi, sour bean curd milk which you can drink with your meal. Do not miss the classic Zha Jiang Mian. These are thick noodles that you mix yourself at the table with bean paste, cold cucumber slices, soy beans, and various greens. Be sure to ask for la yu; this chili oil spices up the whole affair. This place is worth a visit for a fun delectable lunch.
An old friend from Hong Kong, Patrick Leung, has lived in Beijing for over a decade. A real foodie, he insisted on being our guide the next day. For lunch we went to Noodle Loft, a restaurant which features the food of Shanxi province renowned for its fantastic noodle dishes. It was filled with a hip trendy crowd of young business people. In the center of the restaurant is an open kitchen where the chefs show their skills of noodle making, pulling, cutting and tossing from one end of the kitchen to the other. However, there is more to this restaurant than mere noodles. Patrick ordered a number of other delectable dishes well worth trying. We began with Salted Mutton Slice that was delicate and surprisingly mild. The Crispy kidney was crunchy in texture and in a tasty sauce. Crispy Peanuts with Cucumbers was an unusual match but good. Fried Mutton was balanced with a touch of black vinegar. Fresh walnuts with lily buds was certainly a new one on me. We were told that Sturgeon Boiled in Millet Congee was a typical Shanxi dish. The Wutaishan Mushrooms cooked with chives simply were the best. We finished with the house speciality: Shaved Oatmeal Noodles accompanied by a choice of three unusual dressings: One with fried egg and tomatoes that was tart and rich, one with a vinegar dressing which was both refreshing and bracing, and finally a clear braised soup that was simple and hit the spot. We staggered out fully satisfied with our feast.
One of the best meals I had in Beijing was to be at Huang Ting. It is a recreation of the great tradition of hu tong or Beijing courtyard houses. Alas, hu tongs are being torn down throughout Beijing to make way for progress and the Olympics, so nostalgia is again rearing its head. We enjoyed great food there that was as good as any in Hong Kong. Our Sauteed Prawns with Sichuan Chili Sauce could not have been more perfect. The giant prawns were succulent, tender, and moist in a well balanced spicy sauce. Next we had Wok Fried Chicken with chili and peanuts: a modern less greasy version of Kung Bao Chicken. We followed this with a full flavored Double Boiled Black Chicken Soup with Tea Tree Mushrooms. Our Braised Crispy Golden Beancurd with Shiitake was delicate. The light fluffy beancurd stuffed inside a whole mushroom, battered and fried. It was a wonderful contrast of textures and taste. A final dish of Sauteed Minced Pork with Green Beans and Pickled Acorns was a great finish to a really superb meal.
On our last evening, Patrick insisted on taking us to Made in China, a very modern looking restaurant that could easily be found in Singapore, Hong Kong or New York. It was decorated with stainless baskets of fresh vegetables and fruit and the dining areas was divided into small rooms. We began with an array of shao shi or small eat appetizers. The Spinach Leaves were tossed with sesame sauce and Chinese rice vinegar. This was followed by Braised Pork Knuckle served with pickled cucumber; it was like a cold tasty pâté. Duck Gizzards with Spicy Peanuts was Sichuan inspired, very spicy, and surprisingly addicting. My favorite was Shredded Pig Ear, it was made with jelly fish, white cabbage, yellow mustard, and coriander oil. I loved the contrast in texture and taste. Sizzling King Prawns came next cooked impeccably and succulent.
I could not leave Beijing without having Peking Duck. The crispy skin came to the table with the rich moist duck meat and we wrapped it in thin pancakes doused with salty sweet bean sauce with shredded leek whites and cucumber. It was pure bliss!
Arriving in Hong Kong, we wanted to take a short detour from Chinese food and went to the latest hottest restaurant: The Steak House Winebar and Grill. It is a classic American style restaurant that serves a wonderful Classical Caesar salad with home cured anchovies and crispy apple wood bacon. The Australian Wagyu rib eye steak was tender and melting accompanied by eight sauces. The portions are copious so be warned. We had to pass on the desserts.
The 'in' place for foodies seems to be Kin's Kitchen where Lau Kin Wai, a popular food critic has created his fantasy restaurant. It is great comfort Chinese food without MSG, using only the best ingredients. His Smoked Chicken, braised in clear soy sauce and then lightly smoked with rose petals is not to be missed. I would go back to have his Crispy Stuffed Duck filled with chestnuts and slowly braised until melting tender. Equally delectable was Deep-fried Prawns stuffed with Walnuts and served with a delicately balanced sweet and sour sauce. If you are very adventurous, try the Braised Pomelo Peel, a type of grapefruit cooked with dried shrimp roe. And, do not forget to ask for the fantastic intestine pork sausage which is not on the menu. For desserts, go around the corner to Ching Ching Desserts, a very local hang out with quite a selection of sensational light delicate tofu custards.
Everyone in Hong Kong acknowledges that Spring Moon Restaurant has some of the best dim sum. I can never resist going there for the usual dim sum selection and loved the many new ones such as Deep-fried Gluten Puffs filled with Pumpkin and Chicken which taste better than the description. Also worth trying are the Baked Sea Urchin and Mashed Potato Tarts. We finished with a quite seductive Deep-fried bean curd stuffed with minced shrimps in spicy sauce. Braised shredded eggplant with preserved vegetables was also delicious as was Fried Rice noodles with sliced beef, garlic and black bean.
Cuisine Cuisine is located smack in the middle of Central's International Finance Center. It is only twenty or so minutes from the airport, located in the mall. It serves absolutely delectable dishes such as Sauteed Prawns with Green Anise Pepper and Basil, both aromatic and spicy. Or try Sauteed Clam and Abalone with Bean Sprouts and Chives, a seafood feat. The most comforting and best dish was Rice Vermicelli with Minced Fish Dumpling in Fish Broth; the ethereal quenelle fish dumplings floating in a rich broth. A perfect relief for the jet-lagged traveler.
The best meal we had in Hong Kong, hands down was at Amber. This Adam Tihany designed restaurant has the whole town buzzing. Hearing mixed reviews from friends, I was determined to see for myself and came away quite impressed with the talents of Chef Richard Ekkebus. We started with Water Melon with cherry tomatoes, a tiny touch of goat cheese, black pepper and a thread of a cabernet sauvignon reduction. It made a perfect light starter. A single oyster wrapped in clear agar agar seaweed was startling in taste and texture. I was amazed by Yellow Fin Tuna paired with Crispy Chicken skin accented with a soy and maple syrup reduction. It struck me as an unusually brilliant match. However, the most outstanding dish was his eleven-hour poached Kuro Buta Pork Belly. A Kobe type pork from Japan which was cooked for hours sous-vide with the fat melting. The subtle touch of five spices together with daikon cooked in Chinese black vinegar complimented the pork extremely well. We were too full to appreciate the delicious Anjou Pigeon from France but the small taste we had was delicious. Despite our pleas to stop, a Crispy Rice and Black Sesame Mille Feuille accompanied by caramelized mango with sticky rice ice cream had us crying for more.
THE BEIJING RESTAURANTS:
Tianjin Bai Jiao Yuan, Xinwenhua Lu, Jia 12, Xicheng District; phone: 86-10-6601-6934
South Beauty, Oriental Plaza, Dong Cheng Qu, Chang An Jie Yi Hao, Dong Fang Guang, Chang Di Xia Yi, Cheng BB Ba Ba; phone: 86-10-85186971
Fu Jia Lou, 23 Dongsishitiao Xi, Dongcheng District; phome: 86-10-8403 7831 Noodle Loft, No. 18, Baisiwan Road, Chaoyang District, Beijing; phone: 86-10-67749950
Huang Ting, The Peninsula Palace Beijing, 8 Goldfish Lane, Wangujing, Beijing; phone: 86-10-8516-6307
Made in China, Grand Hyatt Beijing 1 East Chang An Avenue, Beijing; phone: 86-10-8518 1234 Ext. 3608
THE HONG KONG RESTAURANTS:
The Steak House Winebar and Grill, InterContinental Hong Kong, 18 Salisbury Road, Tsim Sha Tsui, Kowloon ; phone: 852 2721 1211
Kin's Kitchen, 9 Tsing Fung Street Tin Hau, Hong Kong; phone: 852 2571 0913
Ching Ching Desserts, G/F, 77 Electric Road Tin Hau, Hong Kong; phone: 852 2578 6162
Spring Moon Restaurant, Peninsula Hotel, Salisbury Road, Kowloon, Hong Kong; phone: 852 2920 2888
Cuisine Cuisine, 3101, Podium Level 3, IFC Mall, Central, Hong Kong; phone: 852 2393 3933
Amber, The Landmark Mandarin Oriental, 15 Queen's Road Central, The Landmark, Central, Hong Kong; phone: 852 2132 0188