Read 5234898 times

Connect me to:

Salad, a Cold Food
Salads, Pickles, and Other Cold Foods
Summer Volume: 2009 Issue: 16(2) page(s): 12 and 13
---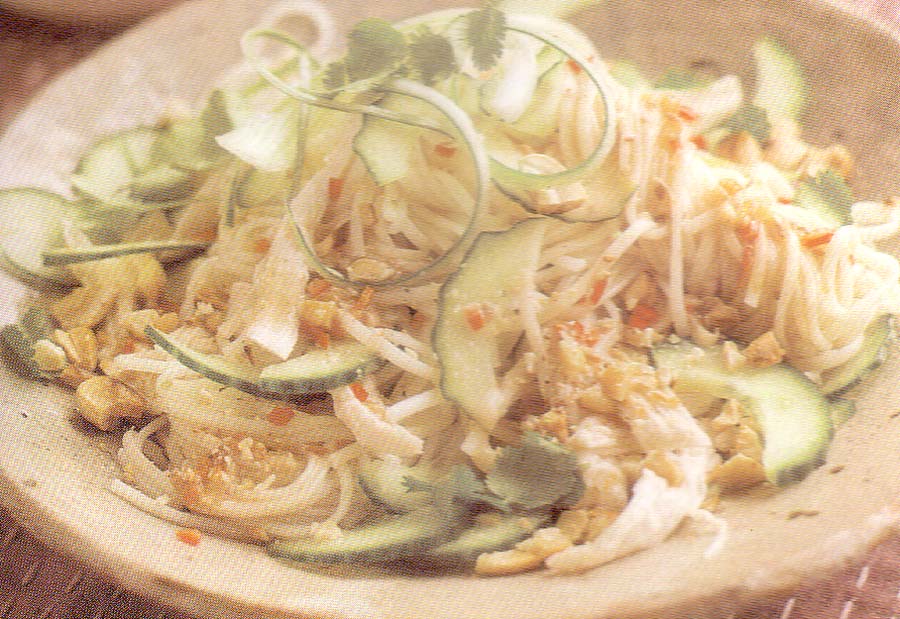 Frequently people ask if the Chinese eat salad. The answer requires defining 'what is a salad.' If it means eating cold vegetables, fruits, and meats, they surely do. We suggest reading the article: Cold Food and Ice in the Chinese Culinary in Volume 9(1) on pages 12 and 18. Current salad lexicon can mean cooked greens, and cooked or raw meat, poultry, fish, and seafood blanched, par-boiled, and/or stir-fried whether with or without spices or sauces served cool, cold, even on ice. Foods made these ways mean the Chinese do eat salads and have for hundreds of years. However, they do not call them salads; they simply call them 'cold food.'
Salads have Roman origins, if called salads. Salt is sal in Latin and the origin of the word salad. Foods with salt or a Chinese substitute such as soy sauce help blend flavors, textures, and colors. These are the hallmarks of Chinese cold foods, but are not limited to them. Some Chinese cold foods are pre-soaked in vinegar, some in oil, some in salt water, some in one or more sugars, and some in other types of sauces. Some use very young vegetables, vegetable spouts, rice and other grain foods. Some use soaked fruits, single or mixed vegetables--leafy or not, meats, poultry, and foods from the sea. And some do none of the above, but are none the less called 'cold food.'
Minimally cooked or uncooked vegetables can include hair seaweed, sea greens, and/or other foods from the sea. Some vegetables are served cooked then cooled, or simply set aside until reaching room temperature. Vegetables gown on land and made these same ways can include taro, water chestnuts, lotus root, fennel, all sorts of whole beans, bitter melon, silk squash, asparagus, celtuce, bean curd, and the plethora of spinach, cabbage, and other greens. In fruit families, tomatoes, various eggplants, items in the Allium family such as onions, chives, or scallions, and many other root vegetables are potential cold foods for the Chinese; but they did not call them salads; though some are starting to do so.
Chinese cold foods are rarely, if ever, dumped into a bowl with a dressing or a sauce poured over them. Chinese cold foods are usually set out beautifully on a platter, served at room temperature, warm, or very cold, and often start a banquet or fancy home meal. Hot peppers, nuts, crisp onions or garlic, cilantro, soy sauce, chili oil, sesame oil, and/or a vinegar can flavor these beginning cold foods. They can also dress rice sticks, pickles and pickled vegetables including cabbages, turnips, bamboo shoots, seaweeds, melons, and the like. Sauces applied to them might be peanut or chili, honey, sweet and sour, or others providing flavoring and/or texture. Commonly, the Chinese refer to these as 'wet' or 'salting' their cold foods.
These methods of preparing cold foods were introduced into the Chinese cuisine at least by the Jin, Six Dynasties and Sixteen Kingdoms periods (265 - 439 CE), and used for both vegetable and animal foods. They were popular and well-known while uncooked greens were probably unknown as they were considered unsafe to eat.
Lettuce and almost all greens are blanched or cooked in the Chinese culinary. Many are put into soups near the end of their cooking, or preserved by fermentation, and then served. Root crops tend to be blanched, lightly cooked, and then salted or mixed with vinegar or sauce and then served. Root crops such as sweet and white potatoes, manioc, yam bean, and palms such as sago are used in these ways.
The word vinegar means 'sour wine.' In the Zhou Dynasty, Chinese were using vinegar in their daily lives., but they did not call it vinegar. To them it was bitter wine. The term vinegar came into use during the end of the Han Dynasty (220 CE). The Chinese then and since make theirs from all kinds of cereals and fruits, fermented and often clarified. That step is needed to keep this liquid for long periods of time. Then and now, they flavor many foods served cold or at room temperature that westerners might call salad.
Recipes of several Chinese salad-type foods follow. Decide if they meet your salad nomenclature; and do decide where in a meal you want to serve them.

Cucumber with Chicken Shreds
Ingredients:
3 to 4 cucumbers, peeled, and shredded (removal of seeds, optional)
1 cup cooked white meat chicken, shredded
1 teaspoon to 1 Tablespoon Chinese rice vinegar
1 teaspoon Chinese sesame oil
1 teaspoon granulated sugar
Preparation:
1. Mix all ingredients together, and let rest for half an hour or more. Serve at any desired temperature.
Note: Blanched, slivered jelly fish can be added.

Mixed Greens, Chinese Style
Ingredients:
1 small head Chinese cabbage, shredded (or any single or mixed greens)
1 cup raw bean spouts, tails removed
1/4 pound green beans, slivered and cut into two-inch lengths
4 scallions, slivered and cut into two-inch lengths
1 Tablespoon Chinese rice vinegar
dash hot oil
1/4 teaspoon sesame paste mixed with two tablespoons of hot tea
Preparation:
1. Blanch the Chinese cabbage alone or with other greens. Drain well, and set aside on a large flat serving plate.
2. Put the bean sprouts around the edge of this platter.
3. Blanch the green beans for one minute, drain well, then mix with the scallions, rice vinegar, hot oil, and the sesame paste mixture. Put the bean mixture in the center of the platter of greens. Then serve.

Chilled Seaweed
Ingredients:
3 sheets dird black seaweed
1 sheet dried green seaweed
1 Tablespoon peeled shredded green onion
2 Tablespoons prepared pink ginger, slivered
1 clove garlic, peeled and crushed
1 small dried hot red pepper, seeded and slivered
1 Tablespoon granulated sugar
1 Tablespoon sesame oil
Preparation:
1. Soak sheets of seaweed in warm water for fifteen minutes. Drain, shred, and mix them with all the other ingredients. Refrigerate for two or more hours, then serve.

Pickled Chinese Celery with Dried Shrimp
Ingredients:
1 bunch Chinese celery, cut into half-inch pieces
10 dried shrimp, soaked for one hour in warm water, their legs removed, then finely minced
1 teaspoon coarse salt
1 teaspoon granulated sugar
1 teaspoon Chinese red rice vinegar
2 teaspoons white rice vinegar
3 cloves garlic, peeled and minced
1 Tablespoon sesame oil
Preparation:
1. Mix celery and soaked minced shrimp with the salt and the sugar. Let rest for half an hour.
2. Add rice vinegars and the minced garlic, cover, and refrigerate for two or more hours.
3. Toss with the sesame oil and serve.

White and Red Radish with Ginger
Ingredients:
6 inches daikon, peeled and shredded
10 red radishes, trimmed and shredded
1/4 teaspoon coarse salt
1/2 cup red rice vinegar
4 teaspoons granulated sugar
2 Tablespoons peeled fresh or pickled ginger, shredded
Preparation:
1. Mix shredded daikon and radishes with coarse salt and allow to rest for half an hour.
2. Mix rice vinegar and sugar, and mix with the shredded vegetables. Refrigerate for two or more hours, then remove from the refrigerator and put into a small bowl.
3. Sprinkle the ginger on top, and serve.

Cold Eggplant
Ingredients:
2 thin eggplants, peeled and shredded, and tossed with two tablespoons of red wine vinegar
3 Tablespoons thin soy sauce
2 Tablespoons granulated sugar
1 Tablespoon vegetable oil
2 large cloves garlic, peeled and finely minced
1 Tablespoon fresh ginger, peeled and finely minced
2 teaspoons Shaoxing wine or dry sherry
2 Tablespoons sesame oil
Preparation:
1. Steam eggplant over rapidly boiling water for twenty minutes, then drain and squeeze out any excess water and vinegar.
2. Mix soy sauce and sugar. Heat the oil and stir-fry the garlic and ginger for one minute, then add soy sauce mixture, the wine and the sesame oil. Bring to the boil. Add the shredded eggplant, refrigerate or serve at room temperature.
3. Refrigerate for two or more hours, drain, then serve.