Read 6545450 times

Connect me to:

Potatoes
Vegetables and Vegetarian Foods
Winter Volume: 2009 Issue: 16(4) page(s): 11, 12, 13, and 33
---
Potatoes now grow in more than one hundred fifty countries worldwide, and China is the world's biggest producer. Written records indicate they came to the Middle Kingdom in the late Ming Dynasty (1368 - 1644 CE). Now many parts of the country use them, love them, and cook them in many ways.
The United Nations named 2008 the: International Year of the Potato recognizing this fantastic food whose botanical name is Solanum tuberosum. Most are just learning that this vegetable has many different colored interiors and exteriors, and that it began its life in South America before spreading around the globe. After rice and wheat, potatoes are the world's largest food crop. They are beneficial nutritionally, and often maligned.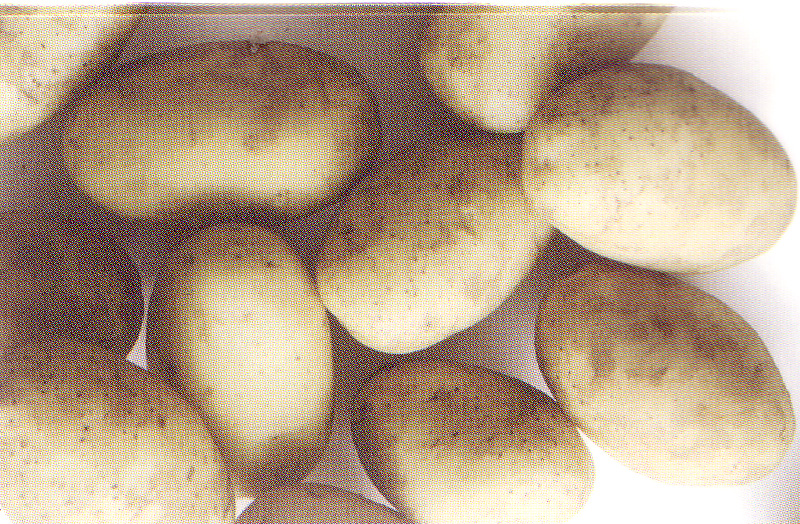 Really an underground stem, most often referred to as a tuber, this food is, in China, also consumed as leaves and stems. It is said that all parts of the potato stimulate the taste buds, perhaps that is why they are so loved.
This annual herbaceous plant came to China from the Netherlands during the time Taiwan was governed by the Dutch. The date of its first arrival is most often given as when it was planted there, in the early 1600's.
Potatoes have many names in many different places in the Middle Kingdom and around the world. In the United states they are referred to as 'Irish Potatoes' because at one point they did come from Ireland. In China they are called 'Holland Potatoes.' In China's northeast they call them tu dou, in the north shan you, and in the southwest and the northwest they are called yang yu. Potatoes are also known throughout the country as hu lan shu or ma ling shu, both meaning 'Holland vegetable.'
In Tianjin and Beijing, the English translation of their name means 'ground beans' telling where they grow. Probably for the same reason, elsewhere in China they are known as 'dirt beans,' also alluding to where they grow. They are also known in many places as 'foreign taro.' Reasons for that are not clear. Were those names not enough, some in China refer to the potato as 'mountain medicine' or 'mountain egg.' These are only some of the names used in China when referring to this starchy food.
Usually white-fleshed, the potato originated in Peru and Chile. There and now everywhere, they are not always that color nor always the same shape. The flesh colors vary due to variety, cultivation, and seed. They can be white, red, yellow, and blue while the exterior or skin can be tan brown, red, or blue-black.
When eating this vegetable, take note that they do need cooking or a pain in the stomach ensues. After slicing or shredding, dicing or even leaving them whole, potatoes can be boiled, stir-fried, deep-fried, roasted, baked, or used in stews and casseroles such as in Red Bean Curd and Pork with Potatoes in Claypot, a recipe we have often made, thanks to The Encyclopedia of Chinese Food and Cooking by Wonona and Irving Chang, and Helene and Austin Kutscher (Crown Publishers, NY © 1970). Potatoes are also dried and made into a flour or a starch and both ways they are popular in many countries.
In China, the potato was first cultivated in the northwestern province of Shaanxi. Then and since, its use is local and sporadic rather than often and everywhere. There is one exception, that is in the Northeast where potatoes are thought of as staples, especially in the Dongbei region; and also in parts of the Yunnan and Sichuan provinces.
Though not on every Chinese person's table, the use of the potato is expanding. China now accounts for one-fifth of the world's potato acreage producing ten percent of the world's crop. Farmers in Central China and in the South and East often double crop this staple food. In the Dongbei region where it is an important vegetable, it is probably becasue it stores well in winter. There, in Heilongjiang, and in Inner Mongolia, they plant early fast-growing varieties that mature in forty-five days. Elsewhere, longer maturing varieties are more commonplace.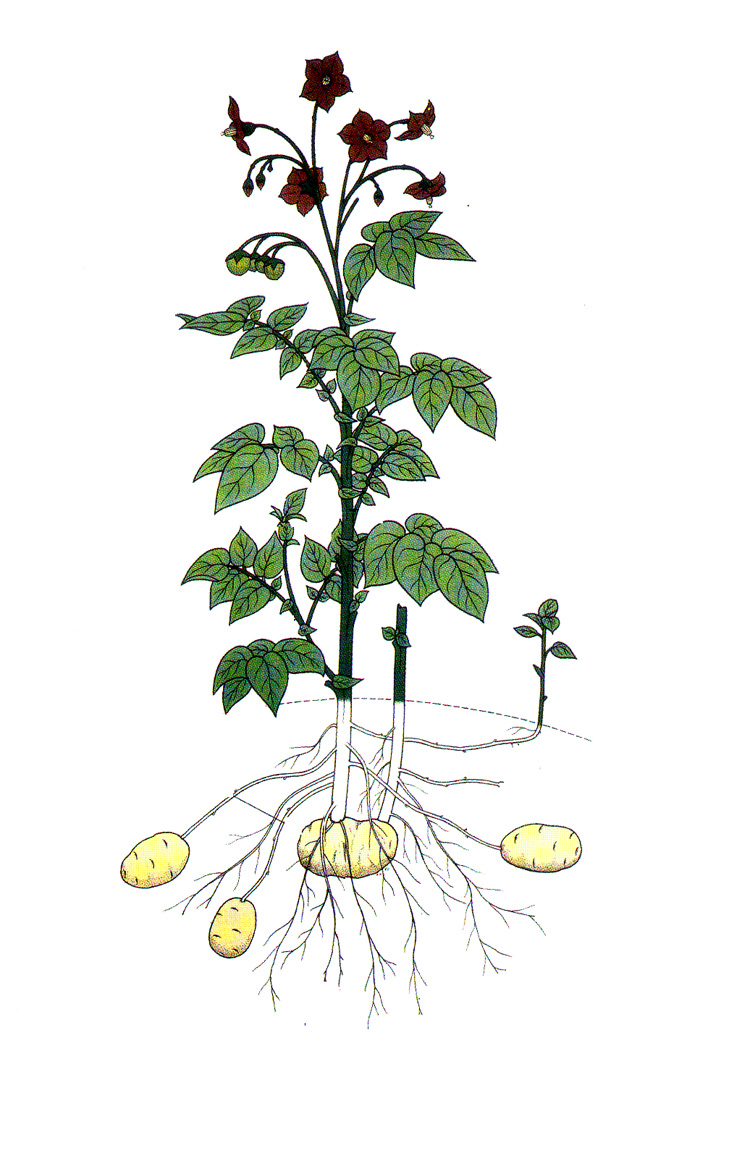 Not only is this underground vegetable, its stem and its leaves, eaten by man, the potato is fed to most of the country's livestock. It is on its way towards becoming a staple in many parts of China, and with cause. It is inexpensive, nutritious, and appreciated not just for its calories. With lots of potassium, and eighteen milligrams of ascorbic acid per one hundred grams, the potato has the same amount of Vitamin C as do soybean sprouts. Most people need to know that potatoes have less fat and carbohydrate, fewer calories, too, than wheat, corn, rice, and millet.
There are many new varieties of the potato. NEAC303 is one of the popular ones that can be harvested, seed to maturity, as early as mid-July and as far north as Harbin, the capital of the Heilongjiang Province. Many new potato varieties are planted from seed, sprout, or eye, and some even started in a test tube. These new abilities and new varieties may be some of the reasons the United Nations made 2008 the International Year of the Potato.
In the Chinese pharmacopeia, potato is considered sweet in nature, and good for the intestines, stomach, and spleen. It is an aid for constipation, gastric ulcers, high blood pressure, and hepatitis. A related starch was referred to in the Important Arts of People's Welfare published circa 544 CE. Starches such as that made from wheat, corn, water caltrop, arrowroot, the roots of the water lily, those of the kudzu vine, and the sweet potato have all been popular. Potato starch joined their ranks some five hundred plus years ago.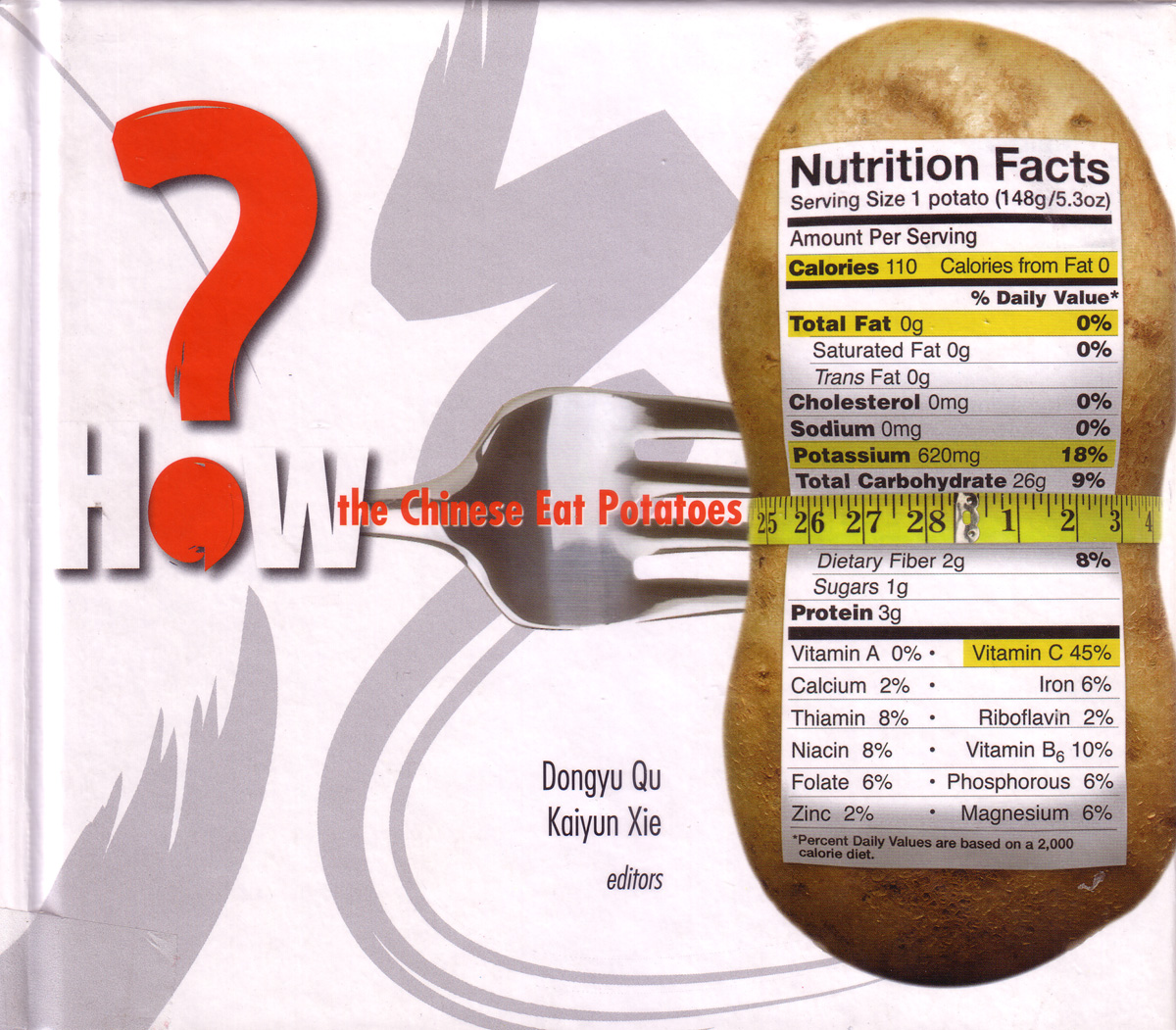 Having trouble finding Chinese potato recipes? You need one of the books reviewed in this issue. It is by Dr. Dongyu Qu and Dr. Kaiyun Xie and titled: How the Chinese Eat Potatoes. It is published by World Scientific Publishing Co. Pte. Ltd., and says it is Volume 1 in their Agriculture and Food series. It has more than three hundred Chinese recipes potatoes. Anyone seen Volume 2; we have not.
In 2011, another major book will be published about the potato. Tentatively titled Potato: A Global History, it is being written by Andrew Smith. He requested that we provide him with some Chinese potato recipes (which we did), and in turn, we recommended he consult the How the Chinese Eat Potatoes volume. Below are a few recipes from that and other books, and others made to mimic several tasted in Chinese restaurants in China. Enjoy them all.

Fried Peppers and Potatoes
Ingredients:
1/2 pound potatoes, peeled and sliced very thinly
1/2 teaspoon sesame oil
2 Tablespoons vegetable oil
1 large green pepper, seeded and sliced thin
2 green hot peppers, seeds discarded, and sliced thinly
1/2 teaspoon salt
1 teaspoon mushroom or thin soy sauce (optional)
Preparation:
1. Bring a pot of water to the boil and boil the potatoes for five minutes, then drain and toss with sesame oil and set aside.
2. Heat wok or fry pan, add vegetable oil, the drained potatoes and peppers, and stir fry for one minute, then add the salt, and soy sauce I(If using it) and simmer for one minute before adding half cup of water. Bring to the boil, reduce heat, and simmer one more minute, then serve.

Potato Pancake with Greens, Beef, and Egg Whites
Ingredients:
1 pound dried potato slices or shreds, soaked in warm water for an hour, drained, the water squeezed out and discarded
2 Tablespoons potato starch
1 teaspoon salt
1/4 cup vegetable oil
1/4 teaspoon ground Sichuan pepper or five-spice powder
3 Tablespoons hand-shredded fresh or dried and reconstituted beef
1/4 pound fresh spinach, shredded, then blanched for half minute, drained, all water squeezed out
1 egg white
salt and ground white pepper, to taste
Preparation:
1. Mix drained potato slices or shreds with the potato starch and salt. Press these onto a plate formed into a circle.
2. Heat a wok or fry pan, add the oil, and slide the potato pancake into the oil frying until light tan. Turn over and fry the other side, remove from the pan and drain on a paper or cloth towel, then cut into four to eight triangular sections, and place on a serving plate keeping it warm in an oven or wrapping it in aluminum foil.
3. Reheat the oil.
4. Mix the beef with the ground pepper and fry it for one minute, add the spinach and stir-fry this mixture for half minute or until heated thoroughly.
4. Mix egg white with salt and pepper, and add it to the meat mixture being sure to keep the heat high, stir-fry just until the egg white sets. Then pour this over the potato and serve.

Hot Potatoes
Ingredients:
1 pound potatoes, peeled and sliced
1 teaspoon coarse salt
1 teaspoon fermented black beans, smashed or chopped minimally
1 chili pepper seeded and minced
2 Tablespoons vegetable oil
1 small tomato, coarsely chopped
1 teaspoon potato starch
Preparation:
1. Mix potato slices with salt, black beans, and the chili pepper.
2. Heat pan or wok, add oil, and then add potato mixture and fry for five minutes, stirring several times.
3. Add chopped tomato and the potato starch and simmer until the potatoes are cooked to desired firmness, about another minute, then serve.

Eggplant, Cauliflower, and Potatoes, Dongbei-style
Ingredients:
2 Tablespoons vegetable oil
2 cloves garlic, peeled and minced
2 Tablespoons minced fresh ginger
2 Tablespoons minced fresh coriander
2 Tablespoons ground blanched almonds
1/2 teaspoon ground fennel
1/2 teaspoon ground cayenne pepper
1/4 teaspoon turmeric
1 teaspoon paprika
1 small eggplant (about one pound), cut in one-inch cubes
1 small cauliflower, heavy center core removed, then cut into one-inch cubes
3 medium potatoes, peeled and cut into one-inch cubes
1/2 cup tomato puree
2 teaspoons ground cumin powder
1 teaspoon coarse salt
Preparation:
1. Heat large fry pan, add oil, then stir and fry the garlic and ginger for one minute before adding the coriander and ground almonds and cook stirring for two minutes more.
2. Stir in the ground fennel, cayenne pepper, turmeric and paprika and cook stirring for two minutes.
3. Add two cups of water, the eggplant, cauliflower, and the potatoes, and the tomato puree and bring this to the boil, reduce the heat , and simmer covered for half an hour before adding the ground cumin and the salt.
4. Remove from the heat and let stand half an hour or until ready to serve. Reheat as necessary, on the stove or in a microwave.

Potato and Pomelo Salad
Ingredients:
1 cup potato, peeled and sliced thin
1 small pomelo, peeled, sectioned, and cut in half-inch pieces
1/2 cup cooked shrimp or crabmeat, dice coarsely
1/2 cup cooked chicken breast, cut into half-inch pieces
1/2 cup cucumber cut in half the long way then sliced
3 Tablespoons minced roasted unsalted peanuts
1 Tablespoon minced coriander leaves
1 Tablespoon minced fried shallots
1 teaspoon rice vinegar
2 cloves garlic, peeled and minced
1 small dried red chili, seeded and minced fine
1 Tablespoon sa cha sauce
1 Tablespoon lime juice
Preparation:
1. Put potato into a pot of boiling water and boil for ten minutes, then drain and put into a large bowl.
2. Add pieces of pomelo, shrimp or crabmeat, chicken, cucumber, peanuts, coriander leaves, and fried shallots to the potatoes and mix well.
3. In a small bottle, put the rice vinegar, minced garlic, dried chili pieces, sa cha sauce and lime juice, and shake well; then pour over the pomelo-potato mixture and serve.

Red Bean Curd, Pork, and Potatoes
Ingredients:
1 pound boneless pork butt, cut into bite-size pieces
1 Tablespoon sherry
2 slices fresh ginger
2 Tablespoons mashed red bean curd
1 teaspoons thin soy sauce
1 teaspoon sugar
2 medium potatoes, peeled and cut into bite-sized pieces
Preparation:
1. Put pork pieces into a pot, add two cups water to cover them, bring to the boil, and skim off the foam.
2. Add the sherry and fresh ginger, reduce heat, cover, and simmer for half an hour.
3. Add mashed bean curd, soy sauce, and sugar and return to the boil, then reduce heat and simmer another fifteen minutes, then add the potatoes and simmer another fifteen minutes, then serve.

Potato Cake and Bottle Gourd
Ingredients:
1 pound potatoes, peeled and shredded
1 small bottle gourd, peeled, and shredded
2 eggs, beaten
1/2 teaspoon salt
1/4 cup flour
3 Tablespoons potato starch
1 scallion, minced
1 cup vegetable oil
Preparation:
1. Mix the potato and bottle gourd shreds, eggs, salt, flour, potato starch. Then lightly mix in the minced scallions.
2. Heat oil in a wok or fry pan, and put mixture in flattening it into a pancake. Fry until golden, turn it over and fry it on the other side until golden. Drain on a paper towel, cut into pie-shaped pieces, and serve.