Read 5241868 times

Connect me to:

Guizhou Cuisine
Chinese Food in China, Hong Kong, and/or Taiwan
Spring Volume: 2010 Issue: 17(1) page(s): 7, 8, 9, 10, and 25
---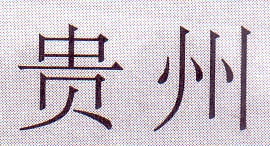 Some articles on the web including one from 'buzzle.com' call the food of this province one of China's top eight cuisines. Most do not agree, certainly not the Beijing Review nor most of the cookbooks in the Chinese cook book collection in Stony Brook University's Special Collections Department. They and most other sources say, in alphabetical order, the top eight great provincial cuisines of China are: Anhui, Fujian, Guangdong, Hunan, Jiangsu, Shandong, Sichuan, and Zhejiang.
What these and other sources do agree on is that the Guizhou cuisine, also known as Qian cuisine and sometimes written as Kuizhou cuisine, is somewhat similar to Sichuan and Hunan Cuisines. That makes sense as these provinces are north of it, as can be seen on the map. Guizhou is surrounded by the Sichuan, Hunan, Guangxi, and Yunnan Provinces; but it has its own unique cuisine that mixes spicy tastes with many sour ones. Others say its cuisine resembles the foods of the Shaanxi Province. We believe that a stretch because it lacks proximity to it, and that province has a strong salty taste.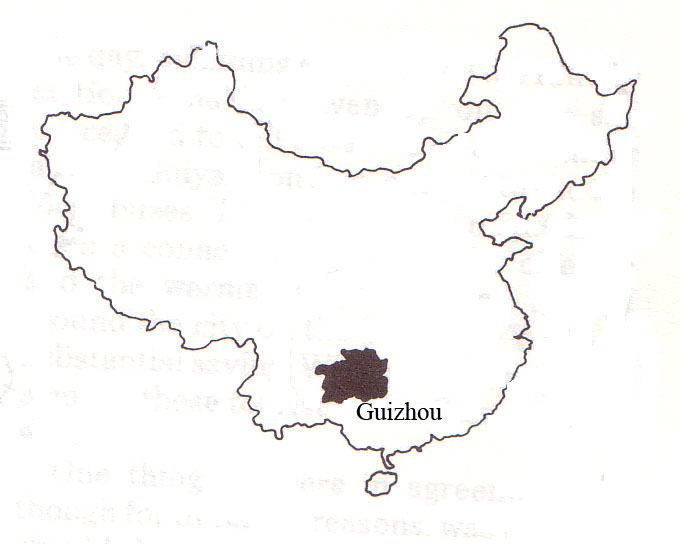 The capital of this province, Guiyang, is a town established during the Han Dynasty (206 BCE - 220 CE). It changed names and the region became the Qianzhong Prefecture during the Tang Dynasty (618 - 907 CE). It changed names again during the Ming Dynasty (1368 - 1644 CE) and was then called the Buzheng Prefecture. The Guizhou Province was set up during the Qing Dynasty (1644 - 1911 CE), and it's capital is centrally located in the province.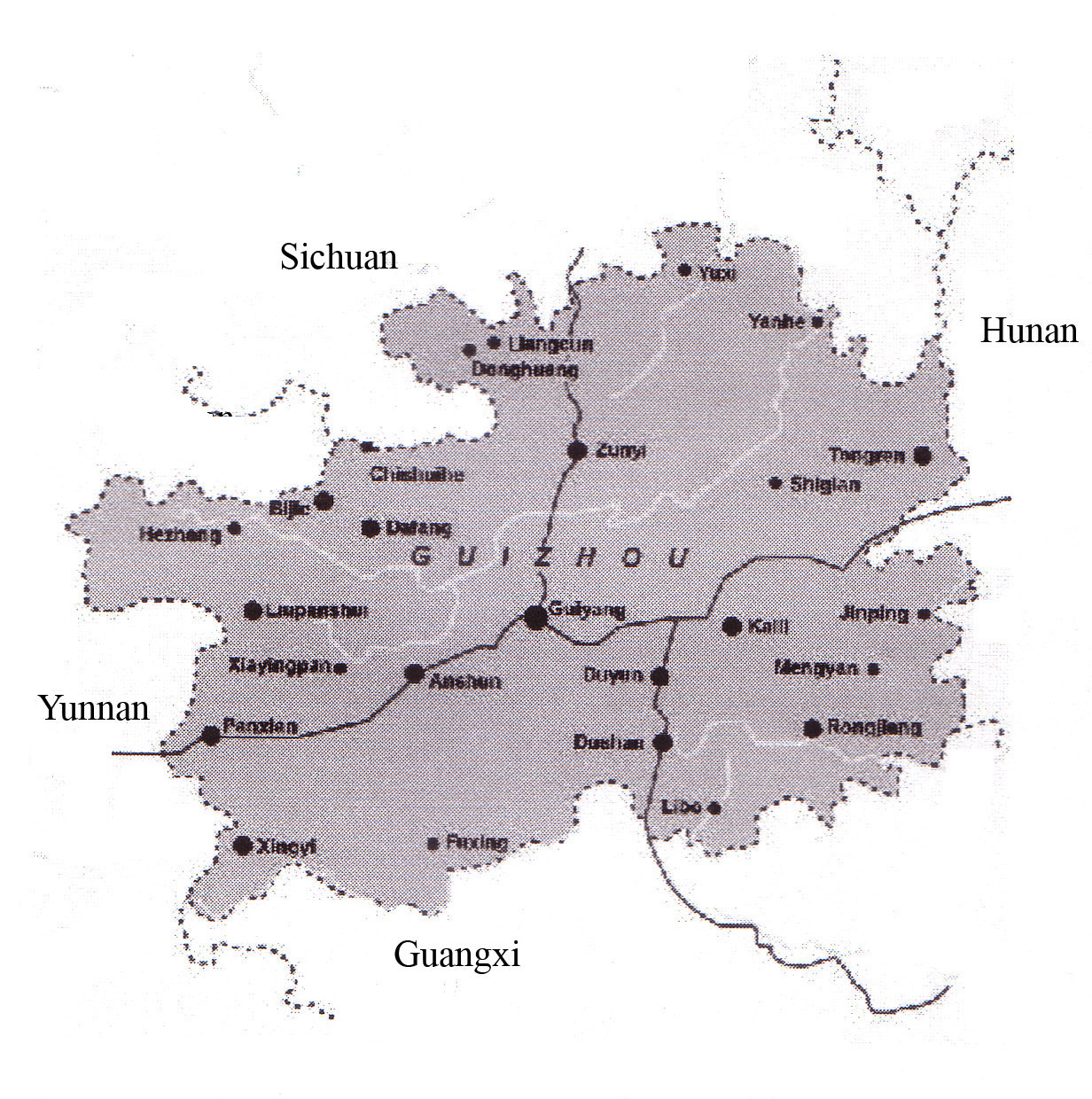 Other cities in this province besides Guiyang include Anshun, known for its batik and as an easy stepping off point to go twenty-seven miles southwest to see China's largest waterfalls, Huangguoshu, on the Baishu River. There are also places such as Zunyi and Kaili, and Duyun, Liupanshui, and Qingzhen. These are more town-like. Overall, the province has beautiful scenery and many minority populations. Folks from all over China come to see them and to go to Janjing Shan, also known as Mt. Fanjing. This is the province's only holy mountain. There many staircases are climbed to get to the top and a large nature preserve, a huge sub-tropical forest, home to China's endangered golden monkey.
Guizhou is mountainous, humid, sub-tropical, and with monsoon-like climate. It is spoken of as the 'land without three feet of flat ground' and the 'land without three sunny days in a row.' Some also say it is the place where 'folks do not have three pennies in their pockets' because the province is poor. The national government is beginning serious development to add to its many coal mines, much limestone, and a large steel works located in its west.
Besides many sour and spicy foods, Guizhou is known as a place where dog meat is popular, though mostly in winter. Men here believe it a local remedy for impotence; and during that season they consume it with rice noodles, in hot pots, and in stir-fry dishes.
The province has many other foods and grows lots of glutinous rice. It also grows maize, wheat, corn, sorghum, soybeans, potatoes, peanuts, olives, oranges, apples, bananas, walnuts, chestnuts, rapeseed, oil tea, and regular tea. In the foothills and mountainous areas people seek out and find many medicinal plants and plant parts. And, they love the sunbo or sour fruits they find when hiking. Known as 'Gui' for short, as the map of China indicates above the provincial map on the first page of this article, this province is in the Southwest of China. It is part of the Eastern Yunnan-Guizhou plateau where many minority populations mix their food tastes with popular local foods.
The region has lots of rugged areas, many caverns and underground rivers, and much rain falling on its forty million people, thirty-seven percent of whom make up forty-nine different ethnic minority populations. Seventeen of these groups believe this province their cultural home. The ten best known among them (in alphabetical order) are: Bai, Bouyi, Buyi, Dong, Gelao, Hui, Miao (also known as Hmong and Moung), Shui, Tujia, and the Yi peoples.
Each one of these groups have more than one hundred thousand people living in this one province, many more living elsewhere. Guizhou is China's third largest in terms of minority people. The twelve largest minorities in the country (their numbers are in the millions in parentheses) are: the Zhuang (16), Manchu (11), Hui (9), Miao (9), Uyghur (8), Tujia (8), Yi (8), Mongol (6), Tibetan (5.5), Buyei (3), Dong, and Yao (2.5).
With such a mixed population, what do most people in Guizhou eat? For one thing, particularly those in the cities of Guiyang and Xingyi, they adore Gangzi noodles. These ultra-thin egg noodles are cut thinly and boiled, then put in or on soup with sliced or diced pickled cabbage and pork or lamb. They put in and stir several seasonings into half a bowl of this soup and none in the other half. When served each bowl looks like a mala hot pot, one side red, the other clear; and with no real divider.
The people of Guizhou love Fish in Sour Soup called suantangyi. They like theirs made with pickled vegetables, hot chili peppers, salt and pepper, and Sichuan peppercorns, An expression in this locale says that if you 'do not eat this thousand-year-old soup at least once every three days, your legs will become weak.' These days this soup might be made with chicken or duck or another protein instead of the usual fish. Some locals tell us these substitutes are eaten often; others disagree saying they are used only when fish is not fresh or is too expensive.
People here also love Fried Fish made with chopped pickled red peppers or their own Zao peppers. These latter items are only found in Guizhou and and are added to this soup along with ginger, onions, and wine. People coat the fish with egg, flour, and salt, sometimes with shrimp paste, and then fry it until very crisp. Sometimes, they put pieces of this fried fish into their soup adding pickled cabbage, shrimp paste, garlic, ginger, soy sauce, sugar, and more.
TO MAKE SHRIMP PASTE one needs to remove the shells and veins of the shrimp and crush the flesh or meat of the shrimp. Then mix this with chili powder, rice powder, wheat starch, ground ginger, cinnamon, and salt. Refrigerate this paste in a sterilized glass jar and use as needed. One can keep it in the refrigerator for several weeks.
ROAST FISH is another way people in Guizhou make fish. Roasted fish requires cutting a fish in half, head to tail, then gutting, rinsing, and drying it. Next, make a paste of minced ginger, scallions, garlic, a pickled chili or two, salt, and a dozen crushed Sichuan peppercorns. Stuff the fish with this paste, wrap it in pre-soaked lotus leaves, lemon grass, or cogon grass and roast on a slow fire. Alternately, one can put it in a low oven. Test with a chopstick and remove when the fish is almost cooked through, then serve. It continues to cook until eaten, so do not over cook it.
Other than fish eaten at meals or between them, local folks in this province love to snack eating their xia chi or small-bite foods. Curdled rice or mi doufu is something high on their snacking list. Keep in mind that mi doufu food has not a single soybean in it. Rather, it is made from coagulated rice milk cut into half-inch thick rectangles two by three inches. Steamed, then grilled, locals like it served with gai lan, fried peanuts, chopped onions, and a sauce made of soy, vinegar, and ginger juice poured over it. Some do eat it plain. This mi doufu can be made adding the juice of small green cabbages, or just made coagulating the rice milk. If plain, the mi doufu has a tan or brownish tinge.
Folks we spoke to from this province said they also like roasted potatoes dipped in the above sauce, and they like the potatoes and many other doufu-type foods served with a garlic sauce made with lots of minced garlic and some vinegar, minced ginger, chopped hot pickled peppers, slivers of pickled cabbage, and chopped peanuts. Incidentally, these same locals told us they eat their mi doufu with a spoon. We suspect they do so as getting any to the mouth with chopsticks is no easy feat.
PANCAKES are another popular snack and meal-time food. They are made with glutinous rice flour, shredded radish strips, kelp or another seaweed, bean sprouts, and/or with cucumber, bean noodles, chopped pickled red peppers, and more. After making these pancakes, the rice-flour sheets are rolled, seasoned, stuffed, and savored; sort of a spring roll not fried. Called siwawa (also written as si wa wa), the name of this dish means 'silk doll.' The story goes that this dish relates to a poor farmer's wife who found a baby and brought the tyke home. A neighbor gave her family some leftover food which she wraps in these popular pancakes the same way she wraps the baby in its blanket. The stuffed pancakes are eaten right after wrapping.
HUAXI BEEF NOODLES are another popular snack food in Guizhou. This dish has a sour and spicy broth, diced beef, rice noodles, coriander, Sichuan or local peppers, pickled cabbage, and it can have pieces of mi doufu. Another snack is bi jie or their own local dumplings made small, the dough made with rice flour. They stuff them with diced ham and nuts and other things; and they do steam them.
There are other popular foods at mealtimes or for snacking. Some say there are at least two hundred and fifty different ones. Friends from Guizhou say not to forget to write about Entrail Noodles served with the popular items already mentioned and/or with blood sausage and bean sprouts. They add to write about their Jellied Bean Curd (though no one could tell us how to make it), Stewed Pigs Feet often served in a rice congee, and rice porridge made with water chestnut powder, whole and ground sesame seeds, sugar, walnuts, and peanuts.
In addition, they remind us to write about this province's many fantastic street foods. They are found on many corners, particularly in Guiyang, the capital city. They say they love their Roasted Bean Curd whether made of rice or soybean milk as long as it is baked on a grate over hot coals and dusted with chili, salt, and Sichuan pepper powder. One fellow told us he likes his that way but he adds chopped chili and scallions, some vinegar, and mashed garlic and ginger.
Soups are local snacks, too. They are often made with dried vegetables and long thin noodles. The dried vegetables are more than simply dried. They are dried in the sun, salted, then set aside for some five days until they start to ferment. It is in this condition that they add them to soups and other dishes.
It is said that Kung Pao Chicken originated in this province. Beijing Dumplings had a start here, too, but only those made with rice flour and stuffed with ham, sesame seeds, peanuts, and the usual pickled red peppers, soy sauce, vinegar, pickled cabbage, etc.
During the Shang Dynasty (circa 1600 - 1045 BCE), Guizhou was part of Gui-Fang, and in the Tang Dynasty (618 - 907 CE) became known as a prefecture. That said, when reading historical materials, the many different names might be why there are varied opinions and knowledge notes. Minority populations settling into this region add other opinions and options about foods in this region. Perhaps all of these influences are why we could not locate a single Guizhou recipe in a cook book. If you have one, do photocopy the page, provide author, title, publisher, and the book's publication date, if available, and send one or more recipes to us. We promise to inform all our readers.
One last item, it is important to advise that while rice doufu and rice noodles are commonplace, pickled peppers likewise, not all dishes made in Guizhou are made with them, hot chili oil, or with pickled vegetables. Most dishes are somewhat piquant and reasonably sour, but not every one of them is. We were told that in recent years tomatoes are added for the acidic taste, but tomatoes are less acidic than in the past. The other thing we were told to share with our readers is that the Zao pepper is getting harder to find.
We offer thanks to friends from this province for the recipes below. Do enjoy them!

Fish and Sour Soup
Ingredients:
1 whole fish, one and a half to two pounds, gutted, scaled, fins removed
1 large radish, about half pound
1 square diced mi fan or regular doufu
2 slices fresh ginger, peeled and slivered
1 teaspoon sugar
1/4 teaspoon thin soy sauce
1/2 teaspoon salt
1/2 teaspoon ground Sichuan peppercorns, smashed with the end of the handle of the cleaver
1/2 teaspoon chili peppers or chili sauce
2 Tablespoons chicken or fish bouillon powder
1 Tablespoon white or black rice vinegar
1/4 cup fermented cabbage, cut into one-inch pieces
2 Tablespoons of cornstarch mixed with an equal amount of cold water
Preparation:
1. Rinse and dry the fish, and cut it into two-inch pieces.
2. Peel then cut the radish into one-quarter-inch wide strips no more than two inches long.
3. Cut the mi doufu or doufu made with soy milk into two-inch squares and set aside.
4. Bring three quarts of water to the boil, then add the ginger, sugar, soy sauce, salt, Sichuan pepper pieces, chili peppers or chili sauce, and the bouillon powder, and stir well.
5. Reduce the heat, add the pieces of fish and radish and simmer for three minutes. Raise the temperature almost to the boil, add the mi fan or doufu, vinegar, fermented cabbage, and the cornstarch mixture. Stir until thickened, about half minute, then serve.

Guizhou Pickled Cabbage
Ingredients:
1 cup coarse non-iodized salt
1/4 cup Chinese brown slab sugar
1/4 cup Maotai or gin
1/4 cup fermented rice, liquid preferred and not the rice
1/4 cup Shaoxing yellow rice wine
1/4 cup dried chili peppers, lightly crushed with side of the cleaver
1 whole nutmeg, partially crushed with handle of a cleaver
3 whole star anise
1 Tablespoon whole Sichuan peppercorns
1 whole white peppercorns
3 pounds Chinese or any leafy cabbage, shredded, and air dried overnight
Preparation:
1. Bring six cups of water to the boil and pour it into a clean sterilized jar and add the salt and brown sugar and stir until dissolved, then cool this to lukewarm, add Maotai and the fermented rice liquid, and set aside to come to room temperature.
2. Put chili peppers, nutmeg, star anise, Sichuan peppercorns, and white peppers in a large cloth spice bag and tie it closed. Pour two cups boiling water over it washing the spices, then put in the pickling jar. And stir once or twice.
3. Add the partially air-dried shredded cabbage to the pickling jar, stir a few times, and cover with a plate or something that will keep the cabbage submerged. Set aside outdoors, in the shade, for five to seven days,. Take out the amount of cabbage needed and store the rest in a cool dark place.
Note: A second batch of air-dried shredded cabbage can be put into the pickling liquid when all of the previous cabbage has been removed, it will pickle but not be as sour as the first batch.

Beef Packets
Ingredients:
5 ounces minced or ground beef
4 strips yellow chives, minced
2 cloves garlic, peeled and minced
2 Tablespoons pickled cabbage
1 egg yolk
1 teaspoon dark soy sauce
1/2 teaspoon sugar
1 teaspoon Shaoxing wine
10 spring roll skins
1 Tablespoon vegetable oil
1 teaspoon sesame oil
Preparation:
1. Mix beef, chives, garlic, pickled cabbage, egg yolk, soy sauce, sugar, and wine, but do not stir more than necessary to mix these ingredients together. Divide this mixture into ten parts.
2. Gently spread one part of the meat mixture down the center of the spring roll skin, fold the edges in, and roll the spring roll dough one end to the other, flattening this roll into a one-inch wide package. Repeat until all ten packets are made.
3. Heat wok or fry pan, add vegetable and sesame oils and fry half the packets on one side until lightly browned, then turn them over and fry the other side. When the second side is lightly browned, add two tablespoons water, cover the pan, reduce the heat slightly and steam for fifteen minutes. Then remove them to a flat plate or platter, and serve.

Mi Liang Fan
Ingredients:
1 quart rice milk
1 Tablespoon coagulant (magnesium sulfate, calcium sulphate, or another coagulant)
Preparation:
1. The day before or early in the morning boil rice milk, then add the coagulant and boil for another ten minutes.
2. Cool it in a thin flat pan in the refrigerator. It will be jelly-like and wiggly.
3. When ready to use, cube or cut into thin noodles. Gently transfer to a small bowl if using them in a recipe; this makes for easier adding to that dish. If eating them plain or with a dipping sauce, do so with a Chinese soup spoon.
Note: If rice milk is not available, use six to eight ounces of prepared konnyaku noodles; and if they are bundled, untie them.

Duck with Mi Liang Fan
Ingredients:
1 pint rice milk, coagulated to make mi liang fan or or half recipe above
2 Tablespoons vegetable oil
1 teaspoon sesame oil
1/4 roasted duck on its bone or two duck thighs, chopped into two-inch by one-inch pieces
1 or 2 teaspoons chili bean paste
1/2 teaspoon minced Guizhou or Sichuan peppercorns
2 sliced peeled and minced fresh ginger
1 Tablespoon dark soy sauce
1 Tablespoon Shaoxing rice vinegar
1 cup chicken broth
1 Tablespoon potato starch beaten with warm water
Preparation:
1. Cut the mi liang fan (also known as mi doufu into thin noodle-shaped pieces, and set aside in a bowl for easy addition when needed.
2. Heat wok of two-quart pot, add both oils, and fry the dick pieces for one minute. Add the chili bean paste, peppercorns, and ginger, and stir-fry another minute before adding the soy sauce and the vinegar. Stir for half minute than add the broth and when it comes to the boil, add the mi ling fan or konnyaku, then the potato starch mixture. Gently stir-fry until slightly thickened, transfer to a bowl, and serve.

Si Wa Wa
Ingredients:
1 recipe si wa wa skins (needs twelve tablespoons flour; instructions to make them is Step 1 below)
1/4 cup bean sprouts, tails removed
4 Tablespoons kanpo or another seaweed, thinly sliced, setting the eight longest strips aside
2 Tablespoons marinated or pickled radish, cut into thin two-inch-long strips
2 Tablespoons celery, cut into two-inch-long thin strips
2 Tablespoons rice noodles, soaked and cut into two-inch lengths
1 Tablespoon soy sauce
1 and 1/2 Tablespoons rice vinegar
1/8 teaspoon hot pepper paste
1 teaspoon sesame oil
1/2 teaspoon fresh ginger, minced
1/8 teaspoon ground Guizhou pepper or Sichuan peppercorns
2 Tablespoons soy beans, soaked in water for four hours, then deep fried for one minute
Preparation:
1. Half an hour before planning to serve this dish, mix flour with two tablespoons of water, knead and when smooth, using fingers, brush some on the wok to make a very thin crepe. Repeat until there are eight crepes. When each is done, set it on a heat-proof plate. When all are made, cover them with heat-proof plastic wrap and steam over boiling water for three minutes. Remove from the steamer but leave the plastic on until ready to use.
2. Mix bean sprouts, seaweed, radish, and celery, blanch for one minute, drain, and add the rice noodles and spread these on a cookie sheet to cool.
3. Make sauce with soy sauce, vinegar, hot pepper paste, vinegar, pepper, and one Tablespoon water. Put into a small pitcher.
4. To put the si wa wa together, take one pancake and put two tablespoons of the bean sprout mixture in its center. Fold up the bottom just a little to prevent vegetables from falling out. Then fold in the sides making the si wa wa wider at the top and narrower at the bottom, sort of cone shape and as if putting a baby in a blanket. Wrap one long strip around the middle and pour a little of the sauce mixture on the top. Add a teaspoon of the fried soy beans, and set these wraps around the outside of the platter, closed end to the center. Repeat until all are rolled and set out. Put the extra sauce in its pitcher in the center of the platter, then serve.

Potatoes and Pickled Cabbage
Ingredients:
2 Tablespoons sesame oil
1 pound potatoes, peeled and cut into thin noodle-like strips, dried in a towel
2 dried chili peppers (optional)
1/2 teaspoon salt
1/2 teaspoon sugar
1 recipe Duck with mi liang fan or one made with fish
1 cup shredded pickled cabbage
Preparation:
1. Heat wok or fry pan, add sesame oil and when it is very hot, add potato strips and the chili peppers, salt, and sugar, and stir-fry for four minutes until just soft. Spread these evenly on a pre-heated plate as the base for the rest of the dish.
2. In the same wok, reheat the prepared Duck with Mi Liang Fan or fish recipe and mix it with the pickled cabbage. Stir until barely heated through, then put on top of the shredded potatoes, and serve.