Read 6299453 times

Connect me to:

Amelia Award given to This Magazine's Editor
by Culinary Historians of New York
Resources
Fall Volume: 2010 Issue: 17(3) page(s): 4 and 10
---
The following is edited from the March 23, 2010 program when the editor of this magazine received the prestigious AMELIA AWARD; the program cover is shown below: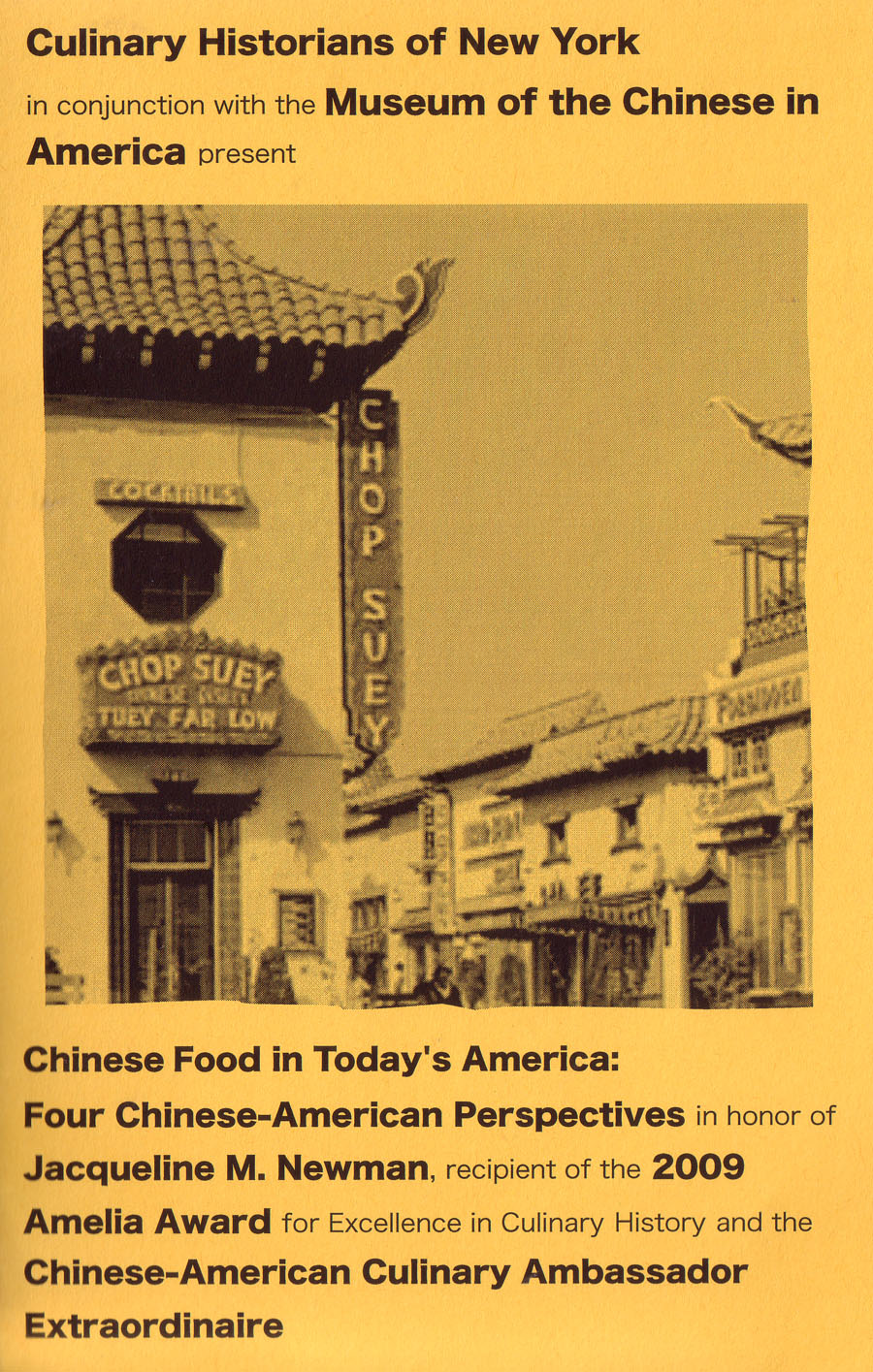 Dr. Jacqueline M Newman is a trailblazer in culinary history. She studied food and culture before culinary history became a recognized discipline, at a time when it was a detour in home economics departments. She received her M.A. in Home Economics from New York University in 1975, followed by a Ph.D. from there in 1980. Her dissertation topic: Chinese Food Habits: A Study in their Nature, Direction, and Change. She taught a range of food related subjects at NYU, New School of Social Research, among others, and at Queens College CUNY, where she was on the full-time staff as a full professor. She took emeritus status at Queens College in 2004 and left a rich career, including stints as Chairperson of the Department of Home Economics (1995-98) which in 1996 was renamed the Department of Family, Nutrition and Exercise Sciences. There, her research focused on Chinese food habits, diets, health, and nutrition, all part of her holistic approach to food.
Dr. Newman was not content merely to forge a career teaching. She was and is passionate about Chinese food, and has been since childhood. She set out to master the cuisine, both as cook and cultural observer. Recognizing how foreign true Chinese food was to Americans, in 1994 she founded, along with Fuxiang (Charles) Tang, this quarterly publication, the only English-language magazine devoted to the science and art of Chinese cuisine. It is a key resource in learning about Chinese ingredients, dietary theories, and holiday foods. It also contains recipes so those made hungry by the loving descriptions can try to recreate the flavors at home. For those less inclined to face the wok, this magazine always contains restaurant recommendations, be they in New York or around the globe, virtually anywhere authentic Chinese food can be found.
Dr. Newman, a founding member of the Culinary Historians of New York (in 1985), with a small group of like-minded individuals, created a forum for the serious discussion of culinary culture. Without her energies and enthusiasm, we would not be here tonight.
Her desire to learn and share has inspired her many articles (about four hundred), as well as her book-length works. Her authoritative Food Culture in China (Greenwood 2004) is a fundamental resource for students of Chinese cultural history. Her most recent cookbook, Cooking From China's Fujian Province (Hippocrene 2008) is the result of painstaking investigation into the distinctive cuisine of this most recent wave of Chinese immigrants in New York.
A tribute to Dr. Newman would not be complete without mentioning her remarkable library of Chinese cookbooks–-more than three thousand volumes (now closer to five thousand), as well as other culinary documentation, illustrations and ephemera collected over a lifetime. This impressive assembly, the largest of its kind in the United States, found a permanent home as the 'Jacqueline M. Newman Chinese Cookbook Collection' in the special collections area at Stony Brook University in 2002. Generations of students and scholars will now have access to these irreplaceable works, marking one of Jackie's many contributions to the field of culinary history.
Xie xie, we all thank you Jackie!
THE AMELIA AWARD recognizes lifetime acheivemant in the field of culinary history. Named after Amelia Simmons, author of American Cookery (1796), the first cookbook written and published in the United States, the award honors the pioneering spirit of scholars in this discipline, which was virtually unknown thirty years ago and has only recently gained academic respect. Simmons, who called herseld "an American orphan," forged a new path in the American culinary scene, with recipes for uniquely American ingredients, such as