Read 5093492 times

Connect me to:

TOPICS INCLUDE: Yuan Mei's book; Baby octopus; Tea ceremony; Guizhou cuisine and fish scales; Two thanks; Black pepper; Kejia bean curd; Meat dough from Fuzhou at the Top 100 Awards event
Letters to the Editor
Fall Volume: 2010 Issue: 17(3) page(s): 8 and 9
---
From LEW via e-mail:
Yaun Mei must be rolling over in his grave, or standing on his head, or both. The Volume 17 Spring issue was a fine tribute to this great Chinese gastronome, but the cover of his book surely was not.
LEW: Thank you and others for pointing this out. The buck, or in this case--the book cover surely was upside down. Though I did request it the correct way, it is nonetheless my fault that is came out upside down. I do know better and should have done better. Apologies to all. Here it is again, this time right side up.
From CHARITY in CA:
Did you ever have baby octopus in a Chinese restaurant? If so, how was it made?
CHARITY: Yes we did have it in a Chinese restaurant in Paradise Island in the Caribbean. It and other members of its aquatic family, namely squid and cuttlefish are commonly grilled there, then marinated in a vinegar sauce which they call a 'dressing.' It was one of several items on an initial cold plate. While there, we were told it was blanched in boiling water first, then shocked in ice water, then scored on the main part of the body in what was called a 'flower-cut' and then grilled over an open flame. The blanching and scoring helped it to curl into a flower shape that made it look great and taste even better. Never did get the exact items in the marinade. Our mail to that place has been returned, so no help on this query from the source.
From TERESA via e-mail:
Just received the Winter issue and your review is the best not only for your kindness, but also for pointing out technical details; you are someone who knows the cookbook business well. I am greatly honored and deeply grateful for your favorable review of my book: A Tradition of Soup cookbook.
TERESA CHEN and others: Thank you for your compliment. Your book about soups from the Pearl River Delta is one that everyone should read and learn from; I certainly did.
From PETER via e-mail:
Any idea when the pepper we use, namely Piper nigrum, came to China; or was it always there?
PETER: The best information we could locate indicates that the arrival of black pepper probably came during the early part of the Tang Dynasty (618 - 907 CE). Very quickly it became ubiquitous in virtually all dishes of the wealthy. If you do not already know this, white pepper is the exterior of the pepper berry, black pepper its inner core. Then the Chinese did use it whole, more recently white pepper, in particular, is used ground.
From IRVING, via e-mail:
Enjoyed reading about Guizhou cuisine. When I was traveling through Guiyang about sixty years ago, I fully understood the difference between fish with or without scales. At that time, I tasted a lung-breathing fish that had no scales in a restaurant. Today, I still remember its very unique taste and flavor. I do think this fish is now an endangered species.
IRVING and others: Thank you for bringing up this confusing item about fish with and without scales. Some fish always have scales, others never do. There are some fish, the swordfish is a case in point, that has no scales at one time in its life-cycle, but does have scales at another one. Not an ichthyologist, I do not know which ones do and do not have them at some times, and no one we asked could explain why; anyone out there who can?
FROM LENA via e-mail:
I was interested in the tea ceremony article and do wish I had the chance to observe it myself. Also, my mouth watered when I read the dishes you had at M&T Restaurant. When I get back to Long Island, I will visit that restaurant; thank you for telling us about it.
LENA: We do eat at this restaurant, and many others we love, a few times in a month. That said, we have yet to taste even a quarter of their dishes, and a new batch are now shown in color photographs on their other wall. The picture of a ginseng dish that the chef makes, one we often order, is pictured on page 28 of this issue. The dish is not mentioned on either wall nor on its new menu. Perhaps that is why we struggle in so many restaurants to eat our way through their menu.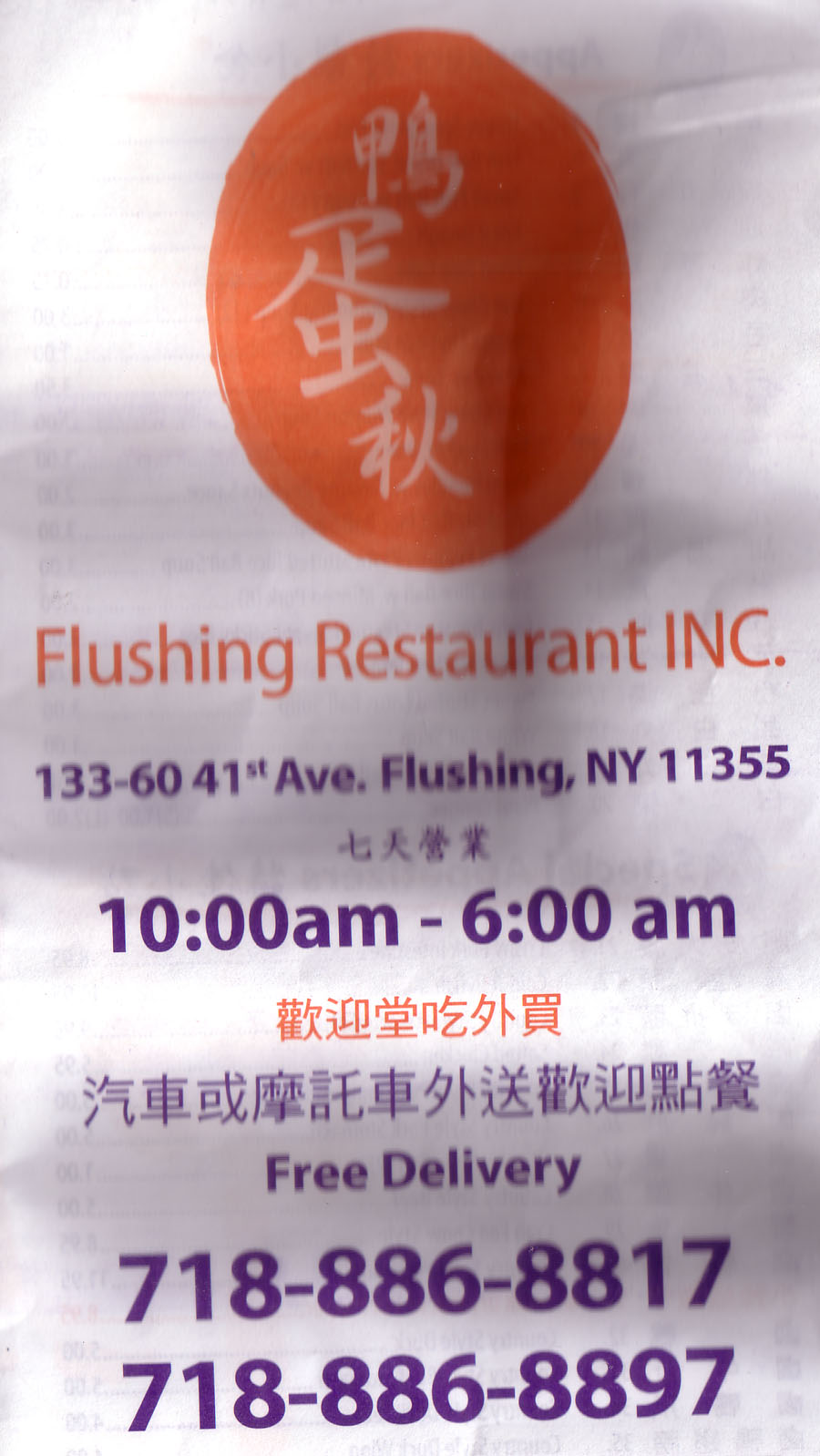 From BOBBIE via e-mail: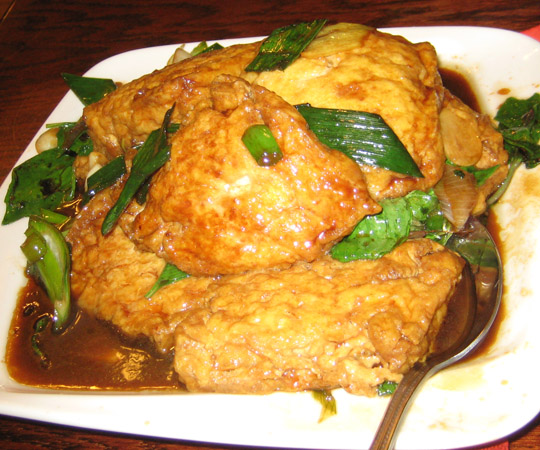 Who serves Kejia bean curd food? I have been trying to taste this dish and another called Hakka Dumplings. I was told that both of them are great.
BOBBIE: Kejia is another term for Hakka food, so kejia bean curd is simply a bean curd dish made Hakka-style. Recently we had that great one at the FLUSHING RESTAURANT INC. at 13-60 41st Avenue in Flushing, Queens NY; phone: (718) 886-8817. This place, owned by folks from Zhejiang, serve many fine dishes, this one among them; others have origins from several provinces. We have not found any restaurant in Queens serving only Hakka food, nor one with Hakka Dumplings on its menu. On your next trip east, advise if you do and in the meantime, we will keep looking. Should you find this dish where you live, please share a picture or a recipe or both. Anyone have a great recipe for the dumplings?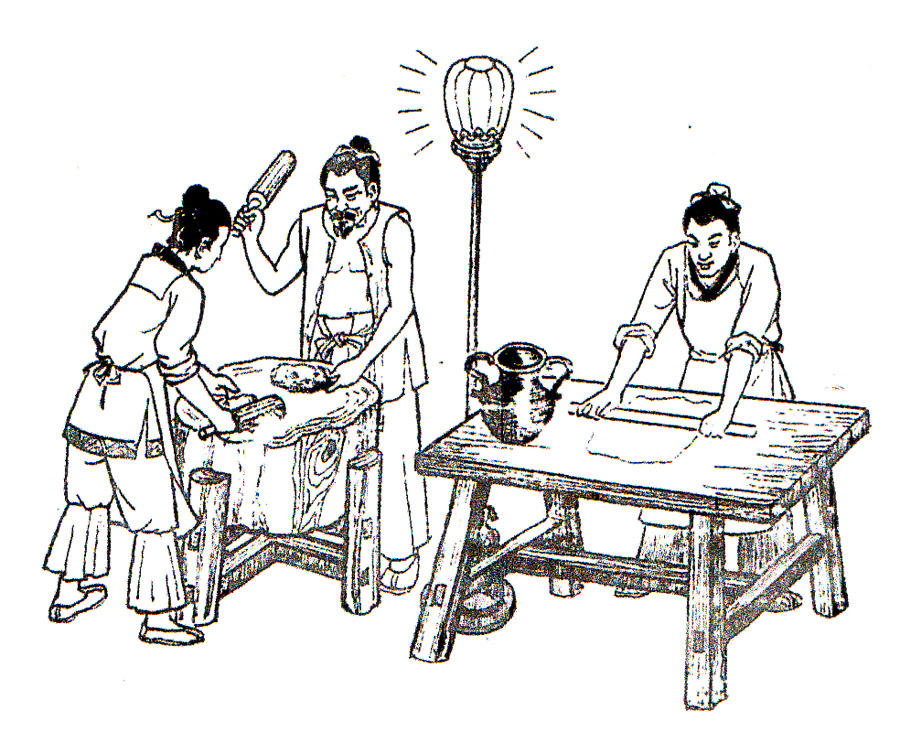 From EDDIE via e-mail:
You said you were going to the Top 100 Chinese Restaurant Awards in Las Vegas, and I do thank you for the listing of the best overall Chinese restaurants this year. However, you did not indicate the very best of the bunch, which was Ching's Table in New Canaan CT. I do want to go there soon. Also, did anyone there do anything exciting?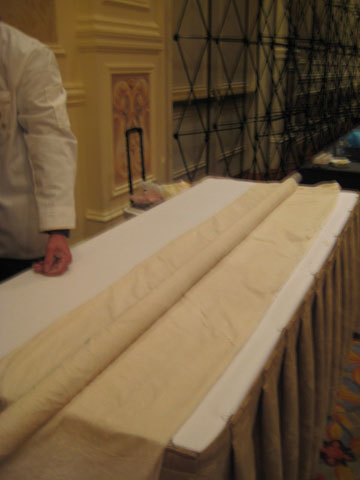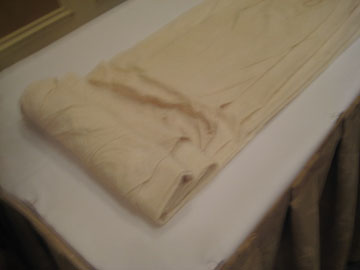 EDDIE: At that event, there were chefs from Fuzhou who, like the black and white ancient picture shows, made meat dough pounding pork then rolling it out. The top picture is the ancient illustration, the others are from the Las Vegas event are pounding the meat, the wooden pounder, the finished dough being rolled on a long stick, and folding the dough to bring to the chefs who then made the Fujianese dumpling wrappers. That was the first time I ever saw it made, but not the first time I ever tasted this meat dough. Once, when in Taipei, Angela Cheng, who is Fu Pei Mei's daughter, gave me a commercial package to take home. I used it for several recipes but never found any in the United States. Anyone found some in the USA?