Read 5929451 times

Connect me to:

Shanghai World Expo: A Fine Food Fair
Resources
Summer Volume: 2011 Issue: 18(2) page(s): 11 - 13
---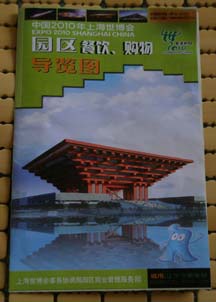 For almost two hundred days, May through October 2010, Shanghai hosted a World Expo that was very popular. More than two hundred forty countries and regions took part in an exhibition whose theme was: Better City, Better Life.
Participants from around the world had exhibits about urban civilization and urban evolution. Visitors could get advanced information abut things economic, scientific, technological and cultural, and many did. Those who lived nearby and others who traveled to Shanghai could visit it. Many did, me, too.
As a student concerned with Chinese food, when there I paid special attention to what the Chinese call 'catering' or what some westerners refer to as 'food service.' As the saying goes, seeing is believing, and after my visit, I believe the Shanghai Expo was a fine food fair for all. Based upon my experience and the photographs taken, some accompanying this article, everyone can see this splendid event. Too bad they can not taste its deliciousness.
I arrived at the Expo Park at nine in the morning when it just opened. At a public service area, I did pick up two maps, one official, the other a map of food places and those for shopping. On what I will call the 'gourmet' map, more than one hundred restaurants are shown in the A, B, C, D, E zones and also along Expo Boulevard. There is Chinese fast food, Japanese fast food, western fast food, Chinese casual dining, western casual dining, Muslim cuisine, African cuisine, vegetarian cuisine, places to buy bread, beer, coffee, tea, and more. Except for the formal restaurants, food service locations indicate specialties and snacks from each nation. Following this gourmet map, I start my tour in Expo Park.
No beverages of any kind can be brought into Expo Park. No problem, because everyone can get water from drinking fountains or purchase other drinks. I note that the fountains have three heights, twenty, thirty, and forty-five inches. That makes it convenient for folks of different stature to drink water easily. There are more than one hundred fifty of them, each about a hundred yards from the next. They meet people's needs and save China the task of disposing millions of plastic bottles. This energy and economic savings is a huge help to the environment. Knowing of their availability, I bring an empty bottle to get my water whenever I want or need some. For those who do not like plain water, a variety of beverages are for sale at counters and vending machines everywhere.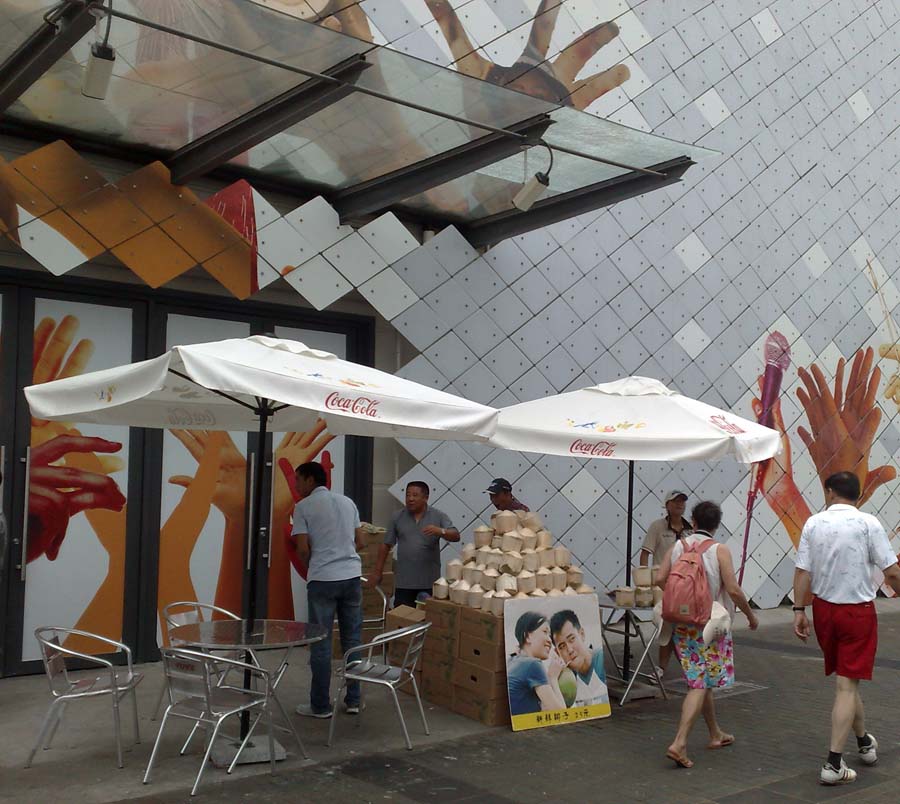 Some examples include that near the Philippine Pavilion, coconut milk is sold; at the Australian Pavilion, beer and wine from that country is for sale, and under the first floor of the German Pavilion, they are selling beer.
Walking in Expo Park, one can see pavilions every five minutes. There are more than one hundred twenty-five of them representing more than eighty different companies or groups. Very popular pavilions do require some five hours waiting time. Other popular places are for Chinese fast food.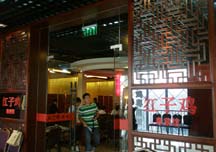 These are available to service the more than four hundred thousand daily attendees packing Expo. As time is precious, many chose to eat at Chinese fast food facilities. They are cheap, quick, and good, only thirty to fifty yuan is enough to purchase a nutritious meal with meat and vegetables. They attract many visitors.
In the front of Fresh Pure Chinese Fast Food Restaurant, beside the price list, are models of their dishes; this does drum up business. Rice, noodles, meat balls, braised pork, vegetables, soups are illustrated. Attracted by this publicity, I take many photographs here.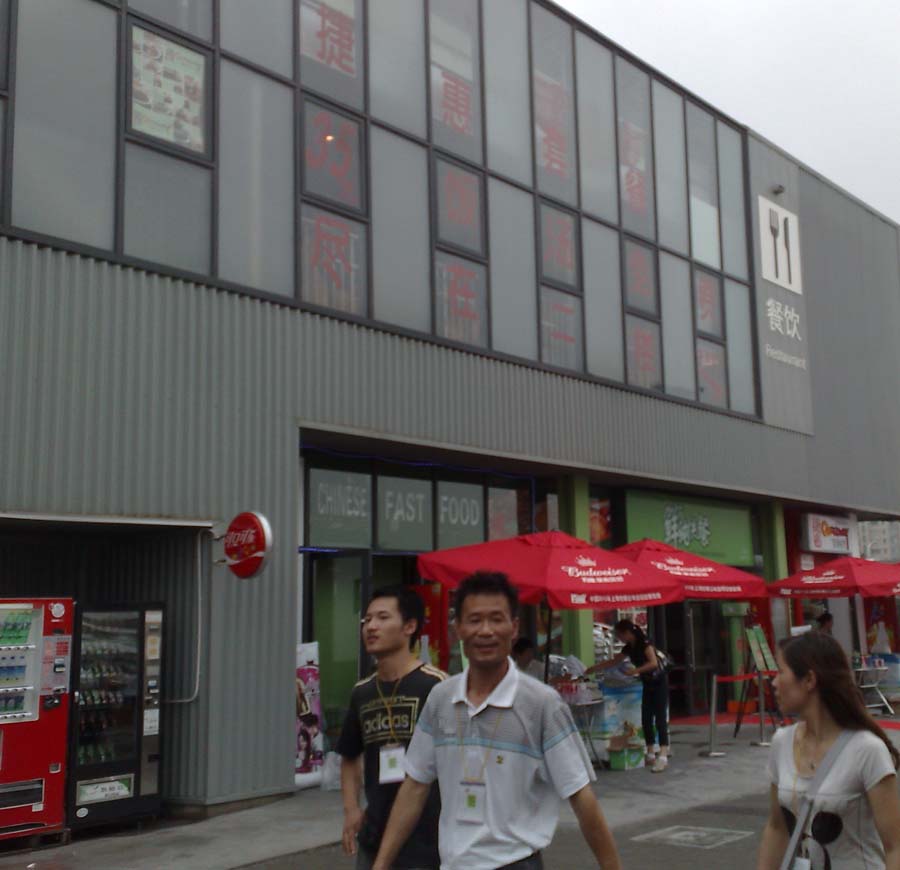 Kentucky Fried Chicken sells traditional western fast food at the Expo. At the same time, a Chinese fast food brand, East Dawning, sells Rice with Pork Chop, Rice with Stewed Chicken Leg, Rice with Stew Beef, etc. Other brands of Chinese fast food include: Blue and White Restaurant, Bamboo, Yuesheng Restaurant, Master Kong Chef's Table, Cheerway, Shanghai Local Flavors Area, Uncle Fast Food, Zungfu, Daniang Dumpling, Wishdoing, etc.
For those who want to enjoy all kinds of snacks, the food center in the Expo Axis is the best place for them. It is the largest food service site in the park and has all kinds of snacks from many locations in China including Tianjin Goubuli Stuffed Buns, Beijing Quanjude Roast Duck, Shanxi Sliced Noodles, Guizhou Acid Noodles, Xinjiang Doner Kebab, Taiwan Master Kang Private Beef Noodles, Macau Portuguese Egg Tarts, Hong Kong Durian Cakes, Barbecued Pork Buns, and more.
Besides Chinese snacks, various foreign places are available there or near their pavilions including octopus balls, oden, rissole, and three popular Japanese snacks. The octopus balls place sells some twenty thousand every day.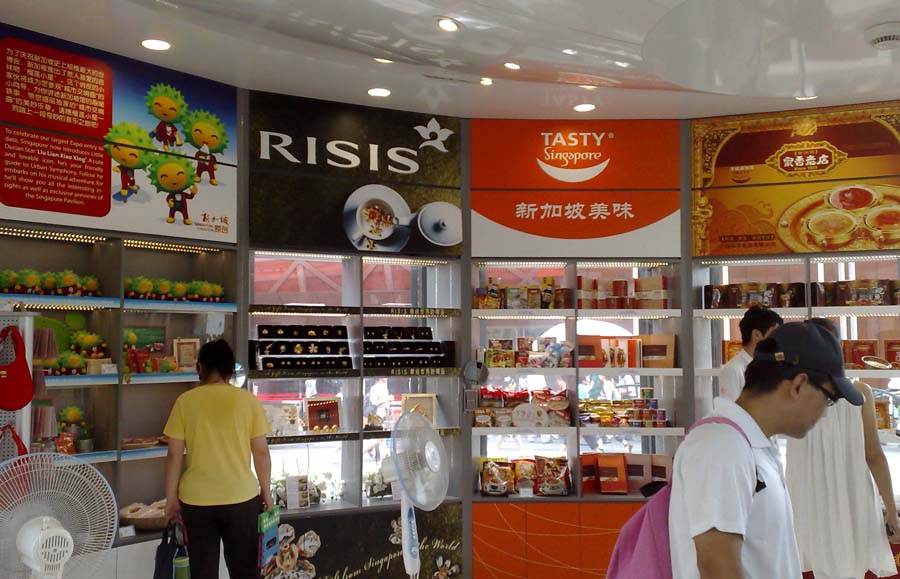 Freshly Baked Australian Cookies, Singaporean Breads, Kebabs, Belgian Waffles, Fries and Ice Cream, and German Sausages are there, too. Snacks are specially loved by children, me too, so I buy some Turkish Ice Cream at their pavilion's take-out window. They call it the hardest ice cream in the world. This dairy product does not add water, and a Turkish chef uses a shovel about one yard long to stir its milk in a basin. When a certain amount of water evaporates, the milk becomes hard like ice cream. It is sticky and mild, the price for one portion is twenty-five yuan. For those with enough time to enjoy a wonderful meal, Chinese food is the best choice. One can eat snacks but also taste any one or all eight famous cuisines of China. Do see the Table accompanying this article about them.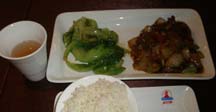 I have lunch in a Chinese casual dining restaurant called Red Chicken. There are any number of these types of eateries including: Dain Ti Hill, Chamate, Wangbaohe, South Beauty, Xiaonanguo, Canglangting, Duck King, Dinglianfang, Wumi Porridge, Wufangzhai, Jade Garden, Yun's Fusion Cuisine, Heji Xiaocai Restaurant, Laozhengxing Restaurant, Yicai Restaurant, Yuyuan Restaurant, Harvest Festival Zhejiang Restaurant, Shengdacheng Restaurant, Bao Steel Hotel Restaurant, Hongyi Restaurant, etc. They are scattered at various food centers, and often many are in one building, six to eight restaurants from different regions with different tastes. This means visitors to Expo can easily find foods to make decisions about.
I selected Red Chicken because I like Guangdong cuisine very much. This restaurant is elegantly decorated, its interior full of Chinese cultural elements including fences, screens, and lanterns, most with old-fashioned antique looks. Their dishes are delicious, and I order two combos as seen in the photos. One is Stewed Pork with Brown Soy Sauce, the other is Stir-fry Beef and Onions.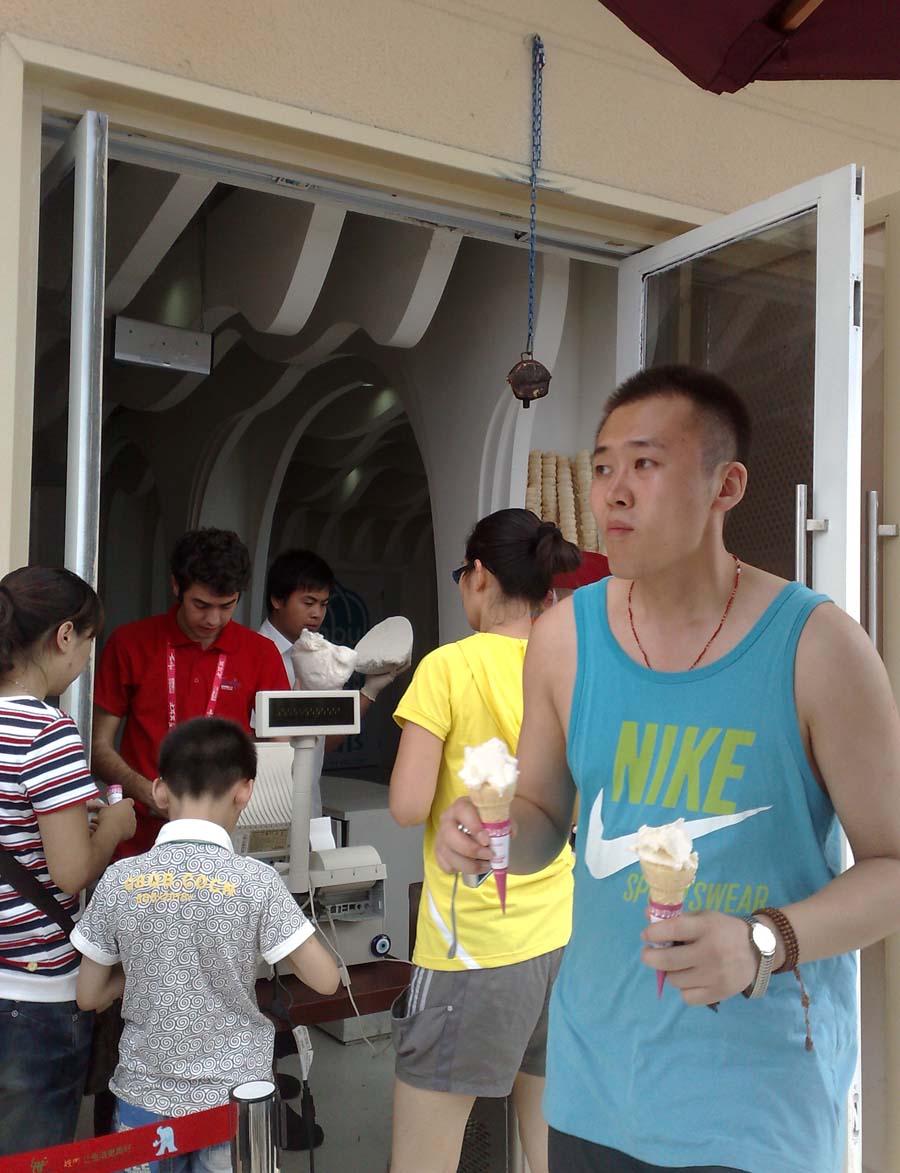 The foreign pavilions has more than sixty restaurants where chefs from their countries cook the classic foods of their nations. Some of the foodstuffs they sell do come from their countries, so these cuisine tastes cost more, perhaps one hundred to four hundred yuan each.
Because Expo Park is so large, to see everything and taste everything in one day is impossible. There are many famous restaurants and cuisines. Every visitor needs, before going to an event such as this one, to plan well.
I wish all Flavor and Fortune readers had come to the Shanghai World Expo to enjoy its unforgettable culinary journey. The chart that follows shows one typical restaurant of each great Chinese cuisine and some of the representative foods they did serve. I tasted many of them and know there was very fine food at this very fine food fair.


STYLE OF CUISINE; the RESTAURANT's NAME; and some FOODS SERVED THERE

Guangdong Cuisine at Chaofuguan, some foods include: Brined Goose Liver, Beef Meatballs, Chaozhao Style


Shandong Cuisine at Qiluwanyi, some foods include: Fried Pork Joint, Basted Pork Intestine


Fujian Cuisine at Juchunyuan, some foods include: Buddha Jumping Over the Wall, Plain Chicken, Braised Bird's Nest, Minced Braised Fish Lips


Sichuan Cuisine at Baguobuyi, some foods include: West Lake Fish in Vinegar Sauce, Stir-fried Intestine, Twice-cooked Duck Blood in Chili


Zhejiang Cuisine at Zhiweiguan, some foods include: West Lake Fish in Vinegar Sauce, Stir-fried Prawns with Longjing Tea


Jiangsu Cuisine at Deyuelou, some of the foods include: Marinated Duck Suzhou Style Sweet and Sour Mandarin Fish


Anhui Cuisine at Gunan Huatian, some foods include: White Turnip Steamed with Chicken Soup, Stir-fried Turnip in Hot Sauce, Stewed Pigeons Huangshan Style, Stewed Civet with Brown Sauce


Hunan Cuisine at Tongqinlou, some foods include: White Turnip Steamed with Chicken Soup, Stir-fried Tofu in Hot Sauce