Read 5242272 times

Connect me to:

Top 100 Chinese Restaurant Awards--2010
by S-B-S and Chinese Restaurant News
Chinese Food in the USA
Fall Volume: 2011 Issue: 18(3) page(s): 29 - 31
---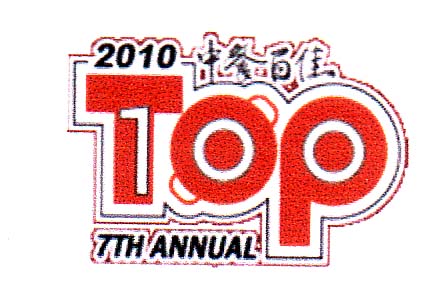 The 7th Annual Awards, the Oscars of the Chinese restaurant industry, were presented on January 11th in the year 2011 in San Francisco at the Hyatt Regency Airport Hotel. Over the past few years, these awards have been given to more than two thousand competitors, but many less than that are given to those in the 'Top Overall Excellence' category. To be in this illustrious group is an honor indeed! This past years winners, listed alphabetically by state below, are in alphabetical order.
There are more than forty-six thousand Chinese restaurants in the United States and together, all Chinese restaurants in this country serve two and a half million meals each and every day, and they employ more Chinese people than does any other industry in the country. The award-winners listed below received this highest honor in this year's competition which was once again hosted by Chinese Restaurant News.
Before announcing winners, attendees viewed a video about Chinese dining in the United States during the past one hundred fifty years. Then these and other awards were presented by TV chef and cookbook author Martin Yan ably assisted by radio hostess Teresa Lin Cheng. The awards ceremony itself was emceed by hosts of the Bay Area's KTSF.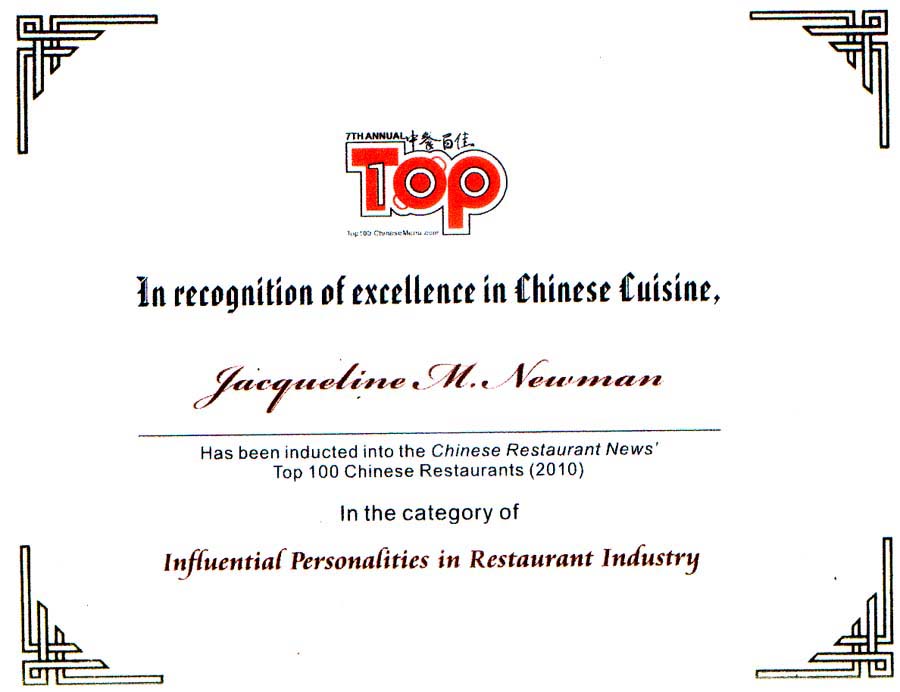 Before their names were announced, twenty-two people received medallions and certificates for contributions to the Chinese restaurant industry, the editor of this magazine among them. After that, tension mounted as only the top twenty winners, one by one, were invited to the podium for their awards. This event was attended by a thousand people, all enjoying a gala banquet.
All Chinese restaurants in the United States outnumber the top three American fast food chains combined. Together, they gross more than twenty-five billion dollars in sales annually. So it is three cheers for the winners and for all Chinese restaurants for feeding so many so well.
In an upcoming issue, this year's top winner's restaurant, which is in Pennsylvania, will be reviewed by this magazine's new Associate Editor. For those who wonder how it and all Overall Excellence category winners are selected, some of the requirements include being in business for more than two years, having at least half of their menu items recognized as Chinese, earning positive industry, media, and customer recognition, and have positive evaluations by professionals and those in the Mystery Diners program.
Restaurants do apply for consideration. They are selected on the basis of their food, decor and atmosphere, also their service, cleanliness, presentation, and value, and the things mentioned above. Those in attendance do get treated to a delicious dinner, its menu is seen here.
The winners for the year 2010 are shown below:
ALASKA:
Panda Oriental Cuisine, 605 E Northern Lights Blvd in Anchorage
ALABAMA:
Meteor Buffet, 751 Highway 72 E in Huntsville
CALIFORNIA:
China Palace Restaurant, 5052 West Lane in Stockton
Chili Palace, 177 W Calaveras Blvd in Milpitas
Happy Harbor Restaurant, 1015 S Nogales St # 126 in Roland Heights
Kome Sushi Buffet, 1091 Junipero Serra Blvd in Daly City
Michelle Pancake House, 706 W Las Tunas Dr in San Gabriel
Ming's Chinese Restaurant, 2653 Pleasant Hill Rd in Pleasant Hill
Moonstar Restaurant, 383 Gellert Blvd in Daly City
Old Mandarin Islamic Restaurant, 3132 Vincente St in San Francisco
Palace Restaurant 2112 Hillhurst Ave in Los Angeles
Panda Country Kitchen, 4737 Geary Blvd in San Francisco
Sakura Buffet, 1433 North Main Street in Salinas
Tai Wu Restaurant, 950 King Drive in Daly City
Vip Coffee & Cake Shop, 671 Broadway in San Francisco
Wonton House, 1205 El Camino Real in Santa Clara
Yank Sing, 101 Spear Street in San Francisco
COLORADO:
Jasmine Asian Café, 9400 Heritage Hills Ctr in Lone Tree
Great Wall Super Buffet, 3215 S Wadsworth Blvd in Lakewood
CONNECTICUT:
Ting Ho Best Chinese Food, 533 S Broad Street in Meriden
Wasabi Japanese Restaurant, 350 Boston Post Rd in Orange
Yi Hing Restaurant, 19 W Main Street in Plantsville
DELAWARE:
Chinatown Buffet, 1071 N Dupont Hwy in Dover
Pot Stickers Asian Grill, 1247 Churchmans Rd in Newark
FLORIDA:
Lin's Asian Cuisine, 130 Scenic Gulf Dr in Miramar Beach
Tony Chan's Water Club, 1717 N Bayshore Dr in Miami
GEORGIA:
Asian Chef, 941 Bullsboro Dr in Newnan
Chef Lee's Peking Restaurant, 6100 Bradley Park Drive in Columbus
Royal Buffet, 3268 Inner Perimeter Rd in Valdosta
HAWAII:
Happy Days Chinese Seafood Restaurant, 3553 Waialae Ave in Honolulu
IOWA:
China Moon Restaurant, 225 SE Oralabor Rd in Ankeny
IDAHO:
Happy's Chinese Restaurant, 549 Park Ave in Idaho Falls
ILLINOIS:
China House Buffet, 1201 E 8th St in Metropolis
Gen Hon III, 439 E 79 St in Chicago
Spring World, 2109 A S China Pl in Chicago
LOUISIANA:
Chinese Inn Nicholson, 1710 Nicholson Dr in Baton Rouge
Hot Wok, 36519 Oak Plaza in Prairieville
MASSACHUSETTS:
Fuji Chen, 101 Independence Mall Way in Kingston
Shanghai Garden Restaurant, 901 Washington St in South Attleboro
Singapore Restaurant & Lounge, 170 Whalon St in Fitchburg
MARYLAND:
Peking Gourmet, 5732 Buckeystown Pike in Frederick
MICHIGAN:
Bamboo Garden, 721 S Saginaw Rd in Midland
Leong's 21 Restaurant, 46590 Gratiot Ave in Chesterfield
MINNESOTA:
Fresh Wok, 4610 Nicollet Ave S in Minneapolis
MISSOURI:
Kin Lin Chinese Restaurant, 314 E 51st St in Kansas
Mama China, 6623 Raytown Rd in Raytown
MISSISSIPPI:
New Bo Bo Chinese Restaurant, 910 Brookway Blvd in Brookhaven
NORTH CAROLINA:
Buffet Dynasty, 1709 Mathews Township Park in Mathews
NEW HAMPSHIRE:
China Bistro, 89 Lake Street in Laconia
Oriental Delight, 436 Central Ave in Dover
Wang's Garden, 161 Main St in Berlin
NEW JERSEY:
East Brunswick Chinese Restaurant, 324 Rues Ln in East Brunswick
Hunan Taste Chinese Restaurant, 67 Bloomfield Ave in Denville
Kam Luang Restaurant, 120 Cedar Grove Ln in Somerset
Taisan Chef, 2813 83rd St in Darien
NEW MEXICO:
Super Buffet, 1314 Metro Ave in Gallup
NEVADA:
Chef Cheng's Chinese Restaurant, 1309 Idaho Street in Elko
Harbor Palace, 4275 Spring Mountain Rd in Las Vegas
NEW YORK:
China Sun Asian Cuisine, 108 W 39th St in New York City
Congee Village, 100 Allen St in New York City
Gold Chain, 129 Hawkins Dr in Montgomery
Lake View Chinese Restaurant, 3042 W State St in Olean
Lucky Garden, 368 Jefferson Rd in Rochester
New Ruan's Restaurant, 1955 86th St in Brooklyn
Szechuan Gourmet, 135-15 37th Ave in Flushing
OHIO:
Happy Garden, 686 W Market St in Tiffin
Main Moon Chinese Restaurant, 607 W Liberty St in Hubbard
Sichuan Bistro, 7888 S Mason Montgomery Rd in Mason
OKLAHOMA:
Asiana Buffet, 2096 S Lynn Riggs Blvd in Claremore
China Star Chinese Buffet, 205 S Adams Rd in Sand Springs
Jing Yuan Chinese Restaurant, 1211 N Commerce St in Ardmore
OREGON:
Lum Yuen, 3190 Portland Rd NE in Salem
Moy's Dynasty, 1914 Adams Ave in La Grande
PENNSYLVANIA:
Asia Restaurant, 1102 E Susquehanna St in Allentown
Concerto Fusion Cuisine, 2 S Delmorr Ave in Morrisville
HK Golden Phoenix, 911 Race St in Philadelphia
Joy Tsin Lau Chinese Restaurant, 1026 Race Street in Philadelphia
Wok Chinese Restaurant, 1613 Walnut Street in Philadelphia
Yang Ming Restaurant, 1051 Conestoga Rd in Bryn Mawr
RHODE ISLAND:
Jacky's Galaxie, 383 Metacom Ave in Bristol
SOUTH CAROLINA:
Best China, 1046 Regent Parkway in Fort Mill
TENNESSEE:
Golden Dragon Buffet, 3325 W Andrew Johnson Hwy in Morristown
Royal Panda, 3120 Village Shops Dr in Germantown
TEXAS:
528 Asian Bistro, 709 W Parkwood Ave in Friendswood
888 Chinese Restaurant, 1812 FM 646 Rd W in Dickinson
China Bear Restaurant, 12755 Southwest Fwy in Stafford
Fung's Kitchen, 7320 Southwest Fwy in Houston
Golden Palace Restaurant, 8520 Bellaire Blvd in Houston
Hong Kong Royal Restaurant, 3030 N Josey Ln in Carrollton
Jin's Asian Buffet, 4938 S Staples St in Corpus Christi
Little Sichuan Cuisine, 240 Legacy Dr in Plano
Lin's Restaurant, 790 Gateway Blvd E in El Paso
Szechuan Chinese Restaurant, 3425 S 1st St in Abilene
VIRGINIA:
King's Buffet, 21950 Cascades Pkwy in Sterling
Peking Restaurant, 120 Waller Mill Rd in Williamsburg
Sampan Café, 6116 Franconia Rd in Alexandria
Szechuan Star, 6969 H Bradlick Shopping Ctr in Annandale
WASHINGTON:
China Harbor, 2040 Westlake Ave N in Seattle
Grand China Buffet, 8104 A Evergreen Way in Everett
WISCONSIN:
Golden Gate Restaurant, 1427 E Racine Ave in Waukesha