Read 5242254 times

Connect me to:

Martin Yan's Lifetime Achievement Award
Personal Perspectives
Spring Volume: 2012 Issue: 19(1) page(s): 13
---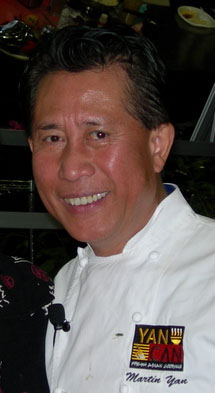 The International Association of Culinary Professional, on June 2, 2011, recognized Martin Yan with a Lifetime Achievement Award for his noteworthy and lasting contributions to the culinary industry, the culinary arts, and Chinese food. We congratulate Master Chef Yan for this latest among many other awards. He has authored more than thirty cookbooks, and we congratulate him for them and for sharing knowledge of Chinese and other Asian cuisines with all.
Martin was born in Guangzhou, China in 1948. His was a food family, his Dad a restauranteur, his Mom a grocery store owner. Early on, he had a passion for cooking, and he still does! His professional culinary experiences began in 1961 at age thirteen when he went to Hong Kong to apprentice in a popular Chinese restaurant. Later, he went to study at the Overseas Institute of Cookery in that city. Later still, in 1975, Chef Martin graduated from the University of California at Davis receiving a Masters Degree in Food Science. He taught in their extension program, learned he loved teaching, and began to do so extensively and effectively, and he has ever since. Seven years after that, Martin published his very first cookbook, The Yan Can Cook Book. It was the beginning of a long publishing career.
Internationally recognized by other chefs, Martin is adored when hosting a cooking show on television or teaching at an outstanding culinary institution such as at the Culinary Institute of America in Hyde Park NY, Johnson and Wales University in Providence RI, the California Culinary Academy in San Francisco CA, or the Chinese Cuisine Institute in Hong Kong, or on television teaching about Chinese food to millions in his audientce.
Chef Yan has been on television in many 'Yan Can Cook' programs and a plethora of other programs and series. Most people are unaware that he has hosted more than three thousand cooking programs; and that is more television programs worldwide than any other chef. With these and his many cookbooks, Martin has captured hearts, minds, even the woks of millions of fans worldwide.
Once, even we wondered what this creative chef would do at his own restaurant, one that basically serves Chinese fast food. So we stopped in to YAN CAN, 3927 Rivermark Plaza in Santa Clara CA 95054; the phone there is (408) 748-3355, to check it out. We found more folk eating his speedily served foods than others in other eateries in that plaza. Here, everyone gets fresh food in a clean, crisp place, and they get to see how it is prepared in its open kitchen. After ordering, they can watch them cook the ordered food for you. Then one sits down and someone brings that food to your table.
Our Chicken Lettuce Wrap is wonderful with lots of chicken and chopped vegetables wrapped in lettuce, and lots of crunchy soy nuts and Yan''s special sauce on top. Our other dishes are equally delicious including the Hot & Sour Soup, Mongolian Beef that Yan says will be a favorite of your own, the Beef Chow Fun with huge pieces of beef, thin rice noodles, onions, bean sprouts, and more, and the Wok, Stock'n'Barrel Soup loaded with shrimp, chicken, beef, vegetables, and noodles. Every dish is comfort food served on heavy plastic plates. These are a joy compared to the fast food flimsy foam at other places. His tea is from Ten Ren, the fortune cookies are there to 'help yourself,' and the restaurant is a destination place even though touted as fast food.
Were these dishes at his eatery and his other accomplishments not enough, everyone needs to know that Martin founded the Yan Can Cooking School in California and the Martin Yan Culinary Arts center in Shenzhen, China. Both are places professional chefs and fine folk with culinary smarts or those needing to acquire some can learn the finer points of Chinese cookery. Chef Yan and other fine chefs teach courses and individual lessons in Shenzhen. To learn more about this school in China, read Traveling with a Celebrity Chef in Flavor and Fortune's Volume 17(3) on pages 13 and 14. Chef/author Theresa Chen goes there and learns what many of us already know. Martin has a great sense of humor and a great teaching style. He provides continuous patter with valuable information, more than in his many books, articles, and television appearances. Because of all you have done for and about Chinese cuisine, we say, "Congratulations Master Chef Martin Yan. We all salute you, and hope you continue to write, teach, and educate us all for years to come!"