Read 5266120 times

Connect me to:

Yunnan: People, Places, and Culinary Pleasures--Part II
Chinese Food in China, Hong Kong, and/or Taiwan
Fall Volume: 2012 Issue: 19(3) page(s): 32 - 34
---
The previous issue described many things about the people, places, culinary pleasures, National Minority Village, and the Museum across the street from it, also a few things about Yunnan's capital city, Kunming.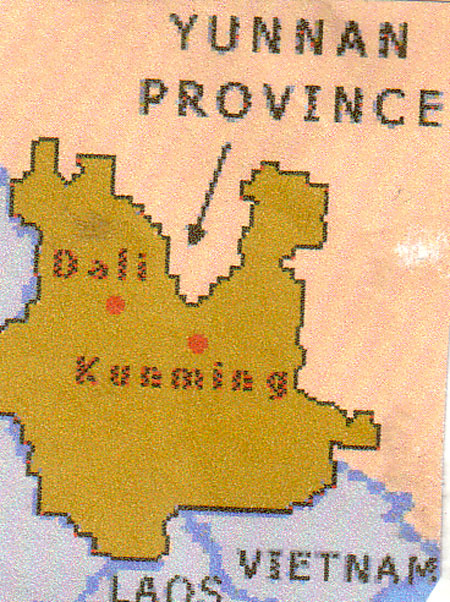 When there, we learned the Yunnanese love eating fish from the Erhai Lake and from Dainchi Lake. Both are loaded with fish and shrimp, but fishing in Erhai Lake was not permitted during the months of April through June. This is their spawning season. When one can fish in this lake, and many do, the preferred places are marshes at the foot of Xishan.
Other than fishing, bathing in the Anning Hot Water Springs is popular. Just twenty miles from this provincial capital city, this hot springs is better than one just two miles from the city. Visiting Cuihu or Green Jade Lake is worthwhile. Going to the island nearby which is now more beautiful than ever, one sees two new palatial buildings, and swimming is good here.
North-west of Kunming is the Bamboo or Qiongzhu Monastery. It has five hundred Buddhist Arhat statues that are magnificent. Also one should visit Dragon Gate at Xishan and the Daguan Pavilion. The latter, some say, is spoiled by an amusement park where crowds constantly pack in. Never mind them, take tea here or elsewhere in Kunming knowing that Yunnan consumes the sixth largest amount of tea per person in all of China.
The Yuantong Monastery serves tea, too. It comes in teacups with lids to keep it warm and wonderful. Try their green tea with sunflower and melon seeds, and peanuts that the locals call iron peas as they are fried with the seeds and give the tea a very special flavor.
In Kunming, enjoy the Boat of Eight Treasures. It is served in a white gourd if just a few at your table, larger groups get theirs in a watermelon. Both do look like a boat. This dish includes Yunnan ham, mushrooms, chicken, pork, scallops, and vegetables, all diced and delicious. The mushrooms in this boat can be up to twenty different wild ones mixed with a few cultivated ones. They and all ingredients come in a local soup, a stir-fried dish, or steamed or grilled. When not in season, local places dry their mushrooms in the sun, preserve them in vinegar, or deep-fry then dry them for out-of-season use.
The largest ethnic minority in this province are the Yi. Read about them in Flavor and Fortune's Volume 10(2) on pages 29 through 31. Should you not have a copy, check this magazine's website at www.flavorandfortune.com or order one there. The Bai and the Dai are two other large minority populations. The Bai were discussed in Volume 19(2) on pages 17 through 20 and page 33. The Dai are discussed in this issue on pages ???????. Other Dai and Bai restaurants will be discussed in the next issue.
In Kunming, and throughout the Yunnan Province, eating is very important, and serious business. It follows sharing toasts and enjoying wine and/or beer with every main meal. Here, meals include more cold dishes than most, some hot dishes as well, and soup and rice. Many of the alcoholic beverages are made from corn, some from barley or buckwheat.
Smoking during meals used to be popular but is no longer even though this province ranks second in tobacco curing and cigarette making. Pipe smoking is still popular among the elderly. Many old men have what looks like a long cane, but it is a bamboo pipe. When drinking and/or smoking, we find many of them munching snacks including dried bamboo grubs. We could not find a reason why they were adored. We also found in different regions of this large province, that different minorities snack on different foods, eat different foods, too. Aside from Crossing Bridge Rice Noodles, written about in Volume 19(1) on page 7 and earlier in Volume 13(2) on page 6, in Kunming another popular dish is Rose Rutabaga fried with slices of pork. We never saw it on a restaurant menu, perhaps the season was wrong.
In different parts of the province, they eat yak or goat cheese sour, sweet, or salty. They like cold pea jelly flavored with ginger, soy sauce, Sichuan pepper, star anise, sesame oil, and a special seed botanically known as Amomum tsaokao. The Chinese simply call it tsao kuo. This magazine did write about this nutmeg-like dried fruit in Volume 8 (2). Look for it at the www.flavorandfortune.com website.
Hot pot, here called huo guo, and originally a Mongolian food came to this area when the Mongols did, circa the 1200s. Now very popular throughout the province, it might be prepared with liver, heart, and the brains of several animals including pig, sheep, even dog, chicken, and/or fish. Order one and it comes with many vegetables, mushrooms, noodles, and soy bean products. Folks take large pieces in it with their chopsticks and dip in either a piquant liquid or a bland raw egg mixture before popping it into their mouths.
Fruits are popular in Yunnan, as are nuts and seeds, particularly chestnuts. Favorite fruits include oranges, apples, pears, pomegranates, peaches, plums, persimmons, mangoes, jackfruit, berries, lichi, longan, pineapple, pomelo, and watermelon. Many locals like all of them for snacks, fresh or dried, and they like dried beef, jiao zi, pickled radish, bee larvae; and the bamboo grubs already mentioned.
Yunnan boasts dishes not found in other places. They cook meats with many flowers, even make cakes with some of them. For example, roses are popular in cakes as are pumpkin flowers, lily flowers, taro flowers, etc. Mountains are home to many mushrooms, some not found elsewhere in China. They are put into dishes, insects are used that way, too. We saw locusts as an appetizer, bees, too.
In this province, eggs are sold, five at a time and wrapped in straw. One lady told me that she now always asks if they are raw because once her five were almost hard-cooked, their yolks just becoming firm. Many dishes are cooked in bamboo and in pineapples, the former with dried beef slivers, the latter often filled with seafood and rice. Other oddities are dishes made with bamboo rat meat which can be chicken, bee pupae which are just that, pairs of meats including duck and chicken, black chicken and one or two doves, and milk sheets.
As promised, the last two recipes below are translations from Jun Yuan Yun Han Ye Sheng, a book about mushrooms. We were given that volume in the mushroom restaurant near the Kunming airport at 2 Fufa Road. We thank Liu Ziwen who helped write this volume and the restaurant owner for those we tasted, and for the education received about mushrooms, many never seen nor tasted before. The book was compiled by the Yunnan Junyuan Restaurant Management Company and put out by Yunnan Meishu Publishing Company in 2008 in Kunming.
The mushroom meal enjoyed in that restaurant was discussed in Flavor and Fortune's Volume 19(1) on pages 26 and 27. The English translations are thanks to Lena Yang, the recipes tried by various colleagues. All are rewritten by this magazine's editor in this magazine's style, their ingredients converted from metrics. When a specific mushroom was unavailable, another was substituted. The accompanying pictures are from this aforementioned book. (JMN)
Corn fritters Ingredients: 8 Tablespoons all-purpose flour 1 cup corn kernels ½ teaspoon salt ½ cup vegetable oil 1 Tablespoon sugar Preparation: 1. Beat egg with the flour, one tablespoon at a time, add two tablespoons cold water, then the kernels of corn. 2. Put these ingredients in a blender, pulse for a minute, then set them aside. 3. Heat oil in a wok or a large fry pan, then using a coffee measuring cup or take two tablespoons of the batter and put this in the heated oil and fry until brown, about one minute, then turn over and fry the other side until brown. Drain on paper towels, then place on a pre-heated platter, and serve immediately.
DALI Filled flatbread Ingredients: 6 cups flour 2 teaspoons dry yeast 1 teaspoon coarse salt ½ teaspoon freshly grated nutmeg ½ teaspoon cayenne hot pepper ½ teaspoon sugar 1/4 cup maltose Preparation: 1. Mix flour, yeast, salt, nutmeg, cayenne pepper, and the sugar add two cups warm water and stir making a thick batter. Set aside for half an hour, then add more flour, two or three tablespoons at a time until the batter becomes thick and the consistency of bread dough. 2. Knead for ten minutes, then divide the dough into ten parts, and knead each one another minute until it is very elastic. 3. Roll out one dough ball and spread some maltose up to half-inch of its edge. Roll another one and do likewise, then put them together, maltose sides touching, and roll them out a little more, until they make a circle about eight inches in diameter. 4. Using a fork, prick the dough about ten times, and bake in a preheated 475 degree oven until the top starts to clear and the bottom is golden brown. 5. Cool on a rack covered with a clean kitchen towel for three or four minute then serve, or set aside and reheat before serving. Note: One to three left-over breads can be cut into pieces and mixed into a stir-fry dish at the last minute.
Red and green tomatoes with pork Ingredients: 1/4 pound pork shoulder, hand chopped 1 red and 1 green hot pepper, each one seeded and coarsely chopped 1 teaspoon sugar ½ teaspoon salt 1 Tablespoon vegetable oil 2 red and two green tomatoes, cut into one-inch pieces 2 Tablespoons cornstarch mixed with a like amount of cold water Preparation: 1. Mix the pork and peppers, and stir in the salt and the sugar, and set aside. 2. Heat the oil in a wok or fry pan and toss in the pork and stir-fry for one minute until the pork no longer clumps together. 3. Add the tomatoes and the cornstarch mixture until the tomato pieces begin to bleed and the pepper pieces begin to get soft, and the liquid in the pan starts to thicken. Then serve.
Spiced Raw beef Ingredients: ½ pound sirloin, finely chopped ½ teaspoon coarse salt 1/4 teaspoon ground white pepper 1/4 teaspoon ground cayenne pepper 10 leaves of red cabbage, each cut into a four-inch circle, the trimmed parts finely minced 3 Tablespoons mint leaves, coarsely chopped Preparation: 1. Mix sirloin, salt, and ground white and cayenne peppers. 2, Mix in the minced red cabbage leaves and the chopped mint leaves and shape into ten quarter-inch patties. 3. Put one meat patty on a red cabbage circle and serve immediately.
Flaky Songrong/Pine Mushrooms Ingredients: 1/4 pound fresh Songrong (pine) mushrooms dash salt smaller dash MSG (optional) 2 teaspoons all purpose flour 1 egg, beaten well 4 teaspoons bread crumbs 1 cup vegetable oil 2 Tablespoons lettuce leaves Preparation: 1. Clean mushrooms and then cut them into thick slices, sprinkle them with salt and MSG (if using it), then dust them with flour. 2. Mix the mushrooms in the egg, then coat them with the breadcrumbs, and set them aside. 3. Heat oil in a wok or deep pan and fry the mushrooms only until they are light brown, then remove from the oil and drain on paper towels and serve immediately.
Lamb tripE mushrooms with poultry Ingredients: 3 scallions, minced very fine 2 Tablespoons ground fresh belly pork 1/4 pound dried whole lamb tripe or morel mushrooms, soaked in warm water until soft 5 Tablespoons vegetable oil 1 cup boneless quail or pigeon, cut into one-inch chunks 2 Tablespoons hot chili oil 1 fresh chili pepper, seeded and coarsely minced 2 Tablespoons fermented bean paste 3 cups chicken broth 1 head garlic, all its cloves peeled 1 teaspoon oyster sauce 1 teaspoon thin soy sauce ½ teaspoon dark soy sauce ½ teaspoon sugar Preparation: 1. Mix scallions and belly pork. Cut a slit up the side of each mushroom and stuff with this mixture, then set them aside. 2. Heat wok, add the oil and blanch the quail for two minutes, drain, and set them aside. Save the oil for another purpose or discard it. 3. Mix chili oil, chili peppers, and the bean paste. Then heat a wok, add this mixture and stir-fry for half a minute before adding the chicken broth. Boil for two minutes, turn off the heat source, and stain out any solids discarding them. 4. Add garlic cloves and the stuffed mushrooms and bring to a low boil and stir for five minutes; the sauce should thicken somewhat 5. Add the oyster sauce and the thin and the dark soy sauces, and the sugar. Reduce the heat to a low boil and stir until no liquid is left. Then serve.