Read 6252930 times

Connect me to:

Kubla Khan: A Chinatown Gateway
Chinese Food in the USA
Winter Volume: 2012 Issue: 19(4) page(s): 15 - 17
---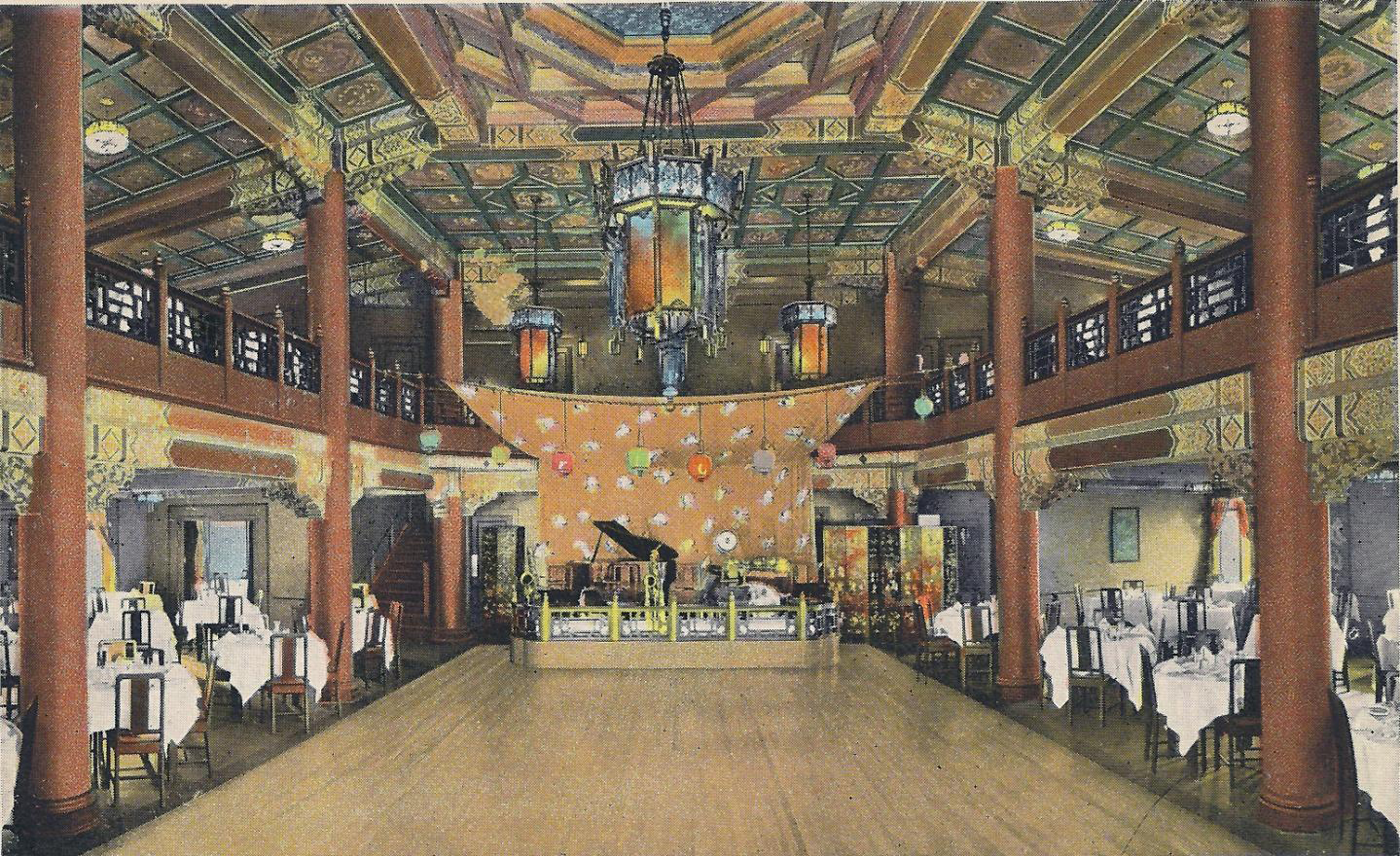 The Kubla Khan Theater Restaurant at the Gateway of San Francisco's Chinatown was a lively nightclub from 1944 to 1950. This romantic spot during The Golden Age of the Chinese Nightclubs was owned by Eddie Pond. Americans flocked to elegant Chinese nightclubs to dine and dance at these glamorous fancy places, and to indulge in Chop Suey dishes and cocktails. These magical cabarets were ballrooms with hardwood floors and heavy haze of pungent cigars and cigarettes, and many an alcoholic aroma. Singers, dancers, chorus girls, magicians, musicians, acrobats, and strippers performed here each and every night.
Eddie Pond, also known as Edward Kern Pond and Pun Kwan, arrived at the Port of Seattle from Hong Kong on July 16, 1923 aboard the S.S. Jefferson. His parents, Charles Pond and Shee Lee, were rich owners of a rickshaw company in that city. He was a natural lover of the theater and the arts and a shrewd entrepreneur, as well.
Pong opened his first nightclub, the Dragon's Lair, in San Francisco's Chinatown at 950 Grant Avenue in the basement of the old Kuh Wah Café. He married Goldina Lee, Lonnie Fong, Adele Wong, and Barbara Yung, in succession, and with Goldina had three children, Adelilna, Gilbert, and Roger, all born in San Francisco. His later wives were performers at the Kubla Khan, the nightclub he opened after closing the Dragon's Lair.
Pond grandly opened Kubla Khan, his elaborate cabaret, on October 31, 1944 on a Halloween evening during World War II. His was a Chinese theater restaurant and nightclub with a cocktail bar at 414 Grant Avenue. It was where the Mandarin Café had preceded his venture, and in the Dong Toy building built in 1913 with French Renaissance elements and a Chinese Pagoda roof.
Kubla Khan became a gathering place for those wanting dinner, dancing, and a floor show. Dining there meant a choice of either Chinese or American dishes for dinner; and entertainment meant an all-Chinese revue mixture of vaudeville and burlesque in a two hundred twenty-five seat theater. Here was a marvelous spectacle with Chinese motif and sumptuous food.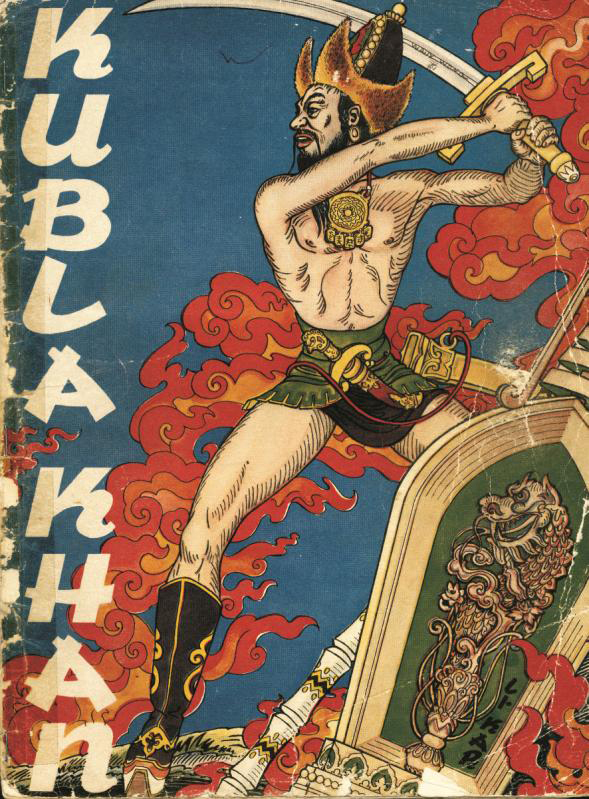 Kubla Khan was named after a classic 1816 poem composed by Samuel Taylor Coleridge. Eddie Pond took the title from the Mongol/Chinese emperor Kublai Khan of the Yuan dynasty. The words of the poem included: In Xanadu did Kubla Khan, A stately pleasure-dome decree, Where Alph, the sacred river ran, Through caverns measureless to man, And down to a sunless sea.
This poetically-named nightspot widely advertised itself as San Francisco's Most Exciting Chinese Theater Restaurant. Eddie was a fine showman and the Kubla Khan was a swank and sophisticated venue. Everyone enjoyed an evening of Chinese enchantment in an aura of sizzle and dazzle. Everyone enjoyed its Chinese sensuous pleasures made for American men and women.
At the Kubla Khan, the dining room and dance floor were in front of the stage and on a second floor. There, a check girl took hats and coats of the patrons; a cigarette girl sold various American brands of cigarettes and cigars; a lady photographer shot and then offered these souvenir photos for sale; cocktail waitresses served tasty drinks; and bartenders mixed house cocktails. Back stage, the Kubla Khan Beauties enjoyed well-appointed dressing rooms, Walton Biggerstaff rehearsed the singers and dancers in his own choreographed numbers.
The Chinese motif interior, courtesy of the Chong family, was a hot place for Chop Suey, the most popular Chinese cuisine for Americans. It was Cantonese style from the Guangdong Province, and was a smorgasbord of various fresh vegetables with bits of meat enjoyed at either round or square wood tables topped with white linen cloths. These meals were consumed under the flickering glow of candle lamps.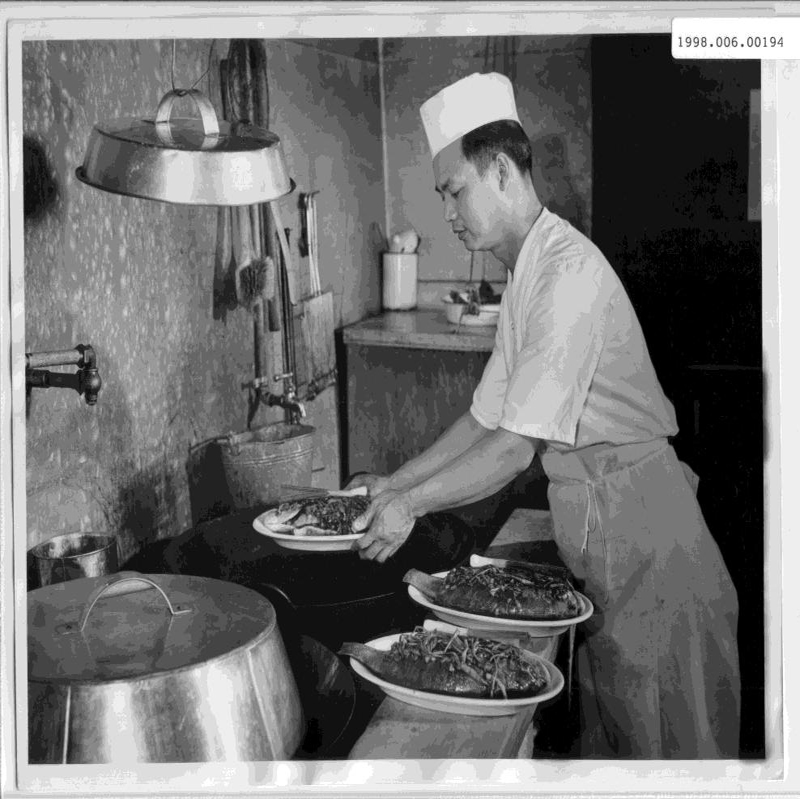 The signature Chinese dinner for Chop Suey was the Kubla Khan De Luxe. It came with relishes, Egg Flower Soup, Almond Chicken, Fried Prawns, Egg Foo Yung, Chicken Chow Mein, and steamed rice. Desserts included Chinese Candies and Fortune Cake or Sesame Cookies quenched with tea of coffee. The price was three dollars.
Single entrees included Chop Suey, Chow Mein, Egg Foo Yeong, Fried Rice, Chow Yuke, and Won Ton (raviolis). Kubla Khan's Special of Chow Suey had boned chicken, white mushrooms, water chestnuts, bamboo shoots, vegetables, bean sprouts, with sesame and Chef's Special Sauce. Kubla Khan Special for Chow Mein was Chef's Special Chinese style Chow Mein with diced vegetables, water chestnuts, lotus seeds, white mushrooms, bamboo shoots, fine-sliced chicken, chopped almonds, friend noodles, and Chef's Special Sauce. Egg Foo Yeong with chicken had this meat sliced, Chinese vegetables, bamboo shoots, water chestnuts, white mushrooms, green onions, bean sprouts and eggs. Chow Yuke had water chestnuts with meat sauce. Here, the Fried Rice contained either chicken, barbecued pork, or crab or shrimp; and Won ton was served with chicken or barbecued pork.
The signature American dinner included: relishes, Soup Du Jour, Chef's Special Salad, Sirloin Steak, Half Fried Chicken Hotelier, Chicken Sauté Chasseur, and French Lamb Chops on Toast. Desserts included ice cream or sherbet with cakes, assorted cheese with cracker, and pies in season. These were could be downed with coffee, tea, or milk, their total price was three dollars.
Kubla Khan also offered salads, steaks and chops, soups, potatoes, and desserts with a French flavor. Xanadu Salad had orange, grapefruit, avocado, cream cheese, cherries, pimiento and Romaine lettuce. The Fruit Special had half pear, peach, pineapple, and assorted fillings.
Kubla Khan offered a fine assortment of wines and cocktails, imported and domestic, including champagnes, red and white wines, mineral water, beer, mixed drinks, after dinner rum, scotch whisky, bourbon whisky, Irish whisky, gin, and liqueur to whet thirsts of its patrons.
The menu cover, shown above, thanks to a photograph from the Chinese Historical Society of America, was flamboyant with a giant devilish Kubla Khan in a mighty and fierce position. The dragon and linear decorative motif on the top and bottom edges are stereotypical. The statement of the history of Kubla Kahn on the last page was overly dramatic for entertainment. In the kitchen, a Cantonese cook prepared Chop Suey dishes, seen here also with thanks to a photograph from the Chinese Historical Society of America.
After the sumptuous dinner of Chop Suey and/or American dishes, the patrons gaily danced, couples tightly held their arms in intimate embraces, and Bill Oetke and his Rumberos Latin band played nightly with loud percussion instruments. Latin music was in vogue, and the dancers heard Mambo from Cuba, and Eddie Pond played with the Latin band and was called The Chinese Demon of the Maraccos.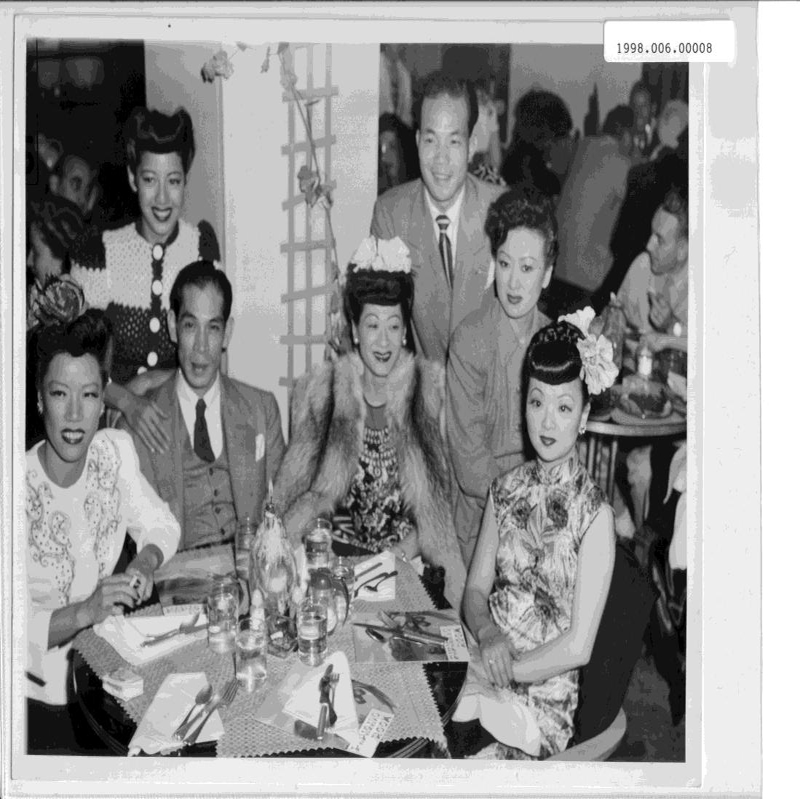 The night in Chinatown catered to the sensibility of Americans with a mixture of vaudeville and burlesque, at Kublai Khan they did three shows a night. Ivan Paul, Nite Club Editor of San Francisco Examiner, wrote: No need to travel to China for the spell--the mystery--of the Orient. Ankle Chinatown way to the KUBLA KHAN--there it is.
Every night Eddie Pond emceed and gleefully performed on the stage in various acts. He presented the one-hour program with a Latin theme and called it his "All Chinese Revue." The program had nine acts, some were a Street Scene, Chinese Sleeve Dance, Chinese Lullaby, and a Coolie Dance. In the program May Lee, known as an 'exquisite Chinese star of operetta, stage & screen' sang, the Sing Lee Troupe known as the acrobatic sensation of four continents performed, Jadin (Wong) and Li Sun danced gracefully as America's romantic Chinese artists of the modern ballroom dance, and Iris Wong performed her 'fan dance' before the finale called the China Conga.
The beautiful chorus girls wore stylish costumes made for glittering fashion and they performed showing off their svelte physiques, sleek flesh, and very long legs. Noel Toy performed her strip tease act nightly and she seductively mesmerized audiences with her famous fan and bubble dances with just ostrich feathers and big balloon. She was billed as the Chinese Sally Rand, a well known burlesque dancer. There were other floor show acts as seen on this Kubla Night in Chinatown card, courtesy of Trina Robbins, the floor show photo courtesy of the Chinese Historical Society of America. In the August 11, 1945 issue of Billboard, Edward Murphy wrote about Kubla Khan: Talent Policy: Dance band and floorshows at 7:30, 9:30 and 12. Owner, Eddie Pond. Prices: $1.50 minimum. Dinner from $2.50. Whole Show: good; features Chinese acts and dance received.
Nola Pardi Proll, an American, had performed as a Kubla Khan Beauty. She has memories, especially for Walton Biggerstaff. "He was a wonderful man, my mentor, and the one who started my career. He was good to everybody, was a wonderful dancer, and a thoughtful man," she said. Frank Yee, a patron and friend of Eddie Pond, recalls his times at the Kubla Khan saying, "During my bachelor days, with my buddies, I was hopping among the Chinese nightclubs in San Francisco Chinatown. Eddie Pond's Kubla Khan was a fine nightclub, same class as Charlie Low's Forbidden City and Andy Wong's Chinese Sky Room. We brought our dates to watch the entertaining Broadway style shows, and had group parties in the cocktail lounge at the Kubla Khan." Eve Leong Pang, another patron, remembers her experiences at the Kubla Khan saying, "We were young and dating. Couples used to go to Kubla Khan for dinner and to dance. They had a little floorshow after we ate and danced."
At the end of World War II, from July 1946 to November 1950, Gim Suey Chong, my father, was a partner at Pond's Kubla Khan Theater Restaurant. He invested his savings in a partnership with Eddie Pond and others during The Golden Age of Chinese Nightclubs. At the Kubla Khan, Gim he had worked quietly as a waiter and casual bartender. He dressed in a white coat with black bow tie, gradually gained confidence, was adapting well to the American way of life while living in a room at the Hotel Taylor on 66 Turk Street in the Tenderloin District. He stood five feet three and a half inches tall, is the shorter chap and weighed about 150 pounds. Ladies admired his brown eyes and jet black hair and deemed him quite handsome and a sharp dresser. He was photogenic as he obliquely gazed away from camera; he had a gentle quiet presence.
The Chinese nightclub business in San Francisco Chinatown was in a slow decline after World War II and Gim eventually sold out his Kubla Khan share and returned to Los Angeles to live in Chinatown with Moi Chung, his father. At the end of 1950, the short era of the Eddie Pond Kubla Khan Theater Restaurant abruptly closed in bankruptcy and faded into the dim memories of The Golden Age of the Chinese Nightclubs.
_____
Raymond Douglas Chong (aka Zhang Weiming) is Principal for Generations, his creative enterprise in Sugar Land TX. A fifth generation American-born Chinese from California, he is a writer of many stories and producer of many films. Born in Chinatown in Los Angeles CA, his growing years were in the remote barrio of Elysian Valley, Frogtown, between Elysian Park and the Los Angeles River. He proudly traces his Zhang ancestry to the ancient Dragon Village, founded in 1466, near the Tan River in Kaiping City in China's Guangdong Province. According to his family tree, he is the forty-third generation dating back to 778 in the Tang Dynasty. For more information, contact him at raychong@prodigy.net