Michael's Culinary Musings: For Belly and Brain
Chinese Food in the USA
Winter Volume: 2012 Issue: 19(4) page(s): 18 and 19
---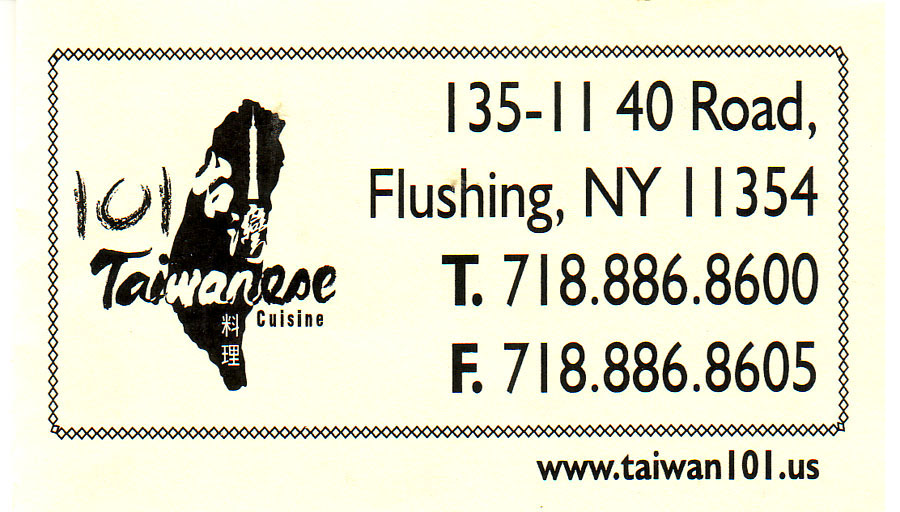 101 TAIWANESE CUISINE on 135-11 40th Road in Flushing has replaced the former Ice Fire Land, a hotpot restaurant. This iteration, its telephone number is (718) 886-8600, opened November 2011 and is owned by Timmy Chuang, an affable native of Nantou in Taiwan, though now a longtime resident of Queens.
Some of the fourteen dishes we sampled include: Smoked Filet of Fish with Sweet Sauce, a cheerful Suzhou version not actually smoked but marinated in a mixture of rice wine, soy sauce, sugar, five spice powder, and sesame oil, and then fried and returned to the marinade. Served piled high, it is lovely and over a bed of lettuce.
Minced Pork over Rice is a fine version of this rustic Taiwanese staple. Shrimp with Bitter Melon and Black Bean Sauce is a delight with the softness of the shrimp contrasting superbly with the crunchy bitter melon and the salty black beans. Pork Intestines with Spicy Peppers is a good choice with lots of reconstituted dried intestine flavor. Vegetables with Bean and Bean Curd is a Shanghai dish; it nods to the background of one of the chef's.
Three-Cup Chicken, a slightly smaller serving and with less liquid than at other places, is a harmless rendition here. Not so the Squid Rolls, Frog, Duck Tongue, Pork Intestine, and the Prince Mushrooms. Buffalo Fish Tails with Brown Sauce are in a slightly sweet sauce. They go well over rice, and are a freshwater treat cooked to perfection. We thought the Stinky Tofu for aficionados only, bet my editor will disagree.
Whole Fresh Cod with Putz came as perfection on a plate. At $59, it is the most expensive entree and all in our crowd agreed it is beyond all praise. The cod is simply steamed in soy, ginger, and garlic and topped with scallions and putz. By the way, Putz is Corda dichotoma or Rag Seed from Rag Trees found in Taiwan, Tibet, and India.
Other dishes eaten with enthusiasm included Pork Blood Rice Cakes, Frog with Chinese Celery, Stir-fried Rice Cakes with Shredded Pork, Sauteed Pea Shoots, and Oyster Pancake. With more than forty dishes offered at lunch from 11 am to 3:30pm at $6.25 each including soup and white rice, no question this 101 Taiwanese is a stout companion to the other Taiwanese restaurants in Flushing.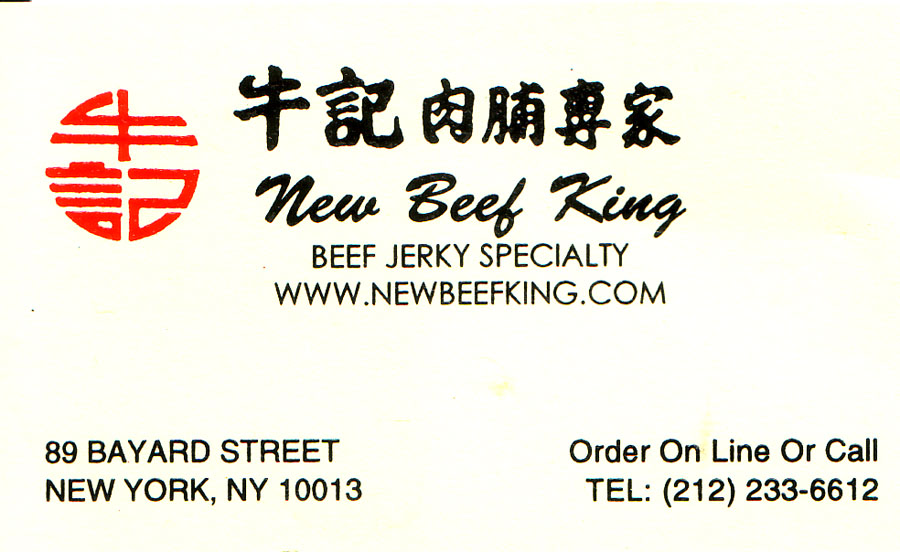 NEW BEEF KING at 89 Bayard Street in Manhatta; its telephone is (212) 233-6612, is where Robert Yee shows off that he is a true jerky master. He makes nine different kinds, one better than the next, all variations of old family recipes.
Born in Hong Kong in 1950, Mr. Yee came to New York City in 1960. He decided to open a jerky shop in 1982, but before that could happen, had to return to Hong Kong to get old Yee family recipes. Actually mastered by his Grand Aunt, he did bring them to New York, and after his return to the United States with recipe in hand, needed three plus months of experimentation to ready them for sale. He used his knowledge of equipment and local materials to master and make his jerky and its variations.
Doing so, Yee removes fat and tendons from slabs of raw beef and pork, then freezes them. Once solid, he slices them thinly and marinates them overnight. The meats are then blown dry and placed on screens over shallow pans, in an oven. He needs to slow-cook them at about one hundred degrees Fahrenheit for four hours.
Yee makes all jerky variations fresh and daily, processing sixty pounds of beef and pork each and every day. With his wife Annie, his nine types include: Spiced Beef, Fruit-flavored Beef, Oyster-flavored Beef, Spicy Beef Tendon Chunks, Oyster-flavored Beef Chunks, Curry-flavored Beef Chunks, Spicy Beef Chunks, and both Pork and Beef wet jerky products.
Prices range from eighteen to twenty-four dollars a pound. Popular, they are, as they are shipped all over the United States, and of course sold in his Bayard Street store. One can purchase them by the slice or chunk, and by the ounce or the pound. Delicious they are addictive. Try them, and if you, like our editor, gets addicted, you will return often for more.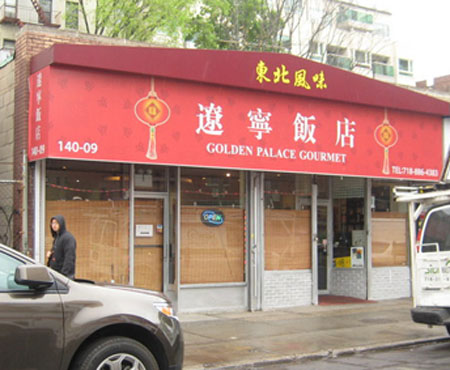 GOLDEN PALACE at 140-09 Cherry Avenue in Flushing NY can be reached by phone at (718) 886-4383. This is a Liaoning restaurant previously reviewed in this magazine; check it out in the restaurant index. Now, it has ten new dishes that used to be listed only in Chinese. Ms. Guang Jin, its owner, told me that four are casseroles served in stainless-steel bowls with small burners underneath; this keeps them warm, bubbly too.
These dishes are: Steamed Pork Belly with Mustard Greens; Braised Red-cooked Lion's Head Meatballs; Stewed Lamb Casserole; Home-style Stewed Casserole; Stewed Pork Bone Casserole; Homemade Sausage; Pork Bones in Soybean Paste; Small Dry-fried Meatballs; Tofu with dried Vegetables; and a delicious Farmer's Stewed Cloud Casserole with cubes of pork belly, potatoes, and green beans. The taste of that last item is delicious. The plate of home-made sausage might have been better with a crispy skin. It was served cold, and that is not my first choice.
Incidentally, the above translations of these new dishes are mine. If you find fault with them, please let me know; but in the meantime let me tell you, that I was by myself and could not taste them all. On future trips I surely will, and you should, too!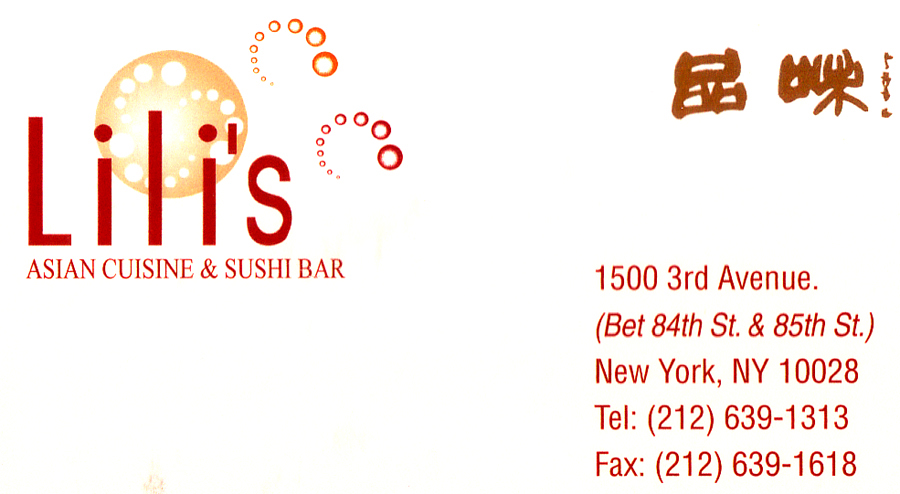 LILI's ASIAN CUISINE AND SUSHI BAR is at 1500 3rd Avenue in Manhattan between 84th and 85th Streets. Their phone is (212) 639-1313, and they are what every neighborhood in New York City has and needs, its own Chinese restaurant. If you are in the vicinity, Lili's is the place for you.
Opened in 1999 by Shanghai native Victor Tu, a thirty-year veteran of New York's Chinese dining scene, his partner in the kitchen is Chef Zhang Xiande from Chengdu in Sichuan. While Lili's menu is loaded with standard American-Chinese fare like Egg Rolls, General Tso's Chicken, and Beef with Broccoli, there is a special menu of some two dozen Sichuan specialities worth checking out. And we did.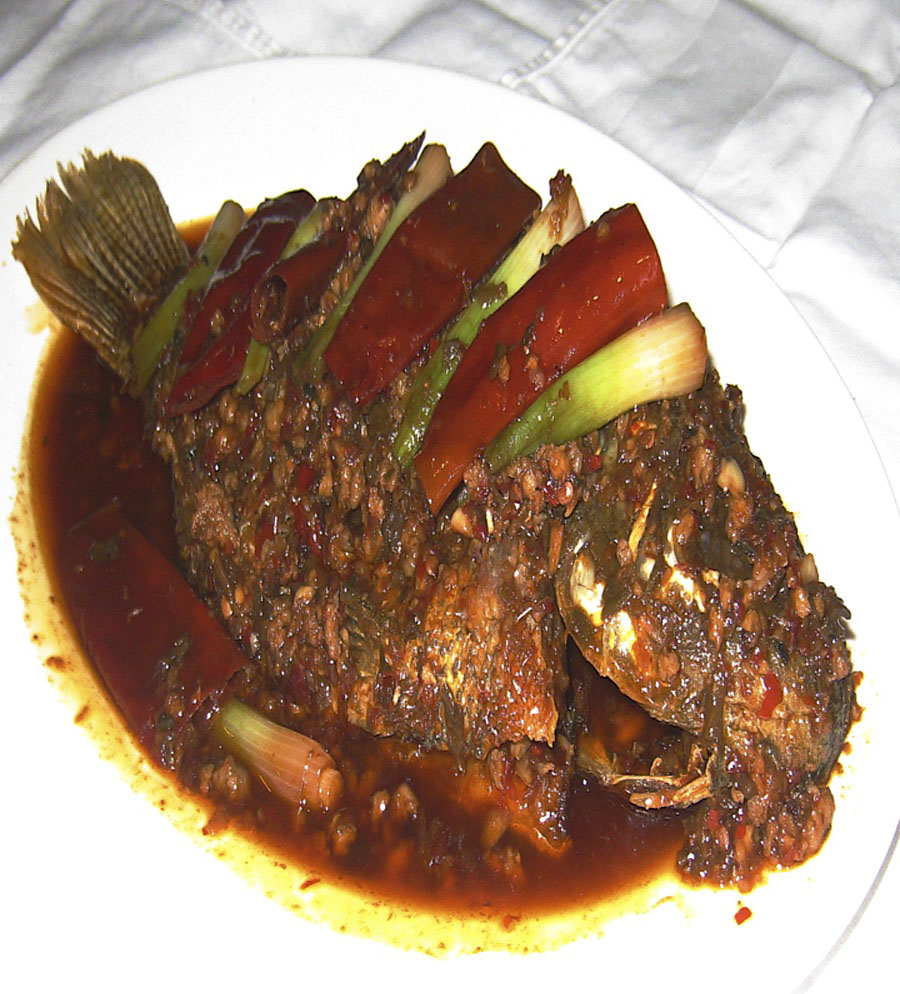 We began with Boiled Chicken Dumplings served piping and in hot chili oil topped with chopped garlic. Our Stir-fried Whole Dressed Fish was perfect with its imported pickled Sichuan peppers, scallions and minced pork. The fish comes tender, terrific, and not over-spiced. A perfect winter warmer-upper is their Twice-Cooked Pork. It is meaty, loaded with sliced pork belly and leeks and black beans and garlic.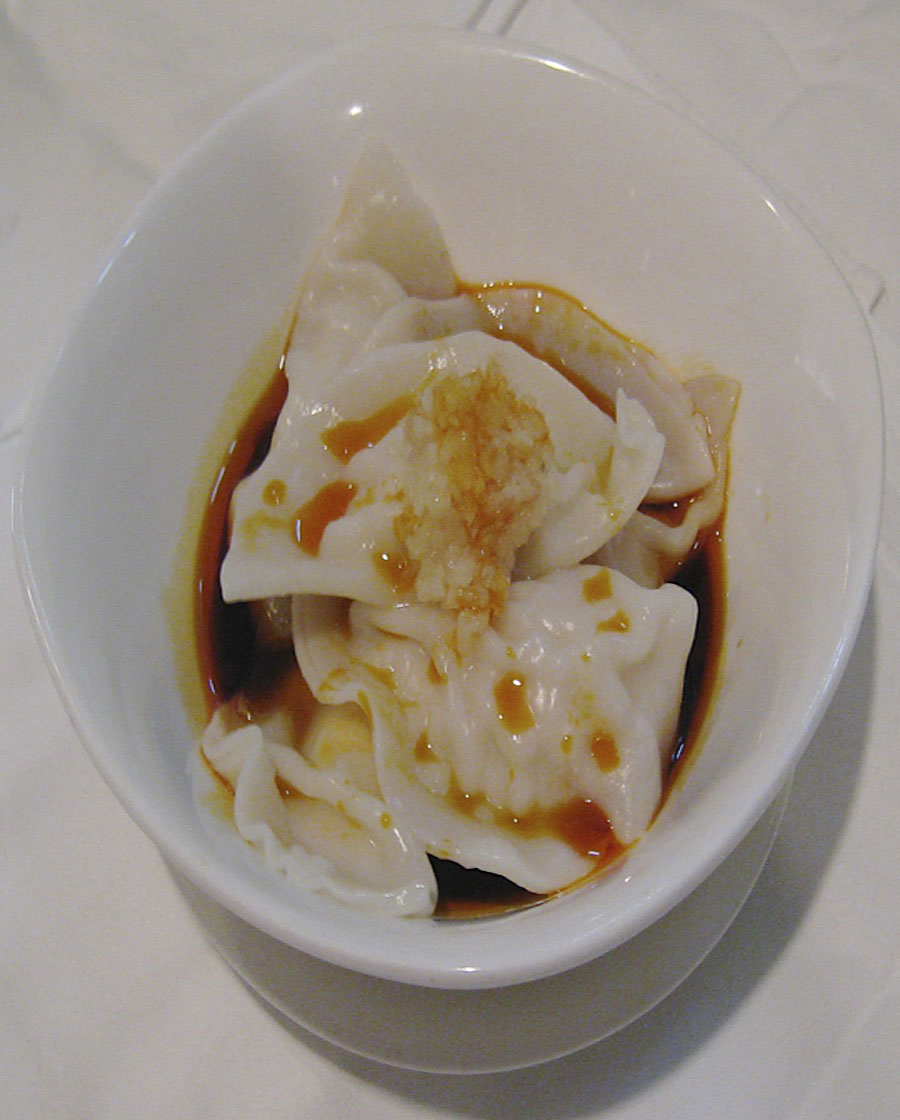 One unusual preparation is their Fresh Spinach with Ginger Sauce. Here cold cooked spinach is served covered with freshly chopped ginger. Beef Chengdu Style comes juicy and lightly dusted with ground Sichuan peppercorns. Jumbo Shrimp Chengdu Style is slightly sweet and with onions, leeks bell peppers.
While for some this may not be a destination Chinese restaurant, Lili's certainly fills the bill when in the neighborhood and in the mood for Sichuan treats.
FISH QUERIES I received need responding to. Many wonder what happens to the rest of a fish after using head and tail in so many dishes. We say, worry not. The Chinese believe that meat closest to the bone is the most tender and there is lots of that in fish dishes. They do not throw any out but use them when making stock or filet of fish dishes. Any not so consumed are eaten by the staff who know well enough to delight in them.
HARDY CROPS did stave off malnutrition, says William T. Rowe in his volume titled: China's Last Empire: The Great Qing. It is published in Cambridge MA by Harvard University Press in 2009. New World potatoes and sweet potatoes, and Africa's peanuts, he tells us, served as "brakes on starvation during the harvest failures of rice and wheat in the 17th century." By then, the Chinese population was one hundred fifty million; doubled by 1800 and tripled by 1850 thanks to improved birthing techniques, declining mortality, etc. Chinese yams were a food that helped during these tough times. Read about yams in the very next issue.
LATE BANQUET ARRIVALS can delay dinner. At some tables at a recent one in Shanghai, two at our table had yet to arrive at the posted hour. Food arrived and those at other tables did start eating, but not so at ours. We finally did begin when the other guests did show. That said, check out the article on banquets, also in the very next issue. Learn some necessary protocols before you go to your next one.