Hangzhou Cuisine Museum: An Artistic Food and Exhibition Hybrid
Food in History
Summer Volume: 2013 Issue: 20(2) page(s): 14-16 and32
---
There are two enjoyable things I always do when I travel. One is to taste the local food, the other to visit a museum or an exhibition. Both are good ways to get to know a place. One learns about the local foods and foodways through restaurants and street food, and at a museum or an exhibition, one gets general information about local history and life. In many places, both are available. In Hangzhou, there are many museums, a very new one specializing in its culinary. Its exterior and entry are shown on this page.
This city, two hours south of Shanghai, is where they built this Chinese Hangzhou Cuisine Museum. It opened March 20, 2012, three years after the idea and construction took hold. It is located on the south side of Yuhuang Mountain, east of the Jiang-yang-fan Ecological Park, and occupies nearly an acre and a half of land. The large building is reported to be 12,470-square-meters. It looks as though it is in a bamboo forest among the waterways of the Jiang-yang-fan Park.
The museum has four great sections. They are called: the Professional Showroom, Qiantang Kitchen, Gourmet Hangzhou, and the Dongpo Pavilion. Each is special, lovely, large, and simply wonderful.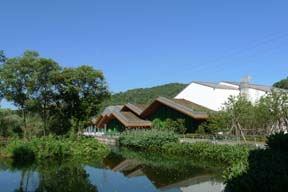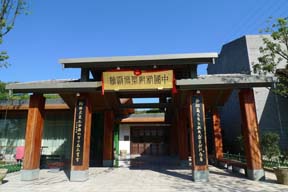 The Professional Showroom is the central exhibit. It has eight exhibitions in historic order. It begins with the formation of West Lake which gave birth to Hangzhou Cuisine and shows one of the cradles of rice cultivation where many fish and shellfish provide lots of protein and plants such as lotus root and water caltrop, the latter supplies starch and vitamin C. Here, my Chinese forefathers lived on rice and fish, making use of very fertile land.
They created a regional culture actually called 'raising fish in paddy fields.' This was normal in China's ancient south, and it still exists in some inland habitats. On the Grand Canal, which was seldom involved in warfare, its two thousand years of history had advantages as it developed its own food culture.
According to exhibition materials including scrolls such as one with this article, visitors find the period during the Southern Song Dynasty (960 - 1279 CE) noteworthy. The overall development of foodways are found there and in different social classes and times. Some of the pictures show the city's cuisine during the Kingdom of Wuyue, dim sum in the Southern Sung Dynasty, Dungpo preparing for a banquet, and Yu Yue holding a banquet for his students.
With the change of the country's capital from Kaifeng in the north to Hangzhou in the south. then called Lin'an, royal families and aristocracy paid a lot of attention to the enjoyment of life. They made elegant and extravagant feasts often in Hangzhou such as one shown from the banquet by Gung Zizhen for his poet friends. Many dishes can be seen prepared by a professional above models of them.
This museum shows these typical feasts using silica gel food models. One such is a banquet in the Qinghe Mansion for Emperor Zhao Gou. It was on the 21st of October of Shaoxing (1151 CE) when the host, Zhang Jun, flattered the Emperor and the Prime Minister. After the Shaoxing Peace Treaty between Song and Jin, the Southern Song regime became a subordinate state under the Jin Empire (1115 - 1234 CE). A simulated banquet, recorded in 1141 CE, is seen when the Song royal court prepared highly refined delicacies in order to entertain an envoy from the Jin regime.
To meet the needs of frequent grand banquets, the central government set up authorities for food service and named them the 'Four Offices and Six Bureaus.' The Four Offices included Accounting, Cookery, Tea & Drink, and Table and Plate. The Six Bureaus were for and called Fruit & Nuts, Honey & Sugar, Vegetable, Oil & Candle, Spice & Edible Herb, and Arrangement. With foodservice socialized, dining out became fashionable. It stimulated local growth, too. This relaxing and enjoyable atmosphere influenced commoners and intellectuals. Freedom enabled many merchants to improve their many great restaurants so the foodservice grew making staple and non-staple foods quite diverse.
It is interesting to note that more than ninety percent of the restaurants were operated by immigrants from the old capital of Kaifeng. This impacted Hangzhou Cuisine with northern flavors. Intellectuals became an important social group and they improved Hangzhou Cuisine. Before this period, Chinese intellectuals were opposed to talking about food enjoyment in public.
At this time, people very concerned about food were criticized as immoral. This ethic began to change in the late Southern Song Dynasty when foodways became a social fad. This new trend emerged from then into the Qing Dynasty which began in 1644 CE. It even lasted into the founding of the Republic of China in 1911 CE, and beyond. The foodways of intellectuals were and are different from thos of commoners and royalty. They are more concerned with conditions of more common people food; and they pursue a simple but refined food life.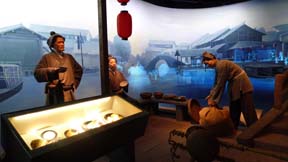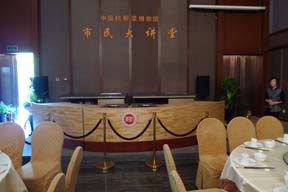 This museum also displays several examples of the food of great and renowned intellectuals. It tells stories such as one about Su Dongpo (1037 - 1101 CE). He treated workers dredging the West Lake with Rice and Red-braised Pork. This gave them lots of energy and great enjoyment. That pork dish is now name after him and called Dongpo Pork. It is very typical and renowned, part of many menus in Hangzhou today.
In contrast with this active scholar-official, one famous hermit, Lin Hong, focused on regimens and vegetarian food. His famous book Shanjia Qinggong, known in English as The Simple Foods of the Mountain Folk, introduces vegetarian items and recipes from the Tang Dynasty (618 - 907 CE) to the Southern Song Dynasty (1127 - 1297 CE). Today's many vegetarian dishes in Hangzhou Cuisine can be traced back to him and this classic volume.
In the Ming and Qing Dynasties that followed, more scholars contributed to Hangzhou Cuisine. An impartial government censor named Zhou Xin (b. not known – 1412 CE) hung up geese to show he was opposed to bribery. A poor but famous philosopher named Chen Que (1604 - 1677 CE), seldom had chances to taste meat, so this shows making fun of his preparing vegetarian cuisine. The scholar, Zhang Dai (1597 - 1679 CE), particularly enjoyed the pleasures of drinking tea; another named Gao Lian (1573 - 1620 CE) advocated chasing fine eating.
During the Qing Dynasty (1644 - 1911 CE), social foodways improved and were impacted by several people. Emperors Kangxi (1654 - 1722 CE) and Qianlong (1711 - 1799 CE) both toured Southern China six times. This greatly stimulated supply and demand in Hangzhou's food service, and in its eating fashions, too.
In the next part of the exhibition, the museum emphasizes Manchu-Han Unified Feasts at the Hangzhou General Mansion. These are called in Mandarin, Man-han Quanxi. An automatically turned roundtable here shows nearly fifty food models as detailed in several accepted historic documents. Visitors can observe them closely. Some are seen where above that table, a big screen shows a sophisticated chef practicing every dish on the table, and a simple clear chart on the wall provides a clue as to where this official banquet style came from and how it changed.
During this period, a poem by the most famous gastronome in Chinese history is devoted to him. This is an important gallery. You might guess his name, it is Yuan Mei. He was born in Hangzhou in year of 1716 CE, and died in 1798 CE. Ten outstanding achievements that he added to Chinese food history are recognized by this symbolic figure who studied foodways, worked in foodservice, and enhanced Chinese people's love of and value given to food.
Dozens of Hangzhou recipes can be found in his book, Sui Yuan Shi Dan along with basic principles for preparing and enjoying food in practical ways. It was shown in a previous issue of this magazine. This great man, Yuan Mei, had a very distinctive personality. That gallery shows many interesting food stories about him. One such is that he orchestrated a banquet with his female students along the West Lake. This was criticized at the time but mentioned repeatedly as a funny story by his and other descendants. A memorial essay he wrote about his family chef, Wang Xiaoyu, is there. That shows his respect for people who want to be food professionals and who are excellent at cookery. Noteworthy, an unprecedented boom of Sino-Western food culture has emerged since the Great Geographic Discovery. Years between, the Yuan and Qing Dynasties were prosperous times for food globalization. This has enriched the tables of Chinese, Americans, and Europeans. Exotic foods then came to the Chinese including maize, tomatoes, potatoes, sweet potatoes, peanuts, onions, carrots, and squash. At this time, Chinese tea, rhubarb, ginseng, walnuts, chestnuts, and star anise from China were spread around the world. Many travelers, merchants, missionaries, and official missions from other countries introduced and ate foods here-to-fore unknown to their countrymen at home. The most widely known tale from China is what Marco Polo saw and heard about the Hangzhou food culture. They appeared in his travel notes. Missionaries, especially from the Jesus Society, also provided descriptions of Chinese food and foodways. So that people do not forget who they were, several names are introduced at this museum here including Michael Boym (1612 – 1659 CE) and Martino Martini (1614 – 1661 CE).
Modern times are introduced next. They show and tell about important foreign personages who made important contributions to Chinese food and to Hangzhou Cuisine. Visitors can see their interesting information including about a previous American ambassador to China, John Leighton Stuart (1876 - 1962 CE). He was born in, and is buried in Hangzhou. Beyond his devotion to Chinese education, he spoke a fluent Hangzhou dialect, and thoughout his life was fond of Hangzhou Cuisine.
More current, an American lady has spent her whole adult life studying Chinese food. She still concentrates on it and has published several books and hundreds of articles about Chinese food. Impressively, she has amassed and is still collecting Chinese cookbooks in English. She donated some four thousand of them to Stony Brook University on Long Island, New York; they are available for view there.
Everyone interested in them can learn about them and what they contain going to this University's website at www.stonybrook.edu Look for them there in the library's special collections section. Her name is Jacqueline M. Newman. This university also has an important library guide that tells about them and about Chinese culinary history at: http://sunysb.libguides.com/Chinese-culinary-history It can be accessed from anywhere in the world.
What the Chinese Hangzhou Cuisine Museum displays is more than simply dishes on the table. It details historic development of this country's and this city's unique cuisine. It tells about the cuisine's related personages and their stories. It makes more sense when people enjoy and chase its healthy, nutritious, and delicate foods. It tells about food from nature to table, and it shows respect and gratitude to nature and to the people serving food at every meal.
When everyone finishes seeing all the exhibitions at this museum, they are probably hungry digesting their visions of the vivid food models, and ingesting all interesting and authentic stories about Hangzhou Cuisine. To give comfort to their minds, stomachs, and tastes, there are three other sections of this museum that other museums do not have. There is the Qiantang Kitchen with round tables able to seat a hundred guests at a time. In its front is a platform with kitchen equipment making this place a dining hall that sometimes gives cooking lessons. Also, there is their official Weibo, which is similar to Twitter, and often has activities and lectures to attract its many cooking fans. These are fun; they are interactive for residents and visitors who, when using them, will learn about China's many dishes and desserts. They entice young and old who like to go out far away from their family kitchens.
Do not forget, there are two other Museum sections, namely the Gourmet Hangzhou section and the Dongpo Pavilion section. These tell more about foods and serving them. The first of these is based on the history of Hangzhou Cuisine. There are thirty-four theme-related individual dining rooms, each with its own style of decoration and tableware. These have lovely atmospheres when eating in any one of them. Each room is related to a historical person with his renowned story and his or her food refinements, tableware, excellent service, and other elements; that makes dining in them special.
Some say that eating here might be expensive, but that is not so. In the Qiantang Kitchen, consumption per person is only dozens of Yuan. It is in contrast with the dining hall, despite similar foodstuffs served here. Those who can afford, might prefer to treat their honorable guests to eating in distinguished individual rooms, if they care about service and environment, and if impressive experiences when eating means more than just filling stomachs. This museum has places for that, too. Do come to this cuisine museum and enjoy as you fill brain and body.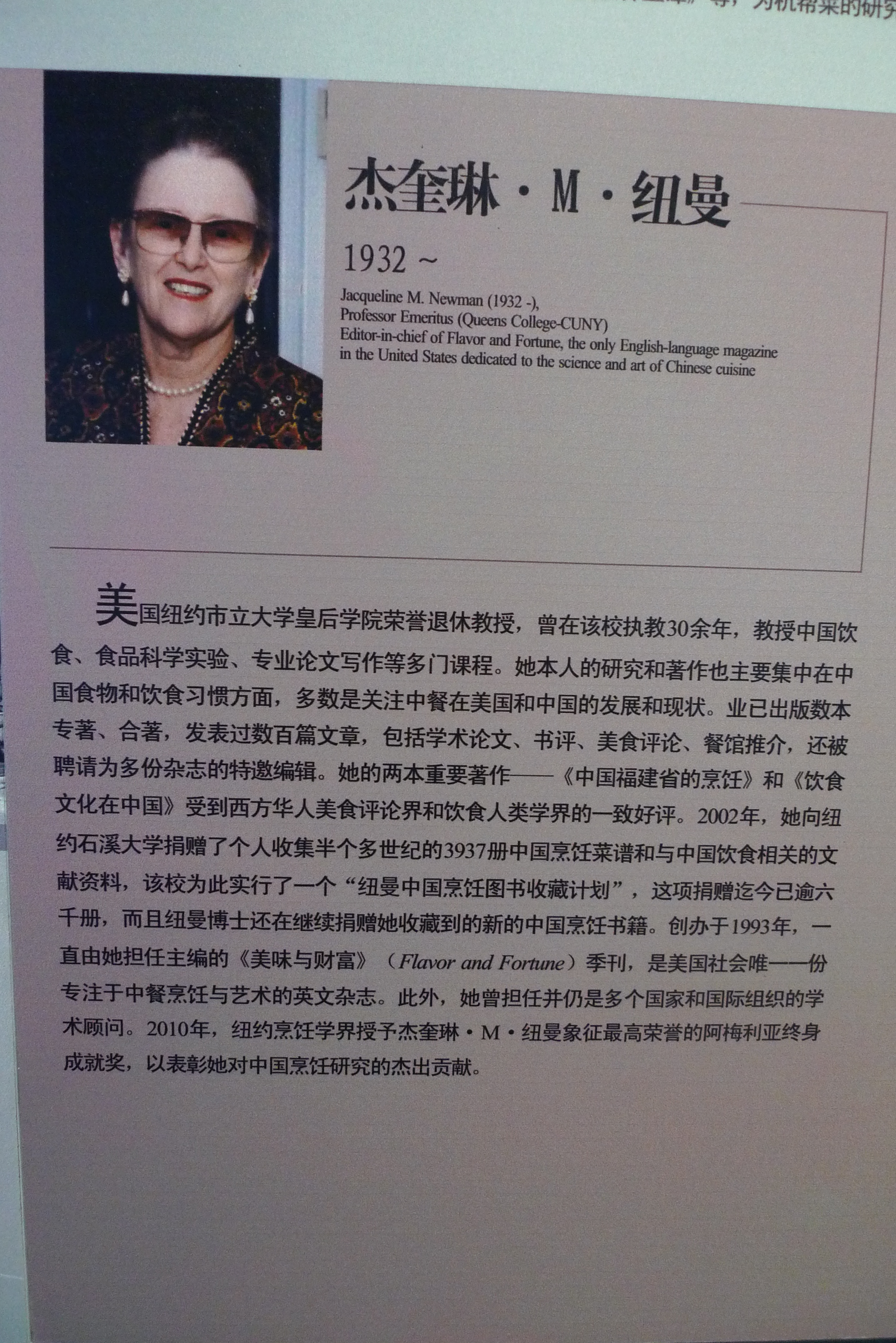 While here or thinking of this unique museum, keep in mind that overall, the museum was designed by Prof. Zhao Rongguang, a scholar who has studied and taught about Chinese food culture and history for more than forty years. He has influenced this academic field with earlier exhibitions, shows, and articles about the Manchu-Han Unified Feasts, the Gastronome Yuan Mei, foodservice in the Song Dynasty, the history and tendency of chopsticks, and so much more. This museum and some others extol his many writings, and other things he has done. It is a place to learn about his contributions, and see the exhibitions he has had considerable input into. It even extols the writing of this magazine's editor.
The curator of this museum, Dai Ning, is a very professional caterer whose more than thirty years of experience in foodservice. He has provided foresight in the promotion of Hangzhou Cuisine here. This is after other cooperative efforts were made with academic and industrial teams here and elsewhere.
This museum is based on historic authenticity, its food not intended to be commercial. All the operations and the museum are free, so do come to this cuisine museum and fill brain and body with its various feasts as you enjoy them all!
______
Wang Si, a PhD candidate at Yunnan University, is majoring in Ethnology. Her M.A. was in the History of Chinese Food Culture and was from Zhejiang Gongshan University in Hangzhou. Her current studies concentrate on Symbolic Anthropology. She is mainly interested in relations between food and religion. She took all the pictures used with this article, and many more, and generously shares then with us.