Read 5094692 times

Connect me to:

Wok Through Time, A
by: Sam Leong
Singapore : Times Editions--Marshal Cavendish 2004, Hardbound
ISBN: 981-232-854-8
---
Reviewed by: Jacqueline M. Newman
Winter Volume: 2005 Issue: 12(4) page(s): 18 and 19

---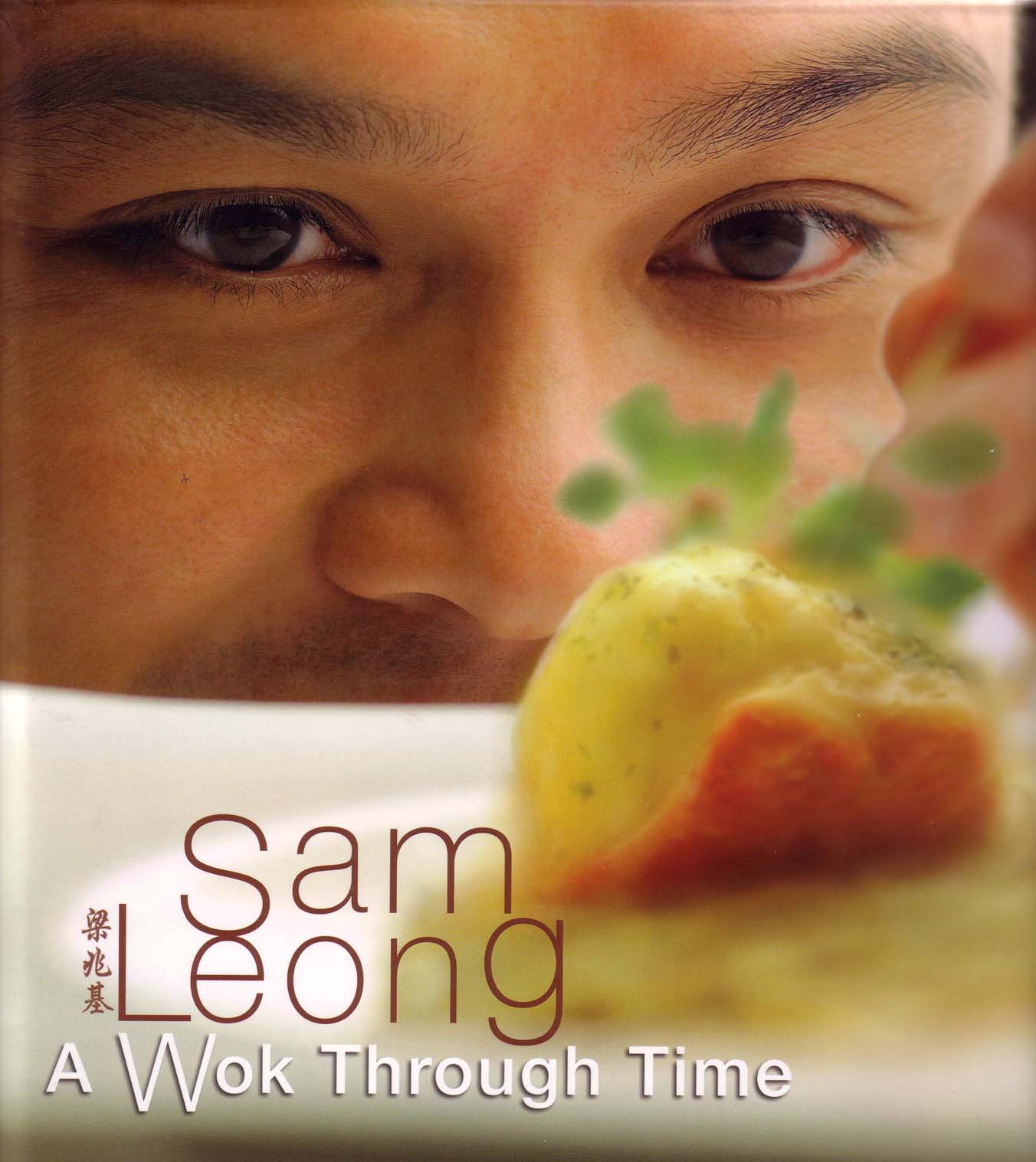 An outstanding chef authors an phenomenal book. If you are buying but one cookbook for the holidays, this is a great one on many levels; and is a terrific traditional Chinese cookbook including some modern influences. Wolfgang Puck calls its author "a truly outstanding chef with creativity and innovation in modern Chinese cuisine." He goes on to say "this chef's creations always turn out beautifully." The ones we tried certainly did!
A Wok through Time shares recipes that travel the route of traditional Cantonese food making their way to celebrity creations. The recipes have won its author, Sam Leong, national and international awards. He was named 'Asian Ethnic Chef of the Year' winning World Gourmet Summit Awards of Excellence in 2001, 2003, and 2004.
Reading this book is to salivate. The photography competes with the best in any chef's magazine in the United States, including the hardbound one titled Art Culinaire published in New Jersey. The recipes are as good, and they are their own rewards.
The first nine recipes in this book are those of Chef Leong's dad; a fine Malaysian chef well-known for his shark's fin dishes. Dad's Stewed Dung Po Pork Belly is phenomenal. His Steamed Rice with Diced Chicken in Fermented Black Bean Sauce is the easiest, best, and the simplest Chinese recipe ever. Made with one tablespoon of vegetable oil and a quarter teaspoon of sesame oil, and two boneless chicken drumsticks, it is inexpensive, too.
Similar thoughts can be shared about the Warm Glutinous Rice with Sauteed Minced Beef. If you discount the overnight soaking and half hour of steaming, cooking this beef dish takes less than a handful of minutes of anyone's time. Do yourself a favor, double the recipe; it disappears quickly, and you will be glad you did, if you want your share.
Chef Leong is blazing trails of his own. After Dad's recipes come fourteen titled: Cooking for VIPs and Celebrities. These are more time consuming, and the results are like celebrities themselves, needing attention. Pamper yourself! If you have a food processor, make the Pan-seared Duck Breast Roll Stuffed with Asparagus in Light Soy Vinaigrette. The toughest part is cleaning the equipment.
One could chop the duck meat by hand, but why? One could replace it with ground chicken or turkey; but why change one iota of this phenomenal dish? The son provides classic tastes and modern touches, and though we found that ground chicken or turkey works well, the final flavors differ and the texture changes, so not every substitute is a great alternative, though it may be easier and/or faster. Likewise when using the food processor instead of hand chopping; but do not do so in this recipe.
After these recipes, is a last and larger set. They are what Leong calls: Bringing Modern Chinese cuisine to the World. In this last section, thirty-eight of them take the reader on a culinary spaceship. The Crispy Chrysanthemum-shaped Fish with Mango and Sweet Chili Sauce is a modern day healthier Chinese culinary classic. It is easier and more realistic for a novice to prepare and one that does work with shortcuts. Every recipe in this set is most sophisticated, yet a novice or a gourmet can do them easily. They can delight and devour them, too.
The Shanghainese La Mian with Sauteed Minced Pork skips pulling noodles, jumps forward by purchasing dried ones, and enhances taste and texture with, among other things, fresh shiitake mushrooms. Being an experienced cook with a bit of a fifth grade mathematics helps when using this book. This recipe and others mix metric and non-metric measurements. For those arithmetically challenged, it is good to know that three grams amounts to half a teaspoon, and thirty milliliters means two tablespoons.
Do not let these things get in the way of making Chef Leong's award-winning Pork Loin with Latte Coffee Sauce. Grab three and a half ounces of pork loin, which the author calls one hundred grams, and forge ahead adding Kahlua to the sauce. What a great idea! Also needed is some tomato puree and six other items for that Latte Coffee Sauce. If you like coffee, you will love it. We had no plum oil, so we used grape seed oil. We traded the needed apple jelly for his requested apple jam. Even with these substitutions, results were terrific. The pork's texture was improved, as the recipe recommended, by marinating overnight. The chef says to put it in the refrigerator and take it out an hour before frying. This genius of a simpleton idea needs more use because it works wonders.
Loved the recipe for Crispy Homemade Black Bean Curd with Green Mango Salad. Double the amount even though it uses a little more than a quart of soy milk. In addition, this recipe needs ten eggs along with 150 grams or six tablespoons of fermented black bean sauce. The recipe can be made in two parts, first baking it about twenty minutes. Later or another day, deep frying as much as needed or wanted. It stores well, so why not double it. The recipe is so good, eating is indulging at ones own risk.
What is less good are the instructions called: Method, in this and all recipes. Using the picture is a must; and culinary cookery knowledge helps. But do not let this get in your way of preparing fine Chinese food the Leong way. Sam Leong is Director of Kitchens for Tung Lok Restaurants, a group headed by Andrew Tjioe who owns fifteen eateries in Singapore, four more in China, and managers of five in Indonesia, and another in Japan. Leong is surely why they are doing so many things right.
Chef Leong is one of eight chefs on the International Culinary Panel of world renowned chefs for Singapore Airlines. He represented his country at the Ninth Annual James Beard Foundation Awards reception, and earlier was invited to participate in the Wolfgang Puck Food & Wine Experience.
His book is about traditional Chinese cuisine with a modern twist, and edited by Lydia Leong. The beautiful color photographs of the dishes and items in the glossary are by Joyce Choo. They are accompanied by dozens upon dozens of older family pictures, every one a gorgeous look into the past. No alphabetical index is less pretty, though the recipes are listed in the contents at the beginning. This is unforgivable because should you forget the first word of technique that begins a recipe's name, page turning is in order.
Do not let these omissions deter. Turn pages and see creative presentations such as Wok-fried Long Beans with Homemade Dry XO Sauce. The circular presentation of the long-beans brings awe. We made ours with pork floss as we could find none for chicken. Be creative and play with these wonderful dishes or the parts of them that tantalize. We think the book worth its weight in dinner delights. After you try the noodle recipe and his XO sauce which you can use with many dishes, we know you will agree that both recipes are pte genius.

Shanghainese La Mian with Sauteed Minced Pork
Ingredients:
1/4 pound Shanghainese dried la mian noodles
1 Tablespoon vegetable oil
3 Tablespoons minced lean pork
1 small fresh Chinese black mushroom, minced
1 small shallot, minced
1 small clove garlic, peeled and minced
1/2 teaspoon minced fresh ginger
1/2 teaspoon minced scallion, green part
1/2 teaspoon minced fresh chili pepper
2 Tablespoons liquid chicken broth
1 teaspoon hot bean paste
1/2 teaspoon oyster sauce
1/2 teaspoon granulated sugar
dash ground white pepper
1 teaspoon cornstarch mixed with one teaspoon of cold water
1 small sprig fresh coriander for garnish
Preparation:
1. Soak noodles in cold water for ten minutes. Then poach them in boiling water for five minutes, drain, and put on a serving plate or in a bowl.
2. Heat oil and saute pork for one minute, then add minced mushroom, shallot, garlic, ginger, scallion, and the chili pepper and saute for another minute.
3. Mix chicken broth, hot bean paste, oyster sauce, sugar, white pepper, and cornstarch mixture and stir-fry one minute more until thick. Pour over the noodles, garnish with coriander, and serve.

Dry XO Sauce
Ingredients:
2 to 3 dry scallops
1/2 cup chicken broth
2 slices fresh ginger
1 scallion, minced
1 teaspoon sesame oil
1 cup corn oil
2 cloves garlic
5 shallots
2 Tablespoons dry shrimp
1/4 pound Yunnan or Smithfield ham, cut in half-inch strips
1 Tablespoon confectioners sugar
1/2 Tablespoon chili powder
1/2 Tablespoon chicken bouillon powder
5 Tablespoons chicken or pork floss
Preparation:
1. Soak dry scallops in cold water for twelve hours or overnight, then remove and discard the water.
2. Put scallops in a bowl with the chicken broth, ginger, scallion, and sesame oil, and steam this for forty-five minutes. Remove scallops from liquid, then deep fry them for one minute. Cool and shred them, then mince them finely. Reserve other ingredients for use in another recipe such as a soup or stew.
3. Heat corn oil and deep fry the scallops for one minute. Remove them from the oil and shred, then mince them.
4. Roast garlic, shallots, dried shrimp and ham in very hot oven for five minutes. Remove, cool, and mince well.
5. Mix scallops, minced roasted garlic, shallots, dried shrimp, ham, confectioners sugar, chili powder, bouillon powder, and chicken floss.
Note: This recipe can be stored in the refrigerator in a glass jar; it makes about fifty tablespoons. Chef Leong recommends using five of them when making long beans.