Read 6252766 times

Connect me to:

Home Banquet
by: Angela Cheng
Taipei Taiwan: Sanyau Publishing Company 2005, Paperback
ISBN: 986-7545-39-7
---
Reviewed by: Jacqueline M. Newman
Spring Volume: 2006 Issue: 13(1) page(s): 23 and 24

---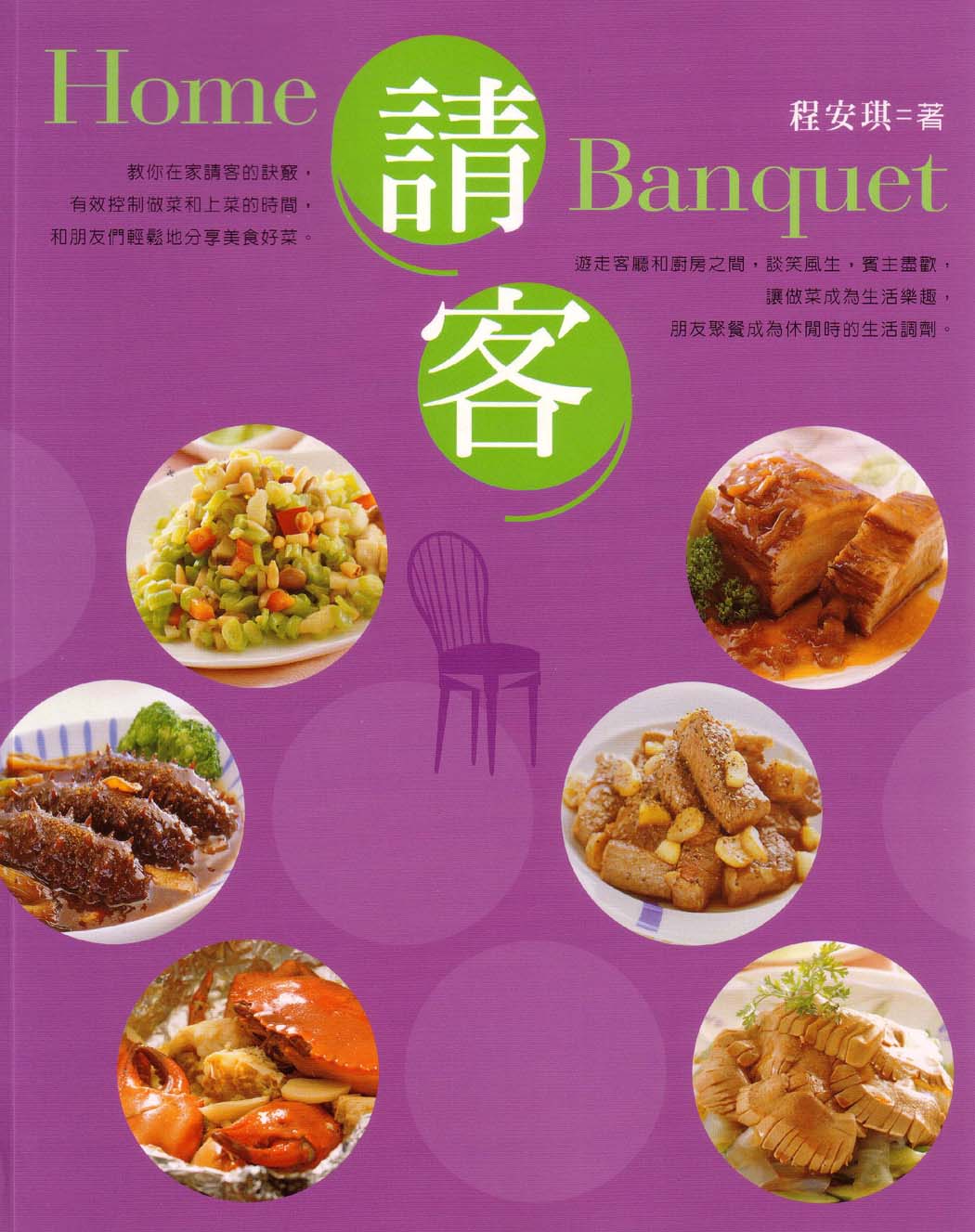 Twenty-six years of experience, and lengthening, Angela Cheng has written more than forty cookbooks, appeared on TV with her Mom, and had her own cooking programs. She lectures, consults, and more, and in this book struts her stuff making the case for preparing food at home for one's guests. She touts consideration of the main ingredient, caring about the cooking method and the seasonings, and varying these fundamentals to prepare foods for your own home gatherings. She says not to be restricted to restaurants and their controls. Cheng finds food preparation pleasurable, and friendly gatherings at home lots of fun. We agree.
This book has seventy-five recipes, and color photographs of their completed dishes. Select from them and make your entertaining easier and better than you thought possible. Cheng claims that all it takes is practice, and she is on target. We cooked five dishes for friends some time ago and found that careful selection makes the meal easier to do than you or your guests will believe.
Steamed Chicken with Black Mushrooms is easy when purchasing boneless thighs to save time and energy. Make her Stir-fried Beef with Green Onion, and follow the tip to use machine sliced beef available for cooking shabu-shabu. The Meatballs with Cabbage is a virtual no-brainer. Cook it earlier for the requisite three hours, then reheat it. Actually, it tastes better that way.
Loved her Curry-flavored Deep-fried Cod. The popping of the rice early in the day or the night before is a great idea. Her suggestion to use unsweetened cereal instead of popping your own rice also works well. The Steamed Eggs with Sea Food Sauce are yummy and simple to do. The Cooked Rice with Cabbage and Sweet Potato cook beautifully in a rice cooker making timing successful.
The book includes chicken, beef, pork, sea foods, fish, vegetable, noodle, and rice recipes. A complete meal can be made selecting several, one in each group. It is easier that one might expect, and more delicious than one would imagine. The recipes only require commonsense home-cooking abilities. Cutting and cooking are kept to a minimum, the results bring deserved kudos to the cook.

Baked Meatball and Cabbage
Ingredients:
2/3 pound ground pork
1 scallion, crushed or minced fine
3 slices fresh ginger, minced fine
1/2 teaspoon salt
1 Tablespoon Chinese rice wine
1 Tablespoon soy sauce
1 egg
3 Tablespoons corn oil
2 scallions, cut into one to two-inch pieces
1/2 cup bamboo mushrooms, soaked for five minutes, hard ends removed
4 cups chicken stock or broth
1 Tablespoon thin soy sauce mixed with one tablespoon cornstarch
dash of ground white pepper
Preparation:
1. Chop the pork before using to be sure the pieces separate easily.
2. Mix crushed/minced scallion and ginger with half cup warm water, and let stand for five minutes. Then drain and discard the solids.
3.Mix reserved liquid with the pork, salt, rice wine, soy sauce, and egg, and stir in one direction for about a minute. Then wet your hands and shape into five meatballs.
4. Heat pan or wok, add the oil and fry the meatballs one at a time until they are lightly browned. Remove them when done to a stove-top casserole already lined with sliced scallions (they can be fried for a minute first, if desired).
5. Add chicken stock, and cabbage leaves, and bring to the boil. Reduce heat, cover, and simmer for three hours. Then add additional soy sauce, more salt , if needed, and the pepper.
Note: This recipe can be made an hour before planning to eat it; just reheat until the meatballs are very hot.