Read 5094474 times

Connect me to:

Basic Chinese Cooking Course
by: Kitty Choi
Hong Kong China: Food Paradise Publishing Co. 2004, Paperback
ISBN: 962-14-2732-0
---
Reviewed by: Jacqueline M. Newman
Spring Volume: 2006 Issue: 13(1) page(s): 25

---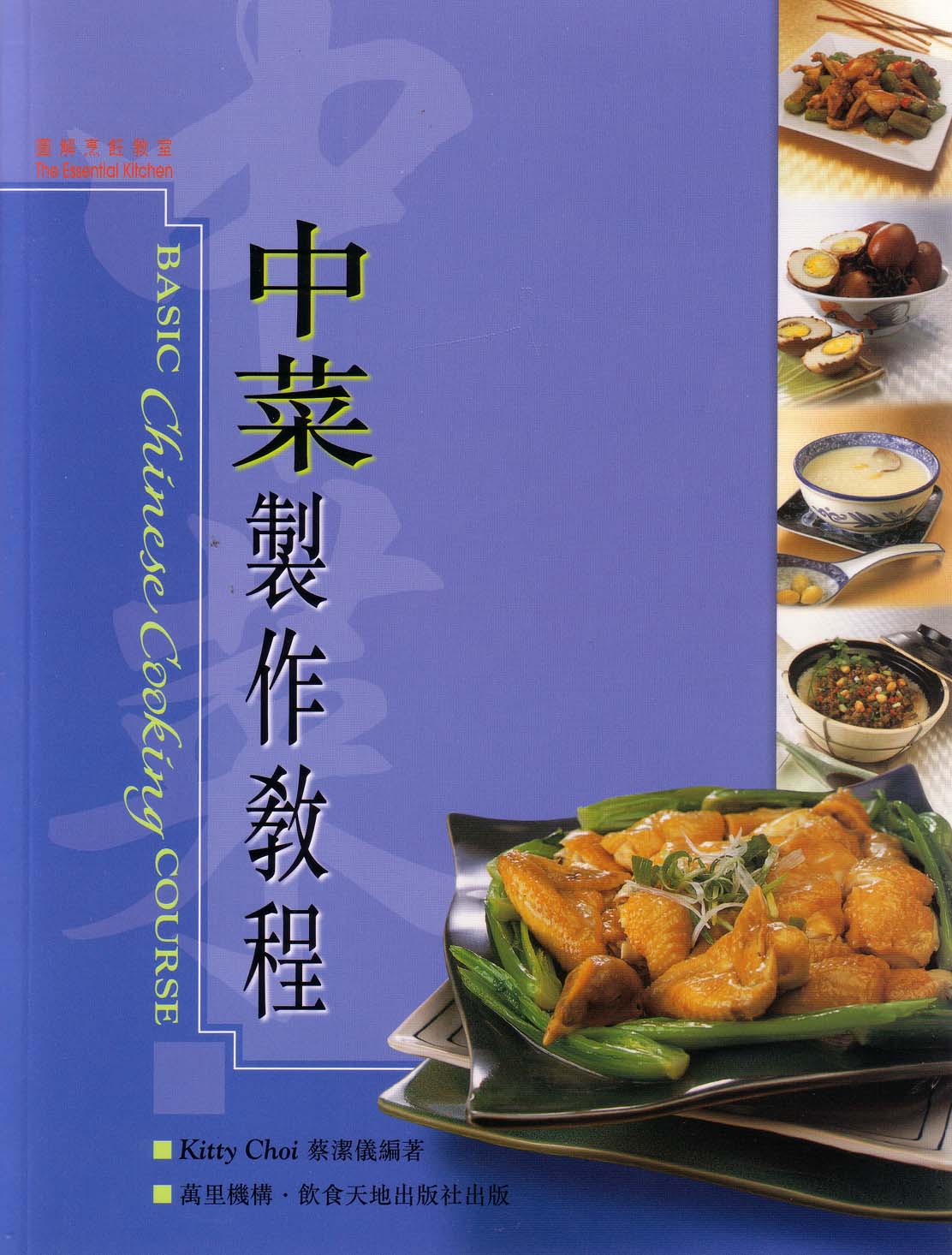 One in a series of four, the others titled: Foundations Dim Sum Making, Pun-choi and Dried Seafood Cooking Course, and South-East Asian Cooking Course. We only have this title, did order the others, and when they arrive, may review them, too.
Ms. Choi has at least ten other cookbooks to her credit. She has been invited to teach in Hawaii and Japan, is on radio, established her own Kitty's Cookery and Catering business, and more. This series, inspired by her local YWCA, is intended to reduce unemployment for those unable to locate a job or those fired from one due to lack of culinary skills. Therefore, the recipes teach tool and technique, measurement and seasoning, and more.
Every recipe has a color photograph of its completed dish and several of steps in the process of making them. All help those not familiar with cooking in general, and Chinese cooking in particular. The book begins showing a variety of culinary tools, chopping and cutting skills, and handling of sea foods and chicken. It assesses oil temperatures before teaching specific cooking techniques and recipes. Every recipe is in Chinese and English, has a cooking tip or two, and some for purchasing the needed ingredients.
Novices and pro's will benefit from the detail in this book. Both will understand nuances in China's cookery terminology such as fry, dry-fry, stir-fry, deep-fry, slightly deep-fry, and dozens of others. Ms Choi explains lingo that most do not really understand. After the recipes, seasonings needed and time required show minor changes that can yield major differences.
The recipes are not simplistic, but making any one of the forty-four provided surely is. In a handful of culinary groupings, they begin simply and end using knowledge acquired in the thirty cooking techniques taught. Every recipe we tried tasted professionally prepared. The Wuxi Spareribs were wonderful, the Fried Meat Pie with Salted Fish and Dried Scallops scrumptious. Double Cooked Pork was perfect, and the Mushrooms Topped with Crab Meat magnificent.

Mushrooms Topped with Crab Meat
Ingredients:
1/2 pound fresh straw mushrooms
1 male crab
4 Tablespoons vegetable oil, dived into two equal amounts
1 clove garlic, smashed
1 teaspoon ginger juice
1 teaspoon chicken bouillon
1 teaspoon cornstarch
1/4 teaspoon salt
1/4 teaspoon granulated sugar
2 teaspoons cornstarch
dash ground white pepper
1/2 cup chicken broth
1 egg white, beaten slightly
dash sesame oil
Preparation:
1. Make an 'X' on the top of each mushroom; do not slit too deeply.
2. Steam crab for two minutes, cool slightly and remove all the meat, tearing it into small strands.
3. Heat two tablespoons of the oil, saute the garlic for one minute, then add mushrooms and stir-fry for two minutes before adding chicken bouillon, cornstarch, salt, and five tablespoons of water. Stir well for one minute, then drain and transfer to a serving platter.
4. Heat remaining vegetable oil, add sugar, cornstarch, white pepper, and chicken stock and bring to the boil. Then add crab meat and then the egg white; stir well before adding the sesame oil. Then pour over the mushrooms, and serve.