Read 5088467 times

Connect me to:

Revolutionary Chinese Cookbook
by: Fuchsia Dunlop
New York NY: W.W. Norton 2007, $29.95, Hardbound
ISBN: 0-393-06222-8
---
Reviewed by: Jacqueline M. Newman
Fall Volume: 2007 Issue: 14(3) page(s): 20

---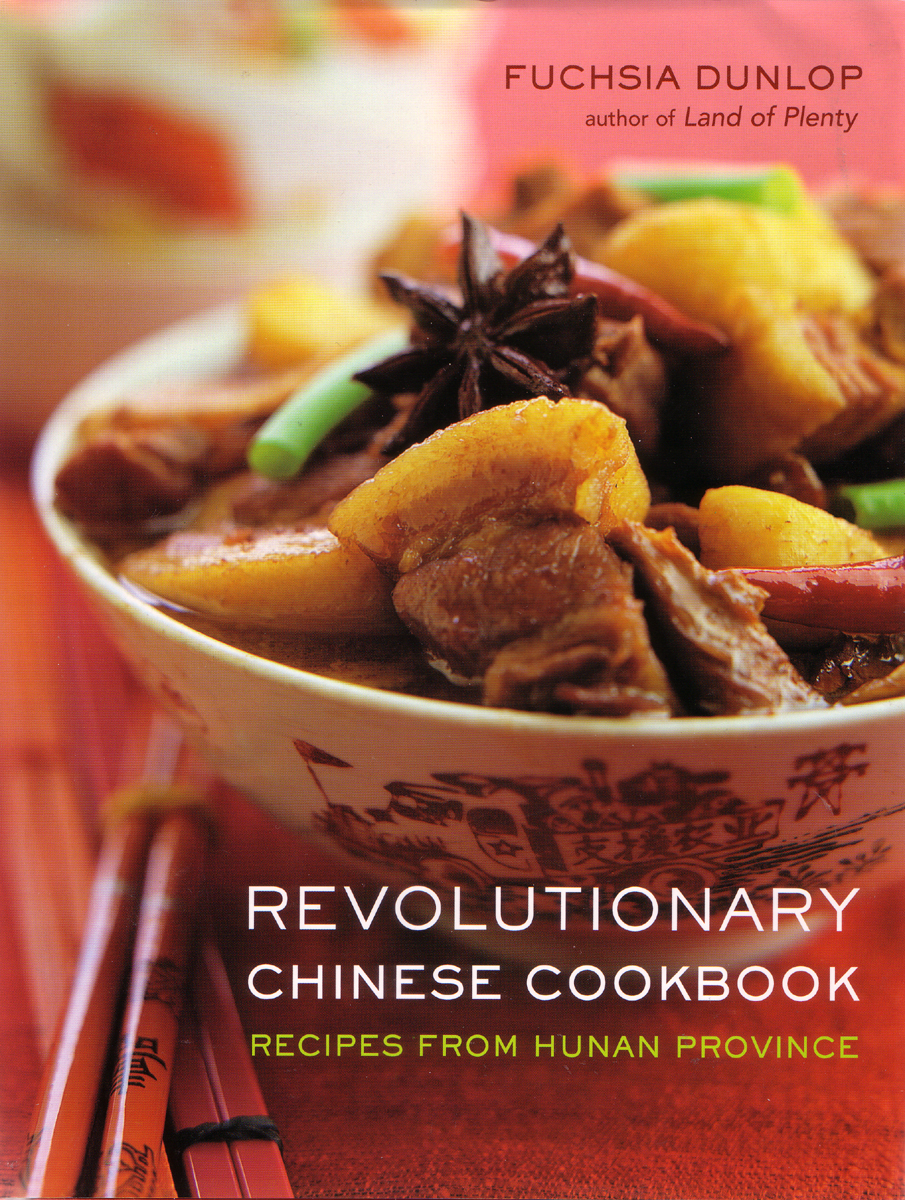 Following the tradition of her first book called Land of Plenty, this one is about foods from a single province. It is an essential text about the foods of Hunan, and its one hundred twenty recipes accompany fascinating stories. They are illustrated with Georgia Glynn Smith's fine photography, and preceded by a fine Foreword by Ken Hom. He extols the author and this, her second book, with its look at a single regional cuisine of China.
Savor its Sweet-and-Sour Ribs, taste its Tangerine Island Dry-braised Fish, and devour its Yolkless Eggs with Shiitake Mushrooms. That latter dish, made specially for us at the Ritz Hotel in Taipei, is an item we still savor and now we can reproduce it. This book is the first to publish this recipe that we know of, and it teaches us proportions and reproduces tastes we remember.
Many are fascinated with the tale of General Tso's Chicken. You read something about it in a winter issue of the New York Times, in its magazine section. Her tracing of its origins was needed; its thoroughness a tour de force. Real or remembered, this Hunan-dish is attributed to many but it really does belong to few. Dunlop details its ingredients and why there were few, if any, origins in this province.
Her touted inventor of this now world-famous dish lived long after its namesake. He might be remembered as: The Meat Eating General. Dunlop interviews Chef Peng who plausibly says he made this dish famous in the United States after doing so in Taiwan. There are others who claim it. Irving Beilin Chang in this magazine's Volume 3(4) on pages 5 and 6 said that everyone surmises the chicken recipe in question was probably the general's favorite. Chang also said it probably was made for him by one of his chefs who then named it after him. But he followed it no further. Dunlop's search found Chef Peng in Taiwan; he says he invented General Tso's Chicken in its current incarnation circa the 1950s. He adds sugar to his variation to please American tastes. The Hunan way he knew was sour, hot, salty, and heavy, and without this sweetness.
Ken Hom extols Dunlop's deep affection for the culture and the province. He says it shines through her tales and her recipes. Her vegetable section has dishes hardly known, if you have never been to Hunan or an authentic Hunanese provincial restaurant. Among them is an outstanding Stir-fried Water Spinach Stems with Black Beans and Chilies. The Boiled Amaranth with Preserved Duck Eggs is another winner. Bok Choy with Chestnuts, and Fava Beans with Pickled Mustard Greens are two others among the many magnificent ones worth making. We recommend them all. Dunlop's time in Mao's home province, his favorite foods, and her fine renditions of them are winners. Make them and your table with be a winner, too.

Boiled Amaranth with Preserved Duck Eggs
Ingredients:
7 ounces amaranth
1 cup and 2 Tablespoons stock
3 Tablespoons peanut oil
2 cloves garlic, sliced
2 preserved duck eggs, peeled and each cut into six to eight sections
salt to taste
Preparation:
1. Discard thick tough stems and wilted leaves from the amaranth and set aside. 2. Bring stock to the boil, then set it aside.
3. Heat wok, then add the oil, and swirl it around before adding the garlic. Let that sizzle a few seconds then add amaranth and stir-fry until the leaves wilt and the stems are tender.
4. Add hot stock and bring it to the boil, then immediately add the egg pieces and boil together for a minute, adding salt to taste. Serve in a deep bowl, and spoon any leftover sauce into individual rice bowls consuming it as soup.