Canadians At Table
by: Dorothy Duncan
Toronto Canada: Dundurin Press 2006, Hardbound
ISBN: 1-550020647-X
---
Reviewed by: Jacqueline M. Newman
Fall Volume: 2007 Issue: 14(3) page(s): 26

---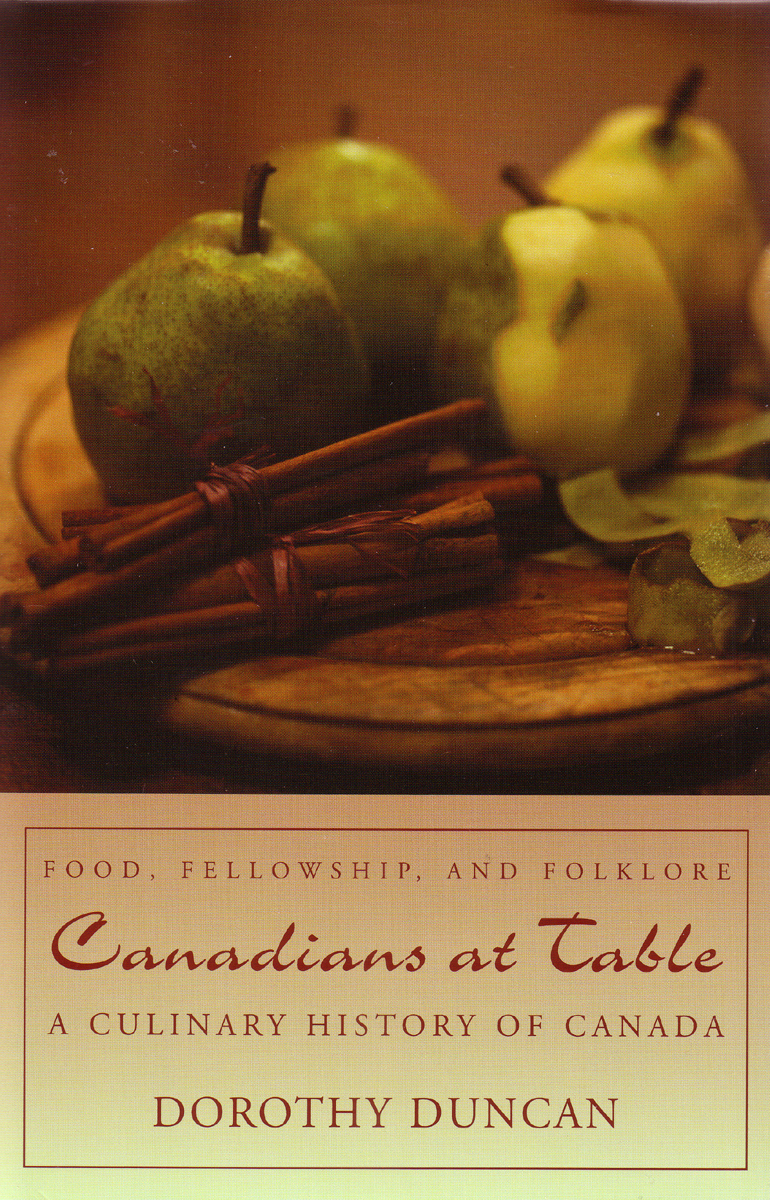 Food, fellowship, and folklore are the basis of the culinary history of Canada. It is a fine introduction to the diverse culinary histories of our northern neighbor. It includes foods of what they call their 'First Nations;' we call them 'Native Americans.' The book has foods of the current settlers and earlier immigrants, and is a great read.
Canada's evolving food history uses local foods and meets and matches memories of foods known earlier. They incorporate agricultural and temperance societies, markets and fairs, and community and religious celebrations. The Chinese had a myriad of roles in these and in developing Canada.
The book looks at tea and the dumping of ninety thousand pounds into the Boston harbor and discusses the size and shape of land and water on the way to China. It looks at the Chinese and those of other ethnic populations that came to settle in Manitoba and claim one hundred sixty acres for a ten buck filing fee. It reports on Chinese gangs of workers with pick and shovel, and tells of Chinese cooks preparing all the worker meals in Canada. It mentions cooking rice in large tin pans and chopping meat for their stews.
It speaks of the first Chinese person to arrive in Canada, Mr. Ah Hung. He prospected not for gold, but for new business. This entrepreneur's experiences appear in the 1858 San Francisco Daily Globe on May 16th. Duncan's book tells us he was offered twenty dollars a day to work as a cook. It also provides information about three hundred other Chinese who arrived from San Francisco after he did. And, it tells of others who came still later and directly from Hong Kong. In 1860, it estimates four thousand Chinese arrivals who went straight to the gold fields to earn their a dollar a day.
What else did they do? Some peeled off and opened laundries, restaurants, market gardens, and fishing companies. A few years later, import companies such as Kwong Lee established headquarters in Victoria. By 1870, there were four hundred Chinese cooks and servants in Victoria and those Chinese companies servicing them used horses and mules to bring their provisions inland.
Canadians of Chinese ancestry from then to now made important contributions to Canada's food industries. In addition, in the last half of the twentieth century, a surprising number of recipes have roots in the country's food traditions such as Orange Soy Sauce for fish, Mock Chop Suey, Cantonese Chicken, and Chicken Chow Mein. Others include Chop Suey in Casserole, Canton Tuna Casserole, Broccoli and Beef Salad, and Chow Mein Cookies.
In looking at the celebrations of different ethnic populations, the book reports that Canadians of Chinese ancestry hold nine-course banquets to celebrate rites of passage. They celebrate Qing Ming but spelled Quing Ming in the book. On that Spring day, all Chinese restaurants close so that everyone can visit the cemetery to clean graves, plant fresh flowers, pour liquor over the ground, kow tow, and do even more to honor their ancestors.
This book's introduction to the diverse culinary ancestry of Canada includes many things Chinese at table, in the marketplace, and at home. It discusses them and other ethnic populations' individual and collective impact on Canada and its foods. The last chapter mentions that ginger, garlic, and other foods changed from quaint or old-fashioned to more current, and now used to cure mind, body, and spirit.
Canadians At Table provides food, fellowship, and folklore from First Nations to now. It is a good read. Chapter end notes, ten pages of things bibliographic, and a cross-referenced index show scholarly effort sharing knowledge about Canada's food heritage.
Foodies and those needing food facts will enjoy the stories and the information within its covers. Scholars will delight when using this book now and in the future. Everyone will enjoy knowing about pemmican and packaged foods, Chinese cooks and Cantonese foods, farmers and feasts, the Chinese gooseberry and ginseng. Enjoy everything at this Canada table.