Read 5929471 times

Connect me to:

LowCarb Chinese Cooking
by: Charmaine Solomon
Sydney Australia: New Holland Publishers Pty Ltd 2005, Paperback
ISBN: 1-74110-316-9
---
Reviewed by: Jacqueline M. Newman
Spring Volume: 2008 Issue: 15(1) page(s): 18

---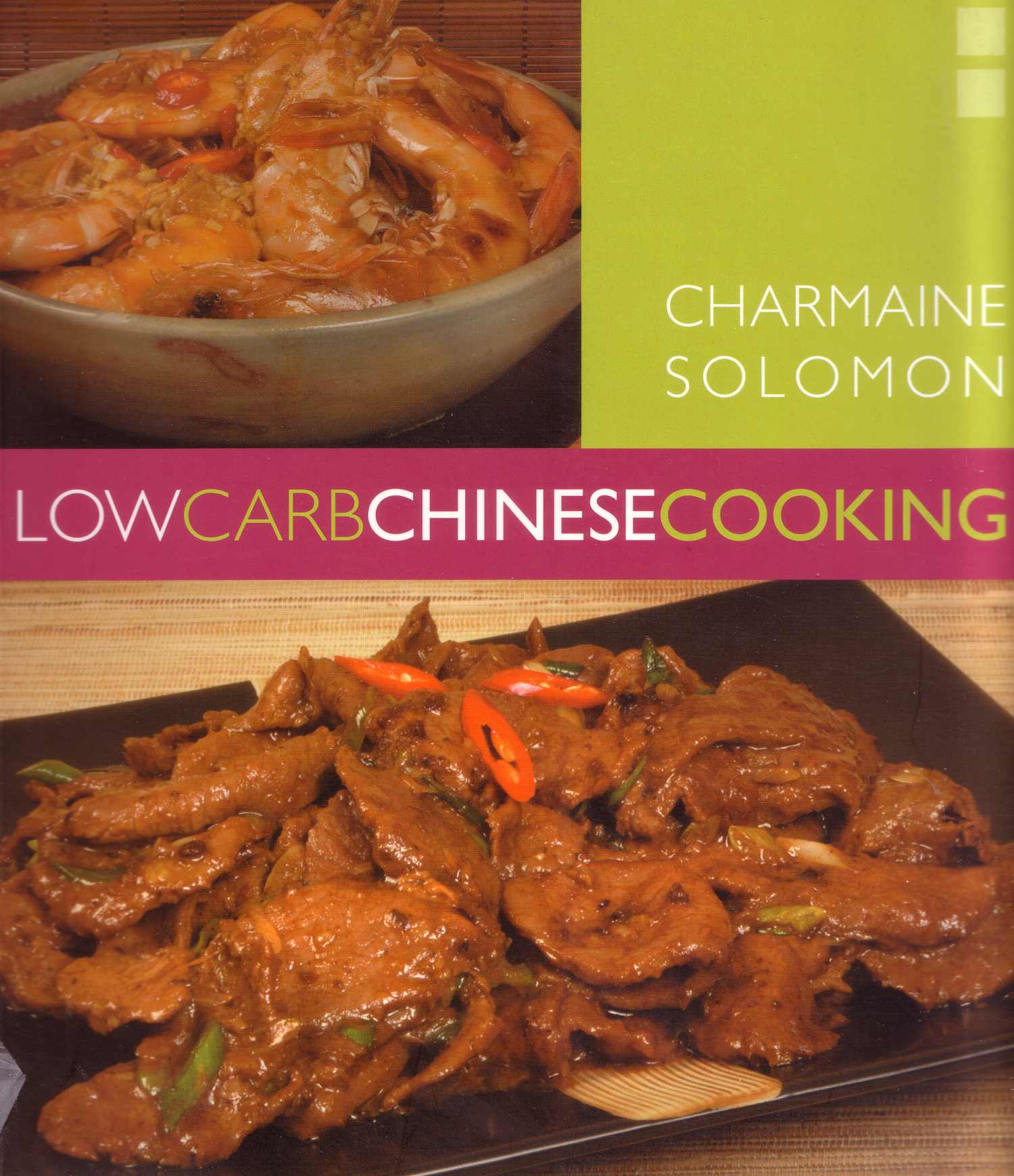 Limiting rice, not worrying about cholesterol, losing weight, and lowering triglycerides are results gained by the author's, they are the result of a doctor advising him to limit carbohydrates and reduce triglycerides.
The book begins discussing how a low carbohydrate diet works, shows utensils for Chinese cooking, wok techniques, and a guide to weights and measures. Then the recipes follow. After them, a three-page ingredient glossary, four others detailing carbohydrate values of Western foods, and another providing equivalent terms that cross national borders. It ends with a four-page four-column index.
Many recipes have a color photograph (by David Marshall). Some are low-carb versions of common Chinese dishes, others revised to meet the dietary requirements. The Seafood chapter, the author hopes, will be used the most. It is the longest, and in some ways, the best. However, the Steamed Fish Fillets with Crab Sauce and the Stir-fried Fish Cake and Cabbage simply reduce carbs simplistically, removing some cornstarch or another thickener. Mermaid's Tresses, namely Garlic Scallops, looks the best, tastes divine, and should make it to everyone's table, and often. However, reducing carbs and pigging out on this or any of the great ones in this book makes for poor partnerships.

Garlic Scallops
Ingredients:
4 vegetable leaves, the dark green part of bok cai, washed and dried
1 cup vegetable oil
1/8 teaspoon salt
12 scallops removed from their shells, then dry the shell and scallops
2 large cloves of garlic, minced
2 teaspoons thin soy sauce
1 Tablespoon oyster-flavored sauce
1 Tablespoon dry sherry
1 teaspoon cornstarch
2 Tablespoons peanut oil
1 teaspoon sesame oil
Preparation:
1. Dry the leaves again, so they do not sputter when fried, then roll them tightly, and shred finely.
2.Heat the vegetable oil and fry about a quarter of the leaves for about one minute until very bright green and very crisp. Remove and drain on paper towels, and repeat until all are fried; then sprinkle them with salt and spread on half of a flat platter.
3. Heat wok or fry pan, add the peanut oil until just before it smokes, then put in the scallops and sear them for half minute on each side. Arrange them one to a shell, and put the shells on the platter. Leave any remaining oil in the wok or pan.
4. Mix the garlic, soy and oyster sauces, and the sherry; and in a separate small bowl, mix cornstarch with one tablespoon of cold water.
5. Reheat wok with its oil, add garlic mixture and stir for fifteen seconds before adding the cornstarch mixture and stir them together until thickened, then pour this over the scallops, and serve.

______________________________________________________ Contemporary Chinese Vegetarian Cuisine. Singapore: Marshall Cavendish Cuisine, 2005. 142pp., paperback. ISBN 961-261-219-X. __________________________________________________ Seven recipe chapters follow learning about the roots of Chinese vegetarian cuisine; and its health benefits. This book avoids mock meats made from wheat gluten and instead uses foods such as mushrooms, soy products, and vegetables. The recipes are quick and easy, a few creatively named, as is Pot of Prosperity.
Though this volume does indicate not using gluten, we did locate one recipe using gluten puffs. The book correctly says there is need for more healthy Chinese vegetarian dishes. But why does it include rock sugar in many of them? Another less than healthy bit is that many of recipes are fried or include fried foods. After the recipes, a two page glossary has color photographs of twenty-four foods and a sentence or two about each of them.
As the expression goes, don't throw the baby out with the bath water, and we did enjoy many creative very good recipes in this book. We reduced the salt to one-third the requested amount, changed the weight of flour to using a measuring cup as it is faster, and changed the garlic and scallion amounts to common volumes. These changes are given below:
Aubergine folders Ingredients: 2 half-pound pieces of firm bean curd 1 teaspoon black moss, soaked in cold water for twenty minutes, then drained 4 Japanese eggplants, cut into one-inch slices, and cut each of these partway through to make into a 'folder' 1 cup all-purpose flour ½ teaspoon salt 2 eggs, slightly beaten 2 cups and 1 Tablespoon vegetable oil ½ teaspoon ground white pepper 1 egg white 3 Tablespoons oyster-flavored sauce 1 green stalk of a scallion, minced 1 large clove garlic, minced Preparation: 1. Blanch bean curd in boiling water for three minutes, drain, and pat dry. Then, cut off any hard outer layer, and mash the rest. 2. Mince the black moss and mix with the bean curd. 3. Press half tablespoon bean curd mixture into each of the eggplant slices. 4. Mix flour and salt, make well in the center, and stir in eggs and the tablespoon of oil. Stir and add water, a tablespoon at a time, to make a thin batter. Let this rest ten minutes. 5. Heat oil in large pot, dip stuffed eggplant slices into the batter, allow to drain and deep fry several at a time for about four minutes or until puffed and brown. Drain and put them on paper towels while repeating until all are fried and drained. 6. Mix oyster-flavored sauce, a tablespoon of water, scallion and garlic pieces and heat, pour over the eggplant folders and serve. Approximate nutrient analysis when serving six persons and assuming three tablespoons of the oil is absorbed. Each serving has 296 calories, 36 g carbohydrate, 14 g protein, 416 mg sodium, 6 g fat, 2 g saturated fat, and 60 mg cholesterol.
_____________________________________________________ Wong, Richard. Modern Asian Flavors: A Taste of Shanghai. San Francisco CA: Chronicle Books, 2005. 144pp., hardbound. ISBN 0-8118-5110-9. 18.95US$. __________________________________________________ Updated family recipes, cherished as a boy, introduces readers to Shanghai cuisine today. The author is founder/owner of Chinablue, a modern sauce, dressing, glaze, and oil company. The mouth-watering color photographs by Noel Barnhurst make it easy to enjoy his updated tastes.
Appropriately, the first section includes recipes for a half dozen sauces; they can enhance many of the recipes in the book and those you make at home. The book includes others for cocktails and appetizers, soups and salads, poultry and meat, fish and shellfish, vegetables, rice, and noodle dishes, and desserts. A few family pictures provide a look at Wong's early life, all are black and white, and provide good contrast to Barnhust's tasty color photographs of delicious dishes.
Try the Tea Eggs, Mushroom Tapanade, Sliced Steak and Mushroom Stir-fry, and Black Bean-grilled Flank Steak. They get over-the-top-tastes from Sauteed Sweet Pea Shoots made with rendered chicken fat, and Peach Wonton Crisps made in mini-muffin tin, their wonton skins (which calls sheets,) are brushed with butter and baked three minutes to become very crisp.
The Sweet Anise Custard is made with soy milk, cider vinegar, star anise, ginger juice, sesame oil, soy sauce, red pepper flakes, and eggs. This new twist on an old favorite speaks to the author's creativity. All recipes are titled in small letters but provide large tastes. We loved the Strawberry-lemon Tapioca, a dish my husband thinks is too lady-like. But he did like the Tangy Ginger Crab, and drinks such as Lychee-tini. Loaded with vodka, this non-dessert use of a canned fruit (featured in this issue), is but one manly Chinese beverage guests can imbibe in while his appetizers.
Mushroom tapenade Ingredients: ⅓ cup vegetable oil 12 ounces assorted mushrooms, finely chopped, we used half Chinese black and half Chinese straw mushrooms ⅓ cup soy sauce ⅓ cup sesame oil 24 saltine crackers or squares of toasted bread Preparation: 1. Heat oil in wok or saucepan, add mushrooms and stir well. Before adding soy sauce and sesame oil. Cook until mushrooms are dark and glossy and have given up much of their liquid; about ten minutes or so. 2. Transfer to a serving bowl and serve with crackers or toast points, and a Lychee-tini or another of his alcoholic beverages. Approximate nutrient analysis per salting cracker spread with this mushroom mixture assuming one tablespoon oil is absorbed. Each cracker with its toping has 17 calories, 1 g carbohydrate, half gram of protein, 47 mg sodium, 1 g fat, a trace of saturated fat, and no cholesterol.
__________________________________________________ Au, Cindy. Making a Nutritious Meal. Ong Kong, China: Hai Bin Book Company, 2007. 128pp., paperback. ISBN 978-988-202-443-4. _______________________________________________ Favorite lunch and dinner dishes by an author known for desserts, are yummy main dishes in this book. They are different and delicious, one-quarter vegetarian, the rest with seafood, chicken, beef, and pork.
The Veal Ribs with Black Peppercorns is a favorite. My daughter would opt for the Stewed Beef Tongue with Tomato Sauce, or the Pea Sprouts in a Died Scallop Glaze, or both. My husband would want the Stir Fried Sugar Snap Peas and Sea Cucumber Intestines with Preserved Shrimp Pate. Grandchildren would ask for Stewed Spareribs in Wuxi Style and the unusual dish called Simmered Chicken Wings in Cola. There is, in this volume, something for everyone.
Every recipe has 'nutritional tips' and educate about the benefits; they all offer cookery advice. The one with cola correctly says not to use diet coke as the artificial sweetener in them turns bitter after being cooked. Would that all parts of all recipes in this book were as carefully written. Some omit the oil needed for frying, others have no amounts for some ingredients. A little cooking know-how helps, but do not let these omissions stand in the way of making Au's nutritious dishes. Try the recipe below, and enjoy other easy-to-make recipes.
Simmered Chicken Wings in Cola Ingredients: 8 chicken wings, tails removed, two- and one-bone sections separated ⅓ teaspoon salt dash ground white pepper 1 teaspoon vegetable oil 1 clove garlic, grated 1 twelve-ounce can cola 3 Tablespoons thin soy sauce 1 scallion, cut into half-inch pieces 2 Tablespoons cornstarch mixed with the same amount of cold water Preparation: 1. Mix chicken wings with salt and pepper and set aside for half an hour. 2. Heat wok or fry pan and garlic, then the wings and fry until fragrant and lightly browned before adding cola and soy sauce. Reduce heat and simmer for half an hour; then add cornstarch mixture and bring to the boil for one minute. 3. Remove to a serving dish, sprinkle scallion pieces on top, and serve. Approximate nutrient analysis when serving eight persons both sections of one chicken wing. Each serving has 121 calories, 14 g carbohydrate, 6 g protein, 689 mg sodium, 6 g fat, 1 g saturated fat, and35 mg cholesterol.
__________________________________________________ Xu Ruqi, editor. Food and Chinese Culture. South San Francisco CA: Long River Press, and the Shanghai Press and Publishing Development Company, 2005. 237pp., Paperback. ISBN 1-59265-049-X. 20.95US$ __________________________________________________ Twenty-six short essays about Chinese food and culture by some of China's well-known writers and cultural critics are great reads in this volume. There are roadside snacks, delicious delicacies, the meanings of some foods, and their role as the essence of life.
When each of the essays was written is not provided, nor is if they appeared elsewhere. Beginning with one by Lin Yutang and ending with another by Zhou Zouren and all the others in between makes for lots of seasoning on any reader's plate. The Preface by Chen Zishan sets the stage to marvel at food and drink served. It demonstrates the zeal for China's culinary art. All the essays showcase greatness and uniqueness that is Chinese cuisine, to say nothing of its deliciousness.
There are items about man's sense of taste, and tasting Sichuan foods. There are others about Fujian, Hangzhou, or Shaanxi foods. There is one about Spring Festival cuisine, others about Peking duck, pig's feet, and porridge. Savor the ones of sesame seed cake, spring rolls, lotus root, and water shield. And do snack on the final chapter, Snacks of South and North China. Then head for the nearest nifty Chinese restaurant and taste fantastic foods and great delicacies you read about.
_____________________________________________________ Martin, Laura C. Tea: The Drink That Changed the World. Tokyo, Japan: Tuttle Publishing, 2007. 247pp., hardbound. ISBN 978-0-8048-3742-8. 21.95US$. __________________________________________________ From raw tea leaf use as medicine to modern-day drinking looking for a moment of calm, the ten chapters educatee from shrub to cup. History, legend, tea in Ancient China and Korea, in Japan, and in many British outposts.
Half the chapters are China oriented, and not to be missed. They are, though not exactly titles as: tea's history and legend, in ancient China, in the Ming dynasty, in China (India and Ceylon), and today and tomorrow.
Proverbs and education compete for one's attention. The first of the former, illustration and all, says: Drinking a daily cup of tea will surely starve the apothecary. A later one saying Tea is drunk to forget the din of the world mix with interesting information including that people of the Ming dynasty drank tea for solace, celebration, and for any number of other reasons as illustrated in a poem by Hsu Tze-shu.
Those not knowing 'The Eight Regulations' of that time leanr, among other things, that women were not allowed inside tea factories (nor mere firearms). He whys of many of them are less clear.
History is not limited to the first chapter, nor to the ones about China; but for the purposes of this magazine, they are well illuminated. So are technical topics from height of tea varieties, to clipper ships, also known as tea wagons, afternoon tea, Lipton tea, John Jacob Astor, who earned a fortune on the tea trade, and that in 2010 the United States tea market should reach ten billion dollars.
The book ends with an appendix of tea-growing countries, China among them, a glossary of tea-terms used by professionals, choice teas around the world, tisanes–the herbal teas, and more; and with ten useful web sites and a selected bibliography of thirty-six references. Throughout are many /w illustrations to illuminate its content. Drink them all in.
_____________________________________________________ Stevens, Jan Romero. Carlos Digs to China. Flagstaff AZ: Luna Rising, 2001. Sixteen leaves, not paginated, Paperback. ISBN 0-87358-870-3. __________________________________________________ An exciting English and Spanish children's book illustrated by Jeanne Arnold, this volume book brings back memories many of us had. Do you recall dreaming that since China is on the other side of the earth, one could dig to get there. The topical tale and the terrific pictures can stimulate the imaginations of children of any age.
Give this book to a child or do what Carlos' teacher did, take a group to a Chinese restaurant, or both. You'll be uncovering more than feeding imaginations and bodies. You will feed the coffers of an organization that helps others. Written by a cancer victim, part of the proceeds are donated to the American Cancer Society's Tell-a-friend project in Flagstaff Arizona, Its author succumbed in 2000.