Read 5091589 times

Connect me to:

Seventh Daughter, The
by: Cecilia Chiang
Berkeley CA: Ten Speed Press 2007, $35.00, Hardbound
ISBN: 978-58008-822-8
---
Reviewed by: Jacqueline M. Newman
Summer Volume: 2008 Issue: 15(2) page(s): 22

---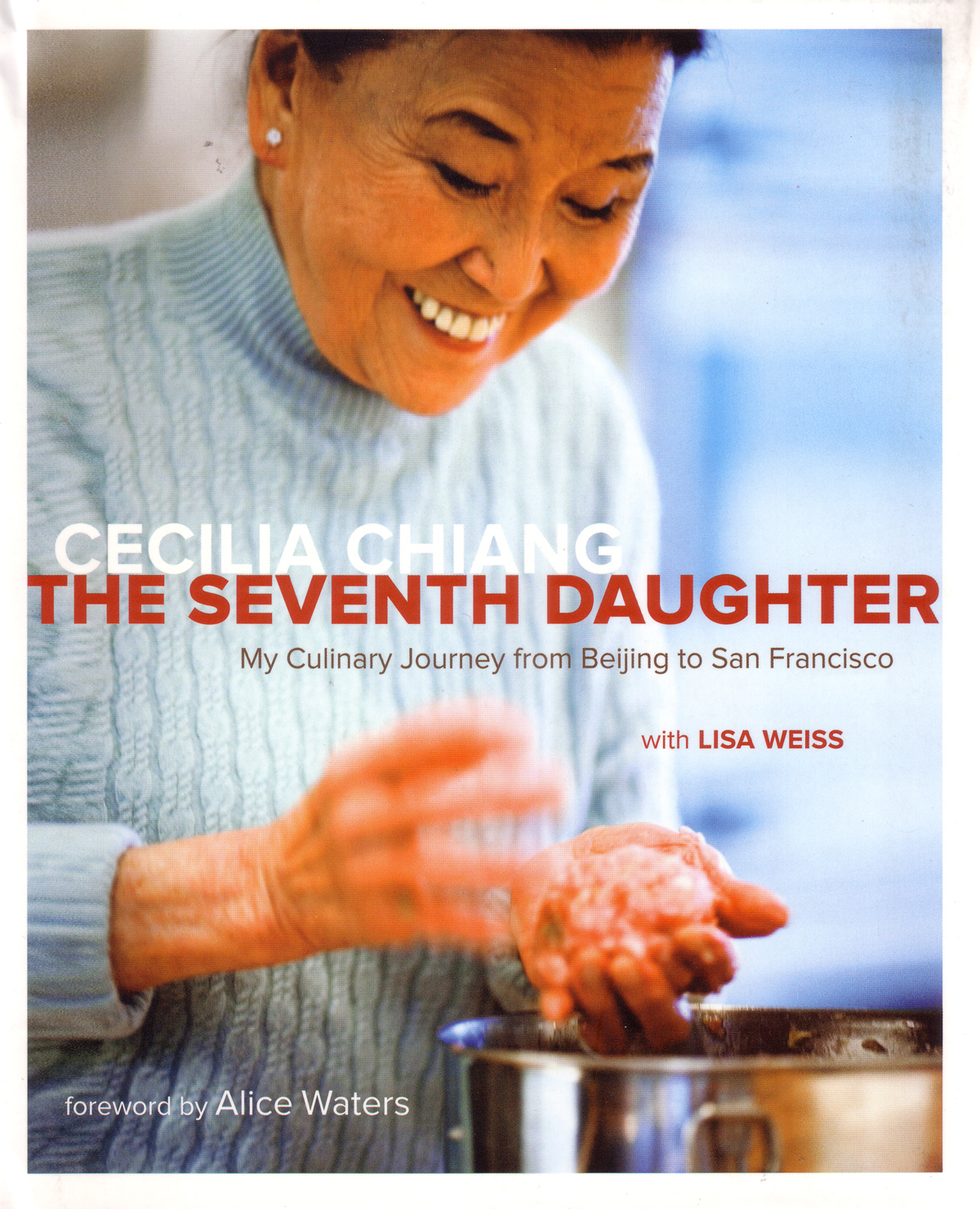 Subtitled: My Culinary Journey from Beijing to San Francisco, the author tells stories about family, travels to Japan, and to the USA. Written with Lisa Weiss who spent much time with Ms. Chiang, the seventy-five recipes in this volume are 'must reading' and from Chiang's San Francisco Mandarin Restaurant. They make this book a genuine winner on every level.
As is my reviewing style, I read the multi-page introductory material to the book and each chapter first, then reread them and the recipes together, chapter by chapter. In both go-through's I could not put the book down. When you read it and learn that Cecilia Chiang began her restaurant career determined, at age forty, and on a whim helping someone else, you'll see what a determined and caring lady she is. The book ends the same determined way, discussing her father Sun Long Guang's burial in Beijing, enabling her to lay him to rest with his son Sun Zhen Ji and next to her mother, Sun Shueh Yun Hui. This was no easy feat in China at that time.
Cecilia Chiang's family stories and her food are a perfect match. This legendary lady, Madame Chiang, was born in the 1920's to a life of privilege as one of ten living siblings. During the Japanese invasion she showed her mettle trekking a thousand miles on foot with nothing but the clothes on her back escaping without anything, even a child she needed to leave behind.
Later, she introduced America to authentic Chinese food in the not-in-Chinatown restaurant she opened in 1961. She becomes a celebrity, and in 1968 took another determined gamble. This time she moves it further from Chinatown and its original sixty-odd seat location on Polk Street, relocating and enlarging it to more than three hundred seats, and in Ghirardelli Square.
Those who wanted to eat and learn about 'real' Chinese food flocked to its new location. I recall my several pilgrimages cross-country to go there. I also remember with fondness and some drooling, my watching her on her many television appearances. At that time, these were heady experiences.
Mrs. Chiang's restaurant, her food, and her first cookbook, The Mandarin Way, enhanced her reputation as a great Chinese food expert. She was a fantastic restauranteur and a phenomenal hostess; even Pearl Mesta could learn from this sophisticated and elegant lady. With several visits there, I surely did, as she was generous with advice, eager to teach, and excited to speak with westerners interested in the love of her life, great Chinese food.
When she came to the United States, it was to console her Number Six sister, whose husband had recently died. This trip to San Francisco was a never-look-back moment that began her restaurant career. When there, she loaned ten grand to help two Chinese ladies and this led to her accepting the challenge of making a restaurant work. She left her husband, Ching Liang albeit on friendly terms, and raised her son and daughter while learning to run a restaurant. She made her first 'hole in the wall' eatery and the subsequent one serve some of the best Chinese food outside of China.
Do run to your bookstore or computer or however or wherever you buy books. Read about the culinary journey and the determined events that influenced Madame Chiang. Then run to the nearest Asian grocer and purchase the best ingredients you can. Run back to your kitchen to cook and taste parts of 'her grand adventure.' No place to purchase them; nonsense! A page of 'sources' helps with shopping on line.
Sauteed Mixed Mushrooms
Ingredients:
1 Tablespoon sesame oil
1 Tablespoon soy sauce
2 Tablespoons oyster sauce
1/4 cup plus one tablespoon Shao Xing wine
1/2 cup plus two tablespoons peanut oil
1/2 pound king-oyster mushrooms (Pleurotus eryngli), cut into one-eighth inch slices
1/2 pound fresh Chinese black mushrooms, cut into one-eighth inch slices
1/2 pound oyster mushrooms, quartered
1/2 pound cremini mushrooms, stems removed and caps cut in half
4 cloves garlic, peeled and thinly sliced
Preparation:
1. Whisk sesame oil, soy sauce, oyster sauce, and one tablespoon of the wine in a small bowl.
2. Heat wok or fry pan, then add two tablespoons peanut oil., stir and add king-oyster mushrooms and stir and toss them until they release their moisture and begin to brown; then transfer them to a large bowl.
3. Repeat step two with each kind of mushrooms, one by one.
4. Add the last two tablespoons of peanut oil, then add garlic and stir-fry until golden. Then add all the mushrooms and their juices and the remaining quarter cup of wine. Stir-fry about twenty seconds, then pour in the sauce made in step number one. Toss well, then immediately remove form the heat, put out on a platter, and serve.