Read 5091620 times

Connect me to:

International Cuisine: China
by: Christine Yau
Fu, Norman; and Hsiung, Deh-Ta
London UK: Hoddder & Stroughton Educational 2004, Paperback
ISBN: 0-340-81118-8
---
Reviewed by: Jacqueline M. Newman
Fall Volume: 2008 Issue: 15(3) page(s): 22 and 23

---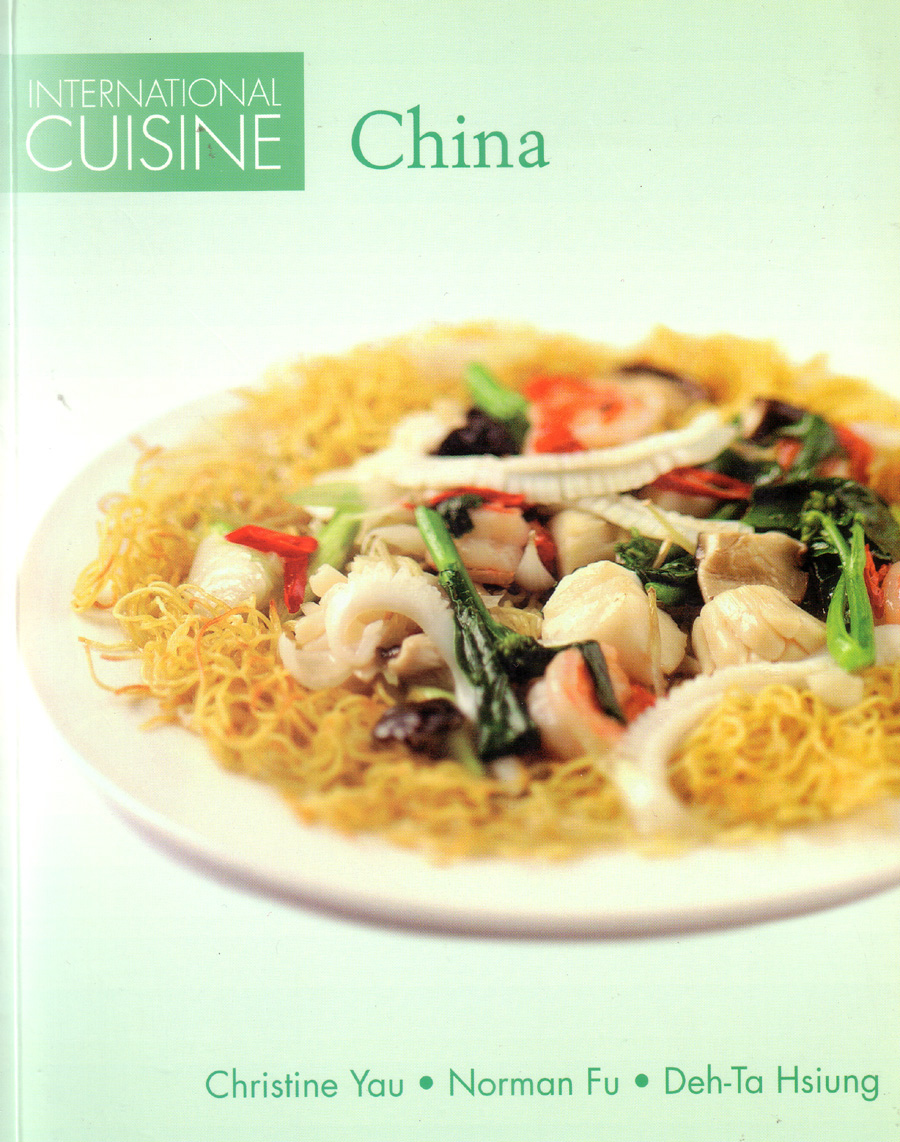 Written in sixteen chapters, we recently came across this book on the web. Its first chapters discuss equipment, cookery techniques, and basic ingredients used in a Chinese kitchen. They also discuss marinating foods and creating authentic Chinese tastes using Chinese culinary techniques. Those that follow are recipes by cooking technique. After them is one chapter each about rice and noodles with dishes that use these two staples. Before each chapter is a Foreword, Introduction, a brief history of Chinese cuisine with regional components, and what to drink with Chinese meals. And there is more. Following these are descriptions of Chinese cooking terms and many ingredients; the latter titled in Chinese and with its Pinyin transliteration.
The recipes, most one to a page, show their ingredients in a box, their method written in standard style. Each one has some chef notes and a few variations that work with it. Many recipes have a small color photograph of the completed dish. All are simple and super, and show lots of culinary savvy. After them is a page of metric conversions and four pages, four-columns each, with a detailed cross-referenced Index.
Savvy they should be because they are written by a founder of the Chef's School at Westminster Kingsway College, herself a restaurant proprietor, a fifteen year Chinese cooking teacher at that school, and an experienced chef and cookbook author. This book is one in the International Cuisine series, others were not located. It offers easy to make and great to eat Chinese dishes as it demystifies the cookery of this most populous nation. It is packed with a wide range of dishes presented in a step-by-step manner making the book very easy to use.
Enjoy the stunning, though small, color photographs of its many completed dishes. They and the recipes are ideal companions for its many impressive dishes including Scallops Steamed in Their Shells, Chicken Winglets, Stir-fried Milk, and more. The recipes are, delicious, aromatic, and with tantalizing taste.

Scallops in Shell with Garlic and Black Bean Sauce
Ingredients:
2 scallops in their shells, per person, prepared as below
2 scallions, white part only, minced
3 teaspoons vegetable oil, divided by teaspoons
1 Tablespoon thin soy sauce
dash of ground white pepper
½ teaspoon of sesame oil
1 teaspoon black bean sauce, per two scallops
1 teaspoon crushed fried garlic flakes
1 Tablespoon chopped green part of a scallion
Preparation:
1. To prepare the scallops, open them or have the fish merchant do so and remove and discard the skirt of each one. Retain the shells, and remove the coral, if any. Save that for another recipe to be made that day or the next. Then remove the tough muscle attached to the shell and discard it; and finally, rinse the scallops, dry them with a paper towel, and set them aside.
2. Scrub the scallop shells and place them in boiling water for five minutes. Drain and cover with cold water, and allow them to cool, then dry them and set aside.
3. Put minced white part of the scallions in a small bowl with two teaspoons of the vegetable oil, soy sauce, white pepper, and sesame oil.
4. Put one scallop on one scallop shell, and top it with some black bean sauce and garlic flakes and steam over boiling water for five minutes. Remove and sprinkle each of them with the minced scallion greens. Then serve.