Read 5088477 times

Connect me to:

Wok & Co.
by: Ken Hom
London UK: Hachette Illustrated 2004, $19.95, Hardbound
ISBN: 1-84430-177-X
---
Reviewed by: Jacqueline M. Newman
Fall Volume: 2008 Issue: 15(3) page(s): 24

---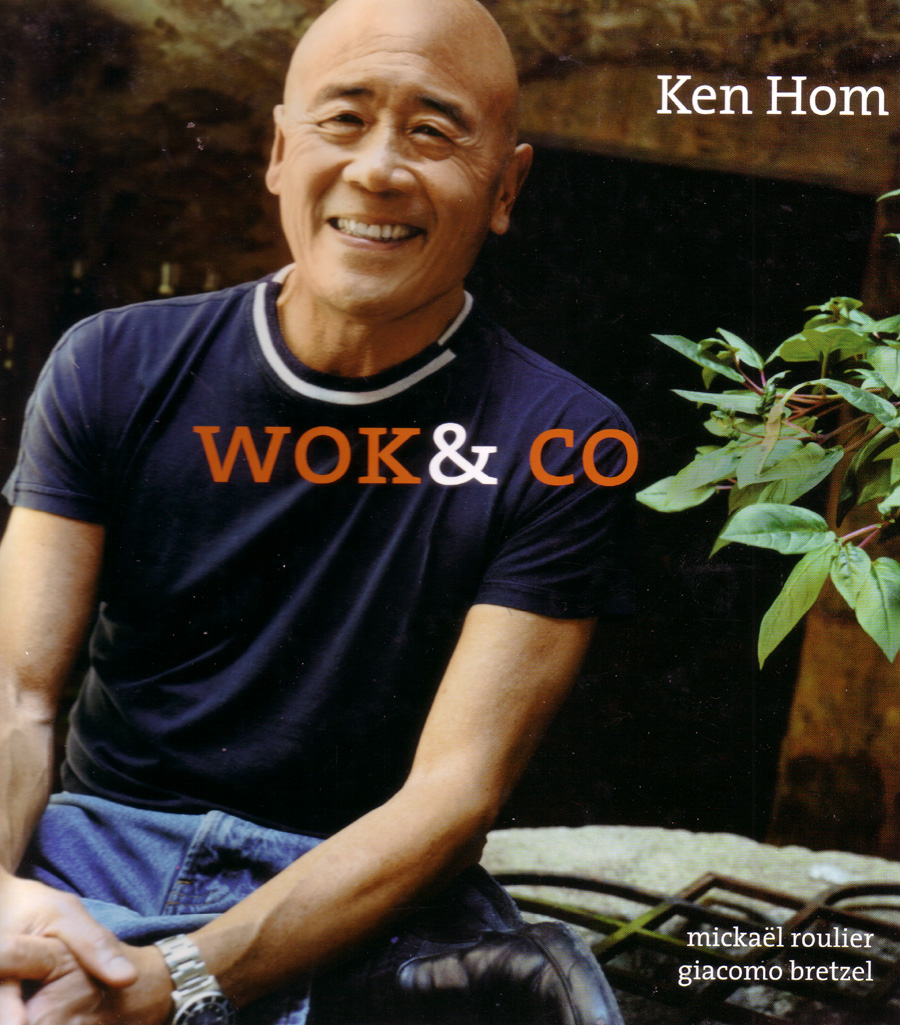 Get your wok, your steamer, and/or your oven ready to enjoy east/west healthy dishes with flavors delicious. Though not a Chinese cookbook per se, these adaptable and adopted recipes from Chinese principles share yin and yang, and philosophies that make for really good eating.
In typical meal-component chapters, Hom borrows Chinese techniques and tastes, and puts them together in quick preparations that undoubtedly can be appreciated everywhere. Duck Salad with the Flavours of Asia, Marinated Chicken Coated with Sesame Seeds, Grilled Sirloin Steak with Oyster Sauce and Bok Choy, and Chicken Wings Roasted with Peppers are among the many less than half-hour quick ones while items such as Braised Oxtail with Plum Sauce needs only quarter of an hour to prep. Then it and others can require lack of attention for up to nine times longer, ignored in your oven.
No plum sauce, no worry. In less than fifteen minutes total time, use the recipe for Apple and Plum Sauce, freeze some in ice cube trays, pop them and store the cubes in a heavy plastic bag. When you need them next, simply defrost one or two. They freeze well and go well with many of the recipes. When you prepare these and other dishes, you have Hom & company pre-preparing foods for you.
Another pre-prep quickie, make the Small Baked Custards with Orange and Ginger. They are done in ten minutes. Cook them while eating dinner, and thirty-five minutes later this inspired dessert is on your dinner table. You could make it the day before and refrigerate it only to take the chill off in one minute in the microwave. Chinese Ratatouille is an effort in reverse. It needs twenty minutes prep and then only ten minutes in a wok or frypan.
I needed to travel abroad to find this book by this magazine's honorary chairperson. Saw it in a small local bookstore and am glad I spotted it. Hom has many contributions that update and make Chinese food quicker, easier, and more modern for all. However, we need Hom to make all his cookery books convenient for of us to know about and easy for us to acquire. Please do so Ken, to miss this one would have been a dreadful shame.
The dozen page glossary is great, even without every ingredient you might want to know about included. We looked for chicory to see if the Brits meant the same vegetable we do, but it was missing. So when you get this or other books published in the US of A, keep that in mind when making his excellent and easy Duck Salad.

Duck Salad with the Flavors of Asia
Ingredients:
1 pound roast Peking or any cooked duck, remaining fat removed and discarded
2 heads chicory, washed well, ends trimmed and discarded
2 mangoes, peeled and sliced
1 Tablespoon finely minced garlic
1 Tablespoon finely minced shallot, squeezed dry in a paper towel
2 Tablespoons scallions, finely minced
1/8 teaspoon freshly ground black pepper
2 teaspoons sesame oil
2 teaspoons spicy soy sauce
1 teaspoon thin soy sauce
2 Tablespoons finely minced chives
Preparation:
1. By hand, tear the duck meat into thin slivers and set aside. Likewise by hand, tear the chicory into small pieces, and set it aside separately.
2. In a small bowl with a spout, mix the minced garlic, shallot, and scallions, add the black pepper, sesame oil, both soy sauces, and the chives.
3. On individual plates or as a large salad, put the chicory leaves on the bottom, the duck on this, and pour the sauce over it all. Garnish with the mango slices, and serve.