Read 5088345 times

Connect me to:

Chinese Food Made Easy
by: Ching-he Huang
London UK: HarperCollins Publishers 2008, $16.98, Hardbound
ISBN: 978-0-00-726498-8
---
Reviewed by: Jacqueline M. Newman
Summer Volume: 2009 Issue: 16(2) page(s): 19 and 20

---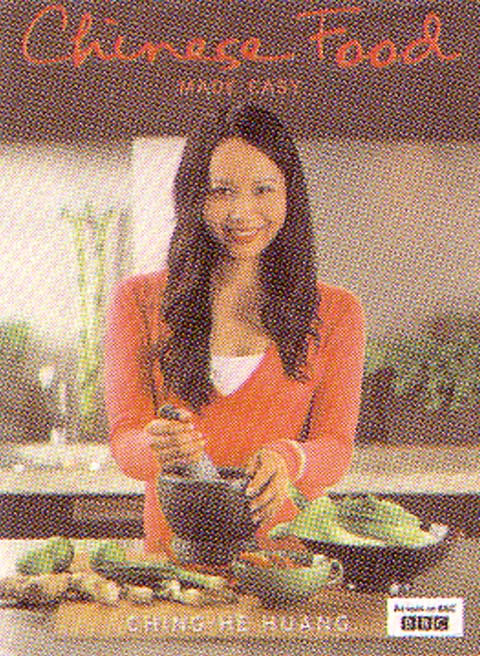 Called: The new face of Chinese cooking on TV, this author's telly series on BBC bears the same name as does the book. The purpose is simple, to modernize–nay, reinvent favorite Chinese dishes. Ms. Huang is passionate about the food culture of her birthplace, Taiwan. Her book expresses this and more after five pages about the Chinese Kitchen following the sentence "Fact: Traditional Chinese Cooking is Healthy." Thereafter, every recipe begins with one or two sentences about making its preparation easier.
The author, academically trained in economics, practices her education in the United Kingdom where she now lives, running a fresh salad company called Fuge with a healthy soft drinks line called Tzu.
Not her first cookbook, nor her first foray into food television, Flavor and Fortune did not review China Modern published in 2006, nor her first solo television series called Ching's Kitchen UKTV. Author for food magazines including BBC Good Food and Sainsbury's Magazine, she appeared on BBC's Saturday's Kitchen and ITC's Daily Cooks, and much more.
In this volume, her Roast Duck Noodle Soup recipe uses rare duck breast fillet, skin on, and its vegetables include lots of bean sprouts, a whole onion, and a healthy handful of fresh coriander. The Seafood Congee includes Chinese black mushrooms, canned bamboo shoots, lots of fresh pak choy, that same handful of fresh coriander leaves, and a mite more than half pound of fresh seafood. Fast Dofu Salad includes fresh dofu, of course, but also almost a quarter pound of fresh baby spinach, a red pepper, some pumpkin seeds, and a mite of mustard, cress, and purple radish seedlings.
Her meal-ending sweets offer healthy ingredients. Fruity Sticky Rice with Toffee Sauce includes dates, golden raisons, and orange zest; while her Rambutan, Raspberry and Mandarin Mojito includes lots of mint leaves, raspberries, rambutan or lychee, and mandarins. The Great Wall of China Green Tea Ice Cream is served with one of the healthiest of nuts, the walnut; and Empress Dowager Cixi's Longevity Peach Pudding includes canned peaches, several handfuls of four different berries, and a pair of nectarines, the latter for decor.
All recipes look elegant, taste delicious and have many healthy ingredients. No wonder she is popular with young and old. The pictures in the book, one per recipe, are beautiful, look delicious, and taste that way, too.

Roast Duck Noodle Soup
Ingredients:
1 teaspoon five-spice powder
1 Tablespoon sesame oil
3 Tablespoons hoisin sauce
3 Tablespoons light brown sugar (optional)
1 Tablespoon dark soy sauce
2 duck boneless breasts, skin on
4 cups chicken stock
2 dried Chinese black mushrooms, soaked, then their stems discarded
3 and 1/2 ounces shredded Chinese cabbage
1 Tablespoon thin soy sauce
1 Tablespoon Shaoxing rice wine or dry sherry
1 Tablespoon white Chinese vinegar
7 ounces cooked wheat flour noodles
1 scallion, sliced thinly on the angle
1 and 1/2 ounces bean sprouts
1 large handful of fresh coriander leaves and stems, coarsely chopped
salt and freshly ground black pepper, to taste
Preparation:
1. Mix five-spice powder, sesame oil, hoisin sauce, the brown sugar, dark soy sauce, and three tablespoons of cool water in a bowl, add the duck breasts, and marinate at least twenty minutes or overnight. Then remove the duck breasts, and pat them dry.
2. Preheat oven to 400 degrees F. Put in a broiling pan to preheat it, and when hot, put the duck breasts on it, skin side down and cook them for one minute. Turn them over and cook the other side about the same amount of time or until brown. Then transfer them to a baking tray skin-side up, and cook them until as done as you like this meat, from ten to twenty minutes.
3. Heat chicken stock to the boil and immediately reduce heat to simmer, then add mushrooms, Chinese cabbage, soy sauce, rice wine, and the vinegar. Bring stock and its ingredients back to the boil. Add the scallion pieces, bean sprouts, and chopped coriander and immediately remove pot from the heat source, and add salt and pepper, to taste.
4. Slice each duck breast into six slices. Put soup into six individual soup bowls, distribute other ingredients in the pot, and put two duck slices on top of each bowl. Serve.