Read 5088461 times

Connect me to:

Sensations
by: Sam Leong
Singapore : Marshall Cavendish International (Asia) 2007, Hardbound
ISBN: 978-981-261-279-3
---
Reviewed by: Jacqueline M. Newman
Summer Volume: 2009 Issue: 16(2) page(s): 19 and 20

---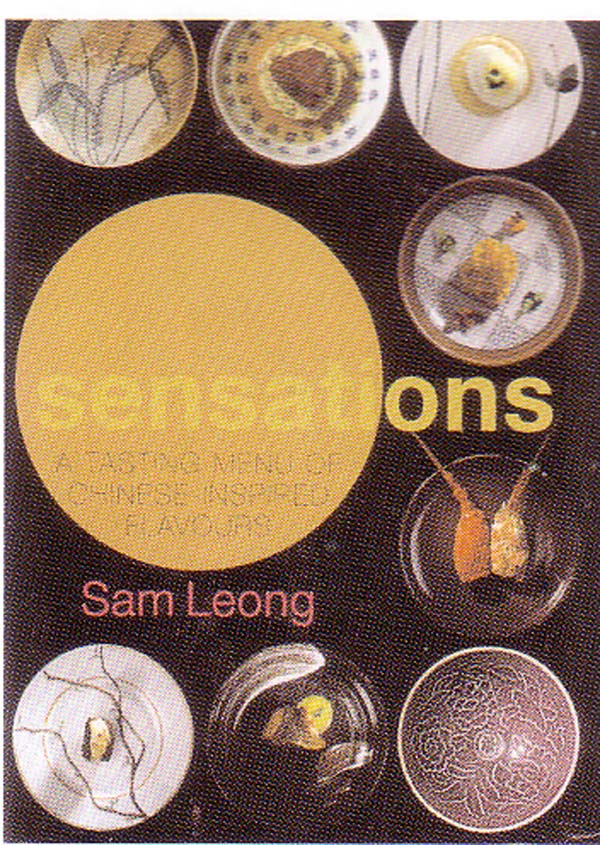 Subtitled: A Tasting Menu of Chinese-Inspired Flavours (spelling as given), this book looks so good that one tastes all seventy directly from its pages. The recipe categories include: Appetiser (their spelling), Soup, Fish and Seafood, Meat and Poultry, Vegetable and Mushroom, Rice and Noodle, and Dessert. A good thing as they precede the actual ingredient listings and their methods.
Chef Leong, director of kitchens for the Tong Luk Group of more than twenty-five world-class restaurants in their home base of Singapore, and in Indonesia, China, Japan, and New Delhi, is a world-wide award-winning chef. This, his second cookbook, follows A Wok Through Time published in 2004, it traces his journey as a chef. In tis one, the recipes are modern Chinese, intended to heighten the senses as you read through. Every completed dish get its own color photograph taken by a genius who matches the talents of Chef Leong.
Actual recipes follow the photographs and do not begin until page 130. They are printed on silver paper, and when cooking them in daylight they are fine. However, reflections drove me nuts under both fluorescent and incandescent illumination. Ingredient amounts appear after each item, and several were tough to decipher. So do as we did, photocopy them to solve that issue.
The Braised Oxtail with Radish won my heart, as did the Baked Cod Fillet with Scrambled Egg White. The seared Scallop Stuffed with Pear in Warm Mango Sauce looks gorgeous and tastes sublime. Our Tempura Lychee Stuffed with Curried Crabmeat did not look as lovely as his, we had trouble with the batter for the garnish. However, do not let that stop you from making them, they are oh so good! So are many of the other recipes whether reading or eating them. This chef deserves every kudo ever received, Right on Sam!

Lychee Stuffed with Curried Crab Meat
Ingredients:
3 Tablespoons vegetable oil
1 and 1/2 ounces crab meat
4 Tablespoons chicken broth
1/4 teaspoon seafood curry powder
1/2 teaspoon salt
1/4 teaspoon sugar
1/4 teaspoon cornstarch mixed with one teaspoon of water
4 lychee fruit, peeled and seeded
some cornstarch for dusting the lychee insides
2/3 ounce onion, peeled and cut into fine julienne
2/3 ounce carrot, peeled and cut into fine julienne
2/3 ounce enokitake mushrooms
12 asparagus, cut in fine julienne
4 Tablespoons all purpose flour
1 Tablespoon high gluten flour
2 teaspoons baking powder
1/2 teaspoon custard powder
1 and 1/2 Tablespoons vegetable oil for deep frying
Preparation:
1. Heat the first tablespoon oil in a wok, add the crabmeat and the chicken broth, curry powder, salt, sugar, and the cornstarch water mixture. When heated and thickened, remove from the heat source set aside to cool; and when it is cool, refrigerate this for one hour.
2. When crabmeat is chilled, dust each lychee with the cornstarch and fill each one with some of the crab meat mixture.
3. Make the batter mixing both flours, baking powder, custard powder, and two tablespoons of water.
4. Heat oil for deep frying, and then deep-fry a few vegetables at a time until crisp. Remove them and drain, and repeat until all are deep-fried. Put a few of them into but sticking out of the crabmeat stuffing. Then plate and serve.