Read 5094542 times

Connect me to:

How to Cook a Dragon
by: Linda Furuya
Berkeley CA: Sear Press 2008, Hardbound
ISBN: 978-1-58005-255-9
---
Reviewed by: Jacqueline M. Newman
Summer Volume: 2010 Issue: 17(2) page(s): 20

---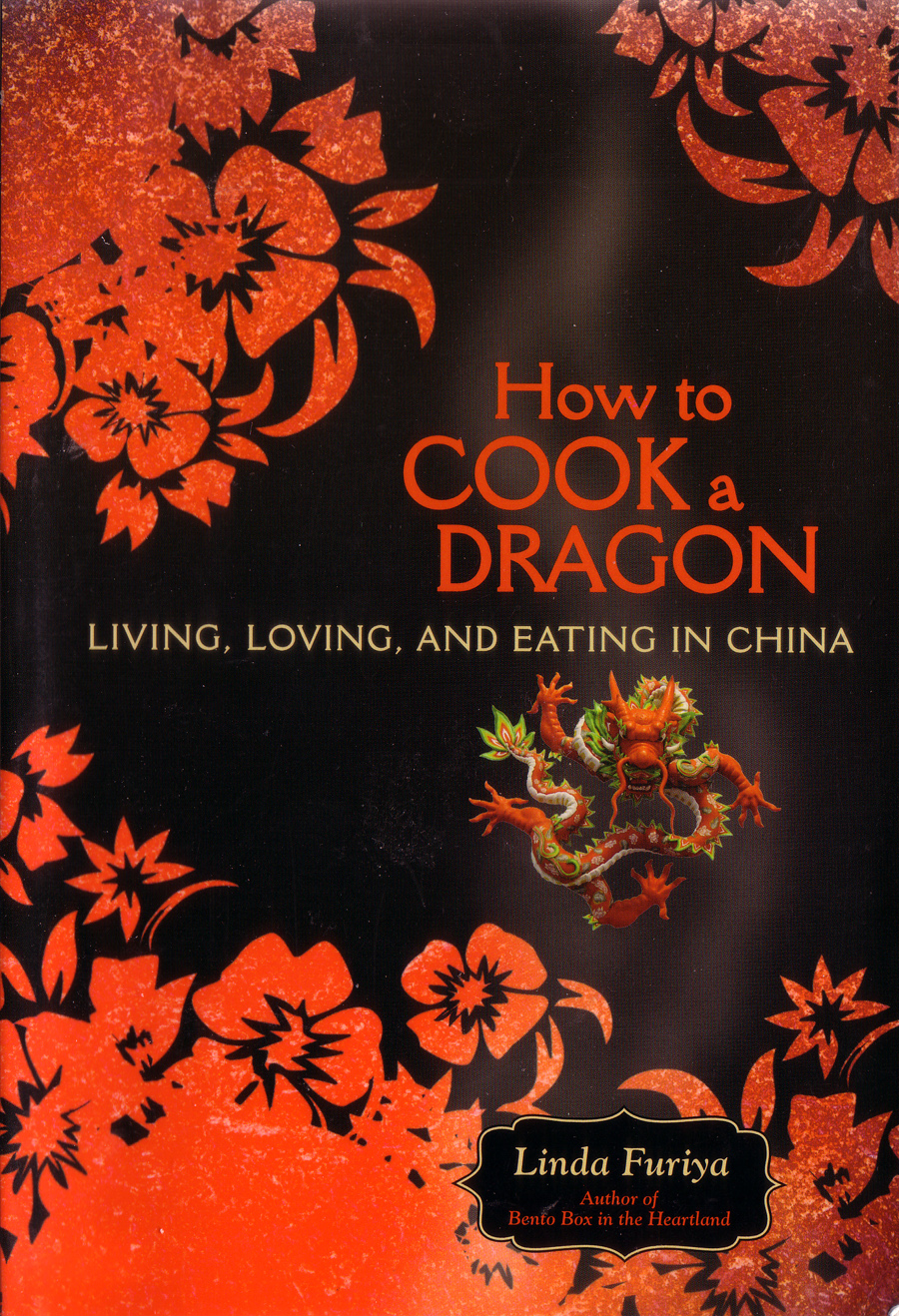 This is a fascinating read about the challenges of a Japanese American writer living in China experiencing the intersections of gender, ethnicity, and age. Going to China at age thirty with her Caucasian boyfriend and being in a Chinese milieu, read about these issues as they intersect with culinary tastes, traditions, and textures.
In China, most did not understand that the author does not understand the language; why--because few realize she is not Chinese. Her beaux does not understand either. He expects her to settle in, write, and feel right at home.
This book includes a dozen recipes and part food talk. The recipes most often appear at the end of a chapter. Each one is an exposure to different kinds of people and their assorted culinary worlds. We particularly like the details in her sentences; some with unusual food information. For example, one says, "I ordered the traditional Beijing roast duck, which would come with all the fixings: pancakes, plum sauce, and scallions, hot and sour cabbage, cubes of bean curd in sesame paste, and duck soup." Had any sour cabbage in yours?
The author tackles many challenges, all real, all poignant, and many times all with a twist. As Martin Yan says on the rear cover, it is "much like an elaborate Chinese banquet." And, it is, as the subtitle indicates, about "living, loving, and eating in China." The recipe that follows, its name shortened, is a good example. Do make and enjoy it; we did!

Lion's Cub Meatballs with Vegetables and Pasta 'Ma
Ingredients:
1/2 pound ground pork
1/2 pound ground turkey
1 cup fresh crabmeat
1/4 cup breadcrumbs
1/2 teaspoon salt
2 teaspoons sesame oil
1 Tablespoon rice wine
1 six-ounce can sliced water chestnuts, drained and minced
3 scallions, chopped
1 teaspoon grated fresh ginger
1 Tablespoon cornstarch
2 and 1/2 Tablespoons soy sauce
1 head napa cabbage
5 Tablespoons vegetable oil
additional rice wine, as needed
salt, to taste
3 carrots, peeled and julienned
1 small long radish (daikon), peeled and cut in julienne
5 Swiss chard leaves, sliced into quarter-inch strips
1 cup chicken stock
4 cups hot cooked angel hair pasta
1 Tablespoon grated lemon zest
Preparation:
1. Preheat oven to 35o degrees F, then in a mixing bowl, combine pork, turkey, crabmeat, breadcrumbs, salt, sesame oil, rice wine, one tablespoon water, and the water chestnuts, scallions, ginger, and one tablespoon of the cornstarch and one tablespoon of the soy sauce.
2. Form this into sixteen meatballs, each about two inches in diameter, and put on a cookie sheet or baking pan.
3. In a shallow bowl, combine the remaining tablespoon of cornstarch, the remaining one and a half tablespoons of soy sauce, and one tablespoon of water and make a meat-ball coating liquid, Set this aside.
4. Remove two leaves from the cabbage and set them aside. Cut the remainder of the head in half lengthwise, then julienne the leaves to the point where the tough white core begins.
5. In a wok or deep saute pan, heat one tablespoon of the vegetable oil, then add julienne cabbage, a dash of salt, and a splash of rice wine. Stir until cabbage becomes slightly limp. Then transfer to a three-quart casserole with a cover, and repeat the procedure with the carrots, daikon, and Swiss chard, adding more oil and rice wine, as needed. Add these to the casserole, and place the Swiss chard in a separate dish keeping it warm.
6. Using the same wok or fry pan, heat the remaining two tablespoons of vegetable oil, whisk the set aside cornstarch mixture, dip the meatballs into it, then add them to the wok or fry pan and brown on all sides, about ten minutes, then transfer them to the casserole and pour the chicken stock over them, and drape the reserved cabbage leaves on top.
7. Cover and bake for half an hour. While this is cooking, reheat the meat drippings with the meatball-coating liquid. Add the paste, and toss to coat thoroughly. Add the lemon zest and toss well.
8. When ready to serve, divide the pasta among six bowls. Discard the cabbage leaves, then top each with some meatballs, Swiss chard, and the other vegetables.