Read 5094487 times

Connect me to:

Chinese Cooking
by: Belinda Hulin
Guilford CT: Globe Pequot Press 2010, $19.95, Paperback
ISBN: 978-1-59921-616-4
---
Reviewed by: Jacqueline M. Newman
Summer Volume: 2010 Issue: 17(2) page(s): 22 and 27

---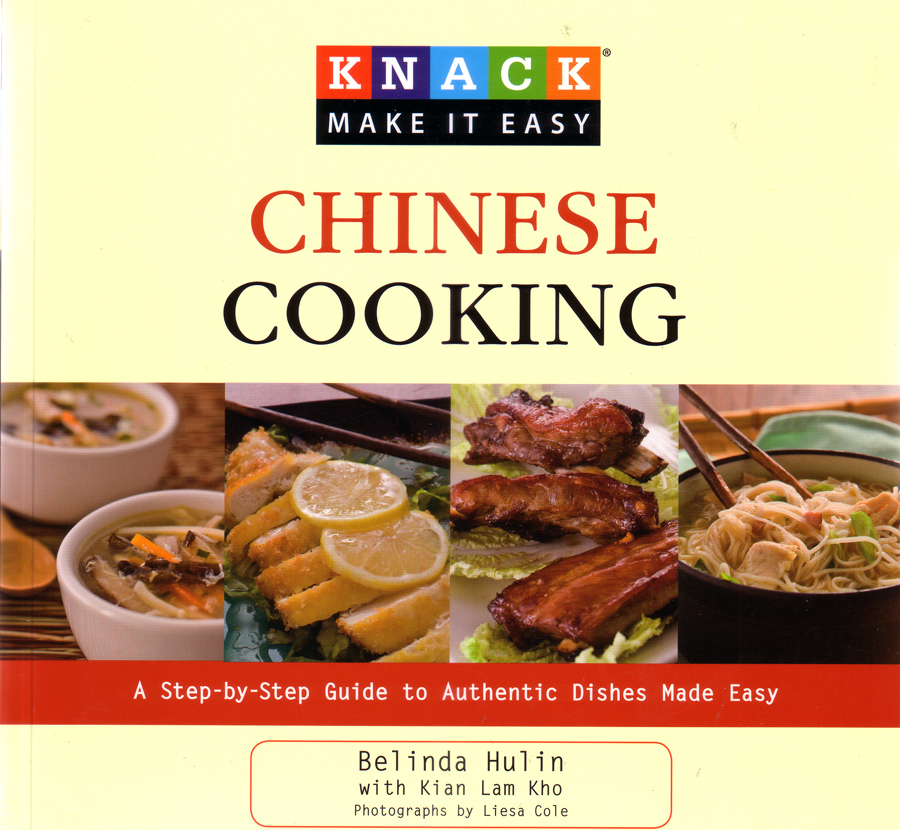 The one hundred recipes in this volume, all clearly written by the former food editor of the Florida Times-Union with Kian Lam Kho, chef and author of the blog RedCook.net; it is a great read. It is also a great source of basic and more advanced Chinese food finds. The first author of this 'Knack Make it Easy' volume has two other cookbooks under her belt, the second author is a chef originally from Singapore who cooked these and so many more marvelous dishes. Their volume, subtitled 'Step-by-Step Guide to Authentic Dishes Made Easy' uses readily available ingredients, includes three large-size color photographs by Liesa Cole in the preparation process, and for each completed recipe, two or three variations should your cupboard have a few bare spots.
This book does more than most. Should your kitchen need an item of equipment, an ingredient, or you need other information, five pages with fourteen links for ingredients, six kitchen reading sources--this magazine among them, five available DVD or videos for additional know-how, and four Chinese food web sites follow the recipes, as does a glossary. The index after these, and all of these items helps readers find things as does its seven-page three-column cross-referenced index.
Sixteen food chapters show and tell about main food items, Appetizers to Fruits and Sweets, Hot Pots, Holiday Favorites, Dim Sum Dishes, and more. Before them, read about tools and Equipment, Pantry Basics, and fresh ingredients; they offer thirty-four pages of oft-needed information.
Great for Chinese cookery-beginners, it also offers fine points for those with some expertise. This volume includes how to prepare pomelos, clean and score squid, toast peppercorns, prepare leeks, wrap and roll lettuce, does likewise for dough, and lots more. There are many see and say suggestions for preparing mouth-watering yummy Chinese food easily and at home. The Firecracker Chicken below is on top of my list. It uses black bean sauce and has the appropriate kick that all too many recipes do not as they dumb it down. Try it and taste great Sichuan sinus-clearing food. It and other recipes are fine cultural finds; you will be glad you found them!

Firecracker Chicken
Ingredients:
1 pound skinless chicken breast, thinly sliced
1/4 teaspoon mixed salt and pepper, or to taste
1 Tablespoon cornstarch
2 Tablespoons soy sauce
1 Tablespoon fermented black beans
1 teaspoon sesame oil
1 Tablespoon Chinese rice wine
1 teaspoon grated fresh ginger
1 clove garlic, peeled and mashed
1 teaspoon sugar
2 Tablespoons vegetable oil
6 dried chili peppers
1 green bell pepper
1 red bell pepper
1 large sweet onion
1 lime, juice only
1/2 cup minced fresh coriander leaves
Preparation:
1. In a bowl, mix chicken, salt pepper, and cornstarch.
2. Heat wok, add oil and stir-fry the chilies until browned, then remove them and add chicken mixture and after a few seconds, stir-fry for one minute, and then remove to a platter.
3. Add Both peppers and the onion and stir-fry for two minutes before returning chicken to the wok, and cooking it one minute.
4. Stir in lime juice and the fresh coriander.
5. Prepare soy sauce, black beans, sesame oil, and wine. Add ginger, garlic, and sugar and stir until sugar is completely dissolved. Add sauce to meat and vegetables and stir-fry to coat the ingredients, then serve.