Read 6299355 times

Connect me to:

Take-out Menu Cookbook, The
by: Carla Snyder and Meridith Deeds
Philadelphia PA: Running Press 2007, $19.95, Hardbound
ISBN: 978-7624-3155-7
---
Reviewed by: Jacqueline M. Newman
Spring Volume: 2011 Issue: 18(1) page(s): 22

---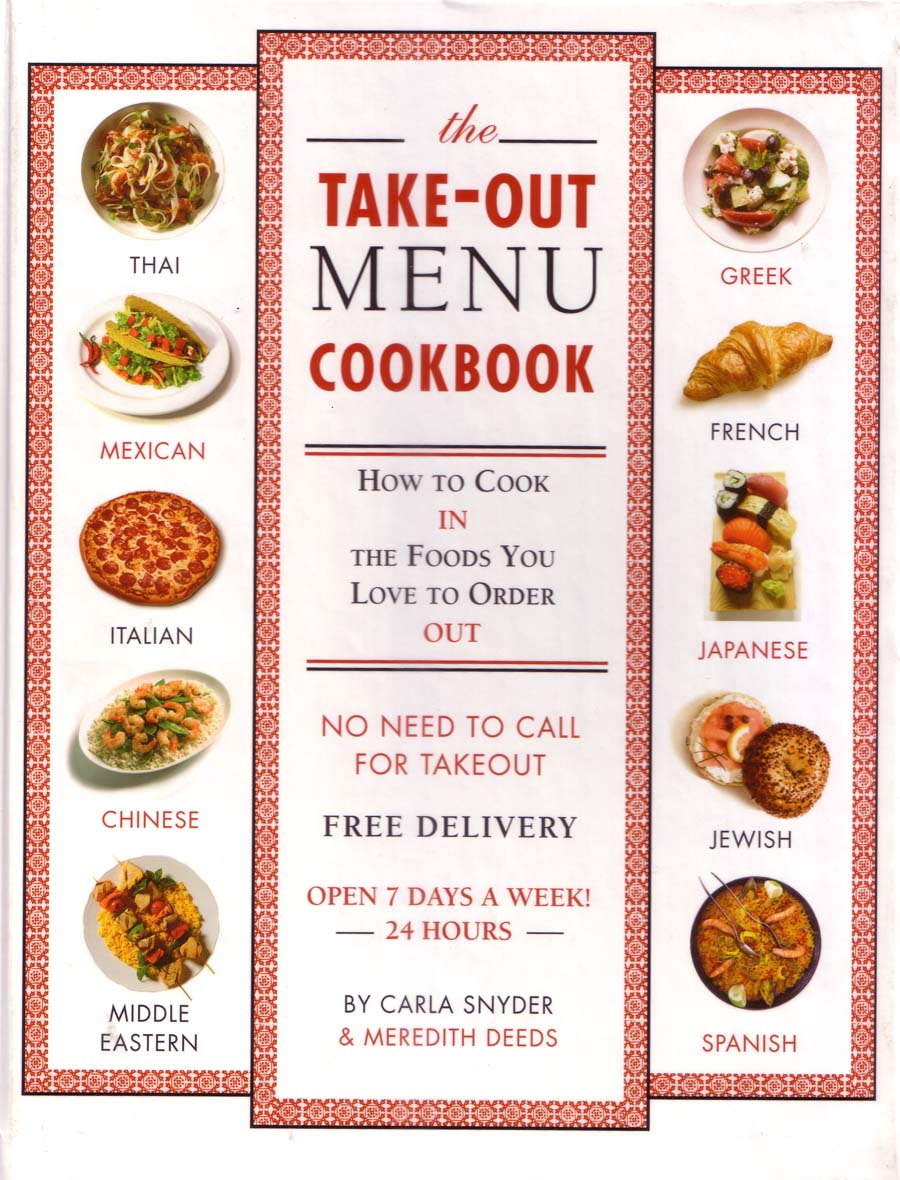 Fast easy recipes in twelve different culinary chapters bring take-out home when one of their eateries is not nearby. On the rear cover, the authors say the included recipes provide fresher, cheaper, and healthier foods than their take-out equivalent places.
The only pictures are on the cover in this book. The Chinese chapter has twenty recipes, a like number is in the other chapters. Each recipe provides start-to-finish and hands-on-time,and variations for quite a few of them.

Eggplant in Spicy Sauce I
Ingredients:
2 cups oil for frying
1 pound eggplant, cut into sticks the shape of french fries
1 Tablespoon soy sauce
1 Tablespoon light brown sugar
1 Tablespoon spicy bean sauce
1 Tablespoon rice vinegar
1 Tablespoon rice wine
1 teaspoon Asian sesame oil
3 cloves fresh garlic, peeled and minced
1 Tablespoon chopped fresh ginger
4 whole chilies, soaked in water for ten minutes, dried with paper towels, then chopped
1 cup thinly sliced pork tenderloin
3 scallions, thinly sliced
Preparation:
1. Heat wok over medium-high heat, until the oil reaches 360 degrees F. Then and add half the eggplant pieces. Fry and stir for five minutes until the eggplant is limp, then remove it with a slotted spoon and drain on paper towels. Repeat with the rest of the eggplant. Discard all but two tablespoons of the oil.
2. In a small bowl, combine soy sauce, brown sugar, bean sauce, rice vinegar, rice wine, sesame oil, and the cornstarch, and set this aside.
3. Heat wok and the two tablespoons of oil, then add the garlic, ginger, and the chilies and stir-fry for one minute.
4. Add the pork and stir-fry for two minutes, then return all the eggplant to the wok. Stir the sauce and add it next, and boil until the sauce thickens, about two minutes, then remove to a bowl or a platter with low sides.
5. Garnish with the scallions, and serve.