Read 5093416 times

Connect me to:

100 Quick Stir-fry Recipes
by: Ken Hom
London UK: BBC Books 2011, $7.95, Paperback
ISBN: 978-1-84-990147-5
---
Reviewed by: Jacqueline M. Newman
Fall Volume: 2012 Issue: 19(3) page(s): 22 and 23

---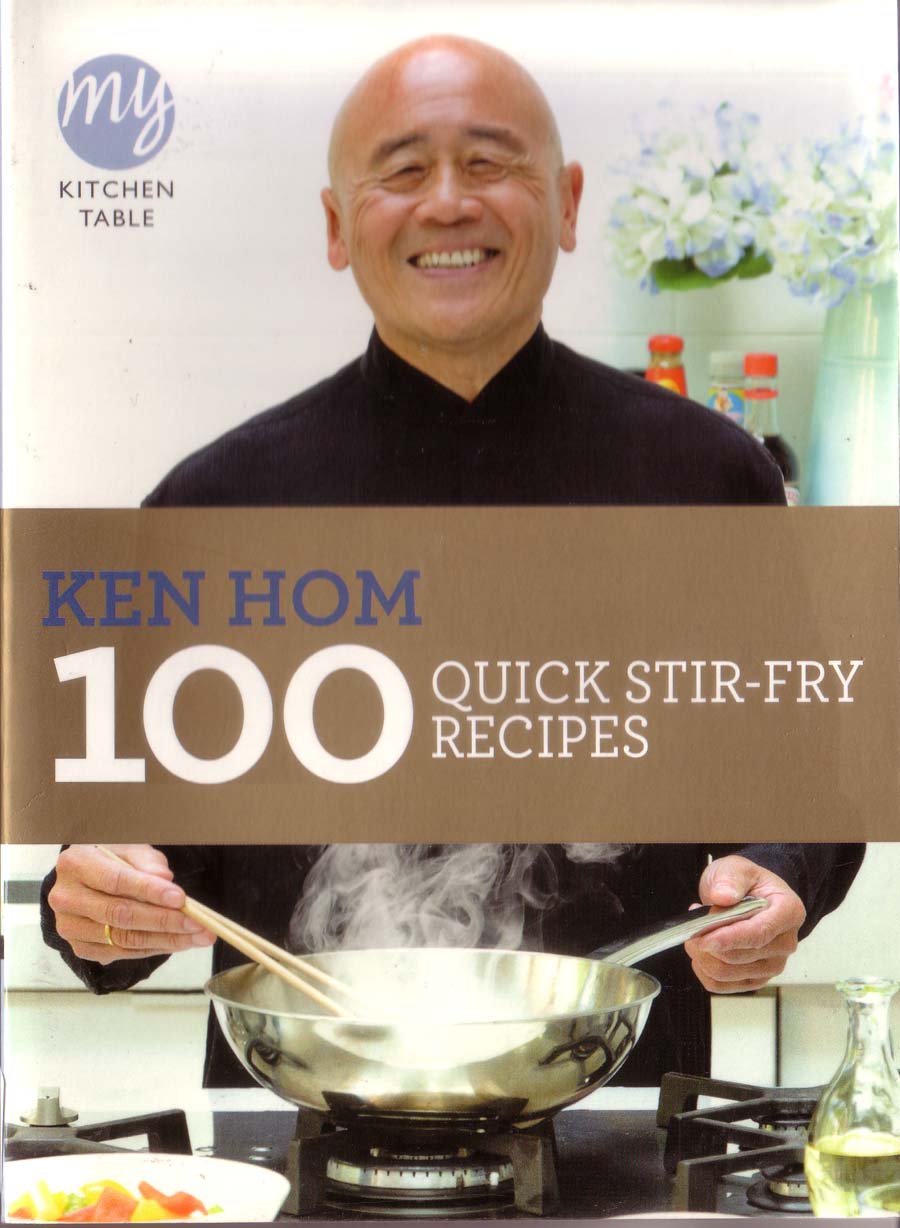 This book, by the honorary chairperson of this magazine' sponsor known in brief as ISACC, has one hundred recipes, ingredients listed, method most often in three preparation steps. The recipe chapter titles are: Chicken and poultry; Meat dishes; Fish and seafood; Vegetarian dishes; Pasta, rice and noodles; Soups, appetisers and sides (the capitalization and spelling as published).
Every recipe has a full-page color photograph of its completed dish, the volume is in the: 100 My Kitchen Table series, and six others in this series are shown before them and on the book's rear cover. All Ken Hom's recipes are yummy, previously found in six of his earlier cookbooks written from 1996 to 2004, most are Chinese, and every one of them begins with a few sentences about it or its contents. After them, a three-page two-column Index grouped by main ingredient makes them easy to locate.
All the recipes are current, quick, easy to make, and delightful. They have few ingredients and will garner raves at your table. We particularly like his Mom's favorite, a fish with black bean sauce. We have made it with shrimp, beef, and vegetable substitutions, and we suggest you rotate them often onto your table as we do. Join us to thank Ken and his Mom for sharing this simple, simply super everyday dish. It shows off their great Chinese home cooking.

Stir-fried Fish with Black Bean Sauce
Ingredients:
1 pound fresh firm white fish filets such as cod, halibut, or sea bass
1 teaspoon coarse salt
3 Tablespoons peanut oil
1 and 1/2 Tablespoons coarsely chopped fermented black beans
1 and 1/2 Tablespoons minced garlic
2 teaspoons finely chopped fresh ginger
6 Tablespoons finely chopped scallions, divided in two parts
1 Tablespoon thin soy sauce
1 teaspoon dark soy sauce
1 Tablespoon Shaoxing rice wine or dry sherry
1 teaspoon sugar
2 teaspoons sesame oil
Preparation:
1.Cut the fish into one-inch strips, sprinkle with salt, and let it rest for twenty minutes.
2. Heat wok or fry pan, add oil and when is smokes reduce heat and add the fish strips. Gently stir-fry for two minutes until browned on both sides; then remove them to paper towels. Drain all but half of the oil and discard it.
3. Reheat the wok, add the black beans, garlic, ginger, and half the scallions. Stir-fry half a minute before adding both soy sauces, rice wine, sugar, and one tablespoon water. Reduce the heat to a simmer, return fish to the wok or fry pan and cook for one more minute; then add sesame oil and stir gently. Remove all to a pre-heated platter, garnish with the rest of the scallions, and serve.