Read 5093439 times

Connect me to:

Food and Cooking of Sichuan and West China, The
by: Terry Tan
Leicestershire UK: Aquamarine, an imprint of Anness Publishing 2011, $29.95, Paperback
ISBN: 978-1-903141-6
---
Reviewed by: Jacqueline M. Newman
Winter Volume: 2012 Issue: 19(4) page(s): 24

---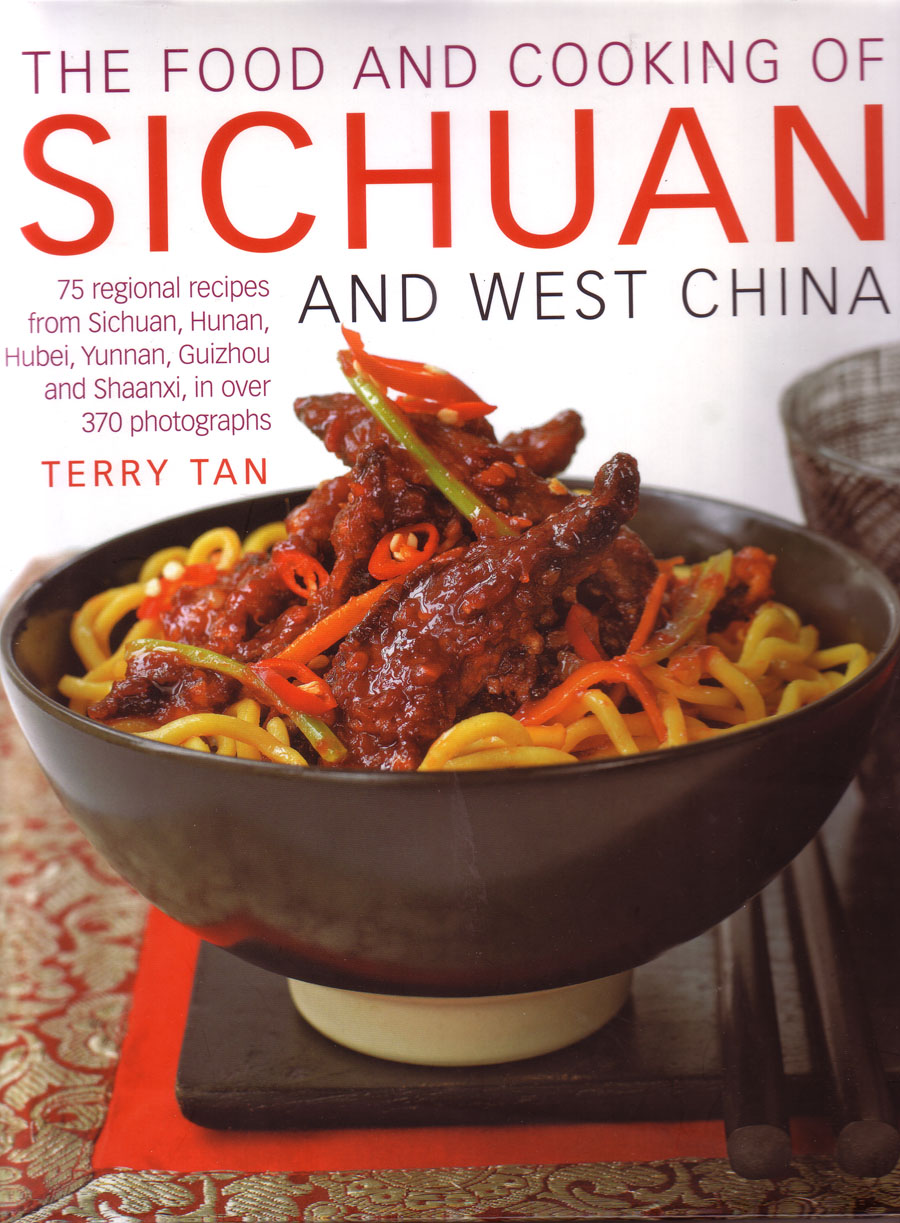 This volume has seventy-five recipes from Western China, most from the Sichuan Province. Loaded with lovely pictures of rice terraces and other landscapes. The local cuisines include seven food chapters from soup and dim sum to sweet things. The volume ends with two pages of addresses of sixty-eight suppliers, with addresses and telephone numbers in the United States, the UK, Australia, New Zealand, and Canada. After them, a three-page four-column cross-referenced recipe and food index.
With more than twenty cookbooks under his belt and even more cooking classes, this consultant, instructor, and author is known as an expert in Chinese, Singaporean-Nonya, and Indonesian culinary. Most of his dishes in this one have three or more color photographs of steps in their preparation, a full-page color one of the completed dish,
The pictures make readers salivate and skip to the kitchen to prepare his delicious regional dishes. Before each one is a paragraph about the recipe; after it there is per portion data on calories, protein, carbohydrate, fats, cholesterol, fiber, and sodium.
The Duck with Bamboo Piths and many other recipes have tips that educate. This one and many others beg preparation and consumption as does the Chrysanthemum Fish Hot Pot with wire baskets bursting with seafood begging bites into its bounty. Likewise, the pictures of Chilli Squid, Paper-wrapped Prawns, Tofu Fish in a Spicy Sauce, Five-spice Carp, and Clay-pot Fish Stew.
Many non-swimmers such as Twice-cooked Pork, Five-spice Beef in Bean Sauce, Mixed Smoked Meats, Hot and Sour Kidneys, Rabbit in Hot Bean Sauce, Dan Dan Noodles, Pickled Mustard Greens, Mixed Mushroom Stir-fry, Red Bean Broth with Tangerine, and Silver-ear fungus in Rock Sugar do likewise.
Before the yummy recipes, lots of general information about the cuisine, cultural festivals, celebrations, needed kitchen equipment, and classic ingredients help broaden perspectives. They and the entire book entice readers to love the culture and its food. Preparing the duck recipe below is one example of its many fine offerings.

Duck with Bamboo Pith
Ingredients:
2 teaspoons vegetable oil
3 cloves garlic, peeled and crushed
5 slices fresh ginger, minced
4 duck legs or 2 duck breasts, each boned and cut into three or four pieces
2 Tablespoons dark soy sauce
1 Tablespoon yellow bean sauce
1 two-inch piece dried tangerine peel, slivered
10 Chinese dried pitted brown dates
1 teaspoon sugar
3 ounces bamboo pith, soaked for ten minutes, then each cut into half-inch pieces
2 scallions, cut for garnish
cooked noodles as a base to serve this on
Preparation:
1. Heat a wok or a fry pan, add the oil and stir-fry the garlic and ginger for one minute, then add the duck pieces and stir fry for two minutes more before adding the soy sauce and the bean sauce and stir-fry for two more minutes.
2. Add the tangerine peel and the sugar and two and a half cups of water. Bring to the boil, and stir until the liquid is reduced by half., and it starts to thicken.
3. Add the bamboo pith pieces, reduce the heat, and simmer for five to eight minutes until the duck is tender and cooked through.
4. Serve immediately putting the duck and bamboo pith on cooked noodles, and garnish the duck with the scallion pieces.