Read 5094605 times

Connect me to:

Chinese Heritage Cooking by Christopher Tan and Amy Van
by: Tan, Christopher and Van, Amy
Singapore : Marshall Cavendish Cuisine 2012, $35.00, Hardbound
ISBN: 978-981-4346-44-3
---
Reviewed by: Jacqueline M. Newman
Summer Volume: 2014 Issue: 21(2) page(s): 20

---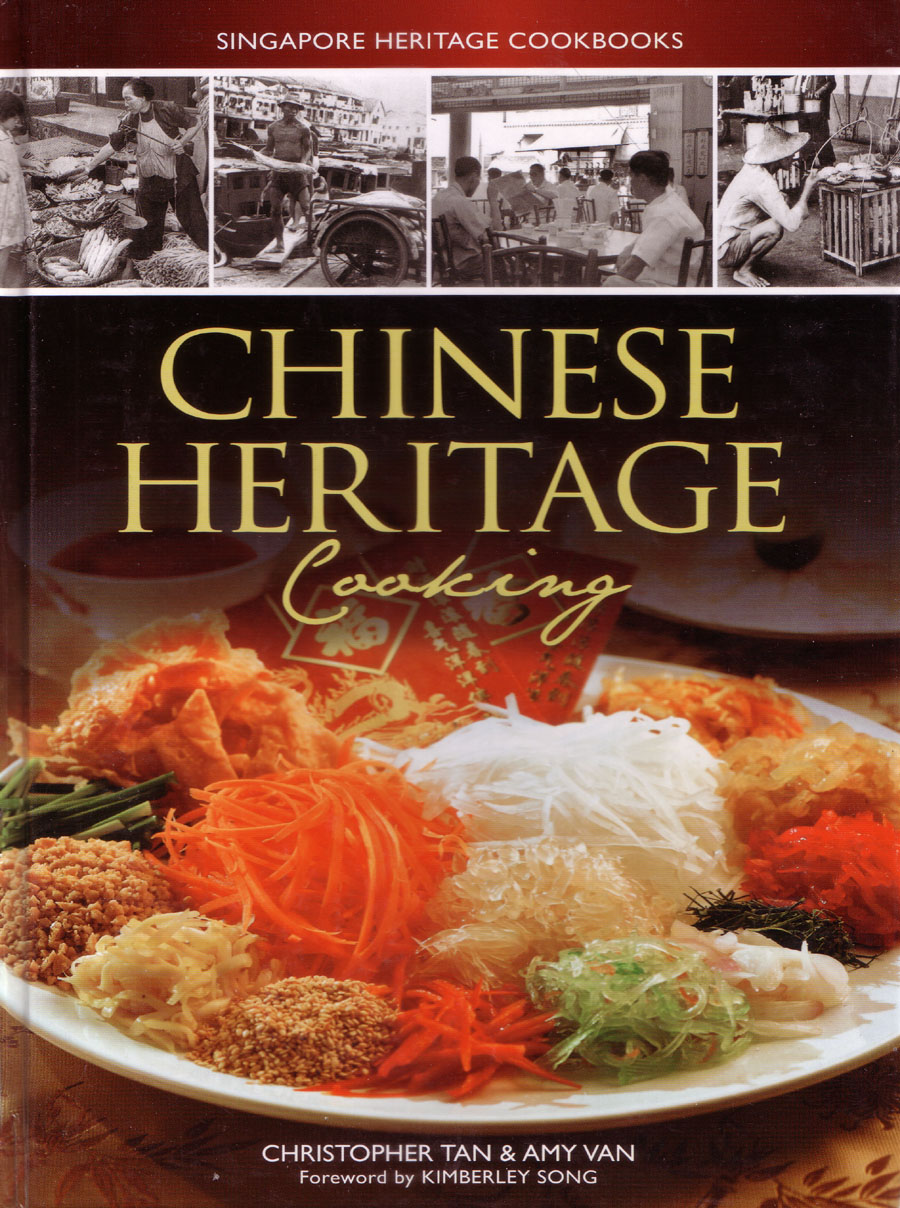 Edited by Lydia Leong, with a Foreword by Kimberley Song, this book has recipes Cantonese, Hainanese, Hakka, Foochow, Teochow, Festival and Special dishes (their spellings). They are after seventeen introductory pages, each with an historic photograph, many are black and white and ancient. They educate about the cultures in Singapore. Eight basic recipes come before them, one for Home-made Yellow Glutinous Rice Wine. It is a detailed gem.
Every chapter has several recipes we were aching to make, the stuffed Yu Tiao or cruller in the Cantonese chapter, among them. Every recipe begins with a few sentences before its ingredient list. This particular one reminds us that we ate wonderful dishes in Singapore that were unusual and filled with squid, shrimp, pork fat, egg white, starches, and seasonings. Its picture did make us salivate.
Abacus Beads in the Hakka and Foochow chapter looks terrific and tastes even better. Called suan pan zi in Chinese, this Hakka specialty is something we once ate, but never have seen a recipe for this taro treat popular at Chinese New Year.
Fragrant Glutinous Rice, also known as Hokkien Oil Rice or you pong is another celebration dish to enjoy, holiday or not. These and many other great recipes are delightful, delicious, and included.
This book is in the Singapore Heritage Cookbook series. It is so good that we plan to order all others and relive experiences when we visited there, book by book, dish by dish. The book is in two parts, one about history and culture, the other with its related recipes. We look forward to the other books about the Malays, Indians, Eurasians, and the Peranakans.

Stuffed You Tiao
Ingredients:
12 ounces fresh prawns, shelled removed and discarded, black veins too, then mince the shrimp
5 ounces squid, cleaned, cartilage removed and discarded, then minced
1 ounce pork fat, minced
1 teaspoon salt
1 egg white
1 Tablespoon rice wine
1 Tablespoon potato starch
1/2 teaspoon ground white pepper
1/2 teaspoon sugar
2 you tiao (Chinese crullers), cut into two-inch pieces
2 cups vegetable oil
chili sauce for dipping
Preparation:
1. Mix minced shrimp, squid, and pork fat, then add the salt and mix well.
2. Cut slit in each piece of the cruller, but do not cut this all the way through, and stuff each slit with this seafood mixture.
3. Heat oil in deep fryer or a deep pot, and deep fry them in two or three batches for two minutes, remove and drain on paper towels, then fry some more of them. Do not over-fry them as they can get hard.
4. Serve with the chili sauce as a dipping sauce.