Read 6251422 times

Connect me to:

Dumplings All Day Wong by Lee Anne Wong
by: Wong, Lee Anne
Salem MA: Page Street Publishing Co. 2014, $22.95, Paperback
---
Reviewed by: Jacqueline M. Newman
Winter Volume: 2015 Issue: 22(4) page(s): 21

---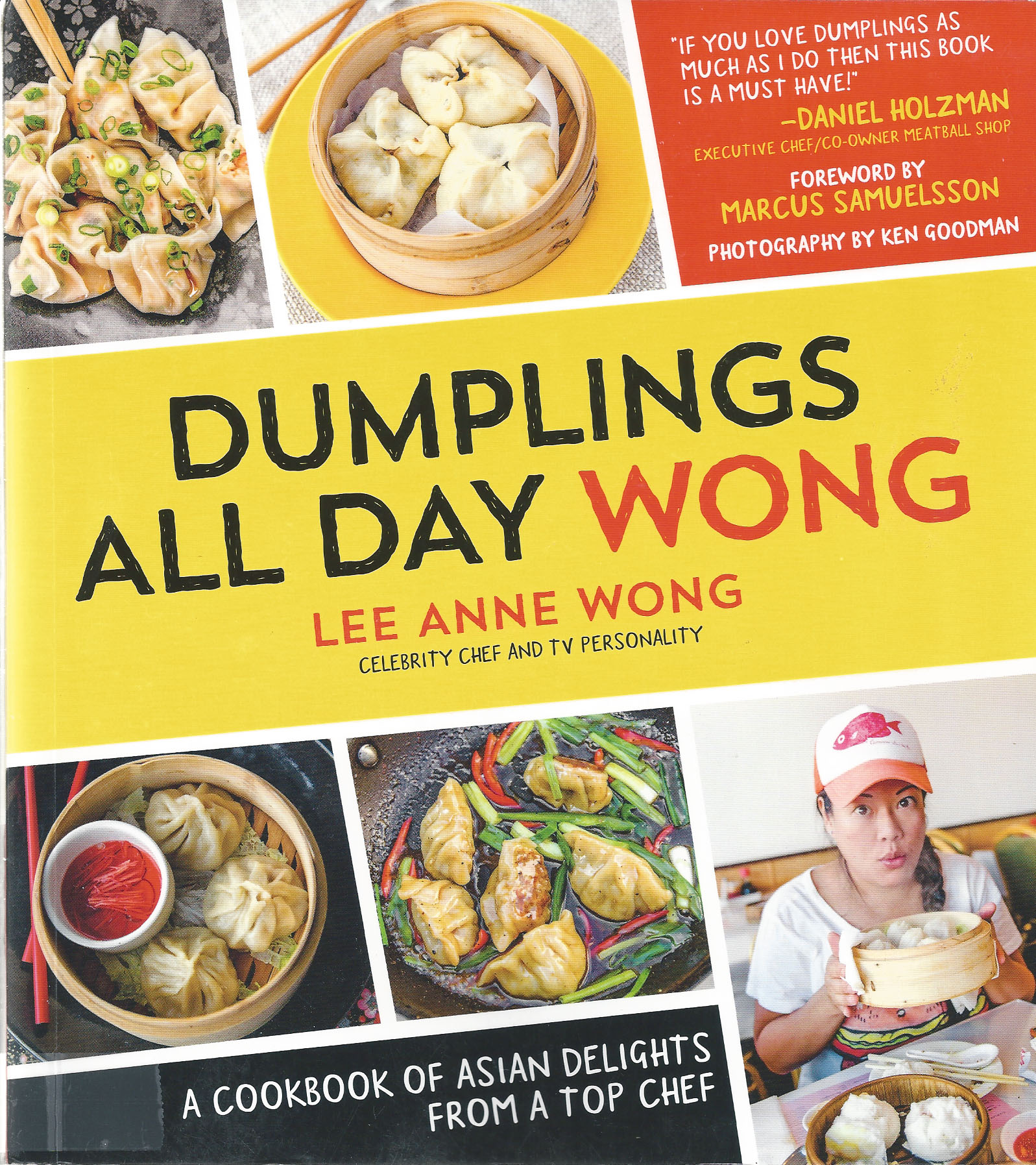 This celebrity chef hosted an hour-long program on the Cooking Channel showing her searching New York for the best dumplings. Then and before that, she learned a thing or two about them.
Marcus Samuelsson, chef and owner of the Red Rooster in Harlem and Ginny's Supper Club, too, calls her food delicious. On the staff at the restaurant called Aquavit, they found her passionate about cooking, her energy unique, her special approach made awe-inspiring dumplings and other fine foods.
They and many others know her dishes and dumplings are tops. This cookbook is a great way for everyone to learn the best tools and techniques when making their own. Learn to make the best dumpling wrappers, their best contents, how to pleat, fold, cup, or parcel them in many ways, and about their best sauces, oils, vinegar, and alcoholic items in or to serve with them. This book shares which paste or miso to mix in them, which flour to use for which dough, which dry item or items to include or omit, and so much more. The book also includes which aromatic to steep them in, zip-lock them in, dry or decant them; aand when and which to include with others, which to pickle, which to serve, and so much more.
When in Hawaii, go to Koko Head Café; 1145C 12th Avenue; Honolulu HI 96816; phone (808) 732-8920; this is Lee Anne's first restaurant. See and savor her dumplings and other fine foods when there. The shiny knives she bragged about are there with her. At Jean-Georges Vongerichten's Chinese Restaurant 66, she used them making her fine recipes.
Selecting just one recipe for this article was no easy task. At first we though to include her Crispy BBQ Eel Goyza, but changed our mind and selected Mixed Seafood Dumplings. We were worried about how many would buy and try dumplings with eel. The dumplings we selected instead are juicy and boiled, reminiscent of the best of the hundreds of dumpling delights we devoured over these many years. While we do adore eel, we worried if others felt likewise. We know everyone will delight in these with mixed seafoods.
Mixed Seafood Dumplings
Ingredients:
½ pound of sea scallops, sliced thin
½ pound raw shrimp, peeled, veins removed, and diced
½ cup finely sliced garlic chives
4 large shiitake mushrooms, soaked, stems discarded, and finely diced
1 Tablespoon Shao Xing rice wine
1 Tablespoon oyster sauce
1 Tablespoon soy sauce
1 Tablespoon cornstarch
1/4 teaspoon ground white pepper
½ teaspoon granulated sugar
40 round dumpling wrappers
2 Tablespoons all-purpose flour
Chinese mustard or soy-ginger dipping sauce or one of your own choice
Preparation:
1. Mix the cut scallops, shrimp, garlic chives, and the shiitake mushrooms and set them aside.
2. In a separate dish, a glass, mix the wine, oyster sauce, soy sauce, cornstarch, white pepper, and sugar. Then mix them both together and refrigerate covered for half an hour.
3. Fill each wrapper with one tablespoon of the seafood mixture, then wet the edges of a wrapper and fold and pleat it closed. Repeat until all are pleated putting them on a flour-coated platter not touching each other.
4. Bring a large pot of water to the boil and add half the pleated dumplings. When water re-boils, add another half cup of cold water; and when that boils again, add another half cup cold water.
5. When this boils again and dumplings float, drain and serve them. Boil the rest of the dumplings as above. Serve with your own choice of a dipping sauce.

Crispy BBQ Eel Dumplings
Ingredients
1/2 cup grated cucumber (use largest holes on a box grater)
1 teaspoon salt
1/2 pound package frozen eel (labeled unagi kabayaki)
1/2 avocado
3 Tablespoons cream cheese
1 Tablespoon mayonnaise
1 Tablespoon soy sauce
1/2 tablespoon granulated sugar
2 Tablespoons mince red onion
2 Tablespoons mince cilantro
36 dumpling wrappers
oil for deep frying
Ponzo dipping sauce, optional
Preparation:
1. Mix grated cucumber and salt, and let rest twenty minutes, then rinse with cold water and press between paper towels.
2. Remove skin from the eel and mince, then mix with the cucumber.
3. Mix cream cheese, mayonnaise, soy sauce, sugar, onion, and cilantro, then the eel mixture and refrigerate for half an hour of more.
4. Fill each dumpling wrapper with one tablespoon of the eel mixture, and pleat the dumpling skins closed.
5. Preheat the oil, and fry a few eel dumplings at a time until golden, stirring them once or twice. Then remove them to paper towels and drain. Serve with a dipping sauce, if desired.