Read 5094548 times

Connect me to:

Food of Taiwan, The
by: Cathy Erway
Boston MA: Houghton Mifflin Harcourt 2015, $30.00, Hardbound
ISBN: 978-0-544-30301-0
---
Reviewed by: Jacqueline M. Newman
Summer Volume: 2016 Issue: 23(2)

---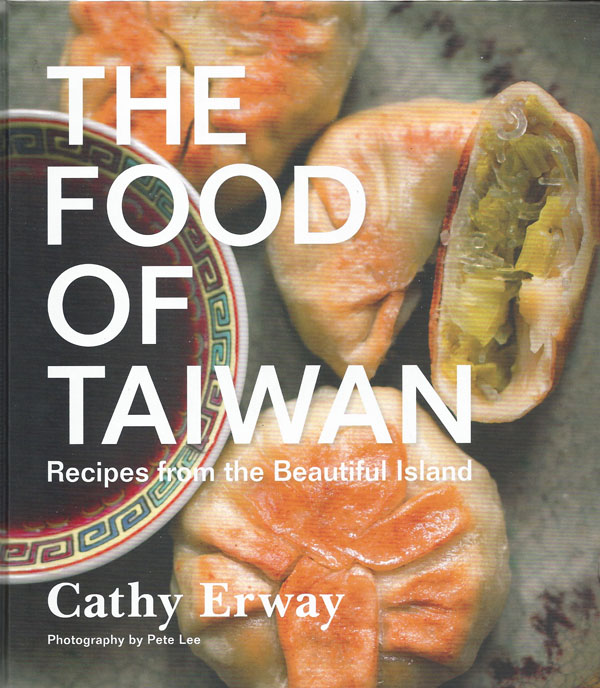 This book opens minds and enhances taste buds about cuisines on the island of Taiwan. Part travelogue and part cookbook, it provides lucious tastes photographed by Pete Lee, many are discussed, and it tells you how many ingredients and recipes are tied to the mainland by heritage and heart.
Taiwan is off the Eastern coast of China, south of the Japanese archipelago, and north of the Philippines. Half covered with forests and jungle, the Penghu Islands are half a life away and known as the Pescadores; they lie to its southwest.
This country has four major hot springs, is prone to earthquakes and typhoons, and has many rainy seasons and many monsoons. There is lots of hot and humid weather, incredible natural landscapes, eight national parks, thirteen national scenic areas, and is home to diverse fauna and flora as well as many aboriginal communities. They make up two percent of its population; and were joined by the many who left China in the 1940s to escape communism on the mainland. They now all live well together there.
The author, born of Taiwanese parents who met on their first day on a job in Taipei, married and moved to New Jersey after stints in San Francisco and New York City. Like the country which has roots in the Portuguese who named this place Ilha Formosa, this book tells about this 'Beautiful Island' and introduces the reader to it.
One learns that the Spanish landed after the Portuguese, then the Dutch and the Dutch East India Company, next came Ming loyalists regrouping here, and finally many Chinese trickled in before and after China lost the first Sino-Japanese War. Taiwan was ceded to the Japanese Empire; they occupied it from 1895 to 1945 and then they surrendered it to the Allies.
In 1947, routed by Mao Zedong, Chang Kai-shek sought temporary refuge here. Then, in 1949, he and his Kuomingtang army along with almost two million supporters came to permanently settle down here. Eventually, the US did recognize them as the Republic of China, and they now run its government. In 1971, they lost their seat at the UN which did help the middle class flourish. In 1975, Chiang's son succeeded him; followed by a Taiwanese-born Lee Teng-hui who was elected as the first home-grown president. What a tumultuous existence this island has had.
In spite of this or maybe because of it, they make great Pork Belly Buns, lovely Leek Buns with dried shrimp, delicious Daikon Pastries, and wonderful Oyster Omelets with dried salt-cured radish. One does need to taste them all; and many we did. We also visited their night markets, checked out their Coffin Bread, tasted their Tea Eggs, Chicken Bites, Rou Yuan, and their starch-thickened pork-filled buns. Do go bite into their Peppery Pork Buns known here as Hu Jiao Bing, and stuff yourself with their Stuffed Bitter Melon, Okra with Garlic and Chilies, Stinky Tofu, and many more wonderful local foods distinctive and delicious. hey are lovely to see, better to enjoy.
This book helps you both appreciate and marvel at them all. It reminds me to truck this book along on my next trip there. The author is a great writer, a great cook, and a great proselytizer for terrific Taiwanese tastes and this lovely country.

Taiwanese Peppery Pork Buns
Ingredients:
1 teaspoon active dry yeast
½ teaspoon granulated sugar
1 cup all-purpose flour plus more for dusting
½ teaspoon salt
1 Tablespoon vegetable oil
½ pound ground pork
½ teaspoon ground white pepper
½ teaspoon ground black pepper
½ teaspoon ground Sichuan peppercorns
1 teaspoon sesame oil
1 teaspoon thin soy sauce
1/4 teaspoon salt
3 to 4 whole scallions, chopped
½ cup sesame seeds
Preparation:
I. In a small bowl, mix two tablespoons warm water with the dry yeast and the sugar and stir until dissolved. Then let this stand for five minutes until frothy.
2. Sift the flour and salt in a large bowl, stir in the yeast mixture, the oil, and enough of one-half cup water just until the dough comes together when stirred, then turn it onto a floured surface and knead until smooth, about six to eight minutes. Then cover with a cloth and let it rest in a warm area until double in bulk, about an hour.
3. In another bowl, mix pork, both ground peppers, the Sichuan peppercorns, oil, soy sauce, and salt and combine this by hand, then cover and refrigerate overnight.
4. Preheat oven to 350 degrees F, and transfer the dough onto a lightly floured surface, and roll into a snake then cut into eight evenly sized pieces, and roll each one into a flat round about four inches in diameter.
5. Put one tablespoon scallions in the center of the dough, then a like amount of the pork mixture and bring the edges of the dough to the center and seal it over the filling leaving no holes and no gaps. Put seal side down on a baking sheet.
6. Now scatter seeds on a flat plate and put another plate next to it with a small amount of water in it. Dip the top of each bun in the water, then in the seeds, and put them on a baking sheet seed side up about two inches apart. Bake until lightly brown, about half an hour, remove from the oven, and let them cool on a wire rack for a few minutes. Then serve.