Read 6252947 times

Connect me to:

Most Popular Quick and Easy Chinese Recipes
by: Lili Weng
Middletown DE: none given 2017, Paperback
ISBN: 978-1-53992-964-2
---
Reviewed by: Jacqueline M. Newman
Fall Volume: 2017 Issue: 24(3) page(s): 21

---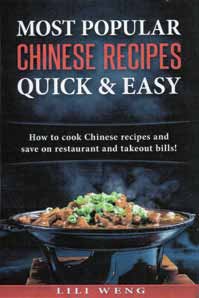 The front cover says "How to cook Chinese recipes and save on takeout bills!," The rear cover has four well-spaced sentences about the food in this volume. On both there are one and four color photographs, respectively, of recipes in it; one of the four on the rear cover is almost obliterated by the ISBN picture in front of it. All are simple and easy to make, except for the one of Peking Duck that can in no way be cooked in the time recommended.
The recipe pages have no color pictures. The recipes themselves skip spaces between textual lines and they use standard style. There are twenty-five recipes, most are Chinese, the ones that are not are Americanized Chinese recipes such as is Crab Rangoon.
Before the recipes, two pages at the beginning include copyright and disclaimer information. After the recipes are two pages with charts of Chinese tools and utensils, a half-page with text titled Conclusion, and five conversion pages of oven temperatures and metric and Imperial conversions for volume, liquid, and weights. Two others are chart abbreviations, though not in page order given in the contents listing.
The recipes are for common Chinese-American restaurant dishes, most are Cantonese, two are soup, a few are dim sum items, and most are main course dishes. The first is for Fried Rice, the last for Perfect Rice, and those in between are in no logical order. Every recipe gives the number of servings, preparation and cooking times, as: Prep Time and Cook Time.